PLSN Production Profile: Rush
Projection, Lights and Staging News, December 2007
---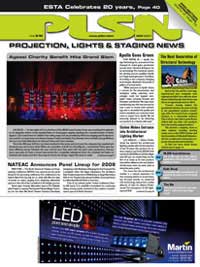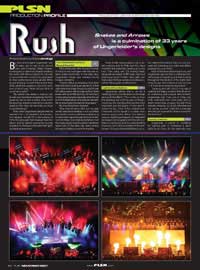 Snakes and Arrows is a culmination of 33 years of Ungerleider's designs
By the time Howard Ungerleider was 20 years old, he was in his second year with American Talent International agency in New York. Already traveling the world with famous bands, his job was to ensure that the contracts he negotiated for their performances were upheld. While he was hanging out with these bands, they often asked him questions, the most common of which was, "What did you think of our show tonight?"
"My answer was always a cautious, but honest one," remembers Ungerleider. "But the questions led me into a whole other world because they started turning into production questions like, 'How can we make our show more interesting?'"
That's when Ungerleider realized what he wanted to do - he wanted to be a production designer. He left ATI in the summer of 1974, the same year Rush released their first album, and he started running the touring operation for the band. He's been their lighting designer ever since.
From Small and Powerful to Big and Powerful
Thirty-three years after the band formed, it's back on the road again with the new release Snakes and Arrows. In the early days, Ungerleider's de-sign was centered around budget constraints.
"I tried to deliver an interesting show (back then) that had a small visual element to it that didn't strain the budget," he said. "(I used) a Kodak SAV slide projector with a screen and four Genie towers with some PARs and ACLs. At the time, it looked quite impressive, especially when the owl from Fly by Night (album cover artwork) started to flap its wings behind the band as they played." My, how things have changed.
"Now, here we are in 2007, and my early worries were about whether or not our ArtNet box was the correct model that would allow us to send video signal through the (Color Kinetics) Color Blaze 72s and 48s and whether or not the media servers would be able to handle the aspect ratio of the video clips we're running through our lighting console," he chuckles.
Those Kodak slide projectors are a distant memory, and his PARs and ACLs have morphed and multiplied, leading up to this tour. "I am using over 120 moving heads, along with an arsenal of MR-16 zip strips and three large 10-mil Toshiba video walls, two high power YAG laser systems and a few pyrotechnic flames, gerbs and flash pots."
Light and Overshadows
Ungerleider admits that it can be a challenge not to lose the band on the stage among all the effects. "This is a far cry from the seventies, but in all my years of designing shows, the one thing that was the most important was the aspect of class and finesse," he says. "One of the cardinal rules I have laid out for myself is to never overshadow anyone with effects. You have to use your lighting package as an integrated package in choreogra-phy with the artist, so that you build your show by understanding the music, lyrics and movement of the performers. Once you have established your vital creative information, then you can proceed with blending your video and effects package into your show."
Each of the shows lasts three hours, and Ungerleider says he likes to challenge himself to keep it interesting and fresh-looking throughout the duration of the night. Each song, he says, has to have but one outcome — it "must be an amazing experience."
"Layering and self control is my way of creating this happy medium that allows for an interesting and unusual environment," Ungerleider said. "I am one of a few very lucky individuals who have been able to watch technology progress through three decades, keeping our minds refreshed and our senses aroused. I feel like a teenager who has just received his driver's license for the first time."
Custom Creations
Ungerleider is partial to modifying his lighting gear to customize it, especially for his tours. On this particular tour, Premier Global Productions supplied the gear and the necessary mods. "They had the equipment and the ability to assist me in realizing my vision," Ungerleider says. He speci-fied gear from their inventory and had them modify it by "recircuiting, rebuilding and customizing it."
"I have some unusual requests for the company as far as hardware and software are concerned that help my design breathe," he says. "Custom gobos are a very good start, since you want your hard-edged fixtures look to be different than your normal standard patterns. Wash fixtures require custom color as well."
On this tour, Ungerleider selected a series of custom colors to replace the stock colors in the MAC 2000s. "That's what makes those lamps sing! Then the MR-16 zip strips that I love using as audience lights are wired in groups of 10 lamps per channel so that you can create unusual chase se-quences and different variations of shapes." These modifications help create a variety of unusual lighting effects, he says. Also helping his design "breathe" is what he called a great crew. "A great crew," he says, "is the key to success."
For the video content, Ungerleider collaborated with lead vocalist and bass player Geddy Lee and his brother, Allan Weinrib, who subsequently contracted various animators and animation houses in Toronto who contributed to the content development using a variety of software packages. Ungerleider worked with them to ensure color harmony, and Weinrib oversaw the development to make sure they hit their mark. Also, on this par-ticular tour, drummer Neil Peart created his own drum solo animation with an L.A.-based animator.
In addition to his duties with Rush, Ungerleider stays very busy with the production company he owns with partners Brian Beggs and Louis Chu. "When I first started Production Design International (www.pdifx.com), I wanted to obtain all of the special effects that were hard to find in Can-ada. I was also very tired of cross-renting this equipment from the U.S. and trucking it up to the Great White North."
They started with a dealership from High End Systems and then from Vari-lite; now they are a distributor for Mainlight Industries Soft-LED. They recently purchased a number of Showguns, the new fixtures from High End Systems, and they are developing new laser projectors and water screen technology.
"Having PDI gives me a great opportunity to create my designs because I have all of the latest effects in my demonstration facility or my play-ground. When I am designing a world tour or corporate show, a company Web site like mine helps the artist visualize our collaborative efforts, which translates into a greater understanding of my capabilities as a designer."
Crew
Lighting Designer/Director: Howard Ungerleider
Associate: Matt Tucker
Lighting Programmer: Tim Grivas
Lighting Crew Chief: Rich Vinyard
Dimmer Tech: Randy Garrett
Moving Light Tech: Greg Haygood
Laser Tech: Andrew Seabeck
Video Director: David Davidian
Video Technical Supervisor: Bob Larkin
Video Tech: Bill Quinn, Nick Strand
Pyrotechnician: John Arrowsmith, Pyrotek
Head Rigger: John Fletcher
Rigger: Chris Sorenson
Motion Control: Jacques Richard
Lighting & Production Design:
Production Design Intl. Inc.
Lighting Equipment: Premier Global Productions
Lasers: Production Design International Inc.
Video: BCC/ScreenWorks
Rigging Supplier: Show Distribution
Special Effects: Pyrotek
Gear
4 Catalyst HD media server
15 ChainMaster 1/4-ton VarioLifts
10 Coemar Power Cyc
16 Color Kinetics Color Blaze 72s
30 Color Kinetics Color Blaze 48s
1 ETC Sensor 96-way dimmer rack
3 Flying Pig Systems Wholehog III lighting console
2 Flying Pig Systems Wholehog III Rock Wing
4 Flying Pig Systems Wholehog III DP 2000
12 High End Systems Cyberlight CLs w/custom gobos
32 High End Systems studio beams
52 High End Systems X Spot Extreme w/custom gobos
2 Laser Scope 60W YAG lasers
37 Martin MAC 2000 Wash w/custom colors
21 Martin Atomic 3K strobes
24 6' MR-16 Ministrips (custom wired)
4 400A x 208V power distribution racks
2 Custom laser projectors
4 Double-headed dragon flame effects
6 104'/min pods