Buyers' Guide: Rush
By Neil Jeffries, Classic Rock, February 2008, transcribed by pwrwindows
---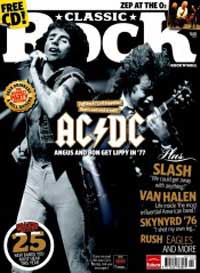 From Led Zep copyists and the sword-and-sorcery 70s, to prog rock giants and virtuoso instrumentalists, theirs has been an epic journey.
It's hard to believe that when Rush released their debut in 1974 everyone had them pegged as Led Zep copyists. Thirty-four years and a zillion albums later it's harder to judge which is more unlikely: (a) that they're still going, or (b) that they've done so on the strength of hiring drummer/lyricist Neil Peart to replace the long-forgotten (and recently deceased) John Rutsey.
Rush's continued existence is a riddle, wrapped in a mystery, inside the enigma that is the famously fan/limelight-avoiding and well-read Peart. Yet Rush are a three-piece band of equal parts, and similar attention is long overdue for Geddy Lee and Alex Lifeson.
Although frequently derided for his occasional choice of high-register singing, Lee has a fine, folky voice; he's no slouch on a synth, either. Moreover, as his excellent solo album My Favourite Headache (2000) proves, much of Rush's often overlooked mastery of melody is down to him. And all that before the best bass playing you'll find this side of Jack Bruce. Lifeson, too, is an underappreciated player, and deserves to be ranked alongside David Gilmour for his fluid soloing, and Jimmy Page for other-worldly riffs.
Lee and Lifeson's qualities added to Peart's prodigious talents for rhythms usually found outside the rock sphere have inspired a collective ambition to improve and expand their abilities, and to make music that is always evolving, never safe.
Rush's first 25 years can be viewed in three (unplanned) cycles, each comprised of four studio albums then a double-live set which seemed to herald a change in direction. From 1974-76 they rocked like bastards while peddling sword, sorcery and sci-fi - often on side-long epics. From 1977-81 they entered a purple patch when they discovered synth bass pedals, keyboards, and songs lasting less than 10 minutes. Cycle three, 1982-89, began with more of the same, but is typified by an initially unsettling penchant for reggae-style rhythms. They also fully embraced the 80s vogue for electronica.
After the third double live album, the cycles ended and studio output became sporadic - just six albums, one set of covers, and two more live sets for good measure to date. Over these they've steadily stripped away the trimmings and gone back to basics, finding a way to grow older gracefully.
For those of us who've grown up with Rush, their later albums are friends we've chosen, but the older ones are like family members. Some are harder to love, but we remain loyal to all. Here, then, are some of the toughest choices I've ever had to make...
Essential: Classics
MOVING PICTURES


Mercury, 1981
The killer-diller. No question. And the benchmark album for Rush. And it sounds as fresh today as when, after five months of often fraught work, the band sat in a playback at Quebec's Le Studios and declared it was finished.
Side one of the original vinyl featuring Tom Sawyer, Red Barchetta, the instrumental YYZ and Limelight was faultless. Flipping it over, we heard a newly matured Rush - each aged 27 or 28 at the time - rein in the epic The Camera Eye (inspired by a John Dos Passos novel) to 11 exhilarating minutes, terrify us with Witch Hunt, then set our techno pulses racing with Vital Signs.
Rush at the top of their game.
2112


Mercury, 1976
Rush did epics before 2112 (successfully with the nine-minute By-Tor And The Snow Dog on second album Fly By Night, and painfully with The Fountain Of Lamneth on follow-up Caress Of Steel), but with 2112's title track they hit pay dirt. It's almost 21 minutes of brilliance which runs the full musical gamut from acoustic picking (as the hero discovers the 'ancient miracle' of a six-string) to electric metal fury (the priests of the Temples Of Syrinx smash it, driving him to suicide as an apocalyptic battle rages).
It's an uneven album, as the second half pales in comparison, but the drug-themed A Passage to Bangkok and Something For Nothing are cracking tunes, too.
SUPERIOR: THE ONES THAT HELPED CEMENT THEIR REPUTATION
PERMANENT WAVES


Mercury, 1980
The kid brother to Permanent Waves, and where Lee first properly explored vocal ranges that didn't scare dogs.
Due to its unexpected hit single The Spirit Of Radio, this is perhaps the one Rush album bought by non-fans - many of them doubtless attracted by the Police-like reggae break in that track. For the rest of us, Free Will and the brooding Jacob's Ladder reminded us of the old Rush of Ayn Rand and sci-fi. Then a pair of beautiful love songs - Entre Nous and Different Strings - hinted at a more romantic future. But rather than getting soppy, the album closes with a three-parter, Natural Science, that is both big and clever.
A FAREWELL TO KINGS


Mercury, 1977
Ground zero for the band that Rush became. Power-trio stylings were eclipsed as Peart added a plethora of bells and percussion to his drum kit, Lee and Lifeson used pedal synths and the singer also took charge of a Minimoog.
Recorded in Wales, it marked the beginning of the bond between Britain and the Canadian trio. Much of it had an almost medieval feel, with tales of ancient tyrants (the title track) and everyman wanderers (Closer To The Heart, Cinderella Man and Madrigal), but it was dominated by lengthier takes on Coleridge's Kubla Khan poem (Xanadu) and a space flight into a black hole (Cygnus X-1).
HEMISPHERES


Mercury, 1978
On this album Peart, painted into a corner by his promise to continue the storyline of Cygnus X-1, devised the 18-minute title track based on classical philosophy and the intellectual battle between the heart and mind, romance and intellect, reason and emotion. Proper bonkers, but we loved it.
For Rush, though, it was a tipping point. No more side-long numbers! For light relief they added a pair of indicators to a simpler future - Circumstances and the acoustic guitar-laced The Trees (controversially assumed by some to be a comment on the Canadian separatist movement) - plus the stunning techno-rock instrumental La Villa Strangiato.
SIGNALS


Mercury, 1982
Following the live Exit...Stage Left, Dirk, Lerxst and Pratt (aka Lee, Lifeson and Peart) simply picked up from Moving Pictures and added more keyboards. Lots more. Subdivisions and The Analog Kid are awash with them, but never drowned.
More radical changes to the Rush soundscape, though, are in evidence on Chemistry and Digital Man, both of which further explore Police-style techno-reggae (this a full year ahead of The Police's Synchronicity), and The Weapon, built on a dance music drum pattern. Then after a brilliant guest solo by electric violinist Ben Mink, Rush reach for the stars with Countdown, based on watching a shuttle launch as VIP guests of NASA.
GOOD: WORTH EXPLORING
POWER WINDOWS


Vertigo, 1985
Older fans may dismiss Rush's 80s albums because they lack the drama of their 70s predecessors, but the playing is unquestionably tighter and the arrangements more concise. Grace Under Pressure (1984) was very good, but undermined because Lifeson also played synthesisers; Power Windows is purer because he sticks to what he does best.
Every song is a group effort, of course, but it's impossible not to name him as the star of Big Money. Likewise, Manhattan Project seems like Peart's showcase and Marathon Lee's. Then they all come together on Middletown Dreams and the fabulously sparse and hypnotic Mystic Rhythms.
ROLL THE BONES


Atlantic, 1991
Rush had new label for 1989's Presto, and they also switched to Howard Jones/Tina Turner producer Rupert Hine. That unlikely combination worked best on this second collaboration, as if to prove the theory that Rush are at their best in the studio when the album title ends in an 'S'.
Like an old friend walking out of fog, 'Bones emerges crisper and sharper. Synthesisers slip into the background, band and lyrics step forward; great choruses empower Dreamline, Bravado and Ghost Of A Chance; The Big Wheel is so stripped bare that it has an almost 60s feel. Geddy Lee even gets away with rap sections in the title track and You Bet Your Life. The album has a neat cover, too.
SNAKES AND ARROWS


Atlantic, 2007
Meet the new Rush, as good as the old Rush. The band cite co-producer Nick Raskulinecz (The Foo Fighters) for making the recording process more enjoyable than any in memory - and it shows. The synths have gone (just a Mellotron, used sparsely), and Far Cry, Working Them Angels and Spindrift rock like you've wished Rush would for years. It's brilliantly paced and sequenced, mixing irresistible choruses (The Larger Bowl, The Way The Wind Blows) with instrumental brilliance (The Main Monkey Business) and arena-filling guitar, and when the riff to Armor And Sword kicks in we're back in Moving Pictures land - it's that good!
AVOID
FEEDBACK


Atlantic, 2004
Simply Rush's way of paying tribute to the bands that inspired them in the first place, this album is nonetheless the sound of a band marking time by stepping back in it.
The songs the band chose to cover may surprise many veteran Rush fans - the likes of The Who's The Seeker, Love's Seven And Seven Is and The Yardbirds' Heart Full Of Soul and Shapes Of Things all sound a world away from the Rush's own work - and the whole thing plays like a guilty pleasure. Lee's vocals add unique cadence to each classic covered, but fans of the originals who aren't Rush fans will only deem them heretical. Great fun for the completists, but hardly essential.