Rush Unveil "Snakes & Arrows Live"; 2-CD Set Recorded During 2007 World Tour
Legendary Trio Return to the Road in April With First Ever Concert in Puerto Rico; "Snakes & Arrows Live" Lands on April 8th
Marketwire, February 25, 2008
---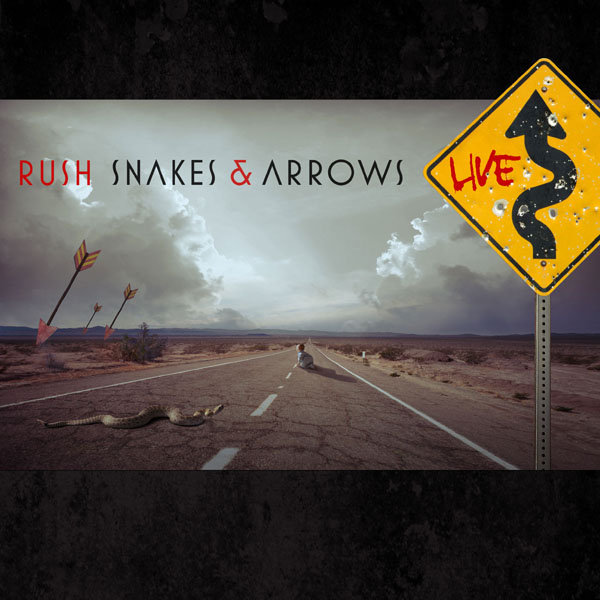 NEW YORK, NY--(Marketwire - February 25, 2008) - Anthem/Atlantic recording group Rush have announced early details of their upcoming new album, "SNAKES & ARROWS LIVE." The 2-CD live set will arrive in stores on April 8th (full track listing below).
"SNAKES & ARROWS LIVE" was recorded last October at the Netherlands' Ahoy Rotterdam arena during the renowned rock trio's lengthy world tour, and mixed by frequent collaborator Richard Chycki (Aerosmith, Mick Jagger). The five-month trek celebrated Rush's acclaimed 2007 studio release, "SNAKES & ARROWS," which includes the Grammy Award-nominated track, "Malignant Narcissism."
The new album features an explosive live rendition of "Workin' Them Angels." The track -- the original version of which can be found on "SNAKES & ARROWS" -- will impact at Rock radio outlets nationwide on March 10th.
Rush -- Geddy Lee, Alex Lifeson, and Neil Peart -- will simultaneously release the new live CD with another four months of concert dates. This extended schedule will see the band traveling North America through mid-July (see below itinerary). Produced by Live Nation Global Touring and SRO/Anthem, the 2008 leg of the "Snakes & Arrows Live Tour" will take off on April 11th at San Juan's Coliseo de Puerto Rico -- Rush's first-ever concert appearance in Puerto Rico. Among the highlights of the 45-city itinerary will be highly anticipated stops in a number of markets where the band has not performed in more than a decade, including Orlando, Oklahoma City, New Orleans, Reno, Moline, Boise, Austin, Jacksonville, and Winnipeg.
Due to popular demand, Rush has added a second night at the Nokia Theatre in Los Angeles, performing on May 8th. Fan club presale for the show will start on Tuesday, February 26, with the remaining tickets becoming available to the public on Saturday, March 1 (details for both presale and public sale at www.rush.com).
"SNAKES & ARROWS" made a triumphant debut on the Billboard 200 upon its release last May, entering the chart in the #3 spot. The album's popular success marked Rush's highest chart debut since 1993, as well as the group's eleventh top ten album in the U.S. "SNAKES & ARROWS" also debuted at #3 in the band's native Canada and at #13 in the UK -- the band's highest British chart ranking in 16 years. In addition, the album premiered in the top ten in Sweden and Finland, and in the top twenty in Norway, the Netherlands, and Japan.
Since releasing their self-titled debut album in 1974, Rush has been universally regarded as one of the most inventive and compelling groups in rock, famed for Lee, Lifeson, and Peart's virtuoso musicianship. The band's extraordinary body of work -- which includes such acclaimed works as 1976's "2112," 1981's "MOVING PICTURES," 1996's "TEST FOR ECHO," and 2002's "VAPOR TRAILS" -- has achieved worldwide sales exceeding 35 million units.
For complete tour and ticket information, please visit www.rush.com and www.livenation.com.

(TRACK LISTING BELOW)
                              RUSH
                     "SNAKES & ARROWS LIVE"
                        (ANTHEM/ATLANTIC)
                       Available April 8th

Disc 1
1.  Limelight
2.  Digital Man
3.  Entre Nous
4.  Mission
5.  Freewill
6.  The Main Monkey Business
7.  The Larger Bowl
8.  Secret Touch
9.  Circumstances
10. Between the Wheels
11. Dreamline
12. Far Cry
13. Workin' Them Angels
14. Armor and Sword

Disc 2
1.  Spindrift
2.  The Way the Wind Blows
3.  Subdivisions
4.  Natural Science
5.  Witch Hunt
6.  Malignant Narcissism - De Slagwerker
7.  Hope
8.  Distant Early Warning
9.  The Spirit of Radio
10. Tom Sawyer
Encore:
11.  One Little Victory
12.  A Passage to Bangkok
13.  YYZ

(TOUR ITINERARY BELOW)

                              RUSH
                Snakes & Arrows World Tour - 2008


APRIL
11      San Juan, PR       Coliseo de Puerto Rico
13      Ft Lauderdale, FL  Bank Atlantic Center
15      Orlando, FL        Amway Center
17      Jacksonville, FL   Jacksonville Veterans Memorial Arena
19      New Orleans, LA    Arena
20      Houston, TX        Woodlands Pavilion
23      Austin, TX         Frank Erwin Center
25      Dallas, TX         The Music Center at Fair Park
26      Oklahoma City, OK  Ford Center
29      Albuquerque, NM    Journal Pavilion

MAY
1       Phoenix, AZ         Cricket Pavilion
3       Reno, NV            Reno Events Center
4       Concord, CA         Sleep Train Pavilion
6       Los Angeles, CA     Nokia Theatre
8       Los Angeles, CA     Nokia Theatre
10      Las Vegas, NV       Mandalay Bay Events Center
11      Irvine, CA          Verizon Wireless Amphitheatre
20      Moline, IL          iWireless Center
22      St Paul, MN         Xcel Energy Center
24      Winnipeg, MB        MTS Center
25      Regina, SK          Brandt Center
27      Edmonton, AB        Rexall Place
29      Vancouver, BC       GM Place
31      Seattle, WA         The Gorge Amphitheatre

JUNE
1       Portland, OR        Clark County Amphitheatre
3       Boise, ID           Idaho Center
5       Denver, CO          Red Rocks
7       Kansas City, MO     Starlight Theatre
9       Chicago, IL         United Center
10      Detroit, MI         Joe Louis Arena
12      Montreal, QC        Bell Center
14      Philadelphia, PA    Wachovia Center
15      Boston, MA          Tweeter Center
25      Indianapolis, IN    Verizon Amphitheatre
27      Milwaukee, WI       Summerfest
28      St Louis, MO        Verizon Wireless Amphitheatre
30      Cincinnati, OH      Riverbend Music Center

JULY
2       Pittsburgh, PA      Post Gazette Amphitheatre
4       Atlantic City, NJ   Marc Etess Arena
5       Saratoga, NY        SPAC
7       Uncasville, CT      Mohegan Sun
9       Toronto, ON         The Molson Amphitheatre
11      Manchester, NH      Verizon Arena
12      Holmdel, NJ         PNC Bank Arts Center
14      Wantagh, NY         Jones Beach
17      Hershey, PA         Hershey Stadium
19      Washington, DC      Nissan Pavilion
20      Charlotte, NC       Amphitheatre
22      Atlanta, GA         Verizon Wireless Amphitheatre at Encore Park