Modern Day Warriors
By Anthony Sica, Music Entertainment, April 2008, transcribed by John Patuto
---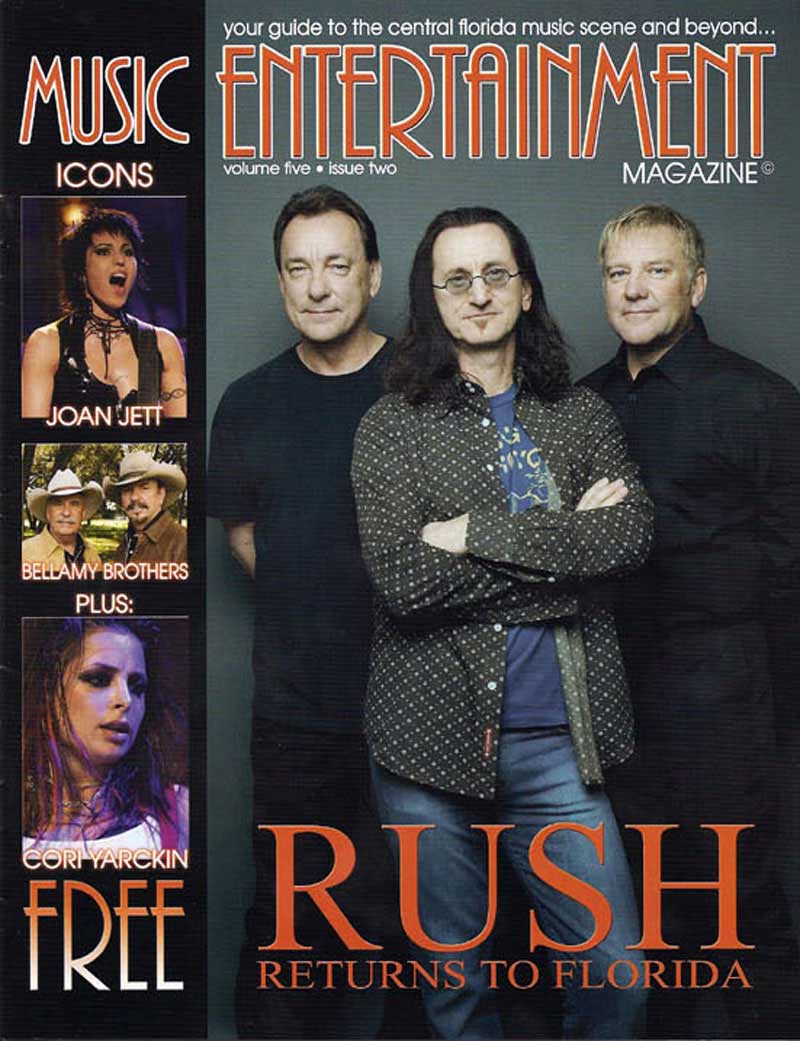 In 1968, Geddy Lee and Alex Lifeson first appeared onstage together as their new band RUSH performed at a Toronto coffeehouse called the Coff-In, ironically owned and operated by a neighborhood church. Not able to afford decent equipment, they played two identical sets of Cream covers both plugged into the same amp and using floor lamps with duct tape as makeshift mic stands. When the night ended, the duo [sic - Rutsey was there as well] were a whopping $10 wealthier. After blowing the night's earnings at a deli down the street, they sat and planned world domination both elated and overjoyed ... they were professional musicians doing what they wanted to do. 40 years later, Geddy and Alex along with drummer/lyricist Neil Peart, who joined the band in 1974, prepare to embark on their 25th tour of the United States. 25 albums later and 40 million in record sales worldwide, RUSH is not supporting a greatest hits package or a reunion tour. On the contrary, they are touring in support of 2007's Snakes & Arrows, their most focused full-length release since ... well ... since 2002's Vapor Trails. Y'see boys and girls, despite never having a pop hit, despite never being accepted as a mainstream act, despite never appearing on the cover of Rolling Stone, despite all the trends that have come and gone over the last four decades, RUSH has endured. High-pitched vocals, sci-fi, fantasy themed lyrics, heavy bass, incendiary guitar licks and unfathomable drums have been the progressive formula since day one, all executed by three lone gunmen who are above the law of music industry and sometimes even common business sense. And it's this blatant disregard for commercial success and image that has garnered the band its mass appear. Paving the way for bands such as Metallica, Smashing Pumpkins and Dream Theater and a new crop of prog-powered bands like The Mars Volta and Coheed & Cambria, RUSH was the definition of progressive.
After releasing their debut album in 1973 recorded in four days and Fly By Night in 1974 [sic], recorded in just five days, RUSH abandoned their Zeppelin-inspired rock riffs for epic, orchestral compositions in the vein of King Crimson, Pink Floyd and YES and produced Caress of Steel in two weeks. The album was a commercial failure and was panned by every music critic in North America. However, RUSH stuck it out on the road opening for Uriah Heep, KISS, Mahogany Rush, ZZ Top, The New York Dolls, Bill Preston, The Marshall Tucker Band and many more while headlining small theaters when they could. Playing over 250 shows across North America on what was first dubbed the "Down The Tubes" Tour then later the "Drive Till' You Die" Tour [sic - this latter one would be the A Farewell To Kings tour], the band lost most of their road crew because of outstanding debts to Mercury Records and took shifts driving themselves from venue to venue. Despite the lack of radio airplay, RUSH established itself as one of the best live acts in the world, wowing people with unique musical prowess and technical ability. Taking all the confidence they built up on the road, RUSH headed back into the studio and instead of backing away from progressive tendencies heard on Caress, they upped the ante with an even more progressive selection of suites which would define the rest of their career. 2112 released in 1976, was a sci-fi epic which focused on the theme of individualism and man's fight against the masses. Ironically, it was RUSH's biggest "F#%k You" to the music industry, the music fans and Mercury Records ... and yet it was their first Gold Record. It seems that this self-sacrificing dedication to their art, helped them truly endure the endless criticism, financial disasters and rigors of the road. On 2112, "Something for Nothing" aptly describes the band's ethos ... "You don't get something for nothing / you don't get freedom for free / you don't get wise / with the sleep in your eyes / no matter what your dreams might be."
Manager Ray Danniels, who has guided RUSH's career since day one likens the band's success to that of a baseball team. "They've built up millions of fans by never coming off the road for the first twenty years of their career. They put out 19 albums and did 19 tours in support ... and like a baseball team, you can count on them every season ... and they may not win the World Series every year, but they always make the playoffs."
Indeed, after the success of 2112, RUSH continued on its progressive path with the mind-blowing Hemispheres which had even more epic arrangements than 2112 and dealt lyrically with the theme of the hero Cygnus breaking up the struggle between Apollo and Dionysus. But as they entered the 80s, RUSH decided to embrace the new wave of rhythm being architected by bands such as The Police and Talking Heads ... the result was a more-radio friendly Permanent Waves in 1980 and 1981's classic Moving Pictures. Powered by "Tom Sawyer," again a representation of an individual going against the norm, Moving Pictures has elements of rock, reggae and new wave ... all played exquisitely by these maestros. And being one of the first digitally mastered and mixed records ever, Moving Pictures was the epitome of sonic clarity. Going multi-platinum overnight, Moving Pictures transformed RUSH from a cult band to an American FM staple. Reluctant to step far into "The Limelight" chronicled on Moving Pictures in song, RUSH abandoned the sound of their guitar driven early records for synth-laden new wave excursions. But no matter how much they attempted to alienate their audience and write only for themselves, the more successful they became. Signals was one of the most boring, muddy sounding records RUSH recorded, and yet "New World Man" hit the top of the rock charts and propelled the album to platinum status.
As RUSH progressed into the 90s, Peart's lyrics went from fantastic to inspirational. From "Marathon" off of Power Windows theme of endurance one needs to realize their dreams to alienation and free will mantras of "Show Don't Tell" and "The Pass" off of Presto, to the recurring theme of endurance in "Stick It Out" off Counterparts and the title track off of Roll The Bones, Peart has provided the inspiration and motivation to both the band and their legions of die-hard fans. In 1997, Peart lost his daughter in a car accident, only to lose his wife to Cancer six months later. Although he took much needed time off, he endured his pain and returned to the studio to record RUSH's Vapor Trails. After that, RUSH again hit the road playing bigger arenas than ever ... Oh, and they haven't had an opening act since the mid 90s. They play two sets/three hours a night year after year. On their latest, Snakes & Arrows, Peart writes in "We Hold On" ... Keep Going Till Dawn / How Many Times Must Another Line Be Drawn / We Could Be Down And Gone / But We Hold On." I've personally seen RUSH half-a-dozen times in concert ... I have every CD they've ever released and I can honestly say that their music & lyrics have inspired me many times in my life to indeed "hold on" ... but if you've never had the pleasure to see the most endearing and enduring group in all of rock ... don't take my word for it ... they'll be live at The Bank Atlantic Center in Sunrise on April 13th; The Amway Arena in Orlando on April 15th and at Jacksonville Veterans Memorial Arena in Jacksonville on April 17th. And by the way, that's three shows out of a planned 50. After 40 years, these "modern day warriors" have nothing to prove by playing 50 cities ... except that they still can! And if the old saying "God is in the details," is indeed true, they on tour, RUSH will make you see God every night!
---
Collecting Rush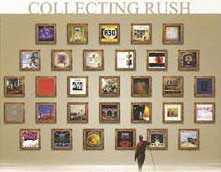 [Webmaster Note: This story originally caught my eye when I noticed the use of one of my custom wallpaper images, dubbed "The Rush Art Gallery"; the updated version of this image is here.]
If you'd like to get "addicted to that Rush" but don't know where to start with the vast amount of albums that are available ... here's a few to get you hooked ... all are available (and remastered) at fine musical retail outlets, indie stores and online.

Fly By Night is unofficially the first RUSH record, since it's Neil's first. Again, themes of individualism resonate through "Anthem" inspired by the works of Ayn Rand. Already we see the band setting themselves apart from the rest of the music industry.

Although 2112 is best known for progressive epic suites and twelve minute tracks [sic], it's the one-off that we love. "A Passage to Bangkok" is about searching for the world's best pot, while "The Twilight Zone" is a nod to Rod Serling. And "Tears" ... will have you in them!

Hemispheres is about the conflict between thoughts and emotions, heart and mind ... plenty of both on this disc. By far, the most musically challenging RUSH record. "La Ville Strangiato" is the most intense Dream Theater you've never heard, recorded 30 years ago.

You've heard "Tom Sawyer," "Limelight" and "YYZ" from Moving Pictures on the radio a million times ... but so what ... unless you own this classic, you've never heard the synth soaked Witch Hunt or the reggae rolled "Vital Signs" ... "Everybody got to elevate from the norm."

Classic epic 80s RUSH ... every song sound like it should be on a Reagan-era, Cold War, Day After; Nuclear holocaust scenario movie sound-track. "The Big Money," "Marathon" and "Manhattan Project" off Power Windows are the tunes that launched a thousand prog ships.

My favorite, Presto was pure magic. RUSH returned to songwriting form. F#@k "Smells Like Teen Spirit," during the recession-ridden Gulf War, Bush Sr. years, "Dreamline," "The Pass" and "Show Don't Tell" saved my life and introduced the band to a disenchanted Generation X.

More powerful than Test for Echo and Vapor Trails, RUSH is celebrating their longevity with one of their best records ever. Written on acoustics, the boys have gone back to basics, writing songs again with hooks that are on par with their insane musical ability. Snakes & Arrows is full of venom to say the least.