Original Rush Drummer Dies
By Jason Macneil, Jam!Showbiz, May 22, 2008
---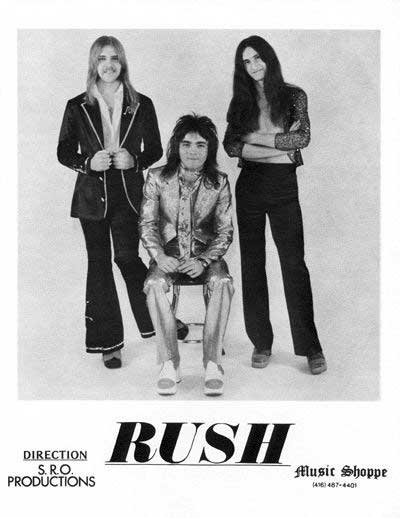 John Rutsey, original drummer for Canadian prog-rock band Rush, died last week from complications stemming from a lifelong battle with diabetes. He was 55.
Rutsey was a founding member -- along with guitarist Alex Lifeson and bassist/vocalist Jeff Jones -- when Rush formed early in 1968. Jones was replaced shortly thereafter by Geddy Lee.
"Our memories of the early years of Rush when John was in the band are very fond to us," Lee and Lifeson said in a statement released through Universal Music.
"Those years spent in our teens dreaming of one day doing what we continue to do decades later are special. Although our paths diverged many years ago, we smile today, thinking back on those exciting times and remembering John's wonderful sense of humour and impeccable timing. He will be deeply missed by all he touched."
Rutsey remained with Rush until July, 1974, when he left the band due to musical differences and health reasons.
He was replaced by Neil Peart weeks before Rush began an American tour as a support act on a bill with Uriah Heep and Manfred Mann.
The trio of Lifeson, Peart and Lee has been together ever since.
Rutsey appeared on the band's self-titled debut album which was released in March 1974, and on Rush's first single in 1973. The single included a cover of Buddy Holly's Not Fade Away on Side A and You Can't Fight It, a composition by Geddy Lee and Rutsey, on Side B.
In a 1989 Rockline radio interview, Lifeson stated Rutsey gave up performing after leaving Rush and went into bodybuilding.
Although no longer with Rush when the band achieved its greatest success, Rutsey's mark on the band has not been forgotten.
Rutsey is the name of a Rush tribute band from New York City which states on its Myspace page (http://www.myspace.com/rutsey) it's "doing for Rush what John Rutsey would've done!" A tribute album entitled Lush featuring the cover band was released in 2007 by Main Man Records, which recreated Rush's first album.
Meanwhile, online condolences poured in from Rush fans around the world, including messages from Australia, Germany, the U.S., Ireland and the United Kingdom.
Donations may be made in John Rutsey's memory to the Juvenile Diabetes Research Foundation, 7100 Woodbine Avenue, Suite 311, Markham, ON L3R 5J2. They can also be made online at www.jdrf.ca or phone at 905-944-4631.