Surviving Tragedy, Defying Fashion, Rock's Uncoolest Band Take On The World, Again
By Peter Makowski, Classic Rock, August 2008, transcribed by John Patuto
---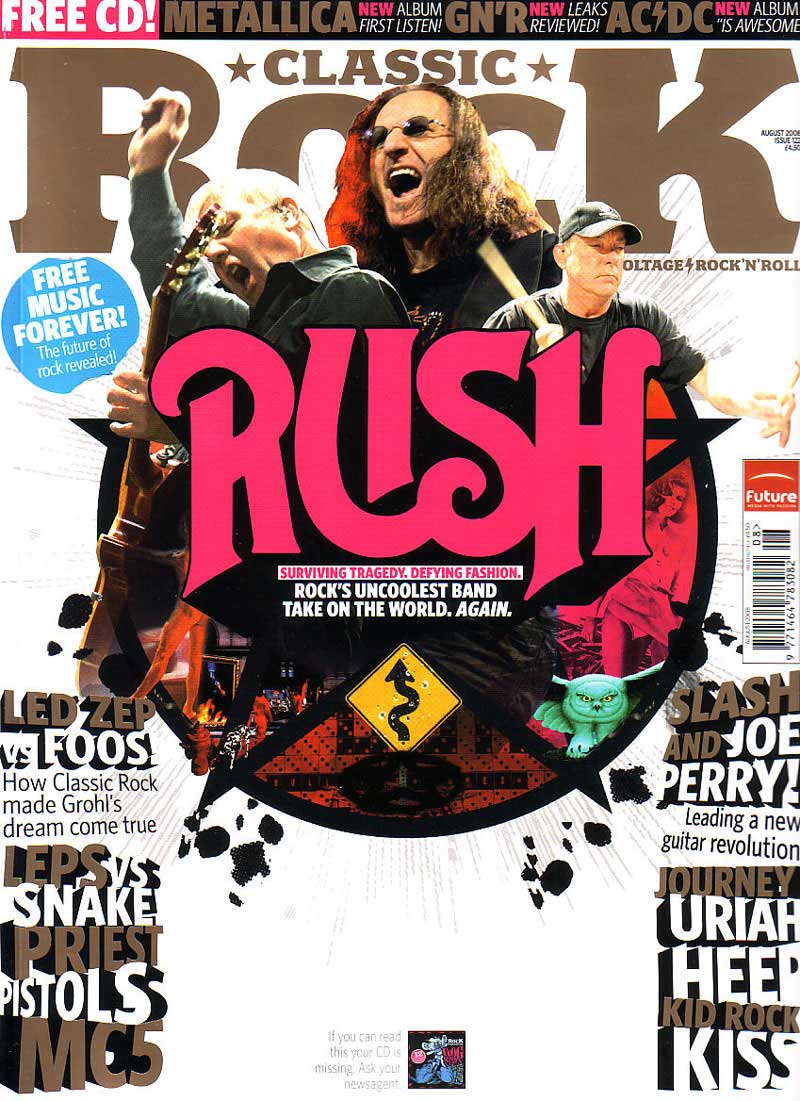 Geddy Lee Spit Roast
Buck-buck-buckcock!
Only the visually impaired or severely stoned Rush fans could fail to notice Geddy Lee's bizarre selection of backline equipment. On previous tours his bass has been powered by amplifiers disguised as fully functioning Maytag washers. This time round there's two ovens full of chickens on revolving spit roasts, which are basted at regular intervals throughout the show.

Classic Rock asked Geddy to explain this bizarre chice of sound equipment.

"Well, I love chicken and so do most of the road crew, so it seemed like a good fit. Before that we had the laundry because it's always important to have clean clothes on the road. That stuff catches up with you after a while, so we tried to make it convenient for the crew to get their clothes done. Jack Black made an appearance and threw all his clothes into the laundry. Everyone is welcome on stage left, whether you need to do your laundry or baste some chicken.

"It's hard to say what we'll incorporate in the next tour, it depends on the need."
Hit Me With Your Rhythm Stick
Was Neil Peart almost a Blockhead?
Prior to joining Rush, Neil Peart made a pilgrimage to the UK, and turned up for some interesting auditions: "I remember showing up at a pub in Islington," he says, "and the whole band was handicapped - the drummer had polio, the trumpet player had one arm and the keyboard player was blind. It was just like a Fellini scene!"

Could it have been Kilburn & the High Roads, the legendary band fronted by a pre-Blockheads Ian Dury? "This does sound like the Kilburns or at least the drummer does," says Lee Harris, the Blockheads' manager. "They never had a one armed trumpet player - unless Davey Payne the sax player was having a laugh, which wouldn't be out the question! And neither Russell Hardy or Rod Melvin are blind! I tell you what though - I would love to hear Peart play with us."
A Tribute to John Rutsey
Geddy remembers Rush's first drummer
While CR was on the road with Rush, John Rutsey, the original drummer (who appeared on the debut album), died from a heart attack related to complications from the diabetes, the disease which led to his departure from the band as they were beginning to make waves in the mid-70's.

When broached about the subject Geddy admitted that he hadn't seen Rutsey since the mid-80s but added: "Back in '76 we were still good pals - he went to my wedding. I know that he became a fitness freak for a while. Back in the old days we grew up together and I have a lot of memories from that period. He was a very funny man - he had a very dry sense of humour."
Rush: the rock anthems
It's not all princess, castles and wizards y'know...
In The Mood (from Rush, 1974)
Who'd have thought it, a Rush love song that borders upon a lust song? In The Mood even includes the couplet: 'I just want to rock and roll you, woman/Until the night is done.'
Anthem (from Fly By Night, 1975)
Does what is says on the tin. Running order-wise, the first Rush song to be co-written by Neil Peart.
Bastille Day (from Caress Of Steel, 1975)
With its line of 'La guillotine will claim her bloddy prize', Bastille Day retells the story of a fateful day during the French Revolution when the Bastille was stormed, on 14th July, 1789.
Something For Nothing (from 2112, 1976)
This hard-driving rocker was inspired by a piece of graffiti - 'Freedom isn't for free' - spotted during the mid-70s by Neil Peart while the band was being driven to a show in Los Angels.
Circumstances (from Hemispheres, 1978)
With its opening line of 'A boy alone, so far from home', drummer Neil Peart wrote Circumstances about the time he spent in Europe, before joining the band in the summer of 1974.
The Spirit Of Radio (from Permanent Waves, 1980)
Despite the inclusion of a faux-reggae section, this was Rush's biggest ever UK hit single. "The song was really a statement of where radio was going at the time," Alex Lifeson once disparagingly told Classic Rock.
Q: How many concerts do you average a year?
Geddy Lee: About 200, maybe more.

Q: Two hundred concerts for five years. How long can you keep that up?
Geddy Lee: As long as we're still standing.
- Radio interview, 1979
Forget sex and drugs and meet the prog'n'rollers who survived tragedy, defied fashion and grew up with dignity. Classic Rock rolls the bones in Las Vegas with the mighty Rush.
"You never know how things are going to work out, and at this point we could have never imagined us still being together this many years later and enjoying each other's company. We don't know if this is our last tour or not especially after the years Neil suffered through his losses. That has taught us that you cannot make a game plan, 'cos life can throw a curve ball at you and everything changes." - Geddy Lee, May 2008
In the casinos of Las Vegas you will find a small but prominently displayed leaflet that explains quite clearly why the odds are against you when you put your hard-earned dollars into the greedy slots of the one-armed bandits that cover the city, lurking at petrol pumps and airport check-ins like greedy, jangling chrome- plated muggers.
Tellingly entitled 'The House Advantage', the pamphlet explains that no ritual, lucky charm or superstition can influence the outcome of any casino game. The results, they say, are "random and always favour the house ... This is a form of entertainment at a price to you and should not be considered a way to make money".
Like the equally stark warnings on a cigarette packet, this informative and accurate piece of literature has absolutely zero effect on the millions of people who invade this surreal, glorified excuse for a legal shebeen in Nevada, to make their fortune, get smashed and hopefully indulge in every other form of excess and pulchritude available - on and off the menu. When it comes to self-gratification no one is interested in checking the Health & Safety manual.
But no matter how slim your chances are of returning from Vegas with the jackpot, it's nowhere near as risky as being in a band trying to survive in a precarious business that is on the verge of a new millennium meltdown. You would think that being in a 'prog rock' outfit hailing from the Jurassic ages, your chances of getting through the current great depression would be even slimmer, but somehow Rush have defied all the odds and seem to be doing better than ever.
Their latest studio album - Snakes & Arrows - saw the band enjoy their highest chart entry in years and they have been touring almost constantly for the last six years. So it seems appropriate that Classic Rock should join them on the road in the rarefied atmosphere of the gambling capital of the US, where they were playing a show at the vast and impressive Mandalay Bay Center - a venue which is usually home to hockey, boxing and other more testosterone-led activities.
"Our progress has been has been evolutionary," Neil Peart is telling us. "Stylistically, so many bands did not survive the 70s, 80s and 90s because they couldn't adapt and for us it was a case of adapt or perish."
They may be derided by the popular media, ignored by MTV and criminally blanked by the Rock'n'Roll Hall of Fame, but Rush's recent success provides a great business model for up and coming acts. The multitude of management teams, who are currently struggling to keep afloat should set fire to their 'graphs, sack their ineffective A&R teams and spend a week with these hard working Canucks to discover how to survive the slings (or should that be snakes?) and arrows of this merciless industry and garner a fiercely loyal following.
For this lot, it's all about the fans and the music: And as boring and uncontroversial as that may be for more scandal hungry media, it has kept them afloat and flourishing for well over 30 years. Look at any one of the plethora of fan websites and you will find a highly complex underground network where you can glean every piece of Rush information available and up-to-the-minute gig reports. And if, that doesn't satisfy your voracious, trainspotting appetite, then the band also reciprocates with a variety of websites including one where you can ponder over drummer Neil Peart's tour diary as he travails the rugged terrain between shows on his trusty chopper.
"We're pretty transparent and that's intentional because we don't want that mystique of rock stars," Peart explains prior to the show. "I travel through people's ordinary lives every day and if they want to hold on to the fantasy of an athlete or a musician, fine - but I also want them to know what my life is really like. I try to demystify as much as possible and say, 'Look - this is a real life I have and if I'm hurting, that's the way it is'."
Hurt is an emotion Peart is more than familiar with having endured the loss of his daughter and wife within a matter of months, and even though he has remarried and rebuilt his life, there are areas of his life that remain out of bounds.
"There's a clear line to me what's personal," he says. "On my website I don't show pictures of my wife or things like that. I talk about my life in action. So there's a fine line there with privacy and I don't like that being invaded."
It could be the mantra of the whole band. Rush may have an 'open door policy' once you have passed the initial tests (What's the magazine? What's your agenda? etc) but they also have firm boundaries which are underlined by the management team prior to my interviews with all three members. It's stipulated in a most diplomatic but equally firm manner that CR should not probe into the group's personal lives (obviously referring to Peart and also guitarist Alex Lifeson's brush with the police, and the ongoing lawsuits, after a drunken fracas at a friend's wedding party).
We had no intentions of doing so, but the reality is that Peart's personal life unavoidably comes up when talking about Rush today. If Peart himself didn't mention it, the other two members do: the repercussions of the double tragedy that still resonate today and are without a doubt partially responsible for the dramatic rebirth of the band as a recording and touring unit.
Peart documented the tragedies that changed his life - and how he survived them - in his book Ghost Rider. On August 10, 1997, he wrote, "my wife Jackie and I had kissed and hugged our nineteen-year-old daughter, Selena, as she set out to drive back to Toronto, ready to start university..." Later that night, instead of getting a phone call from Selena to let them know she had gotten home safe, Peart and his wife opened their front door to face the local chief of police. He had in his hands a fax from the Ontario police force and "we tried to read the black lines on the paper, tried to make sense of the incomprehensible, to believe the unacceptable. My mind was reeling in a hopeless struggle to absorb those words. 'Single car accident', 'apparently lost control,' 'dead at the scene'."
Moments before the chief of police had arrived, Peart remembered, he had been watching a TV documentary about the Mormon trek west in 1847: "It quoted a woman who had survived the ordeal about the terrible hardships they had endured, and the last words I remember were, 'The only reason I am alive is because I could not die'. That terrible phrase would come back to haunt me in the months that followed. It soon became apparent that Jackie's world was completely shattered forever; she had fallen to pieces, and she never came back together again."
As the couple tried to recover from their loss months later in London, Jackie "began to suffer from severe back pain and nocturnal coughing ... On the eve of our departure, Jackie was diagnosed with terminal cancer (the doctors called it cancer, but of course it was a broken heart), and a second nightmare began."
She died just 10 months after his daughter, in June of 1998. By then Peart had long since given up on his day job. "After my first terrible loss," he wrote, "I felt no urge to work with the band anymore, and the day of Selena's funeral I had told my partners in Rush, Geddy and Alex (all of us in tears), that they should 'consider me retired' ... Certainly I had no interest in playing drums or writing lyrics for rock songs."
Instead, he took to the road on his motorcycle for 14 months, criss-crossing the continent in an effort to both escape and find some meaning: "Throughout that dark time of grief, sorrow, desolation, and complete despair, something in me seemed determined to carry on. Something would come up. "Or maybe it was more like the Mormon woman's statement: 'The only reason I am alive is because I could not die'."
The Mandalay Bay Events Center is housed in a massive complex that includes the venue, hotel, shopping malls, restaurants and an infinite amount of casinos. It's a sleazy Center Parcs for alcoholics, gamblers and party animals, populated by hostesses who look sadder than 1970s Eastern European hookers and truss themselves up like Victorian poultry, so much so that their bulging bosoms seem to arrive a few nano seconds before their overflowing trays of complimentary beverages, designed to induce a spree of reckless gambling.
Vegas is a letdown for anyone expecting it to be cooler than the cut of Sinatra's suit, slicker than Dean Martin's oiled pompadour and populated with dangerous Mediterranean types with equally menacing monikers. Instead you get rows of emaciated old biddies stooped over a bewildering array of fruit machines, submerged in toxic clouds of acrid smoke, desperately dispensing coins from what look like cereal bowls overflowing with small change. The place has the sad, empty feeling of a holiday camp bingo hall - with prostitutes. There are no svelte George Clooney lookalikes wandering around looking seductively aloof, planning their next heist. You're more likely to find George and Mildred clutching a two-for-one voucher in search of a Nandos.
But one thing that Vegas does admirably is cater to the needs of the new breed of middle-aged rock fans. The walls are colourfully decorated with posters advertising forthcoming shows which include Journey, Prince, The Police and the Sex Pistols. This is the ideal location for the tiber fan who has settled down and can no longer justify abandoning his wife and kids to follow his favourite bands and pursue drunken oblivion. CR finds Ron, an ardent Rush acolyte from Washington State who has seen the band over 30 times ("first gig 1978"), with his ear pressed against the venue entrance door, listening to the sound check.
"It's great that they're playing Vegas," he beams. "It means I can take my wife and kids under the pretence of going on holiday and go and see my favourite band and get wasted." Plus, he says, "Rush shows are a safe place to take your kids too. There's not too much drug taking and it's not too crazy."
Backstage it's apparent that Rush's 'crazy' period is long gone. In fact it's doubtful that there ever was one. I certainly never witnessed any tantrums, tiaras or deviant peccadilloes on my last encounter with the band in 1982. Apart from a mildly debauched midnight rendezvous with Lifeson, the only other memorable moments of that assignment was an hour long interview with the then incredibly erudite and intense Peart, that left me with a lingering, painful migraine (fortunately the great man has mellowed out since then) and the fact that Geddy Lee won a bet against Geoff Barton (then Sounds Editor, now CR's Editor At Large) who was convinced that the normally reticent and camera shy bassist wouldn't allow photographer Ross Halfin to take his picture for the cover of Sounds. (He did and can be seen beaming on the cover, right, holding up a plate with the words 'Barton You Lose', scrawled in felt tip by yours truly.) But there were no demolished hotel rooms, tramlines of cocaine or mud sharks.
As Geddy pointed out at the time: "I like to think that we try to maintain a realistic, well-balanced outlook in this business. We've avoided burning out so far, because there's been too many bad, sad examples around us - people who've lost contact with reality. It's scary watching that. The three of us have a desire to keep it alive; we try and avoid these things where we all become complacent. I think complacency is the biggest fear we all have."
So what do Rush do to pass the time on tours, instead of the usual rounds of substance-inspired interior-decoration and defiling of groupies?
"Well for two tours all three of us took French lessons from Berlitz, because we were working in Quebec for a lot of the time," explains Peart. "We also learnt to play hockey, rollerskate and got radio controlled cars. All these were attempts to make more of a life.
"I don't really like touring but it makes me a better musician," he admits between deep drags on a pre-show cigarette. "I love rehearsing, and I love preparing for the tour and also the first few shows. But then after that it's like all these months of my life are spent basically doing the same thing. That's why I got into bicycling and motorcycles - I needed more out of life. I just did an interview with someone and I was saying that touring isn't any kind of life and he asked when did I start feeling that way, thinking I had become all cynical. ] said, '1974-within a month of the first tour'."
It could be the 'road fatigue' talking. Neil admits that the band is 'all worn down'. "Look," he laughs, "my sunglasses are being held together with tape and I have a callous on my finger that I'm treating with Super Glue."
The fact is that these days it's necessary to take your music to the people and it's the reason Rush are still thriving. They have always been a highly efficient, well-oiled touring unit, unaffected by outside forces and although the band are beginning to feel the effects of constant touring, they still seem fired up by the fact that there is an audience out there that wants to see them.
"We're doing more gigs than we've done for a long time," explained a tired but surprisingly exuberant Lee. "It's due to the way that Snakes & Arrows is being received and the fact that we're really enjoying playing it. We've also gone back to a lot of places that we haven't played in about 20 years."
The audience is also getting younger which was apparent at the show later in the evening. There's a generation out there discovering classic rock bands through their parents' record collections and the recent spate of proactive computer games like Rock Band and Guitar Hero.
Geddy: "What's great is that we get these young kids coming to our shows and they don't respond to the older material in the first half. But once we get to the second set, which features songs from the new album, they come to life and that's really cool. It validates hanging around this long."
There's also another new phenomenon appearing at the shows, as Alex revealed with a sly grin. "Recently there have been a lot of women. Historically there usually aren't any women at a Rush show!"
The fact is that the band have got a strong and loyal fan base, apparently immune to fickle musical trends and economic insecurities. When I toured with them 26 years ago, the US was in the grips of a crippling recession and America had discovered punk, new wave and disco simultaneously, resulting in a mass culling of other genres. Yet Rush were headlining massive sold out tours and selling crate loads of then latest album Signals. 26 years on, it's like things haven't changed. Recession? Check. Charts ruled by punk, new wave and dance music? Check. Rush forging ahead regardless? Check.
In both my interviews I asked Geddy how Rush would cope if they had only just formed in such an unpredictable climate, and got almost identical answers:
a) "If Rush appeared now, we wouldn't have a snowball's chance in hell of getting a deal. And you know what's the worst situation nowadays? There are some albums that have been recorded that will never see the light of day because, after all the effort, the company decides that the product has no commercial potential. That really scares me."
b) "Well, we wouldn't have got signed. There's not many record labels that are in any kind of shape to sign anybody. We would probably have to do what we did back then and that's make our reputation as a live band."
Which quote came first? Answers on a postcard please, to the usual address.*
[*The answer is: a) 1982 b) 2008]
In fact a lot of the answers to my questions were strikingly similar in both interviews, which makes Rush either incredibly boring and predictable or totally functional and consistent.
One would guess it's the latter that inspires the loyalty of the fans and brings the audience in droves. In these hedonistic times of the overnight Shooting (Up) Star, where you can't guarantee that wasted talents like Amy Winehouse will make it to the toilet, let alone actually make it onto a stage to perform, it's comforting to know that Neil, Geddy and Alex will always be there with their baffling lyrics, complex time signatures and, of course, solos.
Rush are the product of a bygone era when a group's importance lay in their album-selling potential and bands were given time to grow and develop. The days of acts like Led Zeppelin, Yes, Black Sabbath and Rush are well and truly over.
"You can say what you want about major record companies," says Lifeson, "but the fact is, if we didn't sign to one that wasn't committed to five records then we would have never had the opportunity to develop and grow. The deal with us was 'Let the band learn their stuff in the first two or three albums and then on record four or five they're going to hit it and everybody's going to be happy'. That doesn't happen anymore - everything's on speculation."
"The era of the big record companies is definitely over and it's a kind of free-for-all," Geddy agrees. "This is a good and bad thing for a young band. It's harder now to get a big financial push behind you, but it's easier to do your individual thing like signing with an indie label or getting on the internet. We're living in interesting times," he laughs. Interesting times, indeed. Do the band find this new technical revolution an exciting or scary proposition?
"It doesn't scare me," is Geddy's firm response. "A lot of bands were nervous of the downloading thing when it first came, but now it's played itself out. A band like us has nothing to fear from that because we have an audience. What I worry about is young bands and will they be able to get out of their internet world and move beyond that? That's down to quality: if they're good then they'll probably have a shot."
In a bid to adapt and improve with modem times, in recent years Rush have released a prolific number of live albums and have been criticised for doing by their most stalwart supporters. Back in the 80s the band expressed their discomfort with the whole concept of live albums. (Geddy was quite vocal about it: "Doing a live album is a really boring experience. Live albums are sort of historical; they're painful to do because there's nothing really creative about them ... ")
So what prompted the change of heart (apart from the fact that they are a phenomenal source of revenue)? "Well, if you look at what's happening now with technology," says Geddy, "more and more bands are releasing live material as the fans are leaving the venue. We're not into doing that, but we can recognise the fact that if a band can record their show and sell it to their crowd as they are leaving the venue, then it certainly warrants picking a really good show and releasing it as souvenir from that tour. I think that DVD is the perfect medium for a live concert band and I think we'll do one with every tour from now on."
One thing the band won't stop doing is producing and recording new material. It's a vital component of the engine that keeps them moving forward, as Geddy explains: "To consider yourself a band, to be valid, you have to keep on writing and keep creating. We don't do records to promote live tours. We do records because we love making them and want to write music. If it was just down to being a band that toured on our past we wouldn't do it, we couldn't do it. The creative process is as important now as it ever was."
Although the way they actually release their new material may change in the future, as Alex revealed: "We really need to sit down and decide what we want to do with our next record. Whether we do an album or whether we just write songs over a period of time and release them as we go along. That's kind of attractive to me."
While other bands put together package tours to pull in the punters, Rush's current tour features no support bands - it's a three hour show, in two halves, covering a substantial chunk of their career. There are the standards like Limelight, Red Barchetta, Trees, Subdivisions, 2112, Tom Sawyer and, of course, The Spirit Of Radio, the song that introduced reggae to the head-banging masses and has the veterans in their washed-out original T-shirts frothing with delight. And then there's the new stuff, which is met with head banging approval by the young bloods who respond enthusiastically while the elders sit back and digest their hot dogs and brewskis in anticipation of the next multi-layered epic.
"We have a gazillion songs for you," announces a chirpy Lee, looking like a hybrid of Bono and Sean Penn, dressed in the same clothes he's been wearing all day. When not trapped behind his keyboards and banks of foot pedals, Geddy manages to muster the odd jig across the stage, but the group's focus is primarily on the music - stage presence is not their forte. They are the ultimate tiber nerds who spent their formative years practising and jamming in their bedrooms to the latest prog rock masterpiece - and now create the music that will have the next generation of nerds practising and jamming in their bedrooms.
They may be unable to resist a time change - it's like a musical form of tourettes which can sometimes bury the potential of some great tunes - but overall they avoid the worst excesses of their predecessors (Yes, ELP etc) and have a commercial sensibility that ensures the crowd stays engaged throughout. There is also a spectacular light show and back projections which alternate between the cinematic, dramatic and humorous with the inclusion of South Park characters.
This along with Geddy's customised backline, which is a fully functioning chicken roaster, add a bit of levity to the proceedings.
Peart agrees: "I love the comedy aspect we put in the show and I would love to do more. It's always been a part of our repertoire. With growing confidence we're less afraid to look foolish."
And, yes, there was an incredible turn out of female fans. It is quite overpowering to watch a gaggle of girls, dressed as if they are about to embark on a hen night, playing air cymbals to Digital Man. In fact Rush fans win hands down when it comes to miming, and if you really want to see an enthusiastic if not clinically insane audience, check out the Live In Rio DVD to witness a crowd singing along, karaoke style, to YYZ.
The Rush show is more of an extravaganza than just a 'gig', and sits comfortably alongside the other grandiose, eccentric spectacles on offer in Vegas - a heavy rock Cirque du Soleil enhanced by raucous grebo audience participation. "We entertain the audience and they entertain us," announces a triumphant Peart backstage, still coming down from the night's performance. "We do things musically because we really like them and we hope other people will like them too. Our fans can trust us not to cheat."
"The fans are ferociously loyal," agrees Geddy, "and that's due to some connection that they've made with our songs. I don't think it's because of any individual in the band. I think it's a collective thing they get out of the music."
In the twilight of their career the band seem recharged and more focused, partly due to age and maturity, but also because after Neil's tragedy they had to sit around for almost five years and contemplate the future without Rush.
"Neil's tragedy was the lowest point," Alex reveals solemnly. "The band ended on that day. I don't think that I even played my guitar for about a year. It just shattered all our lives."
While the remaining members kept themselves occupied by recording solo albums and doing TV, they were absolutely adamant that the band would not continue without Peart.
Geddy: "We might have carried on writing music in some configuration, but Rush has always been the three of us. I couldn't imagine doing it without one of us."
Ask Geddy and Alex to name the highlight of their career and the answer is unanimous.
Alex: "It has to be playing the first show when Neil came back. It was a really, really moving night. At one point we were huddled together at the kit, just feeding off each other. I definitely had a lump in my throat."
Rush seem to have handled all the pivotal events in their career with a civilised dignity that has kept them out of the spotlight and made PRs redundant. Their pursuit of anonymity and privacy away from the spotlight is probably one of the major factors that has kept them under the media radar and deprived them of the glory and awards. It's also helped them avoid the obvious pitfalls that come with celebrity and allowed them to grow old gracefully.
Somebody should start a petition to get Rush inducted into the Rock'n'Roll Hall Of Fame or at least get them a prestigious Classic Rock Living Legend Award. The gauntlet has been laid - now, dear reader, it's up to you.
The reality is that Alex, Geddy and Neil probably don't give a toss whether they are honoured or not as they are getting enough adulation from their fans, and are also imbued with the old-school values. It's all about the music, maaan.
"We've never made a decision that wasn't genuinely devoted to the music we like," concludes Neil. "That's the way it was when I was a naïve 18-year-old. That's the way I thought it worked - people made music that they liked and played it for other people. That's what we do."