Retrospective 3 Press Release
Atlantic Records, January 16, 2009
---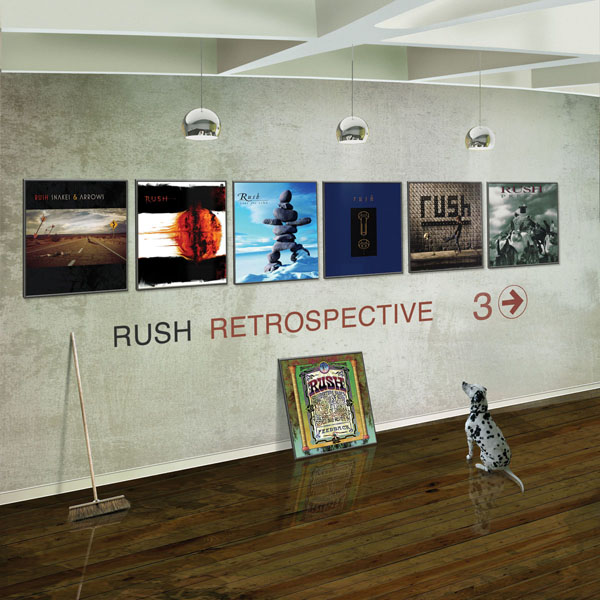 Rush Reveals "Retrospective III"; Third Edition of Career-Spanning Collections Features Music From the Renowned Rock Trio's Two Decades With Atlantic Records; Highlights Include New Remixes and Previously Unreleased Live Track; Two Disc CD/DVD Set Features Music Videos, Live Concert Performances, and Rare Television Appearance; "Retrospective III (1989-2008)" Arrives on March 3rd
NEW YORK, NY--(Marketwire - January 16, 2009) - Anthem/Atlantic recording group Rush has announced details of the upcoming third volume in its continuing compilation series. "RETROSPECTIVE III (1989-2008)" arrives in stores on March 3rd.
The collection -- available as both individual CD and two-disc CD/DVD set -- features tracks culled from the legendary trio's two decades with Atlantic Records, spanning such acclaimed studio works as 1989's "PRESTO," 1991's "ROLL THE BONES," 1993's "COUNTERPARTS," 1996's "TEST FOR ECHO," 2002's "VAPOR TRAILS," and 2007's "SNAKES & ARROWS" (see attached tracklisting). In addition, "RETROSPECTIVE III" features a previously unreleased live version of the classic "Ghost of a Chance," recorded live in Atlanta during Rush's 2008 "Snakes & Arrows Tour," as well as two tracks -- "One Little Victory" and "Earthshine" -- newly remixed by the band's Alex Lifeson and master mixer Richard Chycki (Aerosmith, Mick Jagger, P. Diddy).
The "RETROSPECTIVE III" DVD gathers the band's 10 stunning music videos during the Atlantic years, including clips for fan favorites such as "The Pass," "Roll The Bones," "Stick It Out," "Driven," and the Grammy Award-nominated "Malignant Narcissism." What's more, the DVD includes a trio of live videos filmed in Frankfurt, Germany during Rush's 2004 "R30: 30th Anniversary World Tour," highlighted by a masterful performance of The Who's classic "The Seeker" (originally recorded by Rush for 2004's "FEEDBACK"). As an added bonus, the band has included a rare televised performance of the classic "Tom Sawyer" and an on-camera interview featuring all three members.
Both the CD and CD/DVD versions of "RETROSPECIVE III" are available now for pre-order at www.rush.com/preorder. A "Deluxe Rush Fan Pack" is also being offered, combining the CD/DVD package with a limited edition lithograph highlighting the albums featured on "RETROSPECTIVE III." The first 100 orders will receive an ultra-rare signed lithograph.
In other news, Rush has been nominated for a Grammy Award in the category of Best Rock Instrumental Performance for the track, "Hope (Live For The Art Of Peace)," the band's contribution to the "SONGS FOR TIBET: THE ART OF PEACE" compilation.
Rush -- Geddy Lee, Alex Lifeson, and Neil Peart -- is without question one of the most inventive and compelling groups in rock history, equally famed for both its virtuoso musicianship and provocative songwriting. A career-chronicling Rolling Stone feature published last year praised the band for its continuing artistic vitality, noting that "It's true that Rush doesn't mean today what it did in '76 or even '96. It may mean more."
Since releasing their self-titled debut album in 1974, Rush has achieved worldwide sales exceeding 35 million units, including such acclaimed works as 1976's "2112," 1981's "MOVING PICTURES," 1996's "TEST FOR ECHO," and 2002's "VAPOR TRAILS." The band's most recent studio collection, 2007's "SNAKES & ARROWS," made a triumphant debut on the Billboard 200 upon its initial release, entering the chart in the #3 spot. The album's success marked Rush's highest chart debut since 1993, as well as the group's eleventh top ten album in the U.S.
Rush celebrated with the epic "Snakes & Arrows Live Tour," captured for posterity on the two-CD live set, "SNAKES & ARROWS LIVE," released last spring. The collection's release was followed by a rare national television performance and interview on Comedy Central's "The Colbert Report" -- the renowned rock trio's first television appearance since 1975. Rush ended 2008 on a high note with the November release of the "SNAKES & ARROWS LIVE" DVD set, which debuted at #1 on Billboard's Top Music Video chart.
(TRACKLISTING BELOW)
RUSH
"RETROSPECTIVE III (1989-2008)"
(Anthem/Atlantic)
Release Date: March 3rd, 2009
CD:
1. One Little Victory (Remix)
2. Dreamline
3. Workin' Them Angels
4. Presto
5. Bravado
6. Driven
7. The Pass
8. Animate
9. Roll the Bones
10. Ghost of a Chance (Live)
11. Nobody's Hero
12. Leave That Thing Alone
13. Earthshine (Remix)
14. Far Cry

DVD:
1. Stick it Out
2. Nobody's Hero
3. Half the World
4. Driven
5. Roll the Bones
6. Show Don't Tell
7. The Pass
8. Superconductor
9. Far Cry
10. Malignant Narcissism
11. The Seeker (Live)
12. Secret Touch (Live)
13. Resist (Live)
14. Interview and "Tom Sawyer" (Live)*
* bonus material