Grammy For Rush? There's Always Hope
By Marco R. della Cava, USA Today, January 30, 2009
---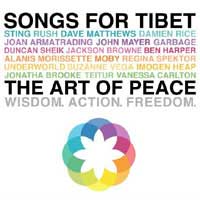 Canadian rockers carve out big sales, big expectations
Let's be honest. When you write 20-minute songs that spin futuristic tales of cruel priests ruling from the mythical Temples of Syrinx - cue up Rush's seminal 1976 album 2112 - you're not going to threaten Madonna's pop culture reign.
But after 19 studio albums, 35 million in record sales and a fan base that could outflank the Deadhead army, the question remains legit: How is it that the Canadian power trio has yet to nab either a Grammy or a spot in the Rock and Roll Hall of Fame?
"We've gotten nominated before in the rock instrumental category, but I guess overall we're just not a typical Grammy band," says Geddy Lee, 55, whose glass-shattering voice and thunderous bass-playing anchor a group that also consists of guitarist Alex Lifeson and drummer Neil Peart. The group garnered another instrumental nomination this year for Hope (Live for the Art of Peace), a track off the benefit album Songs for Tibet: The Art of Peace. "As for the Hall of Fame, maybe there's some personal bias there. Or perhaps we're still too young."
Wishful thinking. Rush is as veteran a rock group as they come. Proof lies in their March 3 release, Retrospective 3, the third edition of a career-spanning trilogy focusing on 1989 to 2008. Included in the CD/DVD set is the band's 2008 appearance on Comedy Central's The Colbert Report, Rush's second U.S. television appearance in 33 years.
Host Stephen Colbert makes frequent reference to his teen years as a Dungeons & Dragons and Lord of the Rings devotee, long considered the core of Rush's fans.
"I think we appeal to a broader spectrum than just nerds," says Lee, whose distinctive first name stems from his Polish mother's mispronunciation of his given name, Gary. "But our music does require many listens, and the lyrics (written by Peart) offer a lot of depth. People who read books like our music, and I don't consider that a bad thing."
The band's frequent allusions to science fiction are what captured Ed Stenger, a Web developer from Cleveland who created the popular RushIsABand.com fan site. "Their anti-establishment themes also appeal to me, songs like Free Will," he says. "I'd say most fans are male, and even nerdy. One thing's for sure: Rush is a band you love or hate."
Devotees of Rush and other progressive rock bands routinely flood the Rock and Roll Hall of Fame with calls and mail, "asking why artists in that genre aren't in, and I don't have a good answer," says Joel Peresman, president of the hall's foundation, which oversees inductions. "But it's not like they never will be. It's not a closed book."
Rush indeed has good company in that award-less gulag, says Andy Greene, assistant editor at Rolling Stone. "Critics dismiss prog rock bands like Genesis, Yes and King Crimson as pretentious and overblown. But those same bands create cult followings. At a recent Rush show in New York, I saw people sing every lyric for three hours."
That remains a rewarding sight for Lee and his bandmates, who almost set down their instruments for good in the late '90s after Peart's daughter and wife died 10 months apart. Peart disappeared on his motorcycle for years, then fell in love again and decided to pick up the sticks. Rush didn't lose a step: They remain a formidable force on the road, with last summer's tour grossing $20.6 million, according to Billboard Boxscore.
"We're together now thanks to the fortitude that Neil had to come back," Lee says. "After all these years, the creative juices still flow. It says a lot about our ability to stick around."
Contributing: Jack Gillum