Rush Inducted Into Playboy Magazine's Hall Of Fame
Playboy, March 2009
---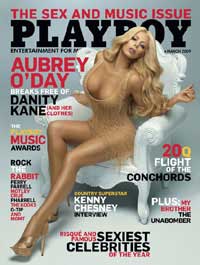 Given how many write-in votes Rush got from readers for best live act of the year, it's clear the innovative Toronto band's star has never burned brighter than right now. The definitive version of the trio was solidified in 1974, and from then on bassist Geddy Lee, guitartist Alex Lifeson and drummer Neil Peart have followed a relentless experimental path while maintaining one consistent quality: mind-bending virtuosity. Together they've created arena-ready hard rock such as "Fly By Night", established the blueprint for prog rock with the song suites and fantasy-literature imagery of LPs such as 2112 and Hemispheres, and successfully guided their legion of fans into synth territory with albums like Power Windows. Along the way, they've also written some of the most enduring and best-loved tunes of classic-rock radio, including "Tom Sawyer", "Closer to the Heart" and "Freewill". Unlike so many acts whose work populates classic-rock radio, however, Rush still matters.
The band's most recent album, Snakes and Arrows, was the second-highest-charting LP of its career, and the resultant tour has run for two years now, drawing arena-size audiences in 2008 to the tune of $18 million. Further proof of Rush's staying power--both as musicians and as a concert draw--can be heard and seen on the 27-track Snakes and Arrows Live double album and DVD, both released this year.
Though Rush's dozens of gold and platinum albums and performances before as many as 60,000 fans apparently don't warrant its inclusion in Cleveland's Rock and Roll Hame of Fame, we're proud to welcome the band, on behalf of our millions of readers, to ours."