Three Rounds With...Geddy Lee
By Rob Brunner, Entertainment Weekly, March 20, 2009, transcribed by pwrwindows
---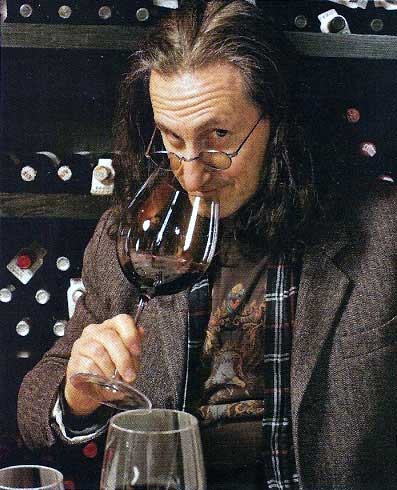 Rush singer Geddy Lee is the high-note-hitting bass monster behind classics like "Tom Sawyer." He's also, it turns out, a wine fanatic. (His home cellars hold almost 5,000 bottles.) "I don't like talking about it in public because I worry I will come off like some pretentious f---ing bozo," he says. "But I do love wine." Over a four-hour binge at Manhattan restaurant (and wine mecca) Del Posto, Lee proves to be a fantastic dinner companion, dropping tidbits about hiking in Patagonia, A.J. Liebling, and the new Sigur Rós album. Here's a taste.
ROUND 1: Bastianich Vespa Bianco 2006 and the New CD: "It's got a nice, complex nose." Rush just released Retrospective 3, which distills the past 19 years into 14 tracks (plus a DVD). "We don't have a lot of disagreements," Lee says about the selection process. "We're ridiculously sensible. We sent a few e-mails and everyone said, 'Sure, thumbs up.' It was painless."
ROUND 2: Vietti Barolo Villero Riserva 1997 and Colbert: "Delicious, but I would say it's not the perfect moment to drink it yet." The highlight of the new collection is Rush's surprisingly funny appearance on The Colbert Report last summer, included at the end of the DVD. It was their first U.S. TV performance in three decades. "As we've gotten older, we've lightened up," says Lee. "When we went through that terrible period [after drummer Neil Peart's wife and daughter died in the late '90s], we really did believe that [the band] was over. Since then we appreciate what we have more. Anyway, cheers. Enough of that."
ROUND 3: Bastianich Perlidia 2003 and the Movie: "This, to me, is the superstar of the night." Rush's lighter attitude also helps explain their first-ever movie appearance, performing "Limelight" in the upcoming comedy I Love You, Man. "It was a blast," says Lee. "We just played the same song over and over again. It came at a tough time, because we were on tour and that was our day off. It was nice that it was such fun, because we were pretty beat." No wonder: Rush played more than 100 shows in 18 months, and they're currently in the middle of a well-earned "deep holiday." But eventually Lee plans to get back to work. "Road burnout is not to be underestimated, but every human being needs to feel productive. That's the key to a long life. That and good wine."
---
Geddy Lee Recommends
The Rush star's enthusiasms are hardly limited to fine wine. Here are just a few of the things he raved about over the course of an epic restaurant meal.
Fantasy Baseball: "Sometimes I go backstage during the drum solo and check my fantasy standings."
Fleet Foxes: "My favorite album right now. It reminds me of English folk bands I liked years ago."
Riga, Latvia: "It's a stunning city. Architecturally, it's one of the most important cities in Europe."
'The Yiddish Policemen's Union': "I love the book. They should put me in the Coen brothers' movie."