Q&A With Geddy Lee
By Jerry Ewing, Classic Rock, April 2009, transcribed by pwrwindows and John Patuto
---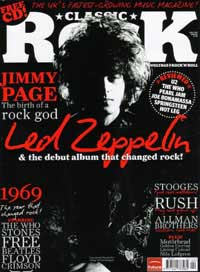 Rush have their third greatest hits album out. Pretty good going for a band who don't really have hits in the first place.
Canadian rock maestros Rush celebrate a hefty 18-year slice of their career with the release of their Retrospective III collection that takes in their last album of the 80s, 1989's Presto, and brings everything right up to date with 2007's much-heralded Snakes & Arrows. After Roll The Bones (1991) and Counterparts (1993) the trio took a six-year break with the release or 1996's Test For Echo, a period of enforced inactivity as drummer Neil Peart's daughter was killed in a car accident followed by his wife succumbing to cancer a year later. However, the band returned - at first with the tentative steps of 2002's Vapor Trails and then far more emphatically with the well received Snakes & Arrows. "I think I'd place Snakes & Arrows among our top three albums," singer/bassist Geddy Lee told Classic Rock proudly on the eve of the release of the band's new compilation.
This is Rush's third retrospective collection. How much involvement do you, as the band, have in putting these things together? Or is the task of putting together a compilation simply left to someone else these days?
We all had our two cents worth in there. We got a tracklisting from management saying: "These are our suggestions." Then we tore it apart, ha-ha. Everyone was like: "Nah, I don't want that in" or "Why don't we put this one in, instead?" What you basically want is a representation of the period, and you also want to include some things that you thought got overlooked. Songs that deserve a second chance or songs that through playing live over the years you've gotten to appreciate, That's the combination of different attitudes you take when putting these things together.
One of the appealing factors behind Retrospective III is that it's not just a collection of the singles from your albums.
Well, that's because we don't really have, hits. It's not like a greatest hits, more All The Songs That Were Not Hits by Rush, ha ha. These are songs that we're proud or and believe that somehow have passed the test of time, and you try and put them into a package that adheres to the concept of a retrospective.
Retrospective III covers an intriguing era for Rush, From a successful period, to a six-year hiatus, to a quite spectacular retum to form.
Well, we were fortunate enough to find our audience still waiting for us after almost six years. We rediscovered what was fun about working together and I think we've evolved into a dam good live band. And I think we're just kind or riding that. We learned that there's no crystal ball, you never know what's going to happen in your life. So let's appreciate the fact that we're still writing together and enjoy playing together.
Retrospective III starts at a time when one Rush album would perhaps be keyboard-heavy, the next would be guitar-heavy, as if you were always searching for the ideal sound. And yet it culminates with material from Snakes & Arrows wbere you seem to have discovered what you were searching for.
I would agree with that. In panticular with Snakrs & Arrows we found that space we've been wanting to get to in terms of keeping the balance of influences. There are so many ways we can go, and because we're over ambitious when putting our songs together, it's very easy to bloat in one direction or to lose yourself in the excitement of a new sound. I think it began with Vapor Trails but really came together with Snakes & Arrows. And I think the Feedback EP we did really helped because it reminded us of our roots and a lot of fundamental things about rock songs that may have got lost in the technocratic attitude that we sometimes have.
Live, you also seem to have found a happy medium of blending the old, which fans always hanker for, with your newer material. Your live set seems a comfortable fit for you.
The live thing is something where we really try to make everybody happy. And that can be really hard. But we've been lucky that we have enough fans to support us to be able to go out without an opening act and play for three hours. That's a wonderful opportunity to mix things up and to play the songs you're dying to play and pull things out of the past fans are longing to hear. That's a luxury for us.
You didn't play in the UK between the 1992 Roll The Bones tour and your 30th Anniversary dales in 2004. At the time rumours suggested the absence was due to promoters informing you of a lack of interest. You were also reported to be shocked when 2007's Snakes & Arrows dates sold so quickly. True?
It was a combination of things. We were burnt out by touring so we stripped down our touring schedule to undertake what we needed to do to survive, which was just in North America. At the same time we never felt like we had much support from our record company in the UK. We've had people more enthusiastic than others, but we felt no great interest. And up to this day we don't feel an enthusiastic base of support when we do come over. That was a contributing factor, but we don't tour the UK on that basis. We tour for our fans, and our decisions are based on how we feel. We got insular and stopped looking at Rush in terms of the whole world. I think we'd been on the road for too many years.
Another rumour, probably from an over zealous fan, claims your next studio work may return to a conceptual theme, such as with your legendary 2112 album?
We haven't even discussed our next work yet.
So. what's next for Rush?
Well, right now we're all taking a well-needed break. We're pooped and we're not spring chickens anymore, so we do need that break. So that's what we're doing. I'm just working hard on my social skills again, ha-h.
---
Rush Retrospective III (1989-2008)
By Dave Ling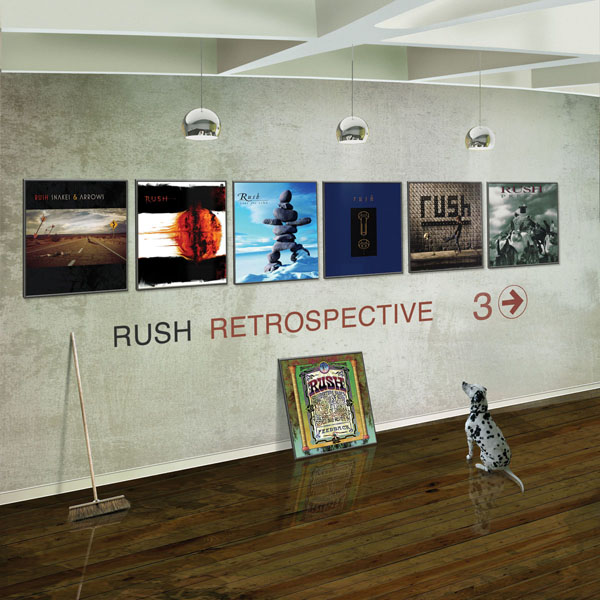 Yet another Rush through time - and not a cloak or kimono in sight.
Athough some handle the problem of aging with more grace than others, nobody enjoys seeing their heroes grow old-from whichever walk of life they come. Unlike sportsmen and women, musicians and actors often improve with the onset of grey hair and wrinkles. Rush are a fine example. While some fans of the Canadian band still hanker for concept albums and indulgent sci-fi pieces, deep down few of us really wish to sec bassist/singer Geddy Lee and guitarist Alex Lifeson - now both 55; drummer Neal Peart being a year older - exhuming their satin kimonos from the closet.
Unless they've been out on a New Year's Eve booze-up (let's not even go there...), dignity is a quality that these elderly statesmen of rock now exude. Though he can sometimes be a little too highbrow, there are few better or more thoughtful lyricists than Peart, nor more recognisable vocalists than Lee. Lifeson might have consciously held back on 2002's Vapor Trails album whilst Peart recovered from family bereavements - "I wanted us all to link arms and for nobody to show off," he told Classic Rock - but the guitarist's contribution remains significant.
Documenting the trio's 13th album, Presto, onwards, Retrospective III deserves the subtitle of The Atlantic Years. It's hardly the most exciting, flamboyant or pioneering era of Rush's four decade career, though it confirms a vice-like mastery of their chosen course.
Kicking off with a newly remixed and tightly rhythmic "One Little Victory", from the aforementioned Vapor Trails, the collection returns to more familiar sounding territory with "Dreamline" from 1991's Roll The Bones. "Bravado" and "Workin' Them Angels", from Roll The Bones and 2007's Snakes And Arrows respectively, are examples of the group's increasingly stripped-down approach, while by contrast the Grammy nominated instrumental "Leave That Thing Alone!" is a fine throwback to the more intricate days of yore.
These 14 songs sound like the work of a band confident or their ability and comfortable within their own skin. Collectors will seek out Retrospective III for its two remixed tracks ("Earthshine" being the second Vapor Trails selection to be tweaked), and also a previously unreleased live version of "Ghost Of A Chance".
7 out of 10
CD Extras
The dual-disc edition of Retrospective III (1989-2008) pulls together 10 Atlantic-era promo videos, including those for "Roll The Bones", "The Pass", "Driven", "Stick It Out" and the Grammy-nominated "Malignant Narcissism". It also includes three further live tracks filmed in Germany during 2004's 30th anniversary tour, notably a cover of The Who's "The Seeker". Look out also for a rare TV performance of "Tom Sawyer", and an interview featuring all three band members.