Art For Art's Sake: RUSH
Celebrity Musings On The Art Of The Prog World, From The Good To The Bad To The Quite Possibly Ugly!
By Philip Wilding, Classic Rock presents PROG, June 2009, transcribed by pwrwindows
---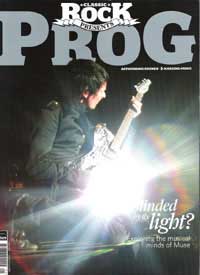 Manic Street Preachers bassist Nicky Wire grew up adoring Canadian prog metal maestros Rush. And why not? As a man with an eye for detail, here Nicky leads Philip Wilding through his musings on the band's iconic artwork.
The title track from the latest Manic Street Preachers album, Journal For Plague Lovers owes, by bassist Nicky Wire's own admission, much to one of his favourite bands.
"That song was designed to play like Rush and Magazine, it has that Spirit Of The Radio [sic] energy, it's taken us to get to this age to pull it off I think," says Wire, "It's got that Neil Peart hi-hat drumming, it's even got some fancy bass, it feels like a euphoric Rush moment and we were in Rockfield recording it; I even got my old black and white Rickenbacker bass out for it.
We love Rockfield, it's always resonated with us, I remember poring over the sleeve for A Farewell To Kings and Hemispheres and finding out that they were recorded there and being so excited by the fact that they were done in Wales."
Wire, a long-time Rush fan, discovered the band through his older brother and on the last band's last UK tour went along with Manics' singer James Dean Bradfield to Wembley Arena to interview Alex Lifeson and Geddy Lee for Classic Rock.
"I was so nervous, I remember writing down my questions and rehearsing them beforehand," he admits. "It was like I was getting ready for a gig, I was checking what clothes to wear, looking in the mirror. And I was very aware that I didn't want to waste their time before the gig. I'd have loved to have talked to Neil about his lyrics too, but I like the fact that he's this man of mystery who doesn't do too many interviews. I was drained after that interview, honestly, doing that and the best man's speech at James' wedding, those two things were so much harder than playing to 70,000 people at the Millennium Stadium in Cardiff."
RUSH (Mercury, 1974)


Just for the graphic pink logo really, the shock of it and it's such a weird album, there's no Neil, but it still has a song like Working Man. The cover has that immediacy that I like. It was between this and Hemispheres to make the list of sleeves I like, but that cover's a bit too prog for me. I really like Geddy's vocals too, that rasping live feel; that thrill of the new, you know? I even love the photos on the back; John Rutsey looks like a young Roger Taylor, that whole pretty boy thing.
FLY BY NIGHT (Mercury, 1975)


I got into Rush through my older brother and I remember him bringing this home and it ended up being one of the first things I drew in art at school. Of course, there was someone in my class who had it painted on his jacket. I like the coldness of it and the way the owl just stares at you. The typography is bland by Rush standards, but there's something about that stark blue and even though it's obvious - Fly By Night, here's an owl - but when you're 14 you appreciate the obvious.
CARESS OF STEEL (Mercury, 1975)


A great album title and with songs like Bastille Day and Lakeside Park it was a real part of that Rush mythology growing up in Wales, but I just don't like that cover. It's meant to be this bubbling steel, this molten metal, but that figure, it's all bit too Tolkienesque for me. Even at the time the cover never drew me in. It's a weird record all over, a transitional album, things like I Think I'm Going Bald; it was like something out of TS Eliot.
2112 (Mercury, 1976)


It's a design classic; I always use it as a reference point and the colours they used; the blues, red, purple and black, it's not something you see used a lot. Plus the whole symbol, timeless, surely their most enduring image? I still stare at that cover, I love the whole 70s feel of it, it's as iconic as Dark Side? , but no-one ever says that as it's almost not cool to take Rush as seriously as Pink Floyd. I still have my 2112 dog-tags too, I wear them, onstage all the time.
A FAREWELL TO KINGS (Mercury, 1977)


I always find that cover slightly disturbing, it's got that Hipgnosis feel; Muse covers remind me of it a little. That deterioration, that figure, it's all so drab and so brave, that great typeface they used too, it really is one of my favourites and it's my favourite Rush album, musically speaking, even if Cygnus X-1 does test your patience. That walking bass riff in Xanadu, that's like something off the first Stone Roses album. They even have a pop song about manic depression on there, I could just go on and on about that album ...
PERMANENT WAVES (Mercury, 1980)


The mythology that spread around our school about that cover, the blacked out headline, that there was another version that existed with the words on [that band did have to alter some of the original artwork after objections from Coca-Cola and The Chicago Tribune]. So every time you went in a record shop you always had to look for it, it was like the Holy Grail. It was the album they went over ground with, that only happens once, we had Design?, they had Spirit? If Neil Young had written those lyrics, he'd have been called a genius.
MOVING PICTURES (Mercury, 1981)


I find this cover a little disturbing, there's a sense of loss to it, that picture of the fire. Brave artwork and one that you pick up details of as you go along, Neil standing in the middle of the picture [sic: Neil is NOT in this picture], it's quite surreal, but has a really confident feel to it. I remember realizing that my brother was growing up, it was Bonfire Night and we were larking about and he wanted to go in to watch Rush do Tom Sawyer on TOTP and I couldn't believe he didn't want to stay out and let off fireworks.
ALL THE WORLD'S A STAGE/EXIT STAGE LEFT (Mercury, 1976/1981)



The idea at the time was that the live album was an important deal and now you never see bands doing them. All The World's ... had that stark set-up, the empty stage, the starman and it was gatefold sleeve with all those pictures, I loved that. It really seemed to be the summation of that period for them musically too. Exit ... had a gloss cover and three photos! Though, I still really liked the way they reintroduced the girl from Permanent Waves and the guys from Moving Pictures on the sleeve, that collage feel to it.
SIGNALS (Mercury, 1982)


I really like it, it's so striking, it's post-rock in a way and they changed the logo dramatically. The Dalmatian, the red of the hydrant and then the shadow it casts; always thinking as a band. I know a lot people didn't like it and they were following Moving Pictures, which was tough, but Subdivisions, that dark intro, could have been on a New Order album. Then you also had The Analog Kid on there too - two classic Rush songs those. I think they were a band who were striving to sound modern.
POWER WINDOWS (Mercury, 1985)


It was between that and Grace Under Pressure. That was a great concept, but with a terrible painting, sub-Dali, surrealism at its worst. Power Windows is even worse, I don't like it at all, there's no warmth, no ideology, it's just so very off-putting. I like it as an album, but I even hate the band logo they used. It's never been on any other of their albums, there's too much space between the letters. Take a look at it ...
---
The Top 50 Prog Albums Of All Time (excerpt)
We asked. You voted. Here then, are your choices for The Top 50 Pro Albums Of All Time. It makes for interesting reading too. And before we run for cover in anticipation of the expected deluge of "How can X be above Y?" and "Where the hell was Z?"-type letters, we'll just tell you that if you turn to page 11 you have a chance of winning the entire Top 50. Enjoy.
#27: 2112 (Mercury, 1976)


WE SAY: Best known for side one's seven-part suite telling the story of a dystopian future (inspired by the Ogjectivist philosopher Ayn Rand), side two's shorter songs still featured the brillian A Passage To Bangkok and Something For Nothing. For many young metalheads, this album opened the door to a progressive world.
YOU SAY: "Epic stories of space and eastern myrteries by the ultimate prog power trio. Listen to 2112 and hear Lifeson at his peak!" - Urban Mattsson
#29: MOVING PICTURES (Mercury, 1981)


WE SAY: Rush moved in to the 80s with a new mindset, laid out on Moving Pictures. The likes of Tom Sawyer, Limelight and Vital Signs indicated the band's desire to move to shorter song frameworks, but Red Barchetta and the lengthy Camera Eye showed a prog heart still beat within.
YOU SAY: "Less sowrd and sorcery and more urban reflection, it pointed the way to Rush's direction in the '80s. Modern prog at its finest." - Dave Preston, Bury
#34: SNAKES & ARROWS (Atlantic, 2007)


WE SAY: Based on the Buddhist Game of Self-knowledge, Rush's 18th studio album was regarded by many as their best in many years. Focused, driven and rocking harder than they have for a while, both Snakes & Arrows and the ensuing live shows proved they had plenty left in the tank.
YOU SAY: "Great playing, great songs stripped down with little keyboards. Their best album in years or maybe ever." - Julian Curtis
#39: A FAREWELL TO KINGS (Mercury, 1977)


WE SAY: It opens with the title track before exploding into Xanadu, based on Coledridge's epic poem Kubla Khan. And it closes with the equally bombastic Cygnus X-1. And in the middle you've got Closer To The Heart. 2112 might have been part conceptual, but with A Farewell To Kings Rush laid their prog credentials bare.
YOU SAY: "All great prog rock transports y ou on a lengthy flight of imagination. Rush's A Farewell To Kings is no exception." - Pierre Watson