Neil Peart's News, Weather and Sports
A Little Yellow Cabin On Yellowstone Lake
NeilPeart.net, August 2009
---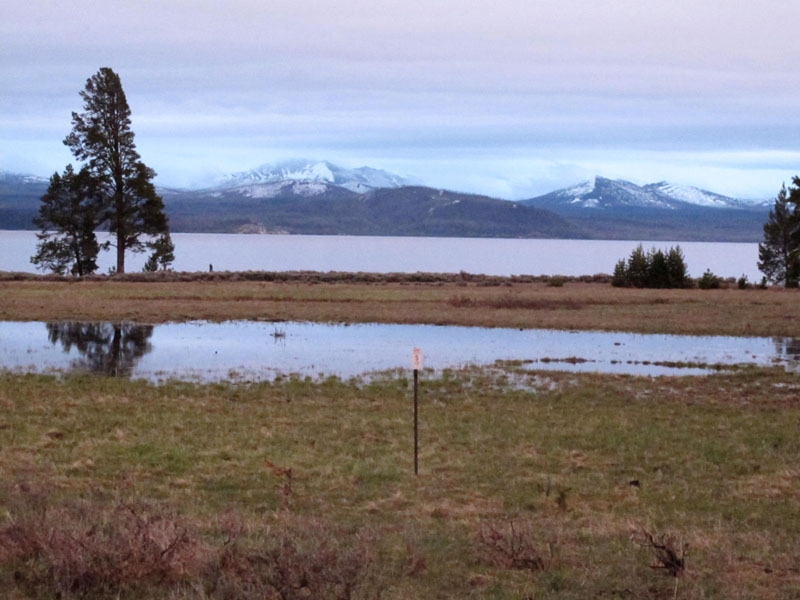 First I thought of Utah. (And when you've got an opening line like that, you almost want to stop and let the reader take it from there.)
I had five days in early June to travel somewhere on my motorcycle, to make my Last Getaway before settling in with my wife Carrie to await the Blessèd Event - the birth of our baby in August. After that, I wouldn't be going anywhere for a while.
So I thought of Utah. Do some motorcycle touring and hiking in the national parks like Zion, Bryce Canyon, Arches, and Canyonlands, and maybe stay a couple of nights in one of my favorite Western towns, Moab.
But as my eyes wandered through the road atlas (the Book of Dreams), they were drawn to a corner of Wyoming, an area colored in green that bordered Montana and Idaho - Yellowstone National Park. It was the only major park in the American West I hadn't visited, and one of the few in the whole country (those two in northern Alaska are going to be really hard to get to!).
I had tried to visit the Yellowstone area on my Ghost Rider travels in October 1998, but was turned back by early snow in Utah, and headed south instead. Since then, I had just never made it that way. Motorcycling on Rush tours had taken me all over the country several times, but Yellowstone was far from any cities with sizable concert venues (the only possible scenario would be a day off between Salt Lake City and, say, Boise, but that rare combination had never occurred).
So yes, I wanted to go to Yellowstone all right. I looked up its distance by road from my Southern California home, and frowned when I saw that it was over 1,000 miles. Hmm. That's far. With only five days to get there and back, and wanting to spend some time in the park, it was a bit much, really. But ... I had ridden 1,000 miles in a day before, and anything close to that would make a good start on the first day. Maybe I could do it.
Grand Teton National Park was right on the way, too - adding the possibility of two new national park "passport stamps" for the growing collection.
The more I thought about it, the more I wanted it.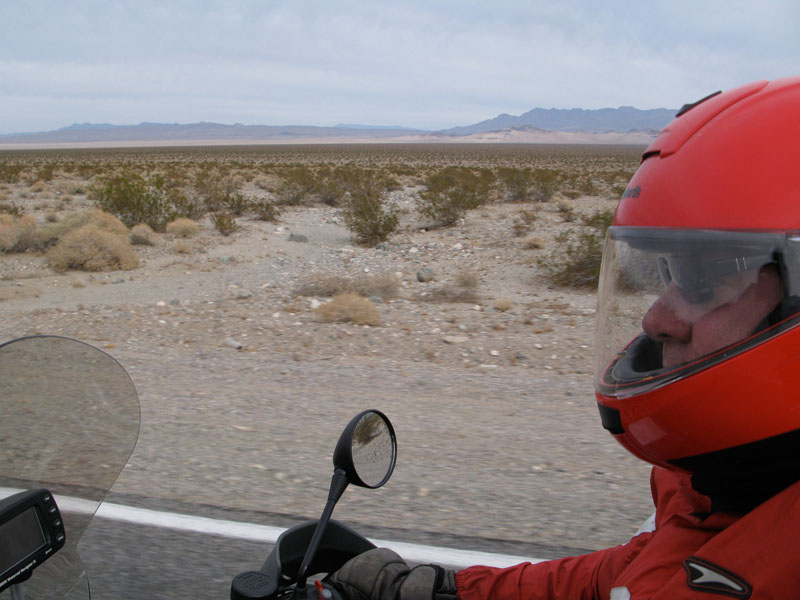 So after some feverish planning and packing, I set off on Monday, the first of June, at a little before 5:00 a.m. - a time when it is usually possible to get on Interstate 10 and make it across the width of Los Angeles before the Monday morning gridlock sets in. I turned northeast on I-15, across the Mojave Desert, and those long empty miles passed pleasantly and easily.
Only the cities loomed as potential interruptions to my rapid progress - after escaping L.A. so early, I would hit Vegas by 9:00, with its heavy traffic and ceaseless construction. And though Las Vegas can be a dramatic sight by night, it does not look its best in the morning (I guess few cities do).
Straight four-lane highway arrowed for hundreds of miles across the open desert, up past Mesquite, Nevada, to the northwest corner of Arizona, where it suddenly curved up into the Virgin River Gorge. That spectacle ought to be more celebrated, though admittedly, the rocky majesty is somewhat marred by having an interstate hacked and blasted through the middle of it!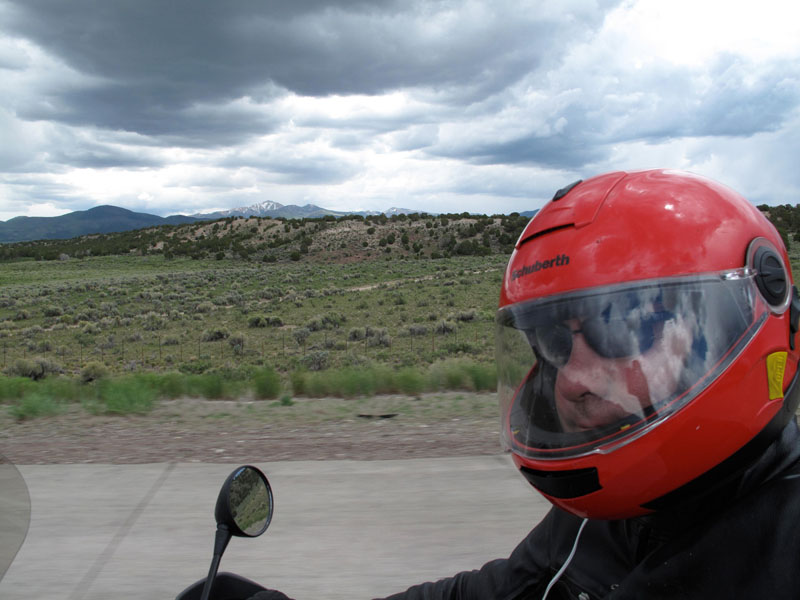 Running north now, up into Utah, the creosote and Joshua trees of the Mojave gave way to the sage and juniper of the Great Basin. Snow rimmed the higher peaks and dark cumulo-nimbus clouds bulged in every direction. Black veils of rain trailed below the clouds, slanting to windward, and often disappearing into thin air - the so-called virgas that evaporate before they reach the parched land below. Only a few scattered drops struck my faceshield.
As the miles and hours went by, with occasional breaks for gas and water (in and out), I was starting to think about stopping to eat. On shorter riding days I will often forgo lunch, and just keep moving toward the "somewhere" I'm trying to reach, but on a deliberate marathon like this I wanted to make sure I felt as good, and as sharp, as possible. With few dining options in those far-flung Western service areas, I had brought a couple of bottles of water, and some ham, cheese, and bread to make my own sandwich. I planned to stop at a roadside rest area and relax at a shady picnic table, having the best lunch I could, yet in the shortest amount of time.
From passing through southern Utah on my way cross-country a few years previously, I remembered some nice rest areas along that part of I-15, but I wanted to hold out until I got closer to Salt Lake City - the next obstacle of potential traffic and endless road construction. Unfortunately, in central Utah the department of highways seemed to be experimenting with an ill-advised "partnership" between the public and private sectors - at least that's what the signs called it. When I pulled off at a couple of different places signed as "rest areas," there was a truck stop and a fast food outlet with big paved parking lots, and one cruddy metal picnic table beside a dusty offramp, without even any shade. Phooey on that.
In Utah I had crossed into the Mountain Time Zone, and lost an hour, so it was close to 2:00 when I gave up on the "rest areas" and took a random offramp, pulling up beside a boarded-up family restaurant (always a sad sight - as I have described it before, "the death of a dream"). I had covered 600 miles in eight hours (averaging 75 mph, even with gas stops and such - a good pace). My radar detector's earpiece defended me against overzealous law enforcement, though Western highways are generally posted at a reasonable 70 or 75 mph anyway, and a couple of stretches of Utah interstate offered an "experimental" 80 mph limit. So I didn't really need to exceed the "eight-over-the-limit" formula to make good time. Sometimes I just wanted to.
Pulling the bike back on the centerstand, I unpacked my lunch supplies, then sat on the crumbling steps in the shade of some scruffy cottonwoods. I struggled out of the inner layer of my riding clothes - the temperature had climbed from the pre-dawn 50s to the 90s in Nevada, then down to the 60s again as the elevation rose, then up to the 80s by that offramp in central Utah. It's hard to dress for that range, but by overdoing the layers, then peeling off the plastic rainsuit when it was warmer, I had felt pretty comfortable most of the time. It felt good to strip down to the basic leathers and T-shirt, then assemble my ham and cheese sandwich. I ate it slowly, letting my eyes go out of focus for a few minutes.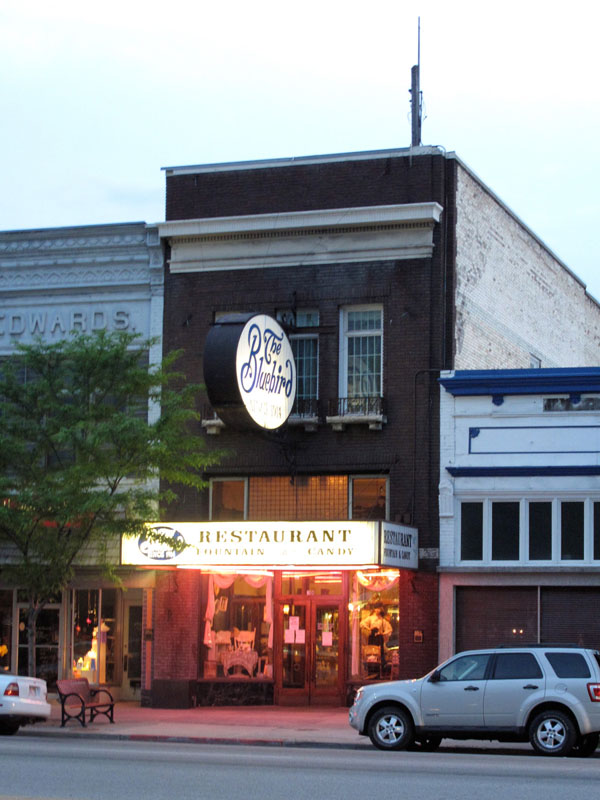 My nominal goal for the day was Logan, Utah, as that would represent the end of the interstate riding, and put me in easy reach of Yellowstone for the following day. And at 790 miles, it was plenty far enough. I cruised the neat-looking Main Street, and consulted my GPS screen to compare the options, then decided on the Best Western. I swung a weary leg over the saddle and went inside to register, then parked in front of my room. After carrying my luggage inside, I poured a Macallan on ice into a Best Western cup of finest plastic, then took a self-portrait of my weary, saggy face. It was not a pretty sight, and won't be shared with others - but I wanted to remember.
Following the desk clerk's recommendation, I walked down Main Street to the Bluebird Restaurant, and sat down to catch up on the day. My first journal entry, after noting the location and mileage, was, "Every detail I think of putting down seems inconsequential, yet it is the sum of those details that made the day." Well, ain't that the truth!
Logan, Utah, sat at 4,535 feet, surrounded by the high rounded mountains of the Bear River Range, their peaks still streaked with snow. Behind the motel a roaring stream strained at its banks, a loud torrent swollen with that same snow, slowly thawing. Ever since I had turned off the interstate and into the mountains, the greenery had overwhelmed me - because once again, as I described in Roadshow, I had become used to the arid economy of Southern California's semi-desert climate; my eyes were accustomed to what nature writer Mary Austin called "The Land of Little Rain." Whenever I re-encounter lush green fields and woodlands of dense leafy trees, they take me back to the surroundings of my childhood in Southern Ontario, and I feel it deep in my being.
Mountain towns have a special character, at least partly from being dwarfed by their surroundings, the modest buildings huddling together as if for protection beneath a rising landscape, and partly from the weather - they tend to get a lot of snow in winter, and fierce thunderstorms in summer. Being nestled in a valley, closed to the natural sprawl of desert or prairie towns, plus inhospitable weather and isolation, tends to keep such towns smaller, so the lodgings and restaurants are more often central, a pleasant walk apart. A few North American examples would be Banff, Alberta; Nelson, British Columbia; Littleton, New Hampshire; Gunnison, Colorado; Taos, New Mexico; Ketchum, Idaho; and Creel, Mexico, on the rim of the Copper Canyon - all those places, and many more, share a certain "splendid isolation," and a bracing edge to the thinner air of higher elevations. I have long wanted to live for a while in one of those mountain towns. Maybe someday.
Mormon towns have a special character, too - neat and well tended, centered around a spectacular temple (I can't help but admire their sacred architecture), and the small family businesses apparently thriving, unlike the main streets of so many other American towns. The storefronts look quaint, and sometimes a generation or two out of time: a sub shop called "Logan's Heroes," a clothing store selling prom dresses, formal wear, and "missionary attire" (suits for the young Mormon males who are sent away to proselytize, then return as so-called "elders" - all over Mormon country I would see homemade signs like, "Welcome Home Elder Berry"). Along the Utah interstate that day, I had laughed out loud in my helmet as I passed a pickup, its rear window decorated with one of those oval, black-on-white "destination" stickers that commonly read "YNP," for Yosemite National Park, or "OBX" for the Outer Banks of North Carolina. This one read "Gentile."
Apart from a couple of old cinemas, still apparently operating, the bright spot on Main Street was the Bluebird, an old diner-style family restaurant. True to the Mormon proscriptions of alcohol, tobacco, and coffee (a prescription, to this gentile), the Bluebird offered a decent American menu, but served nothing stronger than lemonade.
The décor was fantastic, though: high ceiling, mosaic tile floor, marble-and-mirrored soda fountain with a long row of stools, wood paneling, wooden chairs and tables. The customers were well-scrubbed families, or groups of neatly-groomed youths, all caucasian, probably mostly Mormons. With all that Norman Rockwell Americana, and the all-American menu, I was amused to read in the menu's "historical notes" that the Bluebird was now owned by the Xu family. Truly, America is the land of Plus ça change, plus c'est la même chose - the more things change, the more they stay the same.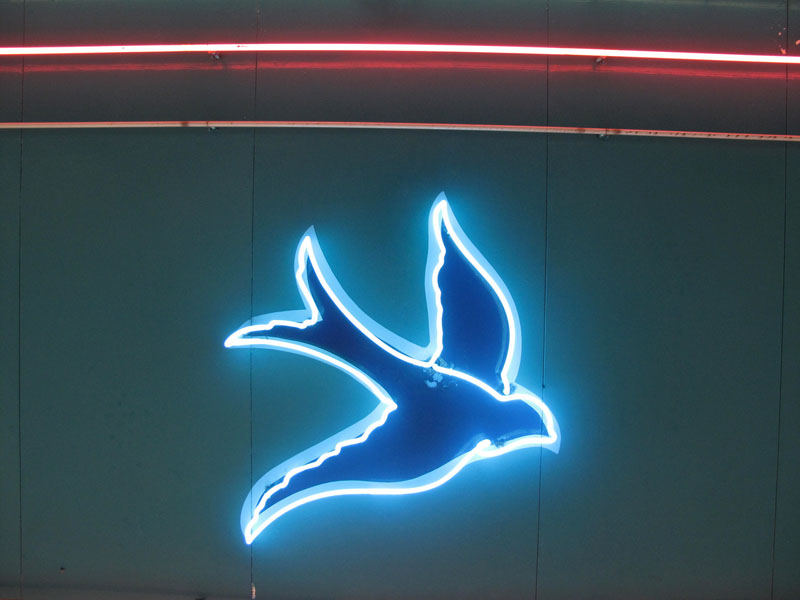 The lighted sign and neon trim outside the Bluebird were especially impressive to me, as I had just been working with Hugh Syme on the logo for my online cooking department, Bubba's Bar 'n' Grill. So around that time I was looking at vintage restaurant signs with new eyes. As I stepped out of the Bluebird, into the long slow twilight of June in the mountains, I noticed the neon bluebirds that decorated the underside of the entrance.
Strolling along Main Street, and across the tree-shaded lawns around the temple, I looked along the storefronts, mostly dark in the evening but for the brightly-lighted beacon of the Bluebird. I imagined all of the businesses my alter-ego Bubba could open there: right beside Bubba's Bar 'n' Grill could be Bubba's bookstore, then Bubba's liquor store, Bubba's groceries, Bubba's Best Western, Bubba's motorcycles and classic cars, Bubba's gym and yoga studio, Bubba's music store, Bubba's outdoor shop (bicycles, cross-country skis, snowshoes, hiking boots, binoculars, bird books), Bubba's bank, and Bubba's farm equipment.
Back at the motel, I was soon asleep, dreaming of Bubbatown ...
Rain came in overnight, and the morning downpour and gloomy light looked as though they would be staying for a while. After the "free breakfast" (getting better these days, I must say, offering fruit and hard-boiled eggs with the usual dry cereal and gooey pastries), I dressed in all my foul-weather gear - not only for the rain, but because where I was headed, to the higher elevations of Wyoming, overnight temperatures were down in the low 30s, and the days only creeping into the 50s. As I had learned the previous year (see "When the Road Ends"), in the higher-elevation areas, early June was still late winter.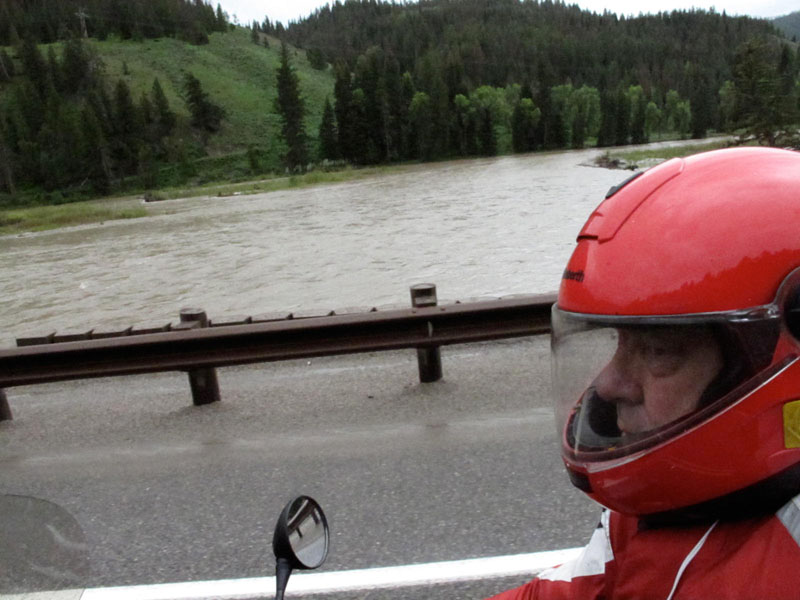 I have often described the stately, meditative mood that riding in the rain can evoke. With diminished visibility from mist, rain, and splash-back off the pavement, especially through a wiperless faceshield, and uncertain traction on wet shiny pavement, you naturally choose a slower pace. I was away from the interstates now, following a winding two-lane into forested canyons, often meandering beside turbulent rivers bursting with snowmelt.
Wisps and shrouds of fog and cloud draped across the distant mountaintops, darker than the snowy peaks peering through behind them - the Salt River Range, and the Caribou Range. The ribbon of sodden pavement led me past ranches and forests, and through occasional small settlements, north to the busier town of Jackson, Wyoming, at over 6,000 feet now, in the valley called Jackson Hole. I had long been curious about that much-admired mountain town and its surroundings, and had heard stories about people who had settled there happily, but the teeming rain "dampened" my experience of it that day.
Turning off at Moose Junction, I entered Grand Teton National Park (in French "vulgar slang," grand téton means, to put it politely, "big bust" - describing the shape of the mountains as they appeared to lonely trappers). I stopped at the visitor center, which was jammed with people, many of them on bus tours, and got my passport stamp. The road through the park was marked "Closed in Winter" (which again, can mean well into June in those parts), but the ranger lady told me it was open.
I set off into the rain again, catching glimpses of the high, rugged, snow-capped Tetons to the left, and to the right, sweeping sagebrush, meadows, and wetlands - sometimes dotted with small herds of elk, displaying the characteristic buff patch on the butts of their dark brown bodies. Just from passing through Grand Teton so briefly, I saw that it would make a great destination on its own - the park brochure showed the majestic scenery as it would appear on a brighter day, and there were plenty of interesting hiking opportunities.
But Yellowstone was still ahead, and not far now.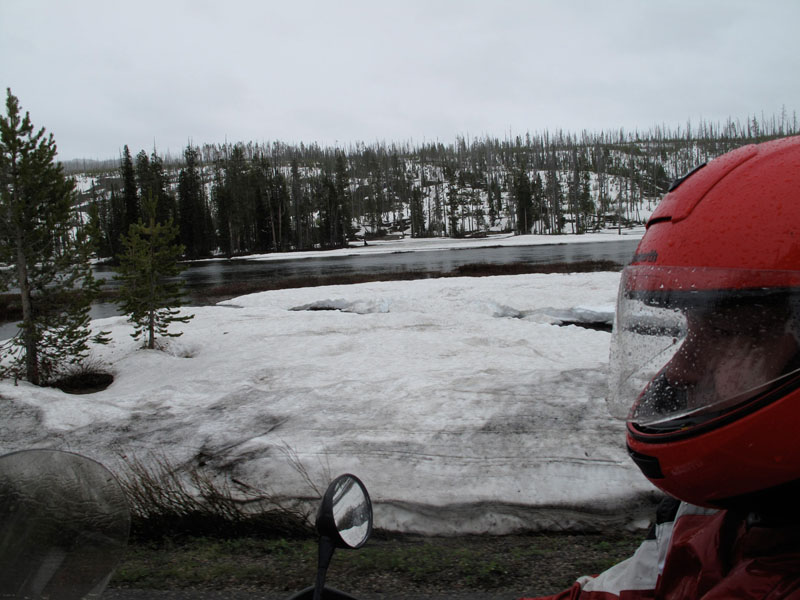 One common summer obstacle in high-mountain areas is road construction - repairing the damage left by harsh winters and violent thaws. Typically, one lane will be closed, sometimes for a considerable distance, and flaggers and pilot cars control the flow of traffic in one direction at a time. A few times I straddled the bike and waited in a line of RVs and cars, but was soon moving again - and climbing ever higher, into the 7,000-foot level now, and the snowdrifts were deep at the roadside and in the woods.
The ravages of the great forest fires of 1988 were visible around me, as in the above photograph, the hills spiked with young lodgepole pines and rotting trunks. In that dry summer of 1988, several smaller fires had swept out of control, then combined into larger firestorms, and burned for several months across the park's nearly 3,500 square miles.As many as 9,000 firefighters, and 4,000 military personnel, battled the fire (incredibly, without loss of life), and the conflagration ended up devouring almost 750,000 acres.
However, perhaps the most important fact about Yellowstone National Park is that it is the oldest national park in the United States - founded in 1872 - and thus the oldest national park in the world.
A writer I have long admired and often quoted, Wallace Stegner, wrote that national parks were "the best idea we ever had. Absolutely American, absolutely democratic, they reflect us at our best rather than our worst." America's only other comparable idea, perhaps, was philanthropy - another great invention that was unknown to wealthy Europeans (reluctant alms-givers at best, and their only "parks" were private hunting estates, where the entry fee for commoners was, oh, death). Europe had the Quakers to protest slavery, and the suffragettes to demand the vote for women, but the United States led the way in every cause you can think of where rich people helped poor people, willingly and generously. The roots of the word philanthropy are "love" and "mankind," and the concept also reflected a "morality of wealth," as expressed by perhaps the first and greatest of philanthropists, Andrew Carnegie: "To die rich is to die disgraced."
National parks and philanthropy are certainly grand visions that speak eloquently of the magnanimity of America - its greatness of spirit. As agents for change, Americans set an example that the rest of the world, to a greater or lesser extent, has followed. We could always use more philanthropists, but today there are national parks in England, Tanzania, Switzerland, South Africa, Great Britain, Australia, Canada, and many other countries.
In the nineteenth century, when President Ulysses S. Grant signed the bill to establish Yellowstone National Park, the preservation of natural habitat and wildlife wasn't yet a priority. Back then the intention was to preserve the unique thermal attractions - the geysers, hot springs, steaming mudholes, and fumaroles. The park is basically one big volcano, a collapsed caldera, and its active state is well demonstrated all over, even along the roadside.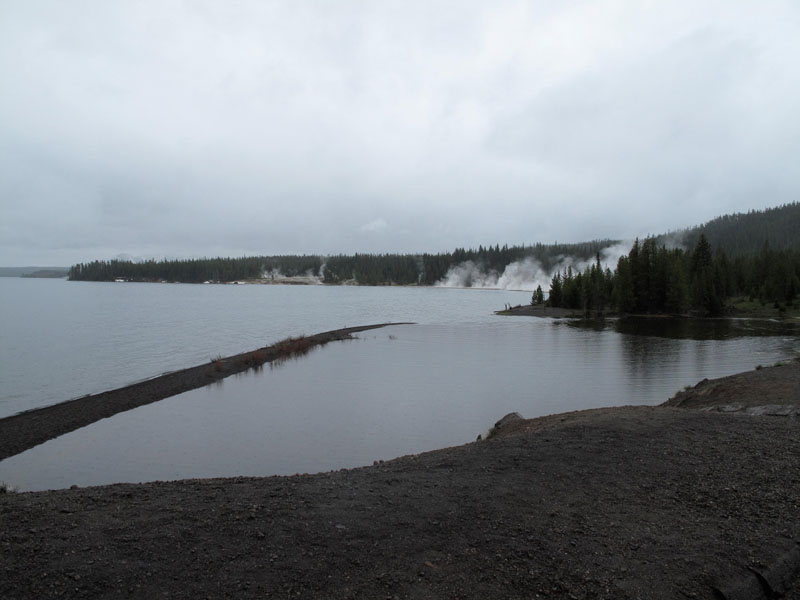 By early afternoon I had entered the park, content to cruise along the wet road at the posted limit of 45 mph, between dense forests of lodgepole pine - which cover eighty percent of the park, the name describing the aboriginal use of their tall, straight trunks. The rain continued, but I was used to it by then, and just kept riding, sightseeing as much as I could, and pausing at occasional overlooks to spend more time taking in the views. Around the West Thumb Geyser Basin, plumes of steam gushed into the air, amid the unmistakable smell of sulfur (probably the origin of "yellowstone," I'm guessing).
What looked like smoky fires along the shore of Yellowstone Lake were actually hot springs meeting the cold water and creating steam. The sulfurous, rotten-egg smell reminded me of a few other living volcanoes I had experienced - on Sicily, the Big Island of Hawaii, and especially, on the Caribbean island of Montserrat, just a few years before its volcano became seriously active, and destroyed most of the island. No wonder early humans associated the smell of sulfur ("brimstone") with various devils.
Yellowstone Lake is the largest mountain lake (above 7,000 feet) in North America, and as I cruised along the northwest shore, I was surprised not to see any boats, even canoes. Later I learned from the park brochure that despite all the warnings about the park's many other dangers, from bison, black and grizzly bears, thermal hotspots, and crashing into large animals on the roads, the most lethal activity in the park was probably boating - the water was so cold that if you fell in, you wouldn't survive more than a few minutes.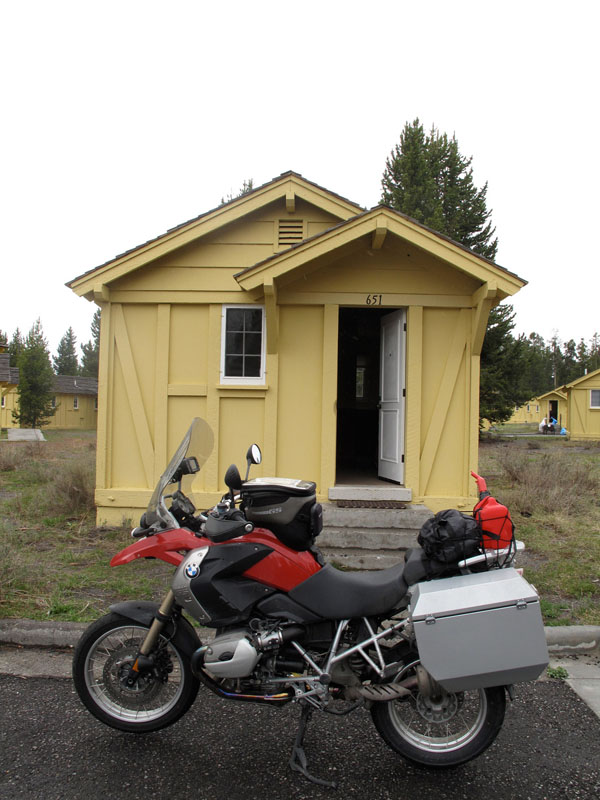 In midafternoon I pulled under the wide portico in front of the Yellowstone Lake Hotel, a massive edifice of wooden siding painted in pale yellow with white trim. Originally built in 1891, it sported a few colonial-style add-ons from the 1920s, like the tall white columns on the façade. The hotel offered rooms in the main building, the large Annex, or separate little quarters they referred to as "frontier cabins." Well, with plumbing and electricity, they were hardly primitive, and I always prefer those cozy, private kind of accommodations to being crammed into a big warren. Plus you can generally park in front of your door, making unloading and loading much easier. Soon I was parking my wet motorcycle in front of a little yellow cabin on Yellowstone Lake.
The phrase had an irresistible rhythm, like a song lyric (in iambic tetrameter, to be technical). I couldn't imagine that line in any rock song, but it might work for a country singer - a Montana cowboy could escape his cheating woman by driving away in his pickup truck, then wind up drunk and broken-hearted, in a little yellow cabin on Yellowstone Lake.
Not too far north of that little yellow cabin on Yellowstone Lake, back in the fall of 1998, I had been hiking in Waterton Lakes National Park, in Alberta, and while pausing beside a waterfall, I noticed two birds perched above me. They inspired another unlikely line of iambic tetrameter, "Two gray jays in a lodgepole pine."
After just over 1,000 miles of riding, it was great to feel myself slow down, as I carried in my luggage piece by piece, changed into walking-around clothes (and my rain jacket), and took a stroll around the grounds. I ducked through the rain, keeping to the shelter of the lodgepole pines when I could, noting many large "cow pies" (probably buffalo - properly bison - though I hadn't seen any yet). Deep mounds of snow remained here and there in sheltered areas, and one resourceful traveler in a neighboring cabin had stuck six bottles of beer into one of them.
The nearby general store was a big old barn of a place, built in 1919, centered on an octagonal building of brown logs and shingles. It had an old soda fountain inside, and I took a stool and ordered a "Chicago-style" hot dog and a chocolate milkshake. Both were the best of their kind I had experienced in a long time.
The big yellow lodge itself was massive inside, the lobby open to a vast seating area of sofas and tables, with a bar and restaurant, souvenir shop, and tall windows looking out on the misty gray lake, the snow-dappled mountains beyond, and the overcast sky. The lodge was filled with enough people to be lively, but not to be crowded. The Lake Yellowstone Hotel is closed in winter, not opening until late May (the reason hinted at by those slowly melting snowdrifts still lingering on June 2), so I had made it there about as early in the season as possible.
All of which meant that it was still cold in those parts, and the weather forecast showed mornings in the low 30s, and the possibility of snow showers. My little yellow cabin was a cozy refuge in the night, and I took my time in the morning - walking up to the hotel in the rain to enjoy a full breakfast, then slowly climbing into my riding gear.
With only one day to tour around the park, before beginning the long ride back home, I wanted to see as much as I could. The day's first goal was Old Faithful - apparently not so "faithful" these days, as each eruption can only be predicted by the previous one. Depending on its height and duration, the next eruption can be anything from one hour to two hours later. As I browsed in the visitor center bookstore and collected my passport stamp, I saw that the next eruption was predicted in about forty minutes, so I joined the crowd gathering in a circle around the boardwalk that represented the "safe area" (one nearby warning sign had been erected by a couple to the memory of their son, aged nine, who had been scalded to death by falling into a thermal hotspot). Under an intermittent drizzle, the crowd grew to several hundred, all eyes on a mound of clayey-looking sediment, from which a plume of steam emanated steadily, drifting away on the damp breeze. Every short belch of increased activity heightened the crowd's anticipation, murmurs spreading and cameras raised, until at last the tower of white steam burst up, over 100 feet high, with a power and sound that were truly awe-inspiring.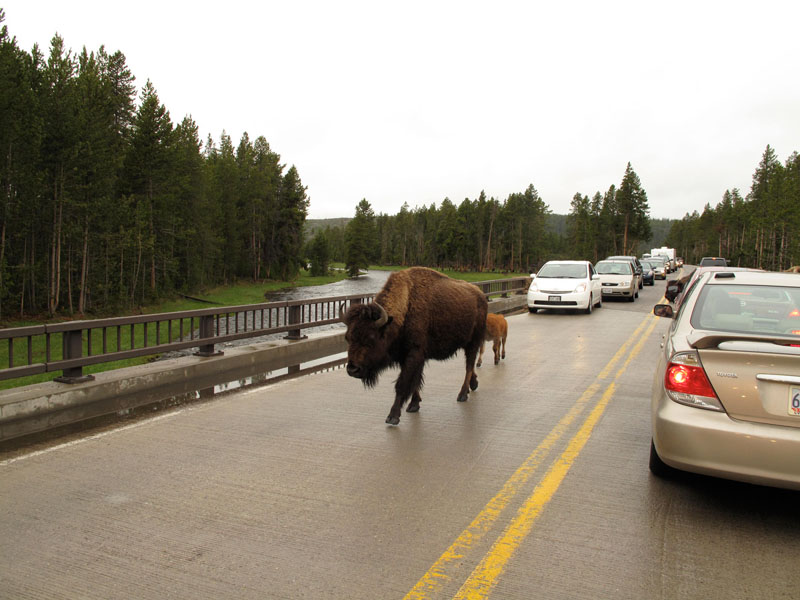 Back on the rainy highway, I soon encountered another equally stirring sight - a large herd of bison crossing the road, blocking traffic in both directions while they made their leisurely way from one stretch of riverbank to another.
Earlier that morning I had encountered my first bison, feeding at the roadside, and I had turned around and nervously paused to take its photograph. Bison, like the African buffalo (one of the "big five" on African safaris, for their deadliness to humans, along with lion, rhino, leopard, and another unexpectedly homicidal animal, the hippo) are famously ill-tempered and unpredictable, and can weigh up to two tons, so as I straddled my motorcycle on the wet road, I felt a little vulnerable. Likewise in the above scene, for I was hemmed in by traffic and the bridge railings as the mother and her calf passed right alongside me, but without haste or paying me the slightest attention.
I knew I couldn't expect to see much of Yellowstone National Park's vastness in that one day, but all the same, despite the rain and cold, it was a pretty amazing day. A road circled the park's interior, and a few signs along the way sketch a picture: Fountain Paint Pot, Firehole Lake, Steamboat Geyser, Obsidian Cliff, and Mammoth Hot Springs - an immense array of stepped travertine pools, sculptured circles brimming with steaming water and mud. From there I turned east, then south through a more open, prairie landscape and the lush green meadows framing the Yellowstone River, where I saw many more herds of bison, near and far, and occasional elk, feeding among the pines.
Unexpectedly, the star attraction to me was the Grand Canyon of the Yellowstone, where two mighty waterfalls plunged in white sheets between jagged walls of yellow and red rock. I followed the spur road to the lookout points on the north side, parking to take in the incredible views, then again on the south side, which was even more spectacular, especially from the aptly-named Artist Point. On a U.S. Geological Survey expedition in 1871, the great landscape painter Thomas Moran had painted the Yellowstone Falls from a spot near there, and it had been his paintings, and William Henry Jackson's photographs from the same expedition, that had helped to influence Congress to declare the area the world's first national park the following year.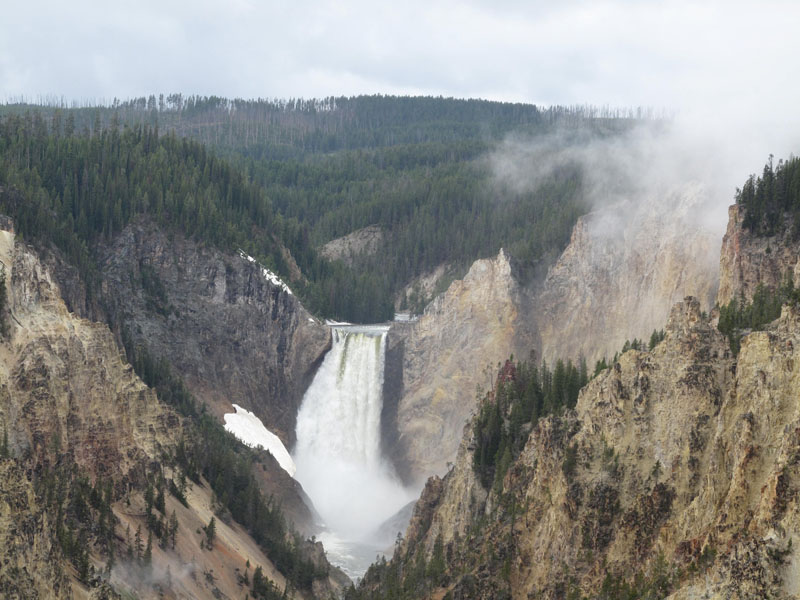 The Grand Canyon of the Yellowstone, and Yellowstone Falls
With my binoculars, I followed the angle of a birdwatcher's powerful scope, and saw that it was trained on an osprey's nest, a huge jumble of sticks perched on the pinnacle of an isolated crag. Two scruffy-looking chicks sat hunched against the chill and rain.
By the time I circled back to Yellowstone Lake, my eyes felt prickly with fatigue - overwhelmed by an excess of beauty (like the feeling I get in art museums, worn out after an hour or so of really looking). I stopped by the general store's soda fountain for another bratwurst and chocolate shake, while I caught up on my notes and reviewed my photographs. Two of the employees, an elderly waitress and a white-haired old man at the cash register, recognized me from the day before, and both of them, separately, asked me if I was working around there - I wonder what I looked like to them? "Outdoorsy," I guess.
It made me smile to think that apparently I looked, spoke, and acted like the kind of guy who would work in a national park. But after all, my first childhood ambition was to be a forest ranger - until I decided to become a professional birdwatcher, then a lighthouse keeper, then a history teacher. When it finally became clear that I couldn't actually do anything else, they let me be the drummer ...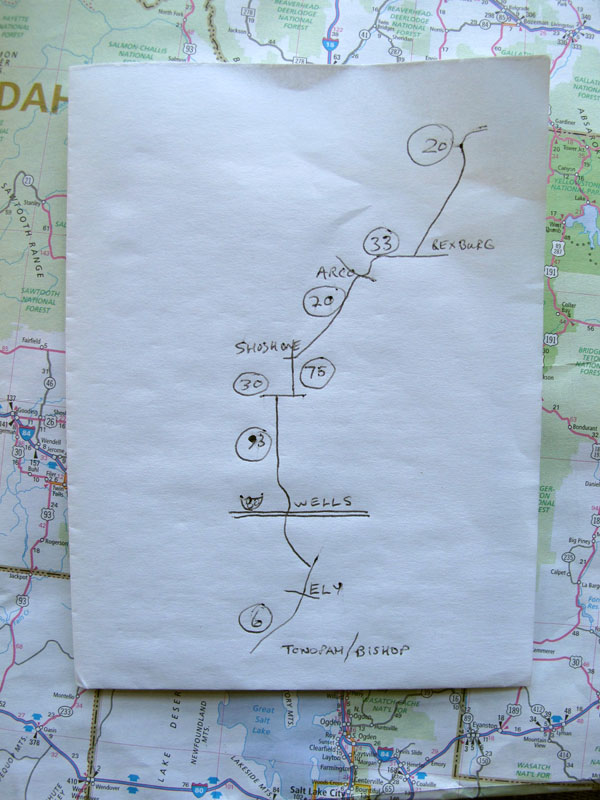 That night I got out the maps and charted my route home. My navigation tools were primitive, but effective - a paper map of the Western states, a blank sheet of paper from the typing tablet I always carry in my bike bags (as recounted in Ghost Rider, they started to become scarce with the decline of typewriters), and my Montblanc pen. I studied the map for a while, my finger tracing high desert roads, and eventually I nodded decisively - I would take a two-lane route home. Cutting down through Nevada, I should be able to make good time on those long, straight, empty roads. I drew a map of my route, showing the highway numbers, general directions, and town names (especially as refueling reminders, in that part of the country, where opportunities can be widely separated).
Once again, I was planning a marathon day - to get as close to home as I could, to make the following day more enjoyable (and so I wouldn't arrive home exhausted; wives seem to hate it when you've been away and come back and you're still no use!).
Fueled by a couple of muffins I had bought the night before, and the in-room coffee, I set out at 5:00 a.m., in the rain (I won't mention that word again), with the temperature barely one degree above freezing. The sky was just beginning to pale, but the air was thick with moisture, often pooling in foggy banks in the valleys. Once again, the park's 45 mph limit was just about right, with due regard for the wet pavement, limited visibility, and the possibility of large animals suddenly appearing in front of me, especially in the hours around dawn.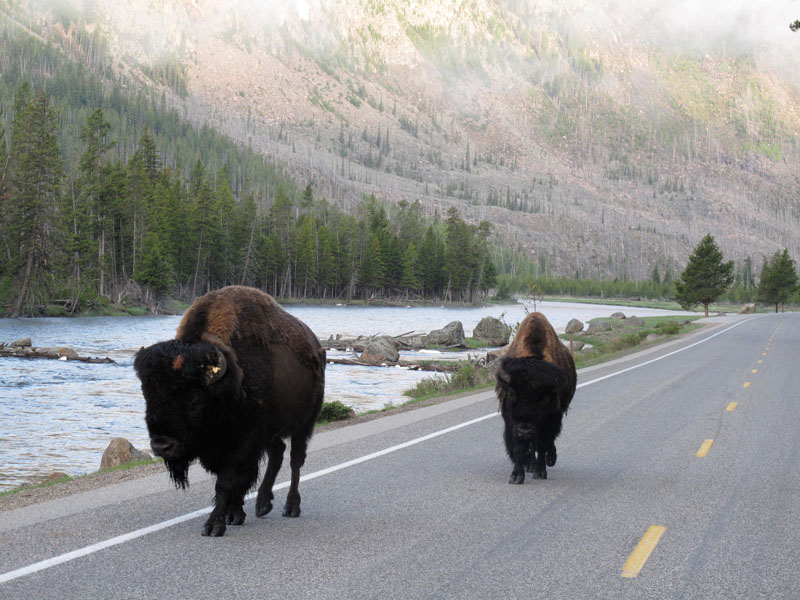 Following the Madison River to the West Entrance (glad to be taking a different way out, and see at least a little more), the sky began to clear, misty rays of sun cutting into the deep gorge. A pair of big bison ambled up the road toward me, and I decided it was wisest just to stop and wait, and try not to upset them.
A little farther on I slowed to read a sign that forbade parking along that stretch of road, to protect the nest of a bald eagle. Puttering slowly past, I saw the immense structure of the nest high in a tree just off the road.
Continuing west, I crossed into Idaho, out of the park and into more open ranch country and sagebrush rangeland. The morning grew clear and sunny, warming fast, and I could make good steady time along country two-lanes with infinite visibility. I passed long security fences with dire warning signs, roadsigns pointing to the Idaho National Laboratory, and a turnoff to a place called Atomic City. Then I rode through a typical-looking ranch town called Arco, Idaho, and its sign caught my attention: "The First City in the World Lighted by Atomic Power." Then I noticed a burger joint offering the "Atomic Burger."
Curious, I made a mental note to look into that town's story when I got home, and it proved to be an eye-opening piece of modern history. Arco began as a sagebrush cowtown fetchingly called Root Hog, until 1901, when the citizens moved the town to the banks of the Big Lost River, to put it at the junction of two stagecoach routes. They applied to the U.S. Post Office to name their new town "Junction," but instead they were advised to name it after a German count, Georg von Arco, who happened to be visiting Washington, D.C., at the time. Coincidentally, the count went on to be a pioneer in radio and the founder of Telefunken, and his namesake town would play its part in modern technology, too.
In 1949, the National Reactor Testing Station was established nearby, in a remote high desert location that was perfect for secret government operations - in this case, to develop peacetime uses for nuclear energy. In 1955, ten years after the atomic bombs had leveled Hiroshima and Nagasaki, nuclear power lighted the streets of Arco.
The Miracle of the Atom seemed to offer such a bright and shining future, with clean, cheap, limitless energy powering cities, ships, submarines, airplanes, and cars. Strange to think that such a utopian vision was born right near that little town in Idaho.
Like national parks and philanthropy, nuclear power was another world-changing American invention, but its effects were obviously more ... complicated. In 1985, I wrote the lyrics for a song called "Manhattan Project," about the birth of the Atomic Age ("The big bang, took and shook the world/ Shot down the rising sun"). Unusually for the lyrics to a rock song, "Manhattan Project" required a great deal of research (in the days when research had to be done by reading a pile of books rather than pressing a few keys), and I learned a lot. Then I had to distill all of that knowledge into what would add up to only 167 words - and they had to be words that could be sung.
Once I had chiseled out a draft of what I wanted to convey, it wasn't easy to "sell" the notion of a historical rock song, even to my bandmates. But it was Geddy, thinking as a singer, who suggested that I construct it so the listener was invited to imagine the scene. (Moments of collaboration like that are galvanizing in two ways - first that someone else likes your idea enough to take it seriously, then suggests a way to make it better.)
Imagine a time, when it all began
In the dying days of a war
Searching for a weapon
That would settle the score
Whoever found it first - would be sure to do their worst
They always had before
As early as 1939, Albert Einstein wrote a letter to President Roosevelt urging him to pursue atomic weapons, because Einstein and other scientists believed the Germans were already working on such a program (they were, but - in a prescient scenario - the scientists overestimated the enemy's progress with such weapons of mass destruction).
Imagine a man
Where it all began
A scientist pacing the floor
In each nation - always eager to explore
To build the best big stick
To turn the winning trick
But this was something more
Modern revisionists seem to diminish the historical reality of that time - for example, the appalling brutality and racial genocide the Japanese had been inflicting in China, Korea, the Philippines, and elsewhere. Mass killings of civilians (tens of thousands at a time, and totaling at least twice the Holocaust's grim toll), biological and chemical warfare, inhuman treatment of prisoners-of-war, slavery, forced prostitution, medical experiments without anesthetic, vivisection, cannibalism - it's a horrific list. To absorb that history, added to Japan's alliance with the Axis Powers and the devastating sneak attack on Pearl Harbor that began the War in the Pacific, is to share an outrage that would have deserved any level of vengeance, to make it stop, and to punish the perpetrators. Anyone who believes in the alternative - that the "humane" way to end World War II would have been an invasion of Japan - would only shift that death sentence to the American lives that such a suicide mission would have cost.
The big bang - took and shook the world
Shot down the rising sun
The end was begun - it would hit everyone
When the chain reaction was done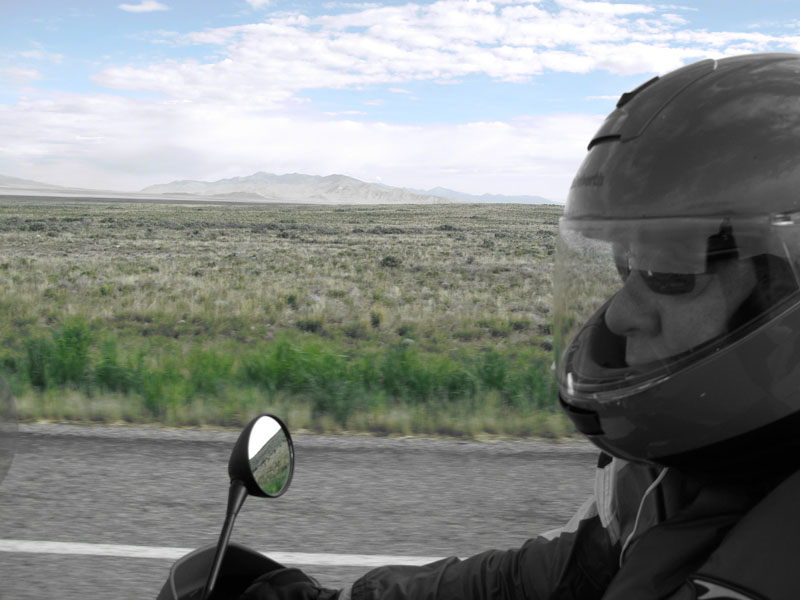 In the early '90s, on a day-off on a concert tour, I visited Los Alamos, "where it all began," and later that decade, on the Ghost Rider journey, I stopped at the Trinity Site in New Mexico, where the first tests were conducted. In the '80s, on a concert tour of Japan, I had looked out from the bullet train passing through Hiroshima, and thought about what had happened there, and why. Now I was riding through what had been the next chapter in that story.
It happened that one of my camera's settings got jostled in the tankbag, and I ended up with a series of unexpectedly artful Action Self Portraits taken in that region - red filtered out, while other colors were saturated. The effect does suggest the austerity, and serenity, of the high desert, a surreal emptiness that can seem other-worldly - especially when you learn its hidden secrets, like the story behind those streetlights in little Arco, where atomic energy was harnessed for the first time.
Alas, it would not be without human cost - in 1961, the reactor that had produced Arco's electricity suffered a steam explosion and meltdown (human error), causing the world's first peacetime nuclear fatalities - three of its workers. Comparable to the space program, perhaps, the progress of nuclear technology was slowed by human losses, but not halted, and reactors began to sprout around the world, powering electrical generators, ships, and submarines.
Then in 1979, a partial meltdown occurred at Three Mile Island in Pennsylvania (human error again). This time there were no fatalities, but unfortunately the accident occurred within two weeks of the release of a fictional movie called The China Syndrome, dramatizing just such an accident, using melodrama and pseudoscience to play on people's fear of what they didn't understand (a timeless strategy, in religion, politics, and entertainment).
Widespread hysteria ensued, fanned by self-appointed "experts" like the star of The China Syndrome, Jane Fonda, and the careerist fearmonger, Ralph Nader. The shrill reflex of the "no nukes" protests effectively ended the growth of nuclear energy in the Western world (though France quietly continues to produce three-quarters of its energy from reactors.)
In 1979, the chief voice of reason against that howling mob was another dubious character - the scientist Edward Teller. Teller was a veteran of the Manhattan Project, the "father of the H-bomb," director of the Lawrence Livermore National Laboratory, and one inspiration for the character Dr. Strangelove in the movie of the same name (subtitled "How I Learned to Stop Worrying and Love the Bomb"). He was also the betrayer of Robert Oppenheimer, the leader of the Manhattan Project, and high on my personal list of "People of Interest." (Oppenheimer took the name of the Trinity Site, in the desert near Alamagordo, New Mexico, from a sonnet by John Donne, and after the first test of the atomic bomb was successful, he contemplated a verse in Sanskrit, "Now I am become Death, the shatterer of worlds.")
At a 1954 hearing to review Robert Oppenheimer's security clearance (apparently threatened because of an unstable girlfriend with Communist associations), Edward Teller was asked whether he considered Oppenheimer a security risk. He replied that he had repeatedly seen Oppenheimer act "in a way which for me was exceedingly hard to understand," then clinched it with a damning indictment: "To this extent I feel that I would like to see the vital interests of this country in hands which I understand better, and therefore trust more."
In 1979, the public may have felt the same way about Edward Teller, as he stood up in counter-campaigns and tirelessly tried to correct misconceptions and widespread panic. But as ever, science and reason had little sway over fear and ignorance - or misguided movie stars and professional muckraking malcontents in bad suits. Teller suffered a heart attack that year, which he half-jokingly blamed on Jane Fonda: "You might say that I was the only one whose health was affected by that reactor near Harrisburg. No, that would be wrong. It was not the reactor. It was Jane Fonda. Reactors are not dangerous."
Clearly, history has shown that Dr. Teller was a little over-optimistic there, but perhaps it was true that reactors were not as dangerous as some other threats to human life and well-being. Like, say, misguided movie stars and professional muckraking malcontents in bad suits - or the stripping away of entire mountaintops to dig up coal and foul the atmosphere by burning it.
A few years later, when I was writing "Manhattan Project" in 1985, the Cold War was still an international menace, and I was thinking of both nuclear weapons and nuclear energy in the second half of the chorus:
Big shots try to hold it back
Fools try to wish it away
The hopeful depend
On a world without end
Whatever the hopeless may say
I'm not sure if I intended that twist on "the hopeless," but I like it.
In any case, the verdict was handed down in the supreme court of public opinion, and the "fallout" was that the pursuit of nuclear power, for purposes both peaceful and warlike, was abandoned to less developed, or less conscientious nations - soon leading to the true disaster of Chernobyl, in 1986 (the year after "Manhattan Project" appeared on our Power Windows album).
In the last years of a corrupt and crumbling Soviet empire, a clusterbomb of human and mechanical failures caused a terrible explosion, killing two workers instantly, several dozen fire and rescue workers immediately after, and releasing four hundred times the radioactive fallout of Hiroshima. An international committee estimated that the eventual toll from the radiation and associated cancers might reach a couple of thousand - terrible enough, of course, but even that number could never match the deaths from, oh, mining and burning coal, for example.
Not to mention the religiously-inspired terrorist attacks of September 11, 2001 ...
But the "first world" had already reverted to a nineteenth-century dystopia of burning coal (as I have noted before, in another context, coal still produces more than half of America's electricity). Shunning the perceived dangers of nuclear energy, people seemed less troubled by the "simple" idea of burning coal, despite its very real and insidious dangers (here - now - real), while governments remain suspiciously quiet about its contributions to climate change. At the same time, we turn a blind eye to the medieval institutions of superstition, feudal rule, and misogyny in tyrannical kingdoms like Saudi Arabia, because we "need" their oil.
And to think that those troubles had a large part of their history written more than fifty years ago, right around little Arco, Idaho ...
Today, the National Reactor Testing Station is the Idaho National Laboratory, the immense fenced-in compound I had been passing for miles (it covers an incredible 890 square miles!). No wonder such enormous secret government installations give rise to paranoia - and later that same day I would be passing the mother of all those paranoid obsessions, Area 51 and the Extraterrestrial Highway.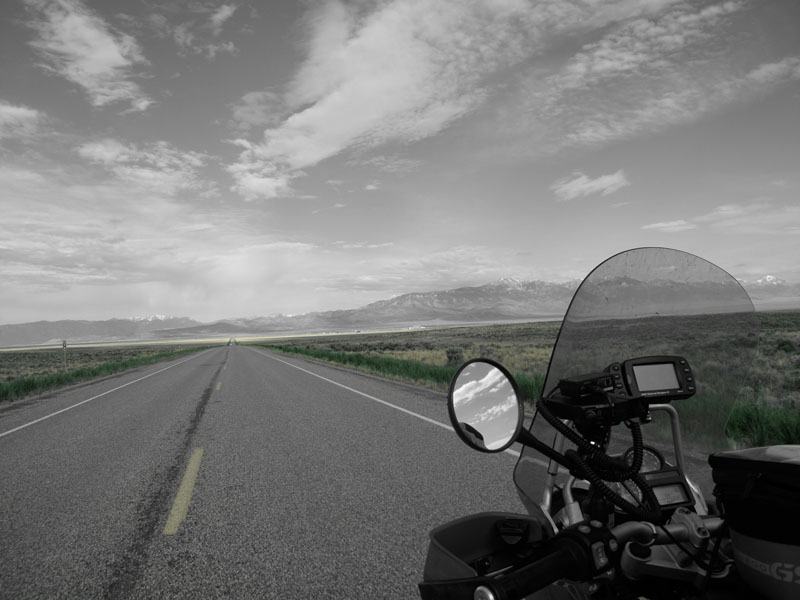 But there were a lot of high-desert miles between the two - over 500, in fact. And a wall of strong wind, an invisible barrier that drove against me on the endless open stretches of the Great Basin. The wind's power worked against my motorcycle's, and I noticed that it was burning through fossil fuel unusually quickly. Where I can usually average 180 miles or more on a tankful, my reserve light came on at barely 100 miles. Even with my spare gallon can on the back, that could spell trouble in a region where gas stations were so far apart - where people were so far apart.
Riding through Arco, with its time-capsule feeling, both as a rural ranching town and for its "Atomic Burgers," put me in mind of another Great Basin town, Ritzville, up in Washington state. A few miles later I found myself riding along and trying to put together the words of an old song, "Puttin' on the Ritz." That chorus, and the lines, "Dressed up like a million dollar trouper/ Trying hard to look like Gary Cooper (super duper)" were about all I could remember, except that the rest was complicated wordplay - but most of all I wondered why that song was in my head. The word for those songs or musical phrases that play over and over in your head derives from a German term that means "earworm," and they can be a torment on a long motorcycle ride, like a mental mosquito.
For once, I was able to put it together - "Puttin' on the Ritz" (Irving Berlin, 1929) was playing in my head because of Ritzville, and the Top Hat motel I had stayed at there in 2007 (see "Every Road Has its Toll"). It was nice to be able to trace the source of that earworm - like another one, earlier on this trip: riding up through southern Utah on the first day, I had wondered why I was hearing a reggae lilt, and singing, "Don't gain the world and lose your soul/ Wisdom is better than silver and gold." It was Bob Marley's "Zion Train," and I had just passed the exit for Zion National Park. The long-distance brain sometimes chooses its soundtrack in mysterious ways.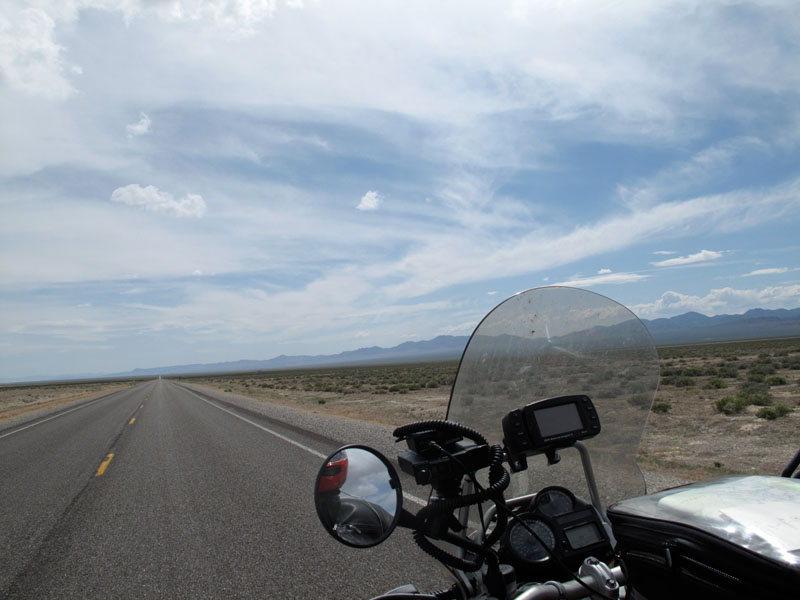 My only urban-traffic-and-construction obstacle that day was Twin Falls, Idaho, otherwise it was smooth sailing (on an upwind tack) all day. Down into Nevada on Highway 93 to Wells, gas up and buy a sandwich and a drink for later, strip off my inner layer (fifty degrees of temperature change by then, from the 30s to the 80s), then aim for Ely ("Elee"), battling that fierce wind, and stopping for occasional road-construction zones (a good opportunity to eat lunch). It didn't look like my fuel would last until Ely, so I had to stop at McGill, though they only had regular gas. After Ely, with its Jailhouse Motel where Michael and I had stayed in 2007 on the way to a show in Salt Lake City, a sign on Highway 6 announced "No Gas For 167 Miles." Again, that wouldn't be a problem normally, but with that day's wind, I was worried that even my spare gallon wouldn't be enough to get me all that way to Tonopah.
At a crossroads called Warm Springs, where the Extraterrestrial Highway met Highway 6, I stopped in the shade of an abandoned building to pour in that extra gallon. This was the exact spot, recounted in Ghost Rider, where Brutus and I had also found ourselves running out of gas, after a fast run from the Little Ale'Inn in Rachel, just to the east (next to the legendary Area 51, hence the café's cringe-inducing name). That was in 1997, on the Test for Echo tour, and it was an early experience with the American West that taught many lessons - like the little red gas can that was saving me now.
Rachel had gas in those days (though not anymore, I noticed by a warning sign in that direction), but Brutus and I had looked at the map, saw Warm Springs at the next junction, and decided to carry on. At least the map I have now offers the printed word "(site)" after Warm Springs, to let you know it's only a name, because there was nothing there - nothing but the boarded-up building I stopped beside this time. Back then, an old rancher hauling a horse trailer had pointed one way and said, "It's about a hundred miles that way to Ely," then turned and said, "And about fifty miles that way to Tonopah - nothing in between."
Even twelve years later, someone was still maintaining that old cinder-block building, for some reason, and I saw where graffiti had been whitewashed over, leaving the red-painted letters spelling Warm Springs Bar & Cafe. A metal post remained where the pay-phone used to be - the one Brutus had used to try to call a gas station in Tonopah to come to our rescue. There had been no reply, and no choice but to keep going as long as we could, and maybe hitchhike the rest of the way.
A little farther west on Highway 6 we had come upon the Five Mile Ranch, and Brutus and I stopped and looked for someone who might sell us some gas. The place was deserted, but they had gas, and - at Brutus's insistence, as I would never have had the nerve - we ended up leaving twenty dollars and a "sorry" note, then pumping a couple of gallons each (when gas was a buck-something, mind you) from their big metal tank.
This time I paused at the ranch's gate and took a few photos to send to Brutus, then carried on to Tonopah. I had thought of stopping there, after covering 740 miles, but Tonopah was not a prepossessing town. A moribund desert mining settlement, it was now largely supported by a military installation, the Tonopah Test Range, part of the incredibly immense Nellis Air Force Range Complex, which also included the Nevada Test Site and the legendary Area 51 (altogether an unbelievable 4,700 square miles - half again the size of Yellowstone National Park). Nothing especially against the town of Tonopah - not so different from, say, Ely, where I always liked staying, but Tonopah lacked any attractive motels, however humble, or restaurants. I always thought of Tonopah, Nevada, as a town that was good for filling up with gas and riding away from - and sure enough, after stopping at the gas station and cruising Tonopah's two highways, looking over the uninviting motels and restaurants, I said "phooey" (or words to that effect), and kept riding west. Even after all those hard, windy miles, somehow I was still feeling surprisingly fresh - tired and saddle-sore, yes, but not drowsy or crabby. All along I had been thinking about carrying on to somewhere more inviting, maybe Bishop, California - "only" another 130 miles, and I would gain an hour, crossing back into Pacific Time. Somehow that boost helped me talk myself into it (those can be contentious conversations).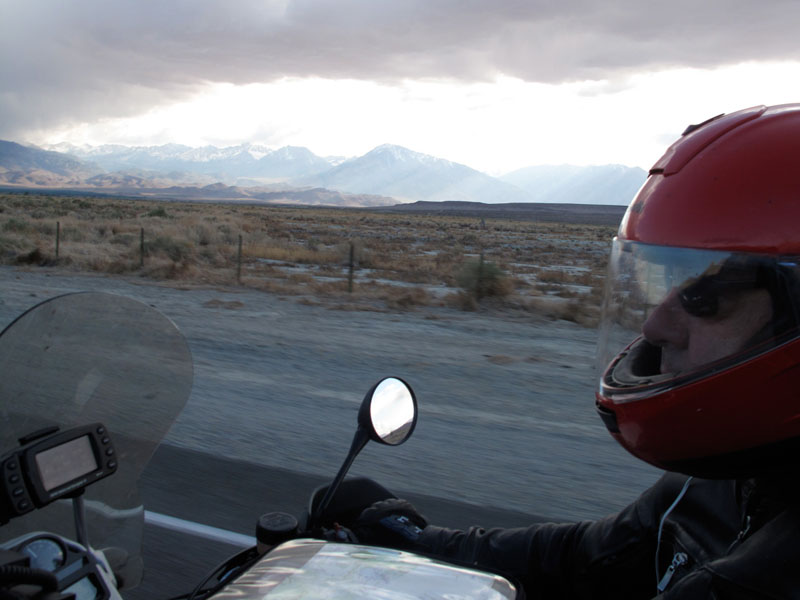 Another mountain town, at 4,137 feet, Bishop sits in the pretty Owens Valley, nestled between the high peaks of the Sierra Nevada on one side and the White Mountains on the other. As well as bringing me that much closer to home for the following day, Bishop offered a few decent motels and a fair choice of restaurants. After 877 miles that day, in fourteen hours, I was ready for one of those restaurants, and a Best Western bed.
From Bishop on, the roads home were familiar and well loved. I was able to keep to the two-lanes-only route, save where the highway occasionally widened to four lanes, and where I had to use a mile or two of interstate to connect to the excellent Lockwood Valley Road and Highway 33 to Ojai, then a short stretch of 101 through Ventura to the Pacific Coast Highway. Otherwise, all the way from Yellowstone to Los Angeles I stayed on back roads, covering 1,252 miles on the southward run - only about 150 miles farther than the interstate route, not more than an hour or two longer, and a whole lot more interesting and enjoyable.
Altogether, in those five days I rode 2,500 miles, and was glad to pull into my own garage, and get off that bike. As I have quoted myself before, "When I'm riding my motorcycle, I'm glad to be alive - and when I stop riding my motorcycle, I'm glad to be alive."
That, I hope, will never change.
And I felt pretty good about the trip - despite all the rain, cold, and violent winds (and partly because of them), it had been an action-packed few days. My careful planning had paid off in all the important little ways, like the bike preparation, route planning, and wardrobe changes (I laughed when I was pleased to note that I'd had "all the right gloves," always a critical detail in riding comfort - these days I carry three pairs, for hot dry weather, cool weather wet or dry, and cold wet weather).
Most of all, as I laid out my tools to change the bike's oil, I had a feeling of Mission Accomplished - at last I had made it to Yellowstone National Park. I didn't feel I had seen much of it, of course, but that green area on the map in the corner of Wyoming meant something to me now - it was on my "mental map," at least, where it had not existed just one week before.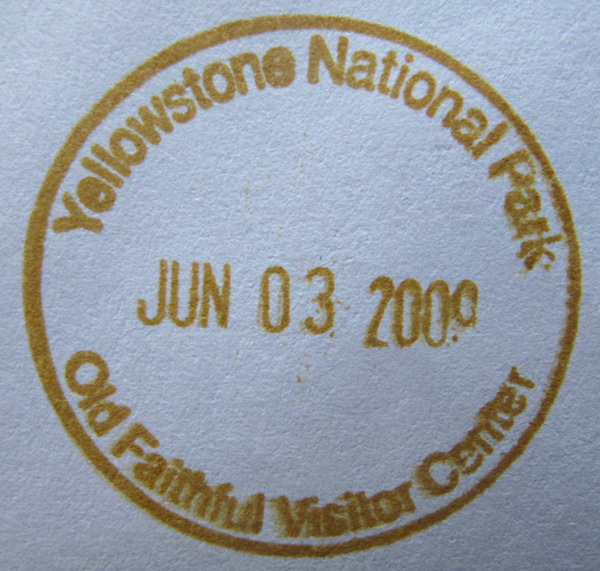 I can only hope that one day I will return to Yellowstone, maybe even to that little yellow cabin. And that wish gives rise to another line in iambic tetrameter - "If the fates are kinder, than they sometimes seem to be."
That line too just cries out to be sung, perhaps in a triumphant chorus, with harmonized backing vocals:
If the fates are kinder, than they sometimes seem to be
(A little yellow cabin on Yellowstone Lake)
There will still be many journeys and adventures for me
(A little yellow cabin on Yellowstone Lake)
A million miles, a hundred songs in my head
(A little yellow cabin on Yellowstone Lake)
'Til the stupid fates decide it's time to make me dead
(A little yellow cabin on Yellowstone Lake)

Yeah!
Now everybody ...