Iron Man
When He's Not Onstage Or In The Studio, Alex Lifeson Gets His Rush On The World's Finest Fairways
By Gary Grapff, Photographs by K.C. Armstrong, Guitar Aficionado vol. 1 No. 4, December 2009, transcribed by pwrwindows
---
The temperature in the hamlet of Goodwood, Ontario, is creeping toward the low forties. The sun is floating in and out of the clouds over the lush greens and fairways of Coppinwood Golf Club, and there's just a hint of crunch on the grass. The weather report calls for?well, a little bit of everything sounds possible today.
Inside the men's locker room of the club, which is located about 40 minutes north of downtown Toronto, Rush guitarist Alex Lifeson pulls on black Dunning thermal wear and contemplates a round in the cold. "It's a great day for golf, eh?" he says with a smile. 'Well, we're northern men, aren't we? Let's give it a go."
As golfers say, "Neither rain nor snow ... " Lifeson is, after all, a bona fide and self-confessed golf "addict," a Coppinwood cofounder who plays to a more-than-respectable nine handicap. He's not about to let cold air, blustery winds, and even hail - fortunately not golf-ball sized - stay him from his appointed round, not when there's a wide-open course to whip around with only a few other duffers braving the elements.
"Go ahead," one twosome says, as Lifeson plays through them on Coppinwood's front nine. "We're not in a rush." Ar, ar, ar...
Golf hasn't been a lifelong pursuit for Lifeson (who one club attendant addresses as "Mr. Z," for his real surname, Zivojinovic). Over the years, he has explored other extra-musical passions, including aviation, scuba diving, and motorcycling. Over lunch in Coppinwood's airy dining room, he recalls that he "knocked the ball around when I was a kid, but never really got into it." Then, when he was helping his parents move about 20 years ago, he laid claim to an old set of his father's "crappy, rusted" clubs. He took himself to a driving range. Then he went back the next day. The day after that he bought himself a better set of clubs, and within a month he joined a local golf club.
"It just became an addiction, and I couldn't stop," Lifeson says. Today, he maintains a membership at a club in Toronto and keeps separate bags of clubs-TaylorMade woods, Callaway irons, Titleist wedges-for home and the road. "I maybe thought of it as an old man's game at one time. It really didn't hold much interest for me. I was more into music and being cool and all those sorts of things. But I've definitely got the bug."
The allure? Suffice it to say that a man who revels in a repertoire of expansive and intricate songs such as "2112," "YYZ," and "Red Barchetta" can find much nuance to hold his interest in the pursuit of par-or better.
"The game is so difficult," explains Lifeson, who maintains a respectable nine handicap. "It's so hard to get good at it. On any day, you just don't know what's going to happen. You still have a day where you shoot 10 or 15 strokes above the day before, and you don't know where that comes from. And, conversely, you might have a day where you're amazing, and you don't know where that comes from.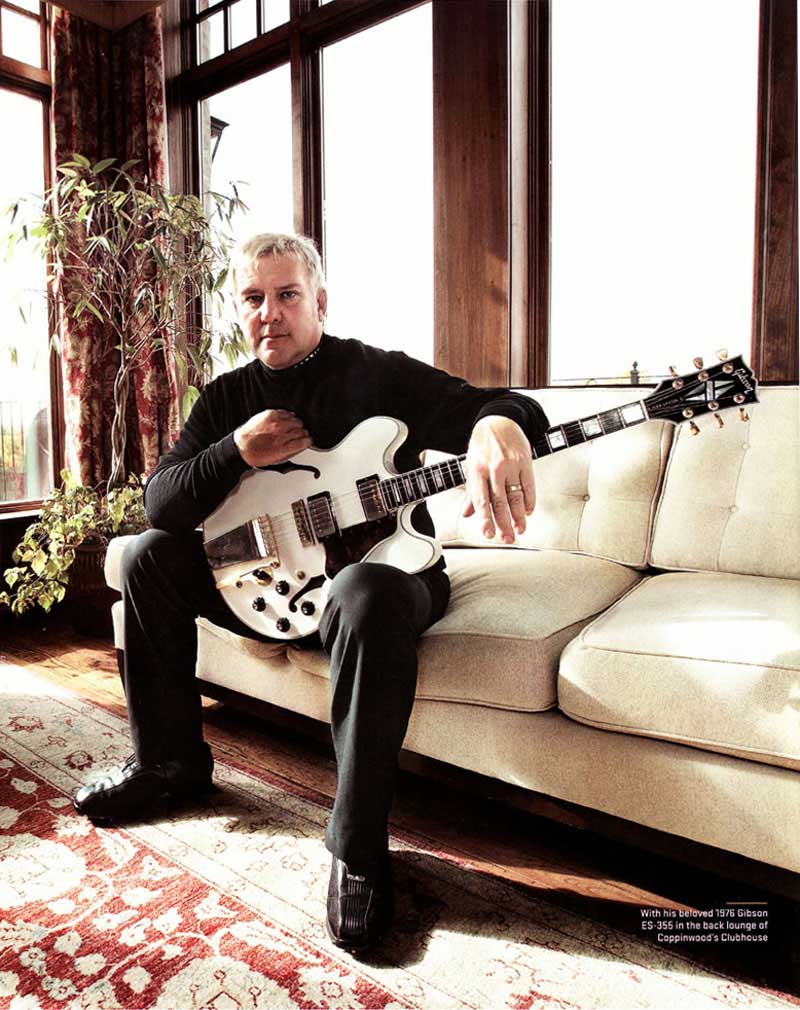 "It's always hit-and-miss with the game. You can't stop thinking about it and focusing on what you need to do, and you take lessons and keep trying to get better and better and better."
A benefit of the sport, Lifeson says, is that it "gets me out of my hotel room" when Rush is touring. "It's something you can do all over the place," he explains. "There's a social aspect that I really like. I've met tons of people over the years on the road, mostly pros or the director of golf at a club. It's a really nice way to meet people, and it's such a nice space to be in, on a golf course on a nice, sunny day."
While on the road, Lifeson, who's also been playing tennis since he was 18, gets out with his clubs at least two or three times a week and sometimes more when the schedule permits. On off days he'll play two full 18-hole rounds. On the day of our round, he's buzzing about shooting an 82 at Oakmont Country Club near Pittsburgh in 2007 when the course was still in prime condition from a recently held U.S. Open.
"He's improved a lot in a short period of time," notes PGA tour pro Mark Calcavecchia, a Rush fan since the group's first album was released in 1974. "I think I first played with him maybe six years ago, and he wasn't too good. The next year he improved dramatically. He just loves golf. He really works at it and wants to improve."
Lifeson isn't alone in his mania. The Rush touring party, which used to play baseball and hockey on the road, now holds periodic golf tournaments, complete with prizes. There are some keen golfers in the crew, it seems, although bassist Geddy Lee and drummer Neil Peart, while game to participate, aren't quite as enthusiastic. "Neil's a little bit uncoordinated when it comes to golf," Lifeson says with a chuckle. "He'll usually play for a bit and then throw his clubs down and say something like, 'This is stupid,' and stalk off."
Rush's breaks, meanwhile, allow Lifeson to fully succumb to his addiction. After a busy seven-year run-two studio albums, an EP, five live albums, three compilations, four DVDs and three world tours-the group has been off duty for a year, which has allowed Lifeson to hit the course four or five times a week. Even on this day, when most would cancel their tee times, Lifeson's game shows the benefit of that practice, with a full, smooth swing that strikes the ball clean and firm and, much more often than not, straight. And on the occasions when his shots drift into the fescue that's a trademark of Coppinwood designer Tom Fazio's courses-and has been mercifully trimmed for the fall season-Lifeson usually responds with a comebacker that puts him in par or birdie contention. The guy's band did have an album called Grace Under Pressure, after all.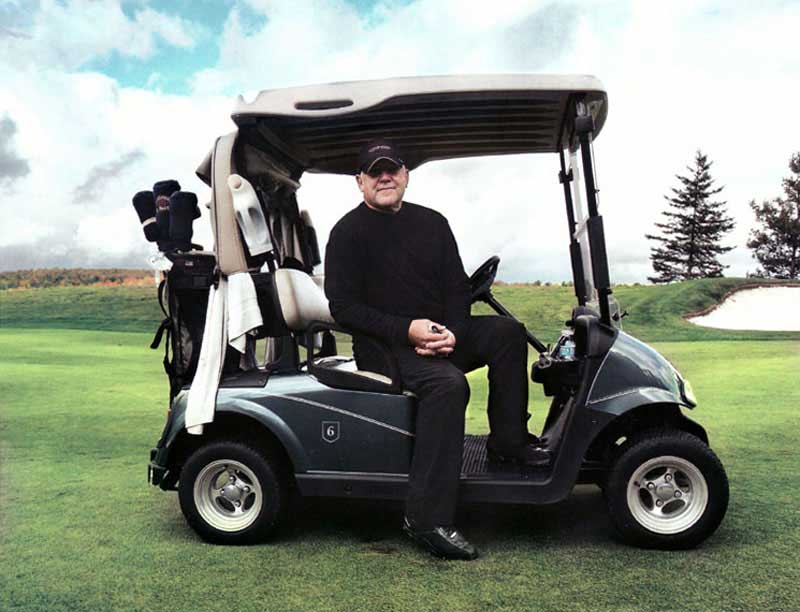 Lifeson has found there are also a lot of professional golfers who have a similar jones for music. He's particularly friendly with Rocco Mediate, who, it so happens, is a Rush fan and the owner of an impressive collection of band memorabilia. Lifeson was on the edge of his seat throughout the 2008 U.S. Open, when Mediate was locked in a playoff with Tiger Woods, ultimately succumbing after 19 holes of golf. "I was texting him on every shot, 'Hang in there!' " Lifeson recalls. "He texted back, 'OMG, that was so much fun!'"
Mediate first approached the band when Rush and the PGA both had tour stops in St. Louis several years ago. Through him, Lifeson has befriended other pros, including Lee Jansen and Calcavecchia, whose wife is also a big Rush fan. "I've probably seen them 25 times," says Calcavecchia, who considers himself "an 18-handicap guitar player." "To meet him-it was just awesome. And now he gives us laminates and everything. There's nothing better than going to a rock show and knowing the guy and parking behind the stage and being able to walk around like you own the place."
For Lifeson, who has also befriended some of tennis' big names, one of the perks in knowing the pros is the chance to trade some shoptalk. "With them I want to talk about 'How's my grip look? What about this? What about that?'" he says. "And they're just as interested in music. I think in sports you find a lot of closet musicians. Back in the Eighties, we met John McEnroe and Peter Fleming and Vitas Gerulaitis. All they wanted to do was talk about music, and all we wanted to do was talk about tennis. And it's certainly the same thing with golfers. It's a nice way of sharing our professions."
Lifeson expects Rush to be active again in 2010. He and Lee are planning to flee Toronto's fall chill for a preholiday trip to California to visit Peart and meet his new baby daughter, Olivia. They'll talk about a possible new album and summer tour, and other musical matters. And if the weather's good, don't be surprised if Lifeson-who has two sons of his own and a pair of grandchildren-manages to sample the local links in his bandmate's hood.
"There's more to life than being in a rock band," he says. "I think you always want to challenge yourself with something, and certainly golf is challenging. It's really; really difficult...It's one of those things you might never master, but you'll never get tired of trying."
---
Grapes Under Pressure
Lifeson Uncorks His Love For Fine Vintage Wines
Early in their group's career, the members of Rush had pedestrian palettes when it came to wine. Blue Nun. Mateus. "Four-dollar wines," guitarist Alex Lifeson says with a laugh.
Then came a fateful night in 1975 when a Milwaukee concert promoter took the Canadian trio to dinner. "He ordered Chateau Latour and Chateau Margaux, and that was the first time that I'd had any kind of great wine," Lifeson recalls. "I was so blown away by the evolution of the wine and the glass and just the incredible layers of flavors. I really got the bug after that."
No kidding. Lifeson now boasts a collection of about 1,200 bottles that he keeps in storage facilities in Toronto, where he resides. It took some time to build that, however. "I didn't have very much money at the beginning," Lifeson says, "so I started off with less expensive wines and I kept a notebook. And as we became more successful and I could afford it, I then explored other wines from different countries and different levels of winemaking."
The guitarist has made pilgrimages to wineries such as Joseph Phelps Vineyard and Turley Wine Cellars in California, where he helped to harvest and crush grapes. This year, he and bandmate Geddy Lee-a fellow connoisseur who has an "absolutely stunning" wine collection of his own-teamed with the charity Grapes for Humanity to take 50 high-ticket donors on a field trip to Tawse Winery in Canada's Niagara Peninsula.
But Lifeson acknowledges that collection creates a conundrum; when does one dip into the stock and actually drink something? "You know, that's a good question," he says, admitting that "sometimes you get a little precious about the wines you collect. You don't want to open them because then you won't have them anymore. And then you go beyond the wine's longevity and they're toast. They're not even good wines anymore.
"So the last four or five years I've been going through all my older wines. I want to drink them, and whether it's a special occasion with friends or family, or it's just burgers one night, I open these great wines and enjoy them. That's why I got them, after all."
- Gary Grapff