Inside The Recording Of The Hockey Theme With Neil Peart
TSN.ca, December 9, 2009
---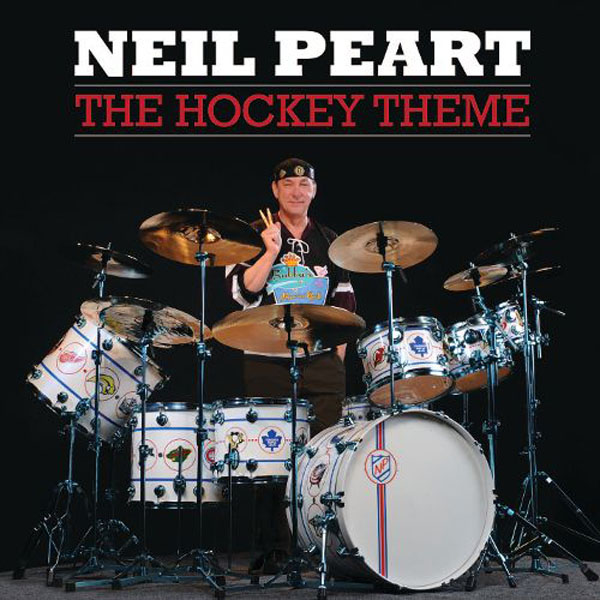 Armed with a team of top recording engineers and musicians, legendary Canadian drummer Neil Peart of Rush recorded a new rock version of The Hockey Theme on Tuesday for TSN. Peart recorded his percussion-focused rendition of "Canada's second national anthem" at the iconic Ocean Way Studios in Hollywood on Monday and Canada's Sports Leader was there to capture every moment.
The new rendition of The Hockey Theme features Peart accompanied by 17 musicians. The Stanley Cup was on hand to both inspire the musicians and to help symbolize The Hockey Theme's significance to the game. To further aid in instilling the hockey state of mind in his fellow musicians, Peart used a custom drum kit created by DW Drums that featured the logos of all 30 NHL teams.
In addition, Peart's trademark cap was specially adorned with the logos of the original six NHL teams. He also wore a hockey jersey featuring his 'Bubba's Bar & Grill' logo on the front with "RUSH" on the nameplate and the number three, in reference to the three members of Rush.
"Touring in Rush, we play all the same arenas as the hockey teams. Having travelled to and performed in nearly all of those arenas, some of them many times, and looking up at the championship banners and retired jerseys, you can't help but soak in the history of each city's team," says Peart.
Peart's version of The Hockey Theme will make its debut in the New Year and will be used during NHL on TSN broadcasts throughout the remainder of the NHL season.
Peart is widely regarded as one of the world's most accomplished and respected drummers/percussionists. As Rush's drummer and primary lyricist, Peart has recorded 18 studio albums with the band which have sold over 40 million units worldwide. Along with his band mates, Peart has been inducted into the Canadian Music Hall of Fame and was made an Officer of the Order of Canada.