All The World's Their Stage!
Classic Rock presents PROG, May 2010, transcribed by pwrwindows
---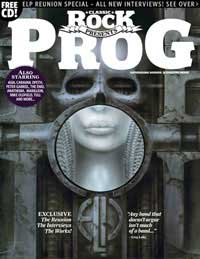 With a new film due out in the UK, a US tour and work started on a new album, Rush are busier than ever. And that's before you consider a huge reissues campaign and (hopefully) a UK tour.
GEDDY LEE'S BUSY. As his band's film, Rush: Beyond The Lighted Stage, premieres at the TriBeCa Film Festival in New York, he's in the studio mixing material for their next studio album, their 19th, planning an extensive North America tour for this summer and autumn and all of this before he straps on his tuxedo and hits the red carpet to meet the world's press that night.
Ask Lee how the ever-private Rush let filmmakers Sam Dunn and Scot McFadyen (Iron Maiden's Flight 666) have so much access to the band and he jokingly puts it down to: "A momentary lapse in good judgement."
It's a lapse every Rush fan will be grateful for, from the archive live footage to the parade of articulate talking heads (Billy Corgan in effusive form, Trent Reznor almost cracking a smile, a droll Gene Simmons actually enthusiastic about something or someone that isn't about to make him a dollar) through interviews with the band and their families, it's a slick yet mesmerising couple of hours.
For the filmmakers the success of their film comes down to the largesse of the band, "We've been lucky," admits Dunn, "We've had access to Geddy, Alex and Neil's own personal archives. I was at Geddy's house and I was going through his collection of Rush memorabilia and dug up some gems.
"We're digging to the bottom of the pile every time to find something new. We even got our hands on Neil's handwritten lyric sheets from back when they were making Fly By Night, 2112 and A Farewell To Kings. I don't think they've ever been seen before."
On June 29, Rush begin their latest set of Evening With Rush shows in Albuquerque, New Mexico, shows that are normally a spectacular two-set three-hour affair, This one's called the Time Machine Tour and will see them playing 1981's Moving Pictures album in its entirety for the first time. They're also promising a handful of new tunes from their forthcoming album.
But back to the film momentarily, were you pleased with the results? "I suppose," says a begrudging lee. "Although watching a two-hour film about me is not my idea of a good time."
So what prompted you to leave the studio mid-album and tour?
"The idea of this short tour began with a desire to get into 'tour playing shape' for recording and to attempt to break up the usual way of doing things." Says Lee, "It also occurred to us that we could play some older songs and some new songs - there'll be two new ones played live - and road test them, and see if they evolve before we went back into the studio to finish the record.
"We wanted to create a 'future/past' tour, which kind of fits into the concept we're working on for the next album. It's the same idea with performing Moving Pictures. The time felt right, it seemed like a good opportunity to try this kind of thing and a fits what we're trying to do tlis time around."
And how is the new album going?
"We've written six songs and have just finished recording two of them. They're being mixed as I'm speaking to you. They turned out terrific and sound very fresh."
Is it still fun to trawl through the catalogue and rearrange older material for new live shows?
"It is actually fun to do that. And you go through a phase where you don't believe you can play the song with any conviction and then you kind of recapture the spirit with which it was written; a surprising process."
Will you still have those terrible fake Cockney accents in the background on The Camera Eye?
"Hopefully, and we will attempt to add some other terrible accents along the way ... perhaps we can butcher a Midlands accent too?! Roight guvnah!"
Rush: Beyond The Lighted Stage will be released in the UK on a limited theatrical release on June 28. Rush's back catalogue will be the subject of a major reissues campaign in 2011. The new album is currently slated for a spring/summer release.
Finally, can you please hurry back to the UK? We miss the noise.
"We hope to back in the UK in 2011 for a full tour ... we miss the cloud cover!"