Rush Receives Star On The Walk Of Fame
Geddy Lee, Alex Lifeson Thank Their Fans At Friday's Unveiling
By David Ciminelli, Hollywood Reporter, June 25, 2010
---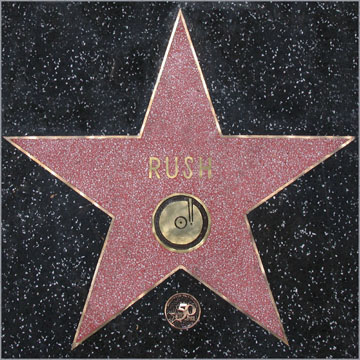 Rush, Canada's most successful rock band, received a star on the Hollywood Walk of Fame on Friday, appropriately in front of the Musicians Institute on Hollywood Boulevard.
On hand to induct the musicians were Smashing Pumpkins singer Billy Corgan and Donna Halper, a former music director at Cleveland's WMMS-FM who was among the first to champion the enduring band's 1974 self-titled debut album.
"Rush always stayed true to themselves and true to their music, and never lost their integrity," Halper said to cheers from the crowd that ranged from toddlers in Rush T-shirts and baby boomers in tattered vintage "2112" tour jerseys.
Frontman-bassist Geddy Lee and guitarist Alex Lifeson were in attendance to claim the 2,412th star on the Walk of Fame. Noticeably absent was drummer and lyricist Neil Peart, who was riding a motorcycle to the band's first tour date in Albuquerque on Tuesday.
Lifeson joked with the crowd before offering a sincere though, he admitted, cliche "without you we couldn't do what we do" thank-you. Then Lee thanked the gathered fans for the "beautiful, surreal moment" in the band's 40-plus-year career. "From the suburbs of Toronto to a star on Hollywood Boulevard -- that's quite a trip," he said before the roar of the crowd drowned out his speech.
That journey has seen the trio sell more than 40 million albums worldwide, including the progressive-rock staples "2112" (1976) and "Moving Pictures" (1981), which helped Rush earn the most consecutive gold or platinum studio albums by a rock band ever, after the Beatles and the Rolling Stones, according to the RIAA. The trio also appeared in the 2009 DreamWorks comedy "I Love You Man."
The Walk of Fame induction comes four days before the launch of Rush's 40-city North American Time Machine Tour in support of the new single, "Caravan," released June 1, from the band's 20th album, "Clockwork Angels," due in the spring.
In honor of the event, across the street from the induction ceremony, the Mann Chinese 6 Theatre is hosting screenings of filmmakers Scot McFadyen and Sam Dunn's rock doc "Rush: Beyond the Lighted Stage," which features Corgan and Halper and won the Audience Award at the Tribeca Film Festival in April.