Logical Progression
Rush looks back at their long career in a new documentary
By Karen Bliss, Needle, July 2010, transcribed by John Patuto
---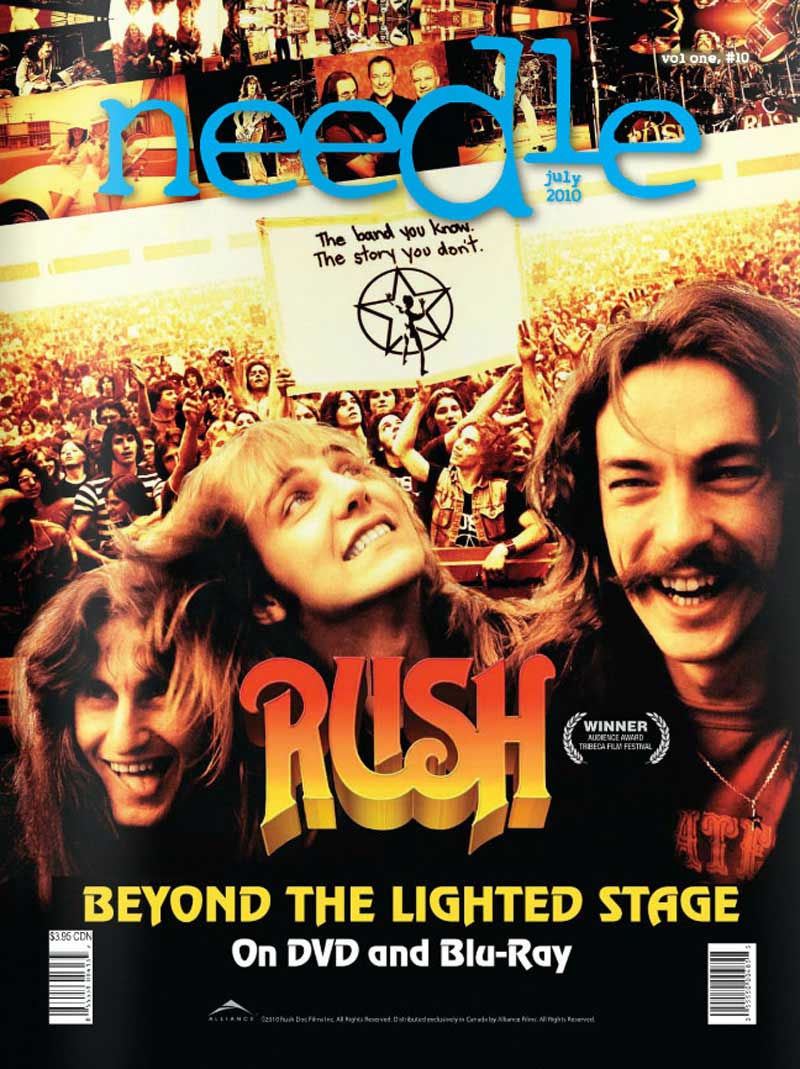 "I believe that when people truly step back and actually look at who the great bands were, they are one of those bands," says The Smashing Pumpkins' Billy Corgan, in one scene near the beginning of the documentary Rush: Beyond The Lighted Stage, just released on DVD.
"They are one of those bands that somehow they were never popular enough that they get commonly name-checked as one of the great bands of all time. A lot of the other stuff has been over-explained. Led Zeppelin has been over-explained; the Beatles have been over-explained. It doesn't tell the whole story and you could say, 'Why was this band marginalized? What was it?' It doesn't matter. At some point, they're there and somebody has to explain why they're there."
Canadian directors Sam Dunn and Scott McFadyen are those somebodies. Dunn is a noted "heavy metal anthropologist" whose previous documentaries with McFadyen have explored the genre on a worldwide scale: 2005's Metal: A Headbangers Journey delved into this much maligned and stereo-typed music; 2008's Global Metal took them from Europe to Asia and the Middle East to unearth the extreme subcultures of metal; and last year's Iron Maiden: Flight 666 covered the English band's whirlwind 23-show, five-continent, 45-day 2008 tour in a jet piloted by frontman Bruce Dickinson.
"[Beyond The Lighted Stage] was different than anything else we've done before in that it's a history of a particular band - and we chose a band with a really long history," laughs Dunn, sitting with McFadyen for promo interviews at Alliance Films' Toronto headquarters, which distributes the Banger Films production.
By using key interviews, concert footage and photographs, some dating back to Rush's suburban high school years, the pair does a compelling job at explaining why this Toronto progressive metal trio - singer/bassist/keyboardist Geddy Lee, guitarist Alex Lifeson and drummer Neil Peart - has been around for more than 40 years, sold more than 40 million albums worldwide, and continue to sell out massive tours, like the one they're doing this summer.
"What makes Rush unique is fearlessness; it's a quality of starting to write a song and not caring about what's popular [and] what's not," offers bassist/singer Gene Simmons; the film mentions how KISS took Rush out on the road in America at the start of their career. "There's only one band that sounds like them. What kind of band is Rush? It's Rush."
Among the other musicians gladly interviewed for Rush: Beyond The Lighted Stage and going into fine detail about their passion for the band are Nine Inch Nails' Trent Reznor, Foo Fighters' Taylor Hawkins, Sebastian Bach, Rage Against The Machine's Tim Commerford, Jack Black and Metallica's Kirk Hammett.
"This rock band got me all fired up about literature," says Bach, recounting how he bought Ayn Rand's The Fountainhead at age 12 because of Rush's 2112. He also proudly reveals he was "member No. 3 of the Rush Backstage Club."
Black recites passages of Rush's music in the comically intense way only he can, and surmises: "Rush is just one of these bands that has a deep reservoir of rocket sauce. A lot of bands they only have so much in the bottle. They use it up sometimes in one song. These guys were the real deal. Their bottle was so big and so filled to the brim, they were shaking it literally for decades and still there was sauce coming out."
Rush is often perceived as cerebral musos, always "over-reaching" musically, to which they admit, but what Beyond The Lighted Stage also shows is that the three don't take themselves nearly as seriously as people think. The band members, particularly Lifeson and Lee, continually crack jokes about everything from their so-called "Down The Tubes" tour early in their career to their fashion choices, such as Lee's Asian robe phase, and there are plenty of the simple quips and ribbing that comes with any long-standing friendship.
At Alliance Films, even during a short interview for the documentary, it becomes apparent.
"You know even hearing [his] voice from back then, you know, I don't remember Geddy singing like that," Lifeson says.
"I know," laughs Lee.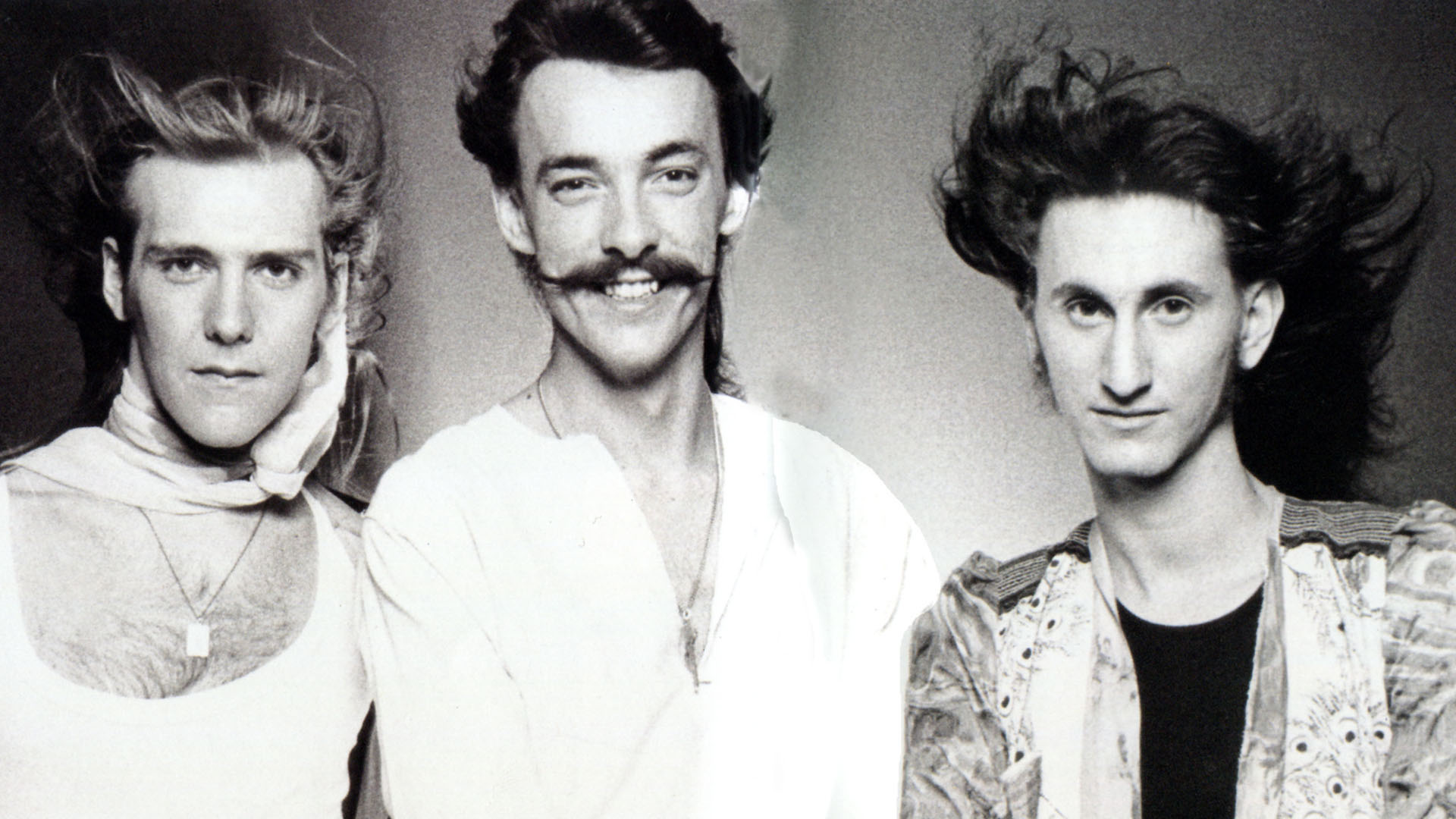 "Seriously," says Lifeson.
"But I did," Lee laughs.
"You do," says Lifeson.
It's the funny little stuff like that that provides a glimpse into their personalities, how they have stayed together all this time, and why Beyond The Lighted Stage is not just a story about three musicians.
"Alex Lifeson is probably one of the funniest people we've ever met," says Dunn. "He plays in Rush, which is probably one of the most serious bands that ever existed. Frankly, I think if it wasn't for Rush's humour and sense of humour about themselves and what they do, this movie would have been really boring. And it was the juxtaposition between their humour and their camaraderie as friends and their creative direction in terms of creating music that's very challenging and intellectual and complex, that was really fascinating to us.
"What we learned, and what we think was conveyed in the film, is that part of what enables them to create this complex music, and go through so many different changes in their sound over this period of time, is that when they get in a room they just want to laugh together. And I think that's unique about Rush. We've certainly never seen it before."
The film has many levels - the story of first generation Canadians, pursuing one's dreams despite the norm or what's expected, loyalty, compromise, excellence, friendship, family. But for their part, Lee and Lifeson say there was never a point when they looked at their lives and what they've accomplished as a "big story."
"It's hard to think of yourself in those terms," says Lee. "We just put one foot in front of the other and get on with it. To see it on a screen like that is a bit overwhelming for us, because it's 40 years of your life. And all those moments of putting one foot in front of the other have added up to be this big story. But we never would have guessed it and I guess Scott and Sam saw that and that's the reason they came to us in the first place.
After watching the documentary, Lee admits, "It was emotional at times."
"There are triggers," Lifeson agrees.
"There are things you see and it puts you back," explains Lee. "When you're talking about difficult periods, obviously that hits you because you re-live all those things. And it's a bit of a strange feeling because some of the really early stuff I can't remember that guy and it bothers me that I feel so disconnected from that 20 year old kid. I don't remember what it felt like to be him and I guess that's part of aging."
One of the most telling clips in the documentary is of a teenage Lifeson talking about wanting to quit school in an Allan King documentary that was shelved.
"I don't want to make a bunch of money," he tells his parents. "If I make a lot of money, that's great, but I'm not gonna go to university and get a big degree. I don't want to drive around in a big car and get people to go, 'Hey, there goes Alex. He's loaded with money' and 'Wow, he's really set himself up great.' I don't know why I have to go through all the bullshit of high school to learn music."
And that epitomizes Rush - music first; money later.