Rush: Beyond the Lighted Stage Special
By Michael Donlevy and Philip Wilding, Classic Rock presents PROG, July 2010, transcribed by John Patuto
---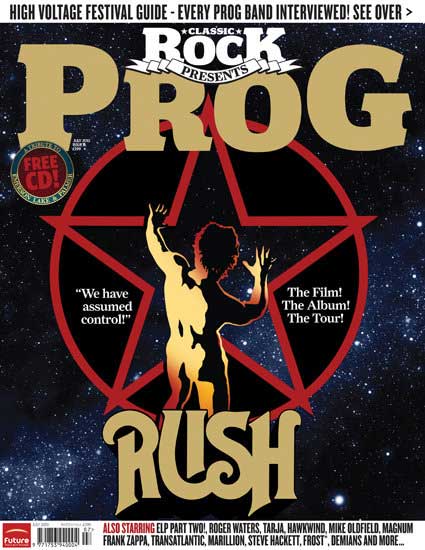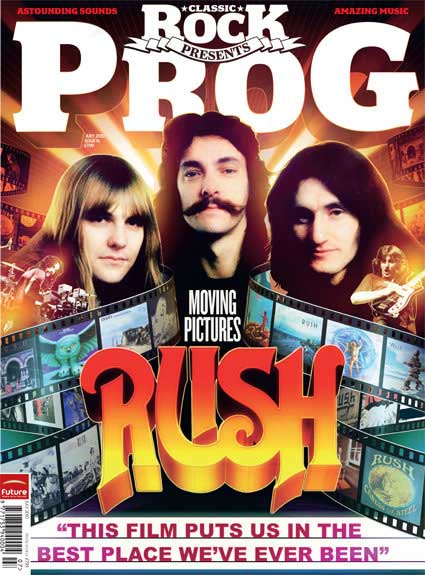 Through the Camera Eye
Rush have never been busier. With a movie, Rush: Beyond The Lighted Stage, hitting cinemas this summer, a tour playing the seminal Moving Pictures in its entirety and a new album in the works, Geddy Lee and Alex Lifeson took time out to talk to Michael Donlevy about their legacy, and why they can't stop moving.
Three words that even the most diehard fan never thought they would hear: Rush are cool. "Well, we didn't do anything!" laughs guitar icon Lifeson. "Sam came to us with this idea of doing a film on the history of Rush and we came back six months later and said, 'You guys were right!'"
Sam is Sam Dunn, who co-directed the film with Scot McFadyen. "They' came to us before the last tour and brought this idea. They'd already done a couple of other films and we were aware of them and we quite enjoyed their first film Metal: A Headbanger's Journey. Ged had done an interview for that as well, we knew they were very dedicated to whatever their subject happened to be. So they presented themselves very well and we were happy to go along with it."
Their new movie, Rush: Beyond The Lighted Stage, is a joy for any Rush fan, and will drop jaws in a cinema setting. It's open, honest and displays a humanity that has perhaps been underappreciated in both their work and their inter-band relationships.
And the cast list of commentators is a who's who of both heavy and progressive music: Nine Inch Nails' Trent Reznor leads the way by talking with clarity about the influence of the band on a younger generation. Dream Theater's Mike Portnoy is there too, and Smashing Pumpkins' Billy Corgan - who is notoriously reclusive - makes his feelings known. Jack Black weighs in with the silliest line: "They've shook the bottle for decades and the juice keeps coming!" But Gene Simmons sums it lip best "What kind of band are Rush? They are Rush."
That really does hit the nail on the head. From the archive material from Geddy Lee's personal collection to the inter-band joking, it's clear that as well as being hugely successful and influential musicians for decades, that longevity is built on the friendship between them and their refusal to compromise their principles. No-one else sounds like them, and as co-director McFadyen says, "They had a determination. They had to decide whether they were going to have one hit album and forever sound the same, and get bored off it, or make it on their own terms."
"We do have a legacy," says Alex. "There are not many bands that have been around in their real form for as long as we have. We've done things our own way, which is tough to do in the music industry. But the comments made by some of the musicians that we have great respect and admiration for show we've imparted something on them and their generation, so I suppose we have something. I'm proud.
"It's good to know that what you're doing isn't just a jerk-off."
---
The Ghost Rider
The bond between the three members is evident in the film's most emotional chapter, where they deal with drummer Neil Peart's personal tragedies: losing his daughter in a car crash in 1997, and his wife Jackie to cancer a heart-breaking 10 months later. To recap what happened next, Neil took off on his bike, knowing full well that his wife died of a broken heart, wrote a book called Ghost Rider: Travels On The Healing Road about his nomadic lifestyle crisscrossing the American continent, wrote an emotional song with the same name and finally, in his own time, reunited with Geddy and Alex to make 2002's Vapor Trails album. Alex would like it remixed, but says it was raw for a reason.
"Vapor Trails was the most emotional record we ever made and we intentionally didn't try to overproduce it, or get all tricky in the studio. For that reason for me it's a very successful record and sums up where we were at, how we felt and what we were going through. It took us about 14 months to make that record and it caused a lot of problems for us. I think the production of the record was a mistake. Among our camp we're talking about remixing it and making it available to the fans. It's not on the backburner - it's on the middle burner."
For the band to agree to this movie, there was no avoiding the subject of Neil's personal losses. It's handled with a sensitivity that is moving yet inspiring. Geddy praises both Neil and the directors for that. "I think what helped Neil is the fact that he'd written Ghost Rider ... and publicly bared his soul about what had happened to him, to move forward, so perhaps that made it easier for him to do the film."
"I don't think Neil had a problem with doing the movie once he understood our intentions," says Lifeson. "Neil's a private guy but he loves to talk and you have to get him in the right company. He's never been comfortable with celebrity and being in a rock band. It's a matter of shyness more than anything else. So once he understood that they were making a film about our history and treating it respectfully, particularly concerning him, it was okay.
"I'm glad he got the opportunity to talk about those things," Alex adds. "A lot of Rush fans feel like he's standoffish and that's not the case at all. He's just very uncomfortable with the adulation and I think Geddy and I work through it differently. The people that we meet are very polite and it's a brief moment. It's a nice way to exchange but I understand how if you're not comfortable with it, it's torture."
It is, to any Rush fan who can empathise with Neil, a part of their story that people are waiting to hear. Geddy is in two minds: "I guess so, but it's hard to say what people are waiting for. It's inevitable, with Neil, and the directors had to deal with it."
Did the cameras get in the way? Alex says, "It was actually not bad. We're not aware of them. We had Andrew MacNaughton, who is a long-time friend of ours and has been our photographer for years. We were so used to him we didn't even notice him when he was around. And so if he was taking photos or filming us what he managed to catch is a much more natural way rather than having a massive film crew walking around all the time."
The cameras capture a great deal of humour as well as that deep bond between the three. There can surely be no band on the planet with such strong internal relationships, and the sheer length and amount of time they've spent together since Neil joined in 1974 means they know each other's sense of humour - and how to make each other laugh. The movie ends with the three members talking what can only be described as nonsense over dinner on the Snakes & Arrows tour.
"After so many years we've all learned to deal with being on the road individually," says Alex. "Playing golf is my way of relaxing away from the hotel room. Neil has his motorcycling and Geddy likes fine wine and dining." It doesn't show, we venture, and Alex laughs. "He's a lucky guy. Not like some people I know ... "
Alex is making reference to himself, whereas once, in the archive material, he was something of a rake. But none of them will have gained too many extra pounds at this particular meal- or not from food, anyway. "It was four hours of getting drunk and talking," says co-director McFadyen. "I don't think there was much eating going on."
"But when Geddy says stuff like his nose is a musical weapon [for nudging microphones around his keyboard during shows] it shows they were great fun to work with. They've nothing to prove; they're very self deprecating. They like to look back and have a laugh."
---
Time To Move On
As powerful as the movie is, you still sense it's not as important to the band as the simple business of being Rush. Two new songs, Caravan and BU2B will be previewed on the relatively brief, Europe-dodging Time Machine tour - where they play Moving Pictures in its entirety for the first time - and four more are written for an album, Clockwork Angels, that's penciled in for release next spring, with a world tour to follow.
"We're looking forward to doing all of Moving Pictures, including The Camera Eye, which has been a request from fans for a long time," says Alex. "The tour is called Time Machine because we're looking behind us as well as ahead. We'll play two songs that we're working on because it's good to test them before they go on the new album."
Geddy agrees: "We've got six songs written, including those two that we've recorded, and that's just the beginning of a bigger piece of work that we're hammering away at, and we're really excited about it. I'm loving the way they sound and I think it's some of our best recorded work so were excited to play them and road test them. We had this idea to break up the way we do things rather than just spend a whole year making a record and then go on tour. We thought, hey, why don't we write some songs, get something down on tape, go on tour, then go back in the studio really playing well and in top condition and see how that works. We recorded these two songs when we didn't think we had time and wrote six. They've turned out so well, and there's a great energy about them. We're really fired up to go out and play them now. Now we just have to learn how to play them!"
"I feel in a better space than we've ever been," says Alex. "We're very confident and very relaxed in our skills at this point. Geddy and I have been writing and recording and we're really happy with the results - really thrilled with them. A lot of the material is really exciting so it's put us in a really good state of mind and we're looking forward to the tour. We always think about moving forward and we feel that we're in a very strong current so it's all good."
And there's more good news: "With the new album we'll do a more extensive tour of 60-70 dates, hopefully including Europe," says Alex. "It's definitely a plan to tour Europe," agrees Geddy.
"It's a lot of fun," says Alex. "We hadn't been over a while and then did two tours back to back and it was better for us to skip a tour between visits. So we're looking forward to coming back now."
---
Ever Permanent Waves
Some bands begin with a bang and fade away after a strong album or two. Some plod along, re-hashing their past, or decide to cash in on greatest hits tours. Most bands fall apart.
But Rush are different, which is perhaps why they have such a strong and loyal following.
"We've been around for over 40 years - 36 with Neil," Alex points out. "That in itself means there's something about this band that is living, that's evolving, and we're getting notoriety because we're cool - in quotation marks. But it's nothing to do with us.
"Sam and Scot have put together a film about us and there's interest in the Rush story because we've managed to survive through adversity and come out on top. Everyone likes that kind of story."
Moving Pictures? A classic album that we wish we could see live in Europe. But more importantly, and keenly in focus with ... Beyond The Lighted Stage, this band is still moving forward.
---
Cut To The Chase
Geddy Lee on five highlights from Rush: Beyond The Lighted Stage
1. NICE PANTS
The most striking thing about the early chapters of the film is the amount of unseen photos, like Geddy and Alex at high school, playing together and making their TV debut. Oh, and undergarments. A big chunk of these came from Geddy's basement.
Geddy says: "When Sam Dunn called me up, he said that he and Scot were really shy on old photographs, particularly of us as kids and with [original drummer] John Rutsey, so Sam came round and we pulled out a box, but it didn't go back as far as I thought it was going to. I thought they were all in there, and there were reviews, pictures of my wife and I when we first got together, and all kinds of personal mementos, but it didn't go back to our really early days. So I panicked and thought that perhaps when I moved last time I'd mislaid the boxes. I could see Sam went away really disappointed and was freaked out that he didn't have enough for the film. Eventually we found the 'golden box' that contained my entire early life. So I called Sam back and said, 'Okay, come back and we'll go through it: A lot of the stuff in the movie came from that."
2. MEETING THE PARENTS
Parents have two purposes: firstly, to bring us up to be good, responsible adults and secondly to - job done - sit back and embarrass us. It's fair to say that Rush's parents did the former and now, with this film, the latter, as they talk about their children's early lives in the movie. Alex's mum, Melanija Zivojinovich talks through some of her son's early life (calling him a cutie!) while Geddy's mum, Mary Weinrib, admits to preferring Perry Como over Geddy's earliest efforts. Neil's parents are both present - his dad encouraged Neil to join Rush when he was offered the vacancy on the drummer's stool - and it's strange to think that, maybe without them, they wouldn't be where they are now.
"Had Sam and Scot not approached us we would never have done a film like this," says Geddy. "But there was something about them we liked and we said, good luck, it's your movie, not ours. We're not going say how you should shoot it. If you ask our opinion, we'll gladly give it but feel free to do what you want. So they said they wanted to shoot our moms and we said fine. It's not up to me - it's up to my mom if she wants to talk to you."
3. NEIL PEART'S FAMILY
It's well known that Neil - one of the most humanitarian and caring musicians in a hard-bitten industry - lost his daughter and wife in quick succession back in 1997. The directors were aware that the very private drummer was the one member of the band most likely to refuse the film, on the basis that he would have to talk about past tragedies.
"Well, of course it's difficult. He went through things that are very difficult to talk about. But it's life, you know, and we've all gone through it, and Neil more than anyone lives through it still, every day. But I think [directors Sam and Scot] were so respectful. They went to great lengths to make sure he was comfortable. But Neil would not talk about anything bar what he wanted to say, so there was that sense of trust between he and Sam and Scot that they weren't going to handle things badly.
"He's a genuine guy, Neil, and if you ask him an honest question he gives an honest answer. Obviously, talking about it is not the first thing on your mind - or what you want to talk about - but at the same time you have to be prepared to answer the questions."
He certainly does - every question thrown at him, in fact - with grace and good humour. "It's moving, but it's not maudlin," says Geddy. "I thought the directors handled it really well."
4. MASSIVE GIGS
The movie covers some of the group's biggest gigs, such as when played South America for the first time (also covered on 2003's Rush In Rio DVD) and then hit the world's stadia with the Snakes & Arrows tour. In the film it is acknowledgement that as well as being influential they are possibly more popular than ever. Does that feel like justification for all the years of hard work?
"Justification is a bit too serious for me," says Geddy. "I would say it's very nice and slightly shocking to see how many people turn up to our shows now, and it's very sweet and we appreciate it a lot, but I don't think it's ... vindication. For me it's kind of a miracle that the three of us are still playing together, and through that difficult time [Geddy is talking about Neil's losses] we became so bonded as pals. So whenever something positive happens now we feel good about each other.
"Today is rehearsal day and we haven't had our first group session in a while - we've been rehearsing on our own and were recording a couple of weeks ago, so I know everyone can't wait to get down to the studio today because we're going to have a blast. For me, when I walk on stage with those two guys, knowing it's been 40-plus years, I'm always scratching my head how that's possible. I'm very appreciative that I was lucky enough to have partners like those guys, as goofy as they are!
And they also happen to be good musicians." So they are, as we know, but being good human beings and friends is perhaps more important, and it's a key part of this film about the band. How good it is to know that the success has never gone to their heads.
5. TABLE FOR THREE
The final highlight from the movie, and possibly the best bit of all, is the three members talking nonsense over dinner. Alex would appear to be leading proceedings but there is a huge amount of joking, messing around and laughing. Is this normal?!
"Yeah," says Geddy with a laugh. "That's pretty normal. We rarely get a chance to go to dinner together - just the three of us. We try to do that at least once or twice during a tour but it's harder because Neil travels on his own on his motorcycle and tries to stay away ... he doesn't want to run into the whole trappings of the tour thing, so he goes on his nature tour of America, or Britain, Europe or wherever we happen to be touring, so when we do end up in the same hotels at the same time we try to organise dinner and when we don't see each other much after a tour or album is over we get together. In the film, we hadn't really got together like that in a year, all three of us, but when we do that it's always fun."
We are amazed, in the politest possible way, that the band ever gets anything done. "Really, we don't get anything done!" says Geddy. "They're really not meetings. Alex is smashed within about 20 minutes and the rest of us play catch-up with him. It's hard to be serious!"
It took Rush until 1993's Counterparts to use the word love in a song title. That was because Neil avoided those sorts of dumb clichés in his lyrics, but it gave the impression that the band were somehow cold. It's nice to know - or rather, see on film - that there is so much warmth between these three friends.
---
It's A Wrap!
Not like the one in the middle of Roll The Bones, of course. Co-directors Sam Dunn and Scot McFadyen talk about the making of Rush: Beyond The Lighted Stage.
"RUSH," says director Sam Dunn, "is the longest-running intact rock band - ever - and with over 40 million records sold over four decades they're arguably one of the most influential rock bands ever, too. So we felt that, with this sort of legacy, it was high time someone made a documentary about their career."
It's clear from the musicians who talk about how Rush influenced them shows the band still matters. "They're in a very enviable position where they can just explore music, be artistic and create new things and still have a huge audience," says fellow director Scot McFadyen. "So many bands when they change a sound, like when Metallica changed their snare sound, can cause huge rebellion among fans who want a band to sound a certain way. There are fans that like Rush through one certain period over another, I'm sure, but I guess they matter as a band because they're always doing new things. I think the influence for a lot of musicians is from their attitude to their work almost more than the music itself'
Sam and Scot have been producing together since their debut documentary Metal: A Headbanger's Journey in 2005, as well as Flight 666 with Iron Maiden in 2009. But as Canadians, they were desperate to work with their homeland's biggest rock band.
"They're very connected to my upbringing, especially Alex and Geddy," says Scot. "I grew up in the suburbs of Toronto and my brother had Rush stenciled on the bedroom door when I was six years old, so they're very familiar to me. And they're very down-to-earth and not affected by celebrity."
It was Scot who got the ball rolling, Sam says. "He approached the management but Geddy appeared in .. . Headbanger's ... and liked the way we'd approached rock music. He felt that we were respectful and we were keen on telling a story. We met them at a show in Texas on the Snakes & Arrows tour in' 07, then met again and talked to them about the idea.
"We were aware that Neil would be the most skeptical and hesitant, given that he is a very private person. He asked, 'What is your approach going to be?' and Scot said, 'We don't know yet!' I think in a pitch setting that would have been disastrous but with Rush they understand the creative process and that nothing comes quickly when it's done right. They appreciated that we were approaching this with no particular angle or pre-determined idea of what the story would be. They responded well to that and made it very clear that they wanted this movie to come from us, and not a Rush product. That was a vote of confidence, and off we went!"
Not that it was all plain sailing. "Like a Rush song, it's a long story," says Sam. Iron Maiden had initially rejected the idea of Flight 666 but when they changed their minds and invited the directors to follow them on tour, Sam and Scot had to approach Rush and, having gone to the trouble of getting them to agree to . . . Beyond The Lighted Stage, postpone filming. "We started to film interviews in the fall and winter of 2007, obviously working on the whole writing process and coming back to them with ideas and what we would need. Then in November of 2007 we got the call about Maiden. So when it rains it pours. Thankfully Rush said yes. We picked up the filming for Rush in early'09."
The film premiered at the Tribeca Film Festival in April, and won the Audience Award. "That was amazing," says Sam. "It gave us that vote of confidence from the fans of Rush, but we tried to make a film that wasn't just for Rush fans. We tried to make a film about this band who have managed to survive for so long and have a massive impact yet were still kind of under the radar, so for us the award was special because it indicated to us that it wasn't just for Rush fans. There were people at those screenings who were there out of curiosity and that was really special for us."
For the audience, too. The film is full of great archive material, particularly of the band's early days. "There's a Canadian/Toronto mythology really about the biggest rock band to have come out of Canada, so capturing their story and using the archive footage of the older stuff was something we really wanted to do because it wouldn't have worked if they had come from London or New York," says Scot.
Getting hold of it was Sam's job: "Speaking personally as a fan and also as a bass player, to be in Geddy's house, I had to pinch myself and say, 'Is this really happening?' But from a filming perspective the biggest challenge was the real lack of video footage up until the late 1970s. I made one visit to Geddy's house and we went through a lot of his archive material, but much of it had been seen already and wasn't really all that unique. When I came back the second time he'd got a box out of the attic that he hadn't seen in years, so he opened it up and blew the dust off it. I remember we were looking at photos of the band with John Rutsey and the early days of them playing high schools and all of this amazing memorabilia. I was thinking, now we have the material."
John Rutsey was the band's original drummer (pictured in pink satin shirt in montage, opposite), but he left after the band's debut album with poor health. Rutsey died in 2008. Like Neil Peart's family traumas later in the film, the subject is handled with sensitivity. "We did reach out to John's brother in the early stages to collect photographs and it was important to us that we include John in the story of Rush because it tends to be a forgotten chapter," says Sam. "People tend to focus on the fact that John only played on the first record but the fact of the matter is that they started in 1968 and it was six years before the release of the first record. In essence, John was the leader of the band. He was effectively the manager and he really spearheaded getting the gigs and pushing the band forward .
"What we were guided by in making the film was telling a human story. We wanted to cover the music and the musical history because that's undeniable, but also focus on the struggles that the band had gone through over the years and to try to give people the sense of the guys themselves as people and not just as these mega rock stars. The fact of the matter is that the guys in Rush are tremendously humble and focused, and have a very working class ethic about what they do," Sam says.
"I think the humour in their relationship comes out in the film," Scot concludes. "A lot of bands break up because of egos and the sort of ego that pushes on the other members. But the three of them work together the way they share the space on stage together, the way they support each other as friends.
"That's why it works."
---
Back In The Limelight
After four decades at the top of prog, Rush are finally given the full rockumentary treatment in an unflinching,
in-depth new film. Philip Wilding is moved by the tears, the laughter and the fluffy slippers.
It's indisputable, Rush are drunk. Stewed, pink-faced, Geddy Lee's slurring, Neil Peart is happily teary-eyed and giggly. This compelling film's title is taken from the lyrics to Limelight - the drummer Peart's eloquent railing against intrusion into his private life - so it's refreshing to see that they've finally let their barriers down and the cameras in. As yet another bottle of wine is opened and starters are served, Alex Lifeson proves what Geddy Lee has always said: Lifeson is the funniest man he knows. As Peart gleefully struggles to catch his breath ("You're killing me!") , Lifeson lobs in wisecrack after wisecrack until the arrival of their waiter momentarily quietens him down. "Pork belly", says the waiter laying a plate on the table only to be met with a look of incredulity and mock-horror from the guitarist: "What did you call me?!"
After the affectionate Metal: A Headbanger's Journey and the equally fond Iron Maiden: Flight 666, filmmakers Scot McFadyen and Sam Dunn have gone back to their Canadian roots for their latest project. Second only to ice hockey in most Canadians' eyes, Rush have spent 40 years doing things their way. Which could explain their exalted position in rock's stratosphere as well as their inability to barely dent the consciousness of the mainstream media. They could care less. Lifeson has his own golf club (and we don't just mean the one he tees off with), Geddy a collection of baseball ephemera that includes a rare ball signed by Fidel Castro and Neil a handful of BMW motorbikes and the open road and, more tellingly, the space and time to enjoy them. They also have fans that make The Simpsons' Comic Book Guy look uncommitted - though many share his physical attributes and ponytail.
The movie itself is a telling distillation of a band four decades in the making. The gawky Lee and Lifeson grow into unlikely rock stars, Neil is always the new boy after replacing drummer John Rutsey (who was ousted after the debut album was released). And while musical peers like Billy Corgan (who you feel has a Rush biography in him if he can find the right publisher), Trent Reznor, Kirk Hammett ("Lifeson's playing - huge influence, huge! ") , Sebastian Bach and Gene Simmons line up' to pay unfettered respect to a band they all admire and love, it's the candid appraising of their career by the band themselves that is most compelling. The moment that Geddy (the ire rising swiftly and briefly behind his tinted lenses) reveals that Rush's manager Ray Daniels initially tried to fire him from the band is adroitly cut with a squirming Daniels seated behind his generous desk trying to avoid Lee's pointer. The camera lingers as he gulps hurriedly from what looks like an empty mug.
If there is a failing to the film, the first disc at least, is that the third act feels like it's been dashed over. Albums like Presto, Power Windows and Hold Your Fire barely merit minutes of screen time. Admittedly, the genesis of the band and the power struggle with their label that gave rise to the enigmatic 2112 are more salient talking points for most fans, but one end of the film almost seems to outbalance the other. Minor gripes aside, it's fascinating (if almost intrusive) to hear Neil and the band talk about the double tragedy he endured when he lost his daughter and wife in less than a year, and the almost endless road trip he took to find solace and some understanding of what had happened. ''I'd get these postcards from all over the place," says Geddy quietly. "They'd have one of Neil's many nicknames on them and I'd know he was out there, but was okay. All we could do was be there for him and wait." This part of the film, strangely, coincided with me getting something in my eye. .
There is comedy here too, though. The band's flirtation with kimonos is hauled over the coals, not least by UFO who finally persuaded Rush to go back to wearing T-shirts and jeans by nailing fluffy slippers to their stage night after night. The travails of recording Hemispheres are recalled with some disbelief, as is the international success that Moving Pictures brought them. They're even lauded by American satirist Stephen Colbert who, for once, isn't paying tribute while winking knowingly into the camera. But the final word goes to a man who has so many, Gene Simmons: "Who sounds like Rush? No one, only Rush. They're Rush."
And then some ...
---
Tribute To Nothing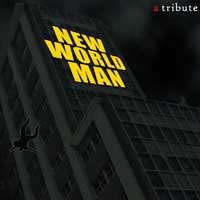 About as welcome as a wail falling on you, Magna Carta's latest 'tribute' (read covers) album has singled Rush out to damn with faint praise on this occasion. Robert Berry's work for the label usually means running over a classic artist until the songs that made them great become unwieldy and ugly and in some cases almost unrecognisable. It's a strange skill given that most of the musicians he uses - though some sound like they're about ready to go back to their bar job - are adroit and in some cases even famed for the music they've made. It's no secret that Rush are a tough musical nut to crack and few of the loosely grouped bands here come even close to chipping their shell.
It's not even a wholly new collection either, instead adding tracks that have already appeared on Magna Carta's Working Man and Subdivisions records. Just in case you missed those two milestones. Consequently, you get Mike Baker of Shadow Gallery covering The Trees; the same Baker who suffered a heart attack and died in 2008. And this version, sadly, will do nothing to cement his legacy even if it does feature Mike Portnoy on drums and Billy Sheehan on bass. Accomplished as Portnoy is even he sounds adrift and slightly out of step playing Neil Peart's drum parts. Though that's understandable as they're as complex as a blueprint for a time machine.
Enthusiasm can't cut it either. You only have to watch the Rush documentary, ... Beyond The Lighted Stage (how dare you suggest this is an opportunistic release on the back of a well-made film) to see how much of a Wide-eyed fan of the band Sebastian Bach still is, but his reedy take on Jacob's Ladder only adds to undermine the entire thing. Muddy and directionless, it lacks the precise and sure rhythm of the original as well as that version's atmospheric rendering of a sky rent asunder. Here it sounds like we might be experiencing some sort of low cloud, possibly drizzle.
Sal Marrano, vocalist with Thank You Scientist (no, us neither) does terrible and inhuman things to Fly By Night and Kip Winger - a man who feasts on adulation the way a dog enjoys a bone -lumbering his way through Limelight sounds like he might have missed the point, not to mention most of Geddy Lee's high notes.
Eric Martin offers a brief respite with his take on Mission in that he can sing and he and the band actually bring a fresh voice to the song, not merely aping the tune, but not bending it entirely out of shape either. Which is more than can be said of Berry's attack on Force Ten, so utterly grubby and blunt that it made me want to wash my hands afterwards.
Randy Jackson singing subdivisions sounds stellar by comparison (but only by comparison) while the final piece, Alex Skolnick Trio's jazz instrumental take on Tom Sawyer leaves the whole thing hanging on a quizzical yet obtrusive note.