Rush: The Next Stage
By Gary Graff, Classic Rock, August 2010, transcribed by pwrwindows
---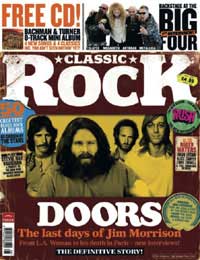 Beyond The Lighted Stage is already one of the must-see rock docs of 2010, but with the making of their new album for 2011 Rush are already moving on.
When the members of Rush were first pitched the idea of a documentary by film makers Sam Dunn and Scot McFadyen they were not exactly enthusiastic about the prospect.
"Honestly, we didn't really think there was anything there," guitarist Alex Lifeson confesses to Classic Rock during rehearsals in Los Angeles for the band's summer tour of North America - and particularly to reacquaint themselves with Moving Pictures, the 1980 album the Canadian trio are playing in its entirety this time out.
Lifeson says it wasn't a lack of faith in Dunn and McFadyen, whose Rush: Beyond The Lighted Stage won the Audience Choice Award at this year's Tribeca Film Festival in New York, where the film debuted. Geddy Lee had been interviewed for their 2005 project Metal: A Headbanger's Journey, and Rush had high regard for the duo's on-the-road travelogue Iron Maiden: Flight 666. The doubts, according to the guitarist, were about Rush's own story.
"We kinda know how boring we are, or just sort Of ordinary. and we weren't sure that they`d have anything that would be particularly exciting." Lifeson explains. "But they stayed on us and eventually won us over. And they did a great job with it. It tells an interesting story that a lot of people can relate to, and at the same time it's kind of unique and different.
"It's kind of a success story," the guitarist continues: "'Kids from the suburbs have a dream, and they live their dream'. Everybody can relate to that. There's been quite a dynamic in the hand, a lot of stuff has happened, good and had, over the 36 years we've been doing this, 35 with Neil. So there was a story to tell. I don't think we realized there was one until we saw a rough cut and how they pieced it all together, and the chronology and all the ebbs and flows of the story.
"You know, when you live it you don't think about it; it's your life, it's what you do. You don't think ifs really that big a deal. Bur when we saw it laid out in this way, we understood more clearly the power that the film has."
Rush: Beyond The Lighted Stage brings viewers the world of the band in 106 minutes of fresh interviews with the three Rush men and long-time manager Ray Danniels, vintage footage, home movies and other archival material, and testimonials from an all-star cast of admirers including Jack Black, Metallica's Kirk Hammett, Smashing Pumpkin's Billy Corgan, Nine Inch Nails' Trent Reznor, Zakk Wylde and Foo Fighter Taylor Hawkins. Gene Simmons, meanwhile, takes Rush to task for their boring - at least by Kiss standards -road habits. "Well, you expect that from Gene," Lifeson laughs.
There is, as Lifeson initially feared, a normalcy That's revealed in the documentary, particularly in its telling of him and Lee (born Gary Lee Weinrib to Polish immigrants and Holocaust survivors) as High-school semi-outcasts in Toronto's Willowdale neighborhood. They sported long hair and unfortunately, in-vogue psychedelic clothing as they began the pursuit of their rock'n'roll dream.
"My parents were...supportive," notes Lifeson, whose mum and dad. as well as Lee's mother and Neil Peart's Parents, are interviewed in the Film. "We used to rehearse in my basement, and my father worked shift work at Massey Ferguson (an agricultural machinery manufacturer). There were days he'd come home after working all night and go to sleep, and we'd be bashing around downstairs. And he never. ever once complained or said anything.
"Of course they wanted me to go to school and continue through college and get a formal education and be at doctor or an engineer or an architect or something like that. They worried for their kids. they went through a terrible time after the second world war. My father worked like a maniac his whole life and believed that's what you had to do to get by, and they didn't want their kids to suffer. So they warned us to have good educations and good jobs and good lives. Something like playing guitar in a rock band was totally alien to them, and of course they were fearful of what that might lead to."
For one of Beyond The Lighted Stage's memorable sequences, Dunn and McFadyen unearthed the 1971 pilot tor a Canadian precursor to MTV's The Reel World, for which Lifeson was chosen to live in a farmhouse with nine other teens while director Alan King and his crew filmed them. In the documentary's scene. a youthful Lifeson is heard railing, quite vociferously, against being forced back into formal education when he'd rather be playing his guitar.
"It was typical 17-year-old kids that are of a rebellious nature,' Lifeson recalls with a laugh. "The parents came up to the house and had a nice tour, and we had done lunch and we were all sitting around chatting, and the and the conversation became just a little more heated. It's just one little snippet of another conversation that involved other people, but they managed to pull that out of there."
Lifeson, Lee and Peart are also pleased with the gentle way Dunn and McFadyen handled Peart's two tragedies during I997-98, when he lost his 19-year old daughter in a car accident and his wife to caner during an 11-month period, which led to a seven-year hiatus for Rush. The filmmakers tread lightly and diplomatically, with some comments from Peart but mostly letting Lee, Lifeson and band manager Ray Daniels carry the narrative at that juncture of the movie.
"They're not stupid guys," Lifeson says of the makers of the move. "They understood and were sensitive to it. They knew this was a very difficult period in the bands history and that Neil was not about to sit down and pour his heart out. But he did speak of that time, and I thought he was very forthright in the things that he talked about and the way he presented it.
"And [Dunn and McFadyen] presented it more from our perspective, from the people that were around Neil and who loved him and supported him at that time, and you get a glimpse of it through their eyes. You don't need to have details of something like this to get a sense of how horrible it is. And the point of that presentation was not just to provide this information, it was really to show the unification of all of us as friends and family. And I think that's what comes across."
Lifeson is also pleased that Beyond The Lighted Stage shows off Rush's collective sense of humour, something that's often been eclipsed by the group's intricate music and lengthy, sober concept pieces such as The Fountain of Lamneth, 2112 and Cygnus X-1 Book II: Hemispheres.
"Rush, for a long time, kind of had a 'serious' reputation," Lifeson concedes. "I mean, we were always serious about our music and our playing. We always held ourselves to a high standard." But thanks not only to the documentary but also to humorous videos used during concerts, and stage props such as washers and dryers, vending machines and rotisserie ovens stocked with chickens - not to mention Lee's cameo on the McKenzie Brothers' 1981 hit Take Off and the group's appearance in the 2009 comedy I Love You, Man - fans are starting to get a sense that there is some lightness beneath the exterior.
"Our whole relationship is based on humour-laughing and goofing around and being idiots," Lifeson notes. "We love laughing together, and we want to make each other laugh. We do that all the time. In fact just last night Ged and I went out for dinner and spent half the evening laughing our heads off. That's just what we do."
Of course, Rush also have their heads down these days - in full work mode.
Prior to the summer tour, the trio holed up in Nashville's Blackbird Studios with Nick Raskulinecz (who produced 2007's Snakes & Arrows) and started work on Rush's 19th studio album. The sessions were prodigious, yielding two songs - Caravan and BU2B - that have already been released online, along with another four tunes.
"It was always our intention to play one or two new songs [on tour], whether we recorded them or not," Lifeson explains. "It just turned out that we did have a little bit of time to get into the studio and put those songs down. We were kind of unsure whether we'd be happy, because everything was kind of jammed and rushed, but as it turned out we were well-prepared, and once we got into the studio everything went smoothly."
Rush and Raskulinecz will return to the studio after the group comes off tour in early October. It's a way of working that Lifeson says is something new for the band.
"We've never come off tour and then gone straight into the studio when we're in top playing form," he says. "We usually finish a tour and then we take some time off, and we slowly get back into writing and then into the studio, recording. So rather than being attached to this who big project at once, to do it piecemeal is actually a lot of fun."
Lifeson says that Caravan and BU2B are "pretty heavy indications of where the record's going", but adds that "there are a lot of different tonalities and soundscapes in the material we've written so far, so I'm interested to see where we go on these next few songs".
Besides returning to some already written tracks, Lifeson expects that Rush will "go back and write possibly two more or perhaps three more songs when we finish the tour. Most likely one will be an instrumental - I'm not saying it will, but that's generally what we do."
The album does have a title, Clockwork Angels, which Lifeson says has a story behind it, "but we're saving that," he says. The band hope to finish recording by early 2011 and have it released in the spring, which will be immediately followed by a world tour that he promises will bring Rush to the UK and Europe, among other territories.
"We've just been feeling really fresh and reinvigorated since the last tour [in 2008],' Lifeson reports. "We had almost two years, I guess a year-and-a-half, off. And it was great to get away from it and do a lot of other things and not really think about the band and music and all this other stuff that's been going on in the background with us."
---
The Ott World Of Rush
Never backwards in coming forwards musically, Rush have always been eager to indulge their muse. Here are five moments to make you stop and stare.
THE MAIN MONKEY BUSINESS
FROM SNAKES & ARROWS
Proof that there was life in the old dogs yet, Rush released one of their most vital albums in the twilight of their career. Monkey Business was originally almost twice as long. It contained - even by Lee's admission - "a lot of showing off".
WORKING MAN
FROM RUSH
The song that broke them in the US, Working Man sounded like your average rock workout, a hymn to the blue collar masses, until you got to the central solo and someone suggested Alex Lifeson just let rip and he did so, for about five minutes.
BY-TOR AND THE SNOW DOG
FROM FLY BY NIGHT
Proof that something was afoot in the Rush camp, slotted in among a mostly commercial-sounding record was a prolonged tale of an underworld battle that hinted at what the band might do next. New boy Neil Peart's drumming style here can best be described as 'busy'.
CYGNUS X-1 BOOK II HEMISPHERES
FROM HEMISPHERES
Side one of Hemispheres attempts to tell the story of what happened to the spaceship that fell through a black hole on A Farewell To Kings, but without much luck. On occasion it sparks brilliantly, but is truly all over the place. You can almost hear their gears crunching.
THE CAMERA EYE
FROM MOVING PICTURES
Inspired by the writing of John Dos Passos (because that's how Neil Peart rolls), this sprawling tale of two cities - new York and London - comes complete with terrible cockney accents, slick virtuosity and everything set on a grand scale. It really could have only been written by one band.