Neil Peart's News, Weather and Sports
Cruel Summer
NeilPeart.net, September 2010
---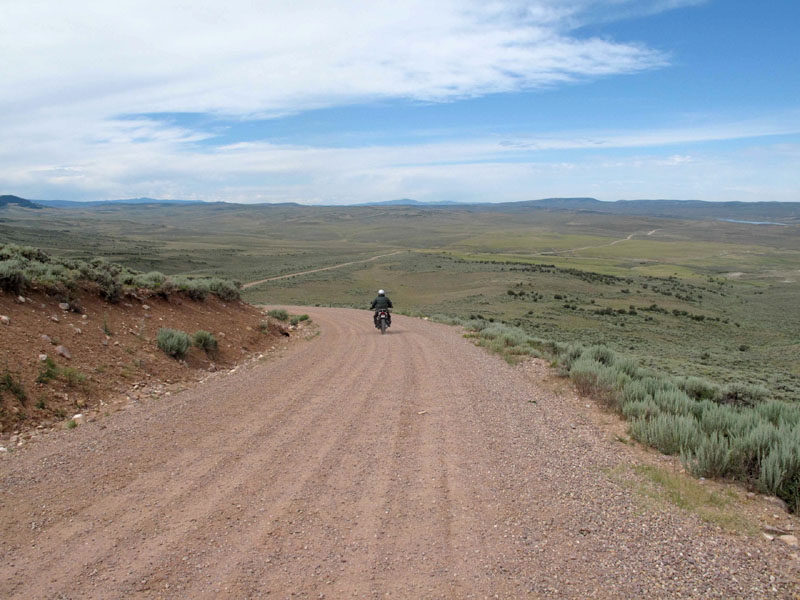 Always preferring to start a story (or a day) with the "good news first," this photograph illustrates the pleasant ride that began this second leg of the Time Machine tour. It was August 5, 2010, in western Wyoming, on the way to a show in Salt Lake City. The gravel road lay like a brown ribbon over the rumpled blue-green sagelands, tracing away toward the upper right of the photo. Ahead of us, the mountains of Utah begin to rise in the distant west.
The night before, Michael and I had flown into Denver to meet Dave and the bus, and slept aboard while Dave drove us to a truck stop in Rock Springs, Wyoming. In the morning, we unloaded the bikes and set out on our "commute" to work. (Sure, we could have just flown into SLC, but if you have to ask ... )
We followed that peaceful road for a good forty miles, through that wide open rangeland and occasional isolated ranches. Then we turned south and west, high up into the Uinta Mountains, on a highway only open in the summer months, over Bald Mountain Pass, at just over 10,000 feet. Descending to Park City, we had to "sniff" our way to an old favorite bicycle route of mine, called the Guardsman Pass - also almost 10,000 feet up, unpaved, closed in winter, and all but unsigned and unmapped (I learned of it from an old cycling map, and it doesn't appear on the Rand McNally or GPS computer maps - I think on purpose, for the same reason a couple of miles at the summit are left rough and unpaved these days: to discourage its use as a summer shortcut between Park City and Salt Lake).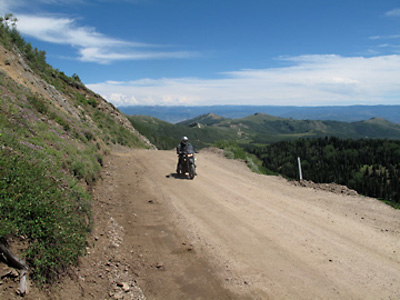 We paused at the top of Guardsman Pass to enjoy the view, and I told Michael that I had crossed that pass before, and the Bald Mountain Pass, by bicycle, after riding Highway 150 down from Evanston, Wyoming, back in the late '80s. It was about 150 miles, with those two 10,000-foot passes, but I must not have hated it - I did the same bicycle ride again a couple of years later (a photo appears in the original Counterparts CD foldout, of me setting out from the bus at an Evanston truckstop). Hearing that story, Michael was impressed, held up a gloved fist for a "bump," and said, "Dude!"
Winding down through Big Cottonwood Canyon to Salt Lake City, we crossed that ever-expanding conurbation from east to west, arriving in plenty of time for a good show at the amphitheater that night. (After a break, my bandmates and I often feel as though we have probably forgotten all the songs, but of course they come right out again - plus we're all rested and refreshed, and don't hurt anywhere yet, so that first show back is always a pleasure for us.)
All that was nice, but the next day things started to edge into the more "dramatic" theme that would dominate this cruel August. (T.S. Eliot famously described April as the "cruelest month," but I've got news for him.) On the bus after the Salt Lake show, Michael was up most of the night with an attack of food poisoning. In the morning, at a truck stop near Boise, Idaho, I saw the state all that "evacuating" had left Michael in, and insisted he stay on the bus and rest. (I pretend not to care, but I can't help it.) I told him I would ride that day's route alone, and he could stay on the bus and have Dave drop him and his bike later, to meet me at Connell, Washington, at the good old M & M Motel - my planned destination for the night, where I had stayed a few times before, right back to the Ghost Rider journey.
Setting out on my own, riding north from Boise on a warm, sunny morning, I decided I was going to be extra careful. I knew that if anything happened, Michael would never forgive himself (oh, he pretends not to care, but he can't help it). Despite my own good intentions, however, within the first twenty miles I had a very close call - a deer went bounding across the road in front of me so close that I'm sure my front wheel shaved the back of her legs.
She was pretty big, too, and I realized that if she had jumped out just a few milliseconds earlier, she and I would have made an awful mess of each other. After having hit a deer before (see "Every Road Has Its Toll," August, 2007), and having another near miss in the Santa Monica Mountains near home not long ago, I was starting to feel increasingly nervous about those all-too-common hazards. Deer are pretty and everything, but their ever-growing numbers in many areas, and their carelessness about looking both ways before crossing a road, are literally deadly for motorcyclists.
Shortly after that little existential reckoning (and you can bet I was "reckoning" on that near-death experience for some time after - still am), I followed my GPS unit, Dingus, onto an unpaved road near the frontier outpost of Idaho City. I had mapped a road like that into my route, but that plan was for two riders, and once again, I felt nervous being alone in such a remote and risk-filled environment. Then the road began to deteriorate and dwindle to a pair of rutted tracks, bumping up and down and forking off here and there into little logging trails. Dingus couldn't decide whether we were actually on the right road or not - the purple line that represented my route kept separating itself suspiciously from the little motorcycle icon that was supposed to be me.
With superhuman resignation, I actually turned around and went back. (See previous story, "Theme and Variations," for thoughts on turning around when you want to, not when you have to.) Just outside Idaho City, I pulled up by a pair of fishermen on a bridge over a stream. When I asked if I could get to Placerville that way, one of them said, "You might get through that way," then he pointed at my bike, "But not on that." He said a lot of people made that mistake, and directed me to the real Placerville Road - still unpaved, but graded and navigable.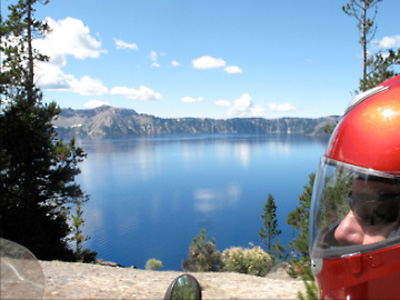 Michael and I met up that night in Conner, and next day had an enjoyable ride across Eastern Washington's irrigated hayfields and hops farms (apparently a prestigious and tightly-regulated crop, we had once been told by a local policeman who had stopped us for a speed infraction, but was friendly and "forgiving"), and over the Cascades (and into rain, predictably). After the Seattle show, we rode the bus down to Roseburg, Oregon, where we were met in the morning by Greg Russell on his Halloween-colored KTM. He would join us for the ride to the next show in the Bay Area - by way of Crater Lake National Park, Lassen Volcanic National Park, and some remote and adventurous back roads in Central California.
Then it was south to L.A., where the real trouble began ...
After two shows there - an indoor one at the Gibson Amphitheater and outdoors at Irvine Meadows - Michael and I were planning to motorcycle to Vegas on the day of that show, so Dave drove the bus and trailer out of the Irvine show early. The bus developed engine trouble in the middle of the night, leaving Dave crawling up a long, long grade on Interstate 15, near the California-Nevada border, at twelve miles an hour. By the time Dave made it to the summit, the bus was engulfed in smoke, and his drive was over. The diesel's turbocharger had disintegrated - after Dave had just spent a day in the shop in L.A. having it repaired. Our long-time lead truck driver, Mac, carrying the band's stage gear, caught up to Dave and stopped to keep him company, and our band-crew bus driver, Lashawn, came up and hooked our motorcycle trailer behind her bus. (We're running seven trucks and five buses this tour, and they all leave at different times after the show, according to which gear and crew they're carrying: stage gear, PA, lights, rear screen, and so on.)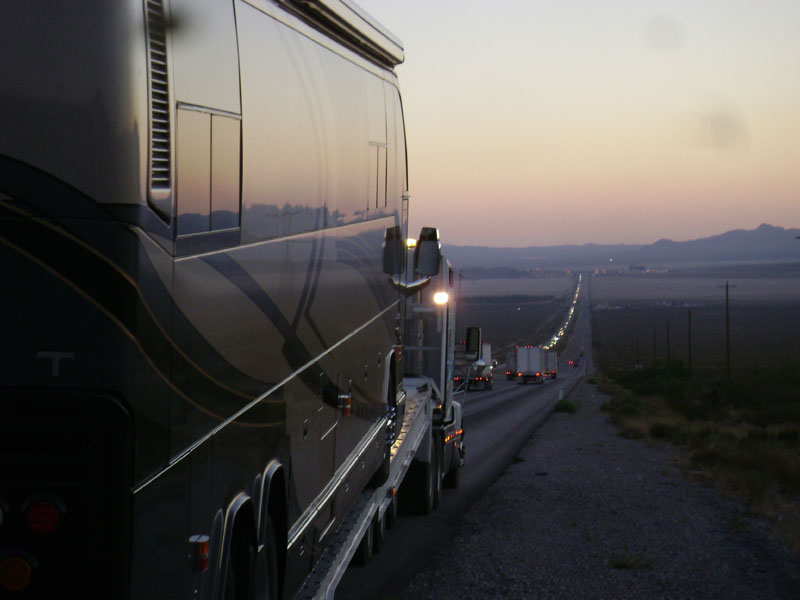 One can imagine that there are not many flatbed trucks that can carry a 45-foot bus, and dawn was breaking in the eastern sky, over the cluster of casinos on the Nevada state line, before the rescue was complete.
(Don't you have to wonder about all those headlights driving away from Vegas that early on a Saturday morning?) Dave's drive was over, but his day was not. Not only did he have to make sure the bus arrived at the shop, and that somebody was actually working on it (they weren't), but at the previous show I had asked Dave to set me up for an oil change in Vegas (for that routine, before my arrival Dave lays out the tools, oil, filter, drain pan, and a rug for me to lie on while I work, and I just roll up and get the job done, while the oil is still hot and holding any contaminants in suspension). Under the circumstances of that day, I certainly would have understood if that "sideline" operation got overlooked. But no - when Michael and I rode up beside the MGM Grand Arena (in 112° heat), Dave had the oil-change setup all ready. Champion's points for that.
However, our little world was still in "crisis mode." Dave, Michael, and I lived on that bus, sleeping on it every show night in the truck stops of America. Everything we had, everything we needed, was in the drawers, hanging lockers, shelves, and nonslip surfaces of that bus. When Michael and I set off for an overnight ride to the next show, we just carried a day's worth of supplies on our bikes.
Now it was Saturday, and no work was going to be done on that bus at least until Monday, and there would be parts to order - it seemed likely that we could be busless, homeless, for days. The dead bus had been carried to a shop forty-five minutes away from the MGM, and Michael and I prepared a list of all the stuff we'd need to live and travel for ... who-knew-how-long. Clean clothes, for a start, maps for the upcoming days, cell-phone chargers, Michael's professional security apparatus, computers, Canadian cigarettes, Scotch whiskey - a daunting list. It was like suddenly being forced to evacuate your house, from a distance, and trying to remember everything you might possibly need from it.
Also, it happened that Michael was flying ahead to Denver to deal with some security issues, and I was scheduled to meet up with my friend Chris Stankee from the Sabian cymbal company, on his Ducati Multistrada, for that show-day ride to Red Rocks. However, our rendezvous in Arizona had been based upon me riding the bus overnight after the Vegas show toward Colorado - now I was going to have to ride each of the 745 miles (even taking the interstate route) to Red Rocks.
Chris received my news by text while he was heading for our previous rendezvous in Arizona, and altered his route to meet me in Vegas. Since he and I would have to ride out after the show by motorcycle anyway, we decided to get a bit of a head start that night, and ride east a hundred miles or so, to Mesquite, Nevada.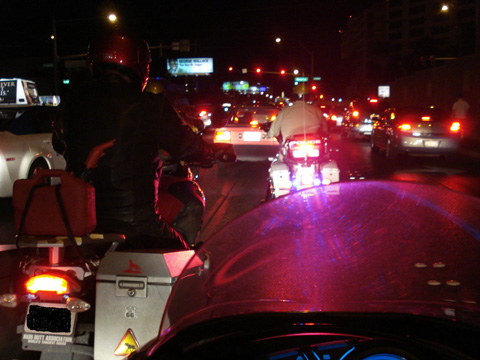 Riding my own motorcycle out of the MGM Grand Arena that night after the show was certainly a novel experience (unique, even, as I have never actually left a show by motorcycle), and I confess that I was mildly thrilled at having our two motorcycles led by two police bikes, with flashing lights and everything (nice to have them in front of me, for once, instead of behind).
After the motor officers had smoothed our way out of town, Chris and I set out across the dark Nevada desert on Interstate 15. I was tired enough after two shows in a row, and that day's 340-mile ride across the Mojave Desert in 112° heat (and an outdoor oil-change ditto), but felt no drowsiness - I was both exhilarated and powerfully alert.
The Ducati's headlight behind me was pale and yellow, and easily lost in other following traffic, but I tried to keep Chris in my mirrors all the time. Occasionally I slowed a little to make sure there was still a single headlight behind me, and there it was - though suspiciously slow and far back. Finally I got worried and pulled over to the shoulder, four-ways flashing in that inky darkness, with speeding traffic roaring up from behind.
I looked back and watched that single headlight come up on me, then cursed as I saw that it was a one-eyed SUV. Pulling the handheld device out of my tankbag, I saw a text from Chris. "Rear tire shredded. Calling AAA."
It was after 1:00 in the morning by then, and I called Chris to discuss our options. I suggested he get the flatbed to carry him back to Vegas - if there was anywhere in the world where he had a chance of getting a new rear tire on a Sunday morning, it was Vegas.
I rode another fifty miles into Mesquite, checked into the Best Western, and considered my own options. Even given the sudden change of plans with the bus out of the picture, I had mapped a scenic ride for Chris and me, down through Utah and the Four Corners region into Southwestern Colorado, then on to Red Rocks on the show day. Now even that indulgence seemed irresponsible (first priority always, I needed to get to work), and I was thinking I really ought to take the most direct route. Pacing around my little room, ruminating over a long-awaited Macallan at nearly 3:00 in the morning, I caught my reflection in a mirror, and a little voice addressed it: "Just get up in the morning when you can, eat breakfast, and start riding."
And that is what I did.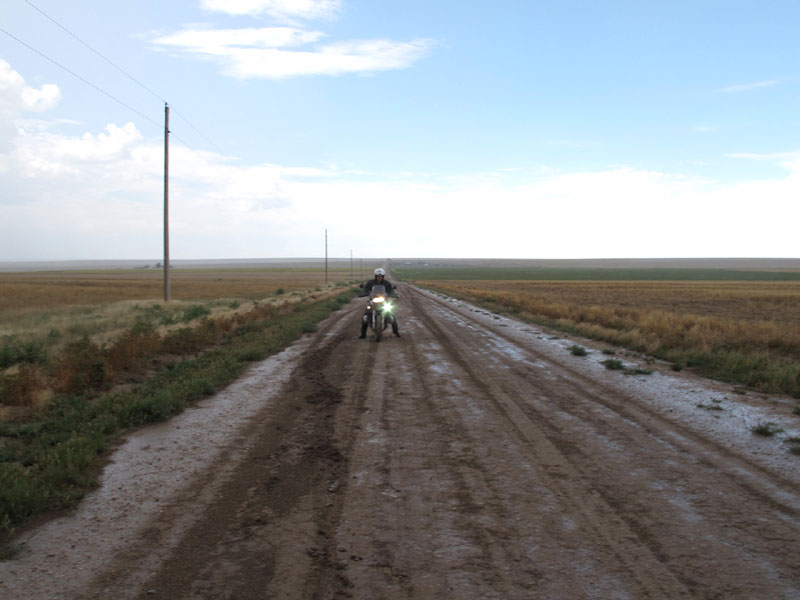 It must be said that if you need to devour some miles on an Interstate, I-70 across eastern Utah and into Colorado is about the prettiest freeway in the land.
While this little road, Greeley County Road F in western Kansas, is the complete antithesis to an American interstate. And even then, all is not as it appears.
Despite the blue sky to the west, behind us, Michael and I had just been swamped by a vicious thundersquall, which swept in from the south in waves of driven rain, and turned the dirt road under us into slippery mud. Michael is not standing, he is riding - or attempting to, with his feet down like outriggers for balance. Our boots and tires were coated in thick mud, gaining no purchase on the greasy surface. Ahead of him you can see my meandering track, where my wheels and boots had been slithering along in a more-or-less forward direction. I could crank my handlebars hard over, turning my front wheel all the way to either side, without affecting my direction at all.
That morning, after the second Red Rocks show (with our bus finally returned, hurray!), Michael and I had ridden from the plains of Eastern Colorado into Kansas. We followed some enjoyable gravel roads with flat green rangelands to either side, where we could plant our front wheels in the smooth wheel-tracks among the loose stones, and maintain a decent, safe speed. I was wondering if Greeley County, Kansas, was named after the New York journalist named Horace Greeley (turned out it was - the seat of Greeley County is named Horace), who famously said, in 1865, "Go West, young man." (In fact, the full quote was, "Go West, young man, Go West and grow up with the country.")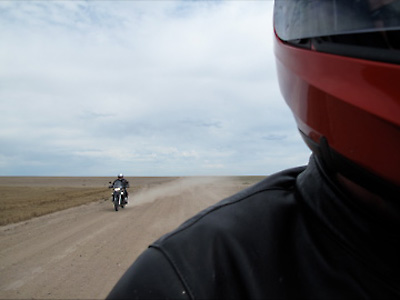 So I was riding along through that big open country and feeling good. (Though our run of bad luck hadn't run out - in Denver, Michael had discovered a flat rear tire on his bike as well, and had it replaced.) The wide blue dome of the Great Plains sky above us was blotted by a few distant dark clouds and gray veils of rain, but right around us we endured the same hot, dry weather we had been suffering for many days - reaching 105° that day. So if anything, I was thinking a brief rain shower might cool us off a little, and Michael hoped it might lay the dust somewhat - because he was riding behind me (though I had courteously moved to leeward on the road when I could, so the dust was blown away from him).
As we drifted along that desolate, empty dirt road, through that vast empty country, a strange phenomenon obscured the road ahead of me - the brown track seemed to disappear into a windblown lake, with lapping waves of rain driven across its surface by a fierce wind.
Suddenly we were engulfed in a roiling tempest, the sky instantly dark, and the wind pelting us with rain and hail. It stung even through our armored suits, and rattled against our helmets like thrown gravel - but we had no time to attend to that sensation, because we were busy trying to stay upright. The previously firm road became a slick pool of goopy clay, and our front wheels went slewing around, while the rears spun helplessly. We were getting nowhere.
And still the wind, rain, and hail lashed at us. At one point I was blown helplessly across the slippery track, into the shallow ditch, and right up onto the open field to the north - all the while sure I was about to fall down, and just trying to control when and how that fall was going to occur.
(Roadcraft lesson - the counterintuitive trick is to do nothing. No braking, no steering, no accelerating - just hold on. Just Hold On. Very often that's the right thing to do in a difficult situation - nothing at all - but it can be awfully hard to tell yourself that, and make your body do it.)
Anyway, it seemed miraculous to me, but I stayed upright until I could coast to a trembling stop on that grassy plain. After a long breath, I carefully angled my way back to the muddy road - but, almost immediately, my motorcycle was skidding sideways, pirouetting under me, and I jumped clear as it went down on its side. The squall had passed away to the north by then, but we hardly noticed.
Michael came up to help, and it was all the two of us could do to raise the heavy bike, skating around in the slippery mud. We decided to try riding in the ditch, where at least the grass might give us some traction. That worked for a while, but soon the ditch was filling with water - as ditches will do in a rainstorm - and I looked back and saw Michael struggling to steer his bike up into the open field beside us, but he wasn't getting anywhere.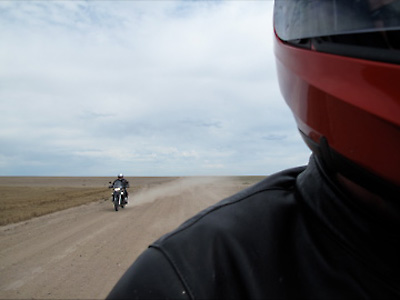 I parked my bike upright - easy enough in the middle of a narrow ditch - and walked back to give him a push. We managed to maneuver his bike up onto the open field, but not without his spinning rear tire painting me in mud, like a Jackson Pollock drip painting. I had my revenge when Michael had to push my bike up out of the ditch.
Once we were both up in the open prairie, we could ride all right, but had to dodge a lot of big gopher holes, with mounds of dirt around them. When we paused for a moment, Michael said, "Those could so put us down!" I told him that in the Old West, it was considered foolhardy to trot a horse across country like that, because the horse could easily break a leg in one of those holes. He said, "Only you would know that." I said, "Only you wouldn't." Then we called each other some bad names, and continued picking our way across the lone prairie.
A mile or so like that brought us to some dry gravel, and we headed for the nearest paved road - hoping to find a spray-wash, for both the bikes and ourselves. Around then I reflected that only two other riding conditions I had experienced compared to our predicament in that mud - places where forward progress simply seemed impossible, yet there was no going back either.
Several times in the Canadian Arctic, I had been mired in a similar swamp of slimy mud, wheels spinning, feet sliding, and motorcycle falling down. In Tunisia, on the edge of the Sahara, Brutus and I had lost track of what passed for a road around there, and found ourselves sinking into tire-spinning, clutch-burning sand.
So, the adventure traveler's bucket list ought to include the Arctic, the Sahara, and Greeley County Road F in Western Kansas during a thunderstorm.
ROADCRAFT IV: "LEAD LEFT"
Back in 2002, on the Vapor Trails tour, Michael and I first rode with Brian Catterson, a vastly experienced motorcyclist on everything from dirt ovals to Grand Prix roadracing tracks, and nowadays he is the editor-in-chief at Motorcyclist magazine. Before setting out from a truckstop in Gallup, New Mexico, that morning, we asked Brian if he had any particular preferences about riding with others.
"All I care is, lead left. I hate following a rider who leads from the right."
Point taken - me too. Because nearly always the proper lane position on a two-lane road is in the left wheel-track - nearest the center, to have the most options in case of surprises, like cars pulling out from the right, scattered debris on the road, like gravel, or cast-off retreads, or - perhaps deadliest of all - a sudden deer.
It is also a matter of protecting your "territory" on the road, a very important principle in its own right. There are a few exceptions to the "lead left" rule, like when a vehicle is approaching you from the other direction, and you move to the right wheel-track of your lane, so that any driver behind that first vehicle who might want to pull out and pass, will see you first. Or in the outer lane of a four-lane road, you lead right, to block that piece of road from any would-be intruders from the inside lane (given the chance, they will edge right over on you).
"Lead Left" can also stand for a principle of leadership I have been thinking of - first phrased in a way that sounds a little schmaltzy on its own, but carries a worthy meaning: "Lead with your heart."
On a motorcycle, leading one or two riders (no more than two, for this leader - I couldn't imagine being part of one of those Sunday "processions" Michael and I always see, with a dozen or more bikes), I believe that a good leader makes exactly the same strategic decisions regarding lane position, speed, route, and overall pace as he would if riding on his own. The difference is in the leader's consideration: maybe just of an upcoming yellow traffic light, choosing to stop for the others rather than slip through alone. Or more long-range calculations, taking note of a following rider's endurance, fuel range, and bladder capacity.
Ride with your mind, but lead with your heart (it's on your left side, too, as it happens).
Of course there's a political parallel to "Lead Left" as well, though I haven't hammered it out quite yet. Ideally, such a metaphor would have to include flying with both "wings." (The terms left and right wing date from the French Revolution, when royalists and revolutionaries sat on those sides of the National Assembly). A good leader would have personal integrity, be the same person in every situation - like Atticus Finch in To Kill a Mockingbird, the same good, honest man in the courtroom that he was at home - and lead with basically conservative values, protecting the "state of the ride," but would also have a quality of compassion.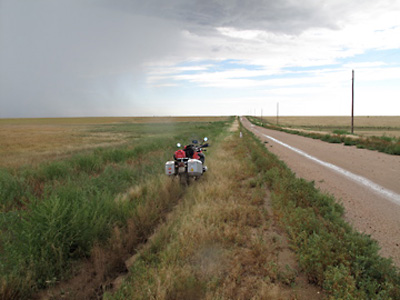 Such reflections have led me to define myself in recent years as a "bleeding-heart libertarian."
Do I believe in the sanctity of the individual and all freedoms and rights?
Certainly.
Do I believe that humans should generously help others in need, and voluntarily contribute to public works of mutual benefit?
Why, yes, of course.
Do I believe that the general run of humanity can ascend to those noble heights of ... humanity?
Alas, I do not.
So ... lead left.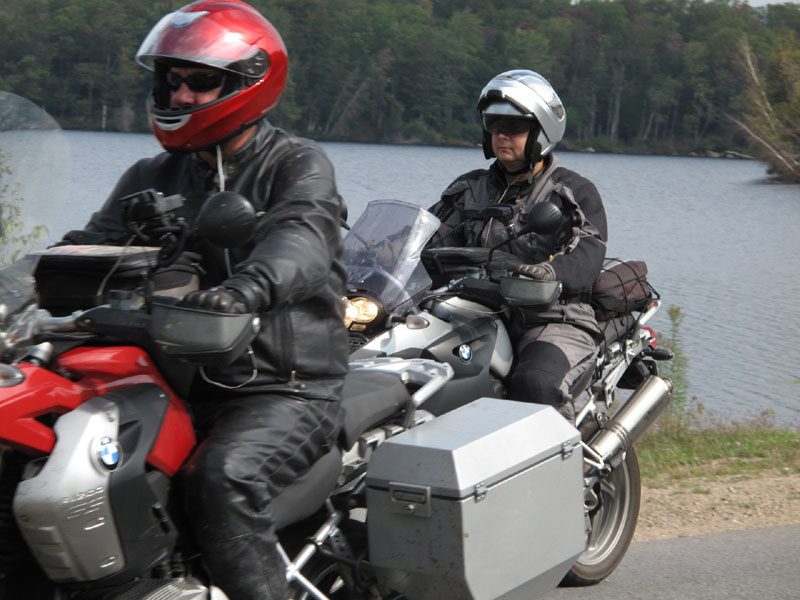 Meanwhile, back in Kansas, we were cruising eastward on paved Highway 50, once again in fierce 105° heat and a strong wind. I noticed a small grassfire at the roadside, flame and smoke in the middle of nowhere. Some genius must have tossed a cigarette butt out of his or her window. In that heat and wind, the fire was already the size of a car, flames rising orange even on the windward side, so this was serious. I pulled over to call 911, and Michael said he would ride ahead and find a mile marker. As I watched, the fire doubled in size every thirty seconds, and there was a dry cornfield beyond the roadside that would soon be ablaze. I told the dispatcher our approximate location, east of Syracuse and about forty miles west of Garden City, but she said, "You're at mile marker twenty-two." Must have traced my cell phone. Having done our civic duty ("Lead Left"), we rode on and found a car wash, and used up many quarters spraying away the mud that encrusted our bikes and our riding suits.
All of these events occurred within one cruel week - between the Irvine show on August 13 and the one in Wichita on August 20. In that time, I motorcycled 2,650 miles, played five shows, and was beginning to feel like I was just hanging on by my fingernails. It was indeed becoming a cruel summer.
But wait - there's more!
The story's title was inspired before the tour even began, back in late June, on the first day Michael and I rode out of L.A., on our way to the full-production rehearsals in Albuquerque (recounted in the previous story, "Theme and Variations"). After a seventeen-hour day, in which I had ridden 850 miles, with a breakdown and a two-and-a-half hour wait in 100° heat at the 600-mile point, I finally pulled up in front of the hotel in Albuquerque at about 11:00 at night. Under the marquee lights of the portico, I kicked down the sidestand and lifted a weary leg over the saddle, pulled off my helmet and removed my earplugs. Unusually, loud music blared from outdoor speakers, the 1983 pop classic by Bananarama, "Cruel Summer."
"It's a cruel, cruel, summer - leaving me here on my own."
I was only hearing it with one ear, though, because a chronic problem with ear infections on this tour was already flaring up, and my left ear was entirely blocked (later on, as the condition grew worse, I would play at least six shows with that handicap - an unrewarding way to perform, of course, and it required me to imagine what I and the band were playing rather than respond to it. Plus there was pain, especially when inserting or removing the in-ear monitors).
As I stood by the bike and gathered myself to go inside and check in, an apparently drunken beggar, middle-aged, unshaven, sheepishly smiling, possibly under more than one bad influence (alcohol, drugs, mental deficiency) swam into my orbit, jabbering at me with his hand out. When I waved him away, he started trying to sell me the beads around his neck. I just kept saying, "no, no, no."
Then - something that has almost never happened when I travel on my own or with Michael - another guy came up and said, "Are you Neil Pert?"
Oh, did my heart sink. Could the timing possibly be worse?
However, I do maintain that I have never been rude to anyone who wasn't rude to me first. And this guy had a nice, friendly face - no fanatical burning eyes, or hyperventilating with embarrassing excitement, as some strangers do in such situations. After taking a deep breath, I just said, "Not right now" (true enough, as I was about to check into the hotel as "Johnny Gilbert"), and continued rooting around in the tankbag for my wallet. The guy was still saying things, but between Bananarama (followed by Squeeze's "Tempted," I recall), and my one ear, I really couldn't understand him.
Looking into the guy's face with all sincerity, hoping a simple explanation might make him understand that now was not the time for a meet-and-greet, I said, "Look, I just rode 850 miles, all the way from Los Angeles."
He nodded eagerly and said, a touch wistfully, "That sounds cool!"
Oh dear. My reaction was like one of those cartoons, or a slapstick act, where the character's mouth opens to say something, then snaps shut again, in hopeless resignation. I just mumbled something neutral and headed inside.
However, as I wandered through the chlorine reek of the hallways around the inside pool in search of my room, the guy was suddenly there again - thrusting out a rumpled key-card envelope and a pen, saying, "Would it be too much to ask ..."
With a sigh, I tried to comply, but his pen didn't work. I held up an open palm, meaning "wait," and dug in my bags to fetch my own pen. I scrawled an unsatisfying signature across the shabby bit of paper (if I'm going to sign an autograph, I like them to be nice - that's why I hate signing T-shirts or drumsticks: you can't make them nice).
Six weeks later, in mid-August, as the trials of our second leg of the tour continued, the title "Cruel Summer" kept recurring to me. And the opening verse certainly resonates:
Hot summer streets and the pavements are burning, I sit around
Trying to smile but the air is so heavy and dry
Strange voices are sayin'
What did they say?
Things I can't understand
It's too close for comfort, this heat has got right out of hand
Oh yes - strange voices saying things I can't understand, out-of-hand heat - I knew all about that.
112° in Vegas, 105° the next day through Utah, an all-time record for Denver of 101°, 105° the next day, during our playing-in-the-mud games in Kansas, and from then on, every day was at least in the 90s.
Worst of all was a day-off ride, about a week later, down through the Ozarks of southern Missouri and northern Arkansas, between shows in Wichita and St. Louis. It was "only" 100 degrees, but in that part of the country, the humidity was that high, too, and in our heavy riding suits, we were wilting. By the time we reached our night-off destination, Mountain Home, Arkansas, we didn't even bother with our usual survey of the motel possibilities - just stopped at the first one we came to, and checked in.
And even in the air-conditioned room, I was still mopping sweat from my forehead for a half-hour - much as I am on the bus after a show - and it seemed we couldn't drink enough water (and other more "medicinal" liquids). At around 6:00 a.m., I was awake and thirsty for something besides water, and wandered out in search of a soda machine. It happened that from the room next door, Michael's dark shadow ghosted out, bent on the same mission. I said, "You know, since we're up this early anyway, why don't we ride out by 7:00, and get in some cool hours before breakfast?"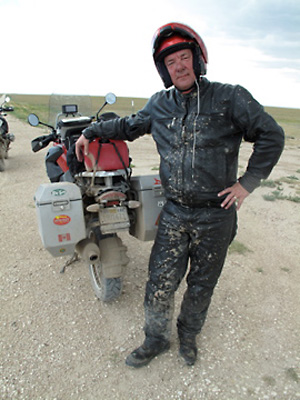 Even Michael couldn't argue with the good sense of that idea, and we rode off into the sunrise together ...
This photo illustrates one of the many less-cruel moments in our days and nights of August. Truly, there was much to celebrate as well - the shows, for example, and the audiences. This summer of 2010, and the seasons leading up to it, have been a cruel time for many people, economically, and as we planned our tour, we couldn't fail to be aware that there had been other concert tours that had been suddenly "rescheduled" (canceled, in fact, due to low ticket sales).
So as always, we remain grateful and delighted that after so many years, people still come to see us in such numbers - and with such enthusiasm. While we are the ones supposed to be doing the entertaining, I have written before that we are always entertained by our audiences, too. And inspired by them - when other people care so much about what you do, you can hardly do less than care about it more.
Another theme I've touched on before is how different one tour is from another - not just in its itinerary, but in its musical dynamic among the three of us. In Roadshow, writing about the Thirtieth Anniversary tour in 2004, I described how it had seemed to me that tour - how a run of good shows would be punctuated by one "magic" show, in which we would transcend ourselves and feel the band, crew, and audience swept into an ineffable vortex of musical elevation.
However, in 2007 and 2008, during the two summers we spent on the Snakes and Arrows tour, I wrote that the dynamic seemed completely different - we established a benchmark "good show" early on, then continued improving on it incrementally, show by show, without any that seemed particularly set apart, or "magic."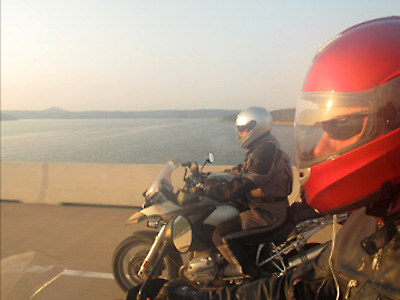 This summer, on the Time Machine tour of 2010, it has been different again. At dinner before the fourth or fifth show, Geddy, Alex, and I were talking about how the shows were going, and Geddy said, "I don't think we've peaked yet."
And he was certainly right. Even well into the second leg of the tour, after almost twenty shows, I felt that we seemed to enter a new "zone." The basic structure of the show, the details of arrangements, tempos, and transitions, had been refined night after night as we went along (noting that we rehearsed for two months for what was to have been a three-month tour), but once we had nailed down the foundation, each of us was reaching higher. More determination and care were being poured into our individual performances, and together those energies were fusing into a white-hot unit that surprised even us. Raw energy sparked in our improvisational sections, especially - Geddy in the bass rideout to "Leave That Thing Alone," Alex in his new acoustic piece (following from his previous such performance, "Hope," I believe he's calling this one "Hopeless") and in his frenetic leadwork in the middle instrumental section of "Working Man," in which he plays with what a long-ago reviewer called "seeming teenage abandon." During that part, at the end of the night, when I look out from the drums and see Alex skipping back as we begin the ensemble section out of that solo, I can't help but smile at the crazy guy I've been watching for thirty-six years.
So magic still happens.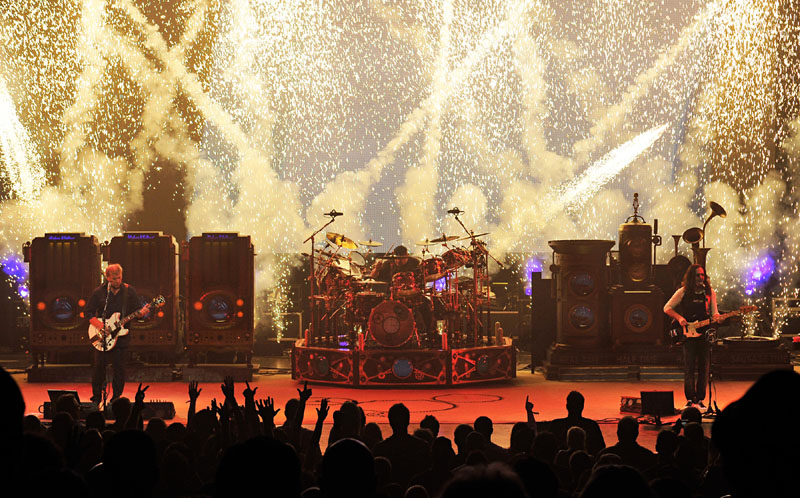 (Though not always: I loved the line Geddy delivered one night when our opening movie malfunctioned. He apologized to the audience, then casually remarked, "Sometimes magic doesn't happen.")
This shot was taken at the Minnesota State Fair, on August 27 - Alex's fifty-seventh birthday. (The special T-shirt was made up by the crew for everyone to wear that day, and just after dinner more than thirty of us gathered in front of the "dressing trailer" to sing "Happy Birthday." I decided to wear it onstage for the first set.)
John ("Boom-Boom" - our pyro technician and photographer of daily events) was able to capture this shot of me while walking across the stage in the hotdog costume (you have to have seen our show to get that reference, I guess), with his Nikon and fisheye lens around his neck.
Of course I had to smile at that.
More than one friend has already remarked that this photo captures the "real me" they know, and that's nice. My mother has always complained that I don't smile enough onstage. But it's a grim, arduous, sometimes painful job, and I never trust a drummer who smiles too much while he's playing. Back in the old days, when more drummers performed solos in their band's shows, some guys told me they "held back" before their solos. I would never do that - I prefer, like the hockey players say, to "Leave it all on the ice."
I can tell that the photo was taken in the middle of "Leave That Thing Alone," the "jazzy" bit, because of my traditional grip on the sticks - which I only use in that part, the opening of "The Camera Eye," and in one part of my solo. (All those sections demand rudimental, parade-drum patterns, and I learned all that stuff with traditional grip.) That part of "Leave That Thing Alone" incorporates ever-changing variants of rudimental patterns on the snare between the accents.
The headphones I'm wearing also round off the ear-infection story, for now - or at least suggest the short version. After much experimentation with eardrops, creams, and hypotheses, two excellent doctors, Dr. Buzz Reifman and Dr. David Opperman, persuaded me to visit their clinic in Denver, specializing in "Care of the Professional Voice," but also a musician's ear, nose, and throat problems. Both ears were badly infected, aggravated by wearing the in-ear monitors onstage, and perhaps by wearing earplugs on the motorcycle, too - heat and moisture create a rainforest environment for bacteria, fungus, eczema, and psoriasis. The doctors prescribed a heavy regimen of three different antibiotics, and recommended that I switch to headphones (and no earplugs on the bike, but its Cee Bailey windscreen is pretty quiet). Within a few days, they had given me back two reasonably healthy ears. Never again will I take for granted simply hearing what I'm playing, what the other guys are playing, and - in everyday life - what people are saying to me. (Like when "Cruel Summer" is playing.)
Inside, I also suffered a little from a problem with my right foot. It didn't hurt, but I seemed to be gradually losing speed on the bass-drum pedal. At first I chalked it up to advancing years (just turning fifty-eight as I write), and it troubled me - the first time in my life I've felt my ability to play the drums receding instead of improving, and that particular apex is an awful prospect to contemplate.
However, I noticed that if I tucked my knee under the snare drum, it was better, and I started to wonder. The new Time Machine setup had the same layout as the previous Snakes and Arrows kit, but small differences were inevitable, with hardware changes and such, and I asked Gump to try moving the snare drum to the left about three-quarters of an inch. That's all it took - that small ergonomic change. Up to that point, during rehearsals and the first half of the tour, I had simply adapted to curving my knee slightly around that angle, causing the whole geometry of my leg, knee, ankle, and foot to be altered. The real story appeared when I happened to look at the sole of my right drumming shoe - it was only worn on the outside, in a perfect oval, while the big-toe side, which ought to have been doing the work, was unmarked.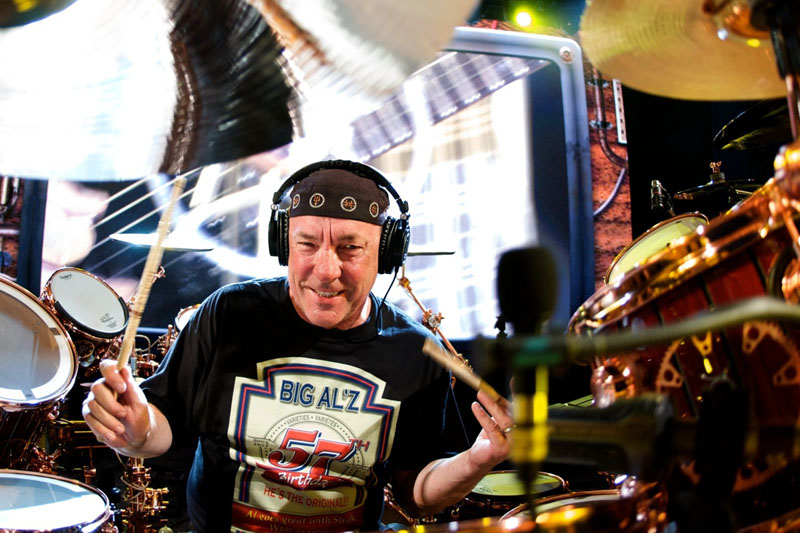 I hadn't even noticed, but just adapted, until I felt the loss of foot speed. Over the next few shows, I had to consciously keep trying to rotate my foot inward, to align it properly with the pedal, and of course I was powerfully relieved not to be "losing it."
I felt that same sense of relief - reprieve - on this occasion, on the day off between the two Red Rocks shows, earlier in August. I was hiking to the summit of Mount Evans (14,264 feet) with my friend Kevin Anderson. Kevin has climbed all fifty-four of Colorado's "fourteeners" (peaks over 14,000 feet), often dictating chapters for his novel-in-progress to a recorder while he hikes. Kevin offered to guide me up my first "fourteener," and along the way we could discuss some ideas for a writing project on which we hoped to collaborate.
It had been some years since I had hiked at such a high elevation - since climbing Mount Kilimanjaro (19,334 feet) back in 1987 or so. As Kevin and I neared the summit, still able to walk and talk in the thinning oxygen, I told him I was glad to find that I could still do such a thing - also referring to my fear of the day when I might discover that I was losing my drumming fluency, or any number of other abilities, to the ravages of aging and Time (aptly described by John Barth as "The Destroyer of Delights").
I said to Kevin, "It's inevitable that one day there will be a last show - a last hike."
He grinned and said, "Not today!"
Other good memories stand out from that August, too. After our week of constant crisis, all that riding and all those shows, by the time of the show in St. Louis on August 22, I was tired. Plus, we were on our way back to Chicago the next night, to replay a show that had been cancelled due to threatening weather on the first run (I had already done my warmup and was just about to get into my stage clothes when the decision came down - it was an awful feeling). So including the first Chicago show two days earlier, when it had been 102°, I had already ridden into downtown Chicago in withering heat twice this summer, and wasn't eager to repeat the experience.
So - a day off. Michael and I and friend Tom Marinelli rode the bus straight to the venue in Chicago, surprising the crew at breakfast catering (they had an omelette station!), then spent a pleasant couple of hours at the Art Institute of Chicago. I had visited there many times over the years, and offered to be "tour guide."
"Leading left," I didn't want to drag them through room after room of medieval religious paintings, or too much inscrutable modernity - I just guided them to my personal "highlights" - the American and European artists of the late 19th and early 20th Century, like Sargent and Whistler, Edward Hopper's "Nighthawks," Grant Wood's equally iconic "American Gothic," and the van Goghs and Gauguins (I knew Michael would appreciate those, because he likes what he calls "LBGs" - little brown girls).
After that night's show (blessedly undampened by rain this time), Michael, Tom, and I spent the next couple of days looping around the back roads of Nebraska. We rode west to the lovely Sand Hills region, under the rarest of summer skies - a crystal dome of pale aquamarine, the "robin's egg blue" more often described than actually seen. Oh, it was hot again, of course, but pretty and peaceful.
We had another little drama on the show-day morning, leaving Ogallala, Nebraska, for Omaha, when Michael's bike failed to start. With a boost from a pickup, he got it running again, and we agreed that he would ride straight for the BMW dealer in Omaha, and get it sorted (he needed a new battery).
Later that same day, I had an awful computer incident. Just trying to copy some photos for Tom of our travels together, suddenly my whole desktop disappeared, and I was left with a blank, generic computer screen. Forensic experts Michael and Kevin worked on it, and got most of it operational again, but could not access my all-important photo files. During the previous break I had backed up everything at home, but there were almost two hundred new photos in there somewhere that I couldn't get at. It was distressing, to say the least. (And why some of this story's photos are mere "thumbnails" - which I started to feel I was hanging from.)
All the while, Dave's troubles with the bus continued, with tire problems one day, and the next a failed water system. Our little team was facing an unending series of challenges getting through that second leg - but we did manage to make it to seventeen more shows, via another 7,366 miles of motorcycling (thirty shows altogether, and almost 16,000 motorcycle miles).
After one long day of battling heat and traffic in the East toward the end of the run, in late August, I remember thinking, "About one hour of that seven was actually enjoyable." But there were many good rides to remember, like up into Minnesota, to Voyageurs National Park (new passport stamp), and a wonderful family resort called Arrowhead, right near the park. It was owned by a friendly couple and their in-laws, and offered cozy cabins on Lake Kabetogama (I was determined to learn to spell and pronounce that name), and a casual dinner at the lodge.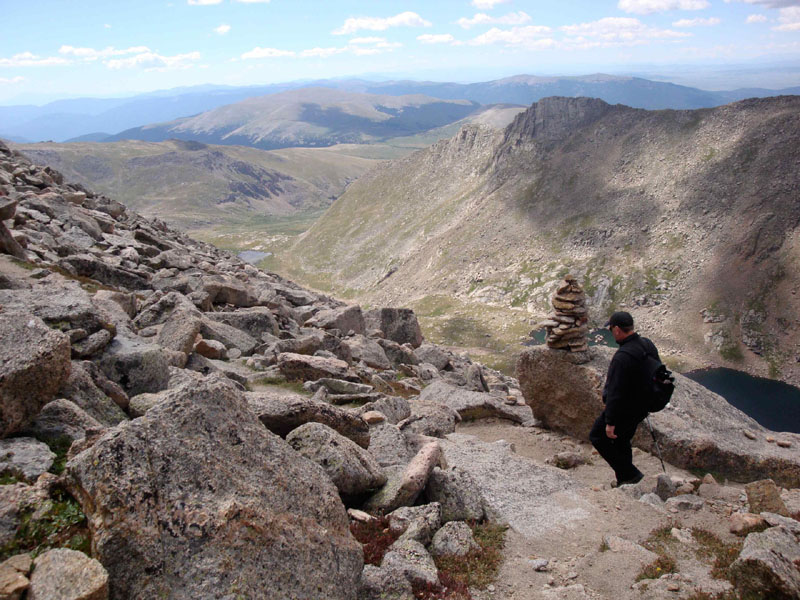 The sign above the dining room door read "Dinner Choices: 1/ Take it; 2/ Leave it," because they only offered one choice - though that night it happened to be barbecued ribs and fresh, local corn, unbelievably tender and succulent, so we didn't complain.
In farthest northern Minnesota, hard by the Canadian border, we had no cell service, so Michael brought out our satellite phone, so I could call home. It was a beautiful scene, sitting on that dock, on a night off in the middle of a peaceful ride (500 miles around Minnesota with hardly any traffic, and without a single radar beep, or even seeing a cop) under that same robin's egg blue sky. But I was feeling pretty sad and lonely on that dock, 2,000 miles away from the ones I love. Not for the first time, I felt worse after calling home than I had before. After thirty-six years of touring life, I'm pretty good at blocking out thoughts that will only make me feel bad - but it is especially hard to maintain that "distance" with the video calls we've also been trying: looking right at your home, your family, your dog, and not being there.
But if I couldn't be there, at least I got to be here, sitting by a lake on an August evening that was both beautiful and cruel.