I Love Phil (Neil Peart on Phil Collins)
By Neil Peart, Rhythm, April 2011, transcribed by pwrwindows
---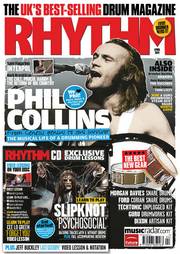 Phil Collins was an enormous influence on my drumming in the '70s, and thus remains a part of my playing even today. His recorded drum parts with Genesis and Brand X in those years were technically accomplished, yet so musical - even lyrical. His rhythmic patterns were woven into the intricacy of the music, while lending a smooth, fluid pulse to the songs and extended instrumentals. His fills were imaginative and exciting, alive with energy and variety, while the refined technique was always in the service of the music. Even within those fills, Phil applied a jazz drummer's sense of dynamics, which also guided his ensemble playing, and inspired me to try to incorporate that sensibility into my own triple-f approach.
Plus, his drums sounded so good. Good-sounding drums are always the result of a good-sounding drummer, and speak of the player's touch. Phil's combination of that quality and the natural drive of his playing produced truly melodic-sounding drum parts - flowing and musical. One outstanding piece of work that reflected all of those qualities was the Genesis album Selling England By The Pound, from '73. In the summer of '74, just before I joined Rush, I attended one of the shows on that tour (at the Century Theater, Buffalo, New York), and it was simply a galvanising performance, by him and all of that excellent band. The music from that night's show echoed in my head long after, while Phil's vocal performance on 'More Fool Me', was a harbinger of a whole other career to come.
Although Phil and I have never met properly, some years ago he and I corresponded about my invitation for him to play at a Buddy Rich memorial concert. His reply was regretful, pleading a lack of time that year (though he took part in one of the shows later on), and his letterhead featured a charming cartoon of himself as a Cabbage Patch Kid.
I find it amusing that despite not meeting 'formally', Phil and I have actually encountered each other face-to-face, unknown to him, on two occasions, almost 20 years apart. In the late '70s, I was recording with Rush in London, and one day popped into a science-fiction bookstore in Soho called Dark They Were And Golden Eyed. At the door, I stood back to hold it for another patron, a bearded little guy in flat cap and overcoat, on his way out. Our eyes met for a moment, we nodded courteously, and I recognised Phil in his hirsute 'Artful Dodger' period, just before he was thrust into the frontman position with Genesis that would so change his life - from modestly successful drummer to immense international popstar.
In Bill Bruford's fine memoir (titled simply The Autobiography), Bill wrote about getting together with Phil just after they had played together in the first post-Gabriel incarnation of Genesis (some wonderful drum duets in that live show). Phil played Bill his solo album Face Value for the first time - neither of them imagining how hugely successful it was to be, or the phenomenal solo career it would launch. Not to mention the impact of that gated-ambience tom sound Phil had developed with Peter Gabriel - the world would be hearing a lot of that.
In the mid-90s, I was in Geneva, Switzerland, with my friend Brutus, at the end of a motorcycle journey that had taken us from Munich down through Italy to Tunisia and into the Sahara. Brutus and I had survived some harrowing adventures before finally arriving at the Hotel du Rhone in Geneva, so we were feeling extremely fortunate just to be there - and to be revelling in an incredible dinner of European haute cuisine. A murmur went through the room, and Brutus and I turned to see Phil Collins being seated just behind us. I believe he was performing at the nearby Montreux Jazz Festival.
I felt no need to impose upon his evening, and my own evening was already full; Brutus and me sharing a journey's end combination of exaltation and relief. But I smiled to myself at the coincidence. In any case, it seems to me that when someone you have long admired becomes so enormously popular that his arrival sends a murmur through a high-class restaurant, you can't help but feel a kind of personal pride... 'Why, I remember Phil Collins when he was just a drummer.'