Rush: The Fountain of Surround
Exclusive! Chronicling Rush's Decade-Long Journey Toward Embracing The 5.1 Format-Even For Catalog Studio Material
---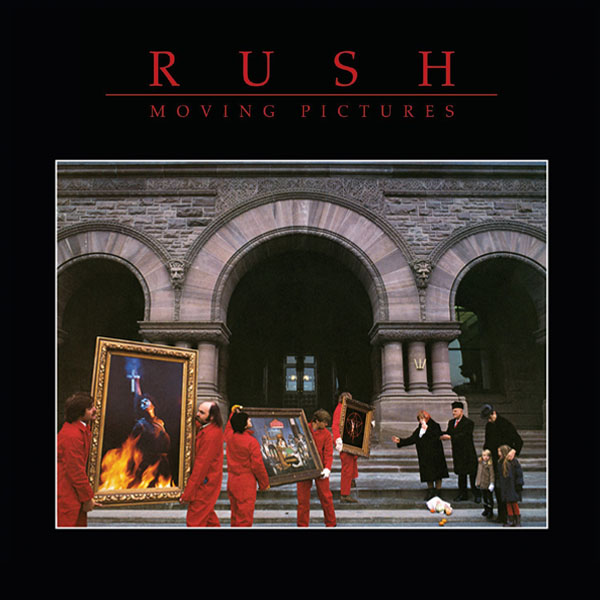 In anticipation of the 30th anniversary reissue of Rush's truly seminal Moving Pictures as both CD+DVD (April 5) and CD+BD (May 3) deluxe editions, with PCM 5.1 and DTS-HD Master Audio 5.1 surround-sound mixes by Richard Chycki, I'm dipping into my personal Rush interview archive to present a truly exclusive, incremental look at how the band's attitude toward bringing its vaunted studio material into the surround-sound arena has literally changed from "no" to "go" over the last decade.
I've been sitting down with the band for 20 years and counting, dating back to when I met with bassist/vocalist Geddy Lee and guitarist Alex Lifeson at the Anthem management offices in Toronto in 1991 to discuss Roll the Bones. (That was back in the days when record companies shared music prior to the official release date via advance cassettes. In the case of RTB, I had to give the tape back to the band's reps before I returned to the States.) And it was a little more than a decade ago when I was the first person to quiz the band about its 5.1 intentions. Herewith, the official telling timeline.
OCTOBER 2000: MISSED RHYTHMS
In a New York hotel room, I asked Geddy what he thought about recording new music in surround sound, and his initial reply reflected thoughtful reticence. "I guess I'm still on the fence about it when it comes to studio recording. The problem is, there's no way to make a subtle shift to the back of your head. It's rhythmically jarring. But I can see the future of live albums as 5.1-channel DVDs." (Remember, this answer was given before the Blu-ray era was even on the horizon.)
MAY 2002: EVERYBODY GOT...MIXED FEELINGS
This time I sat down with both Lee and Lifeson in New York, and posed the 5.1 question to them both. Result: Still kinda on the fence. "I have mixed feelings about it," said Ged. "I would think that it would be distracting, quite frankly; it would take away from the music, as opposed to enhancing it. But maybe they said that about stereo." Added Alex: "Quad is more appropriate, but that didn't last long."
OCTOBER 2003: HOLD YOUR FIRE
While Alex and I were discussing his hands-on role in the 5.1 mix for the Rush in Rio DVD, I wondered if the band would (re)consider recording new material in surround. Result: Slight thawing. "I don't know," he admitted. "We'd have to think about that. But I certainly wouldn't close the door on the idea." Things were a bit chiller when it came to dealing with catalog material, however: "If we went into the studio to remix an old record, it would be so tempting to go in and redo parts. It's very wrong."
NOVEMBER 2005: UPLIFTING SIGNALS
This sitdown with Alex centered around the surround mix for the R30 DVD, and he seemed to be softening his position - a lot. "Surround is a great, uplifting experience, and I think we have some records that we'd consider doing that way. Again, we [his bandmates] haven't spoken about any of this yet. Probably the safe thing to say is that I'm much more open to doing this as long as the integrity of the original content isn't messed with." Lifeson specifically zeroed in on the running water in "Discovery," Part III of the title suite of 1976's 2112, as something he'd like to hear in surround. "You could be sitting right by that little stream, you know," he mused. "It would be quite dramatic and dynamic." (Uh, we could NOT agree more...)
FEBRUARY 2009: THE FORESHADOWER
Now fully ensconced in the Blu-ray era, Lifeson and I are having a discourse about the utterly fantastic BD for Snakes & Arrows Live. And - yee-hah! - the 5.1 temperature for studio material has clearly changed, due not only the experience of working on this live set, but overseeing the 5.1 mix he and Chycki did for the Snakes & Arrows studio recording. Catalog, here we come! "It's just a matter of sitting in and getting a sense of the placement of everything. I think the important thing with 5.1 is not to get too fancy-schmancy with it, but to create this full-room sound environment rather than tricking it up with stuff 'whipping' all around, and that sort of thing." And, lest there be any doubt, gimmicky approaches need not apply. "When you're in that mode, you want to make it something special. But when you switch from a stereo mix to a surround mix, it fills the room, and ideally, I think that's what you want to capture."
LISTENING IN THE LIMELIGHT
Having already spent a good bit of time with Moving Pictures' 5.1 mix on Blu-ray myself, I can attest firsthand that Chycki has brought out the true essence of the original recordings to put together something truly special and dynamic.
But, hey, I'm getting ahead of myself. Come back tomorrow for the next installment: My unreleased exclusive February 2009 chat with Chycki about Rush's surround future, and a few tasty excerpts from our just-conducted 2011 song-by-song dissection of MP 5.1. Everybody got to deviate from the norm...
See the official Moving Pictures trailer here.
---
Surround-Sound Remix Master Richard Chycki On What He'd Like To Do Next In 5.1 From The Rush Catalog
By Mike Mettler, April 5, 2011
"It's a timeless record with so much detail," says surround-sound remix guru Richard Chycki about Rush's 1981 masterpiece, Moving Pictures. "I'm glad you've clued into all of the nuances." Chycki is referring to what I said to him last week about the PCM 5.1 and DTS-HD Master Audio 5.1 mixes he did for MP's 30th anniversary reissue. Today marks the release of the CD+DVD version, something certainly worth getting if you're not equipped for Blu-ray - but the much preferred Holy Grail CD+BD version won't be out until May 3. (At the top of that week, I'll post our song-by-song dissection of Chycki's landmark 5.1 MP mixes.)
In the meantime, I've unearthed this related 5.1 treat. Back in February 2009, Chycki and I talked exclusively about his surround work for both the audio and live video releases for Rush's 2007 album Snakes & Arrows. That interview was initially intended to be a companion piece for my interview with Rush guitarist Alex Lifeson, but for various reasons not worth getting into, it remained on the virtual shelf - until now.
First, you may want to check out yesterday's post [above], in which I chronicle Rush's gradual, decade-long ascent to full-on 5.1 embrace. All up to speed now? Good. Here, Chycki and I delve into the band's possible 5.1 future. If Moving Pictures 5.1 is a great success, we're both hoping some, if not all, of these predictions and projections will come to fruition.
When I talked to Alex about R30 back in 2005, I asked him if Rush had discussed either reworking some older material in surround. He said the band was open to the possibility of doing so with something like 2112 [1976], using the waterfall during "Discovery" as a great example for something that's perfect for that environment.
Yes, that's something that's been coming up in repeated discussion. We just have to see when the powers that be want to pull the trigger to do it. That's one of the things I'm pretty much lobbying to mix in surround. It would be absolutely fantastic since 2112 is such a strong thematic record on par with The Dark Side of the Moon. It has that essence. It would be absolutely fantastic to take the triple tracking of Ged's [Geddy Lee's] vocal and put that in a three-dimensional environment. I'm waiting just like everybody else is to see if they want to move ahead. And I'd be more than honored to fly the ship if they decide to have me do that.
You're familiar with the entire Genesis catalog having been redone in 5.1.?
Yes. There's no reason that Rush couldn't do the exact same thing. It would be a great idea to do that. So much of the old material lends itself to spread everything out into that new environment. The listening experience would be absolutely fantastic.
Agreed! I see you in the Nick Davis role - he's the guy who did the surround mixes for Genesis. I can see the parallels: You know the Rush catalog intimately, you work with them really well, and you're the perfect sounding board to say, "Hey, let's do it the right way."
Thanks. The more esoteric material would do really well, you know? Caress of Steel [1975] would be stunning to do in surround, as it's a frightfully dry record. To maintain that dryness in surround, the placement would be so critical. I think it would be a very angular project to listen to in surround because when stuff "disappears," there's so little ambience; you get that suction, with the tail flattening stuff out. Doing something like Caress in surround, with all the motion, everything would be very extreme. But it would be a treat to sit and listen to - especially at extreme volumes.
You won't get any argument here. What else would you like to do or get your hands on for 5.1, any other favorites?
Obviously, I would do all of Hemispheres [1978] in a flash.
Man, I'd LOVE to hear "Cygnus X-1" in 5.1.
Absolutely. Me too! And we'd have to do Moving Pictures because of the songs. That's Rush at its pinnacle.
"The Camera Eye" is perfect for that format, for sure.
I already mixed Moving Pictures in stereo for Guitar Hero, so the masters are in the building, so to speak. That's one of those things - if there's a demand for it, and it's put in consideration for the next step, it would be fantastic to do. [MM's 2011 note: Ok, we got a good one to start with, no?]
Certainly can't argue with that!
If we were to attack any of the Rush studio albums in surround, one thing we'd follow that we did with the Snakes & Arrows surround mix would be to take the trueness of the stereo mix and maintain it in the surround environment.
For something like Power Windows [1985], which has a more lush mix, you'd need to keep it true to the era. If there's some technical improvement to be done in terms of a lower noise floor - ok, sure. But it's another thing when it comes to analyzing the reverb, figuring out what algorithm it is, and getting something that's comparable to it in surround. In those days you used, who knows, two, three, five, 10 different reverbs. You'd have to be sure what all of them are and what they're doing to get a surround equivalent - and then place it all so that it works. That would be an exciting project to do as well.
Alex also mentioned Vapor Trails as being something in the running, since it's a more recent release [2002]. There are a lot of dynamics on that one.
Nothing in surround for that one yet, but I did do stereo remixes of "One Little Victory" and "Earthshine" remixes for Retrospective 3. [MM's 2011 note: Vapor Trails is officially in the stereo-only (for now!) remix queue.]