After Donna Halper Gave 'Working Man' A Spin On Wmms, Rush's Career Took Off
By John Soeder, Cleveland Plain Dealer, April 15, 2011
---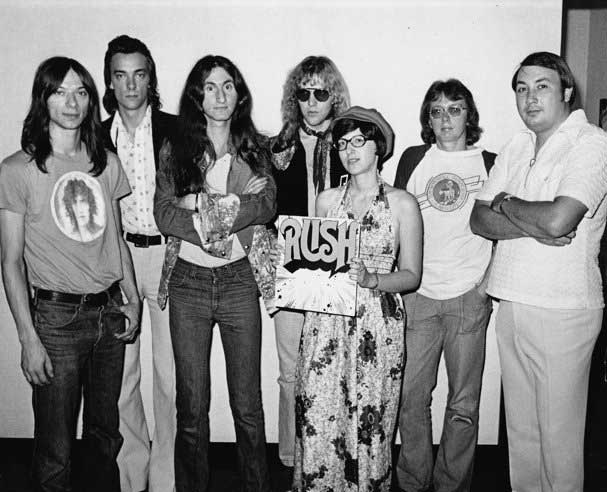 Rush poses with WMMS FM/100.7 staffers in 1974. From left are "Matt the Cat" Lapczynski of WMMS; Rush members Neil Peart, Geddy Lee and Alex Lifeson; Donna Halper of WMMS, John Gorman of WMMS and Mercury Records representative Don George.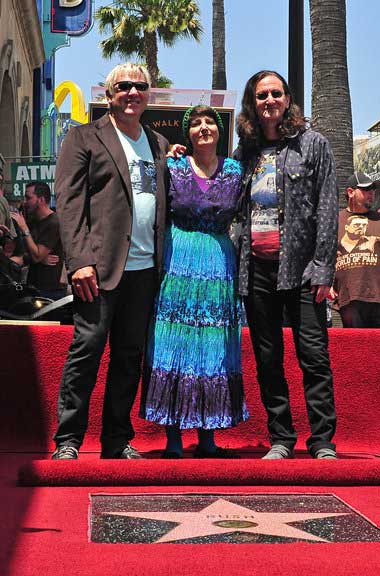 Donna Halper was flanked by Alex Lifeson, left, and Geddy Lee when Rush got a star on the Hollywood Walk of Fame in June 2010. "They've always remembered what I did for them, long after they really had to," Halper says.
Donna Halper wants to set the record straight. Yes, she gave Rush its big break when she was a disc jockey and music director at WMMS FM/100.7 in Cleveland. Contrary to popular belief, however, she did not cue up the band's seven-minute song "Working Man" because nature called.
"I didn't have to go to the restroom, OK?" Halper said.
When DJs needed a break, they would put on what was known as a "bathroom song," for obvious reasons.
"As the music director, whether I had to go or not wasn't the issue," Halper said during a phone interview.
"I had to think about my DJs. I was always looking for long songs that were also good songs, so they could do what they had to do."
The Boston native moved here to join WMMS in 1973. The following year, a friend sent her an import record by a Canadian group that she'd never heard of.
"As soon as I dropped the needle on 'Working Man,' I knew this was a perfect record for Cleveland," she said.
"It was a working-class town. . . . I remember a city where Republic Steel would literally light the sky on fire at night with pollution."
Phones at the radio station were lighting up, too, with requests for Rush. The buzz soon led to a record deal for the band, which singled out Halper for special thanks in the liner notes of its self-titled debut album.
Today, she's an assistant professor of communication at Lesley University in Cambridge, Mass. She recently published her fifth book, "Boston Radio 1920-2010."
Halper, 64, left Cleveland in 1975 to become director of artists and repertoire at Mercury Records in New York City.
She hasn't returned here since then -- until now. With a special invitation from Rush, Halper is planning to catch tonight's show at The Q.
And when Rush got a star on the Hollywood Walk of Fame last year, the band asked Halper to join them for the festivities.
"I feel very honored," she said.
"My God -- look at the friendship I have with this wonderful rock band. . . . At first, I was like their big sister. As they became more successful, they didn't need a big sister anymore. But they stayed in touch and still gave me shout-outs.
"They've always remembered what I did for them, long after they really had to. And they still do. It's just the kind of people they are."