'Moving Pictures' Track By Track: Geddy Lee Breaks Down Rush's Landmark 1981 Album
By John Soeder, Cleveland Plain Dealer, April 15, 2011
---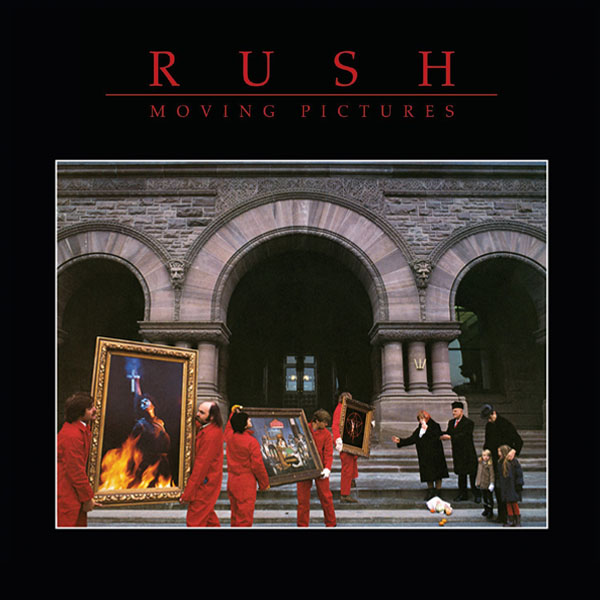 During its concert tonight at The Q, Rush will perform its 1981 masterpiece "Moving Pictures" in its entirety.
To prepare for my interview with Geddy Lee, I listened to the album the way God intended it to be heard: on a cassette tape, while driving around. (For the full effect, the car really should've been a vintage Camaro, but I had to settle for a late-model CR-V.)
When I told this to Lee, he laughed.
"Moving Pictures" was "an interesting establishment of a particular kind of songwriting and a particular way we went about recording," he said.
"It was the whole idea that we had moved away from the longer concept pieces and were experimenting with whether or not we could establish a sound of Rush that could take place in 6 minutes, as opposed to 20 minutes.
"That was the first album where we felt we were moving toward that. The quality of our songwriting had matured by then. It really did show, for me, another level of songwriting that we were capable of.
"As much as '2112' [Rush's 1976 album] cemented our sound, 'Moving Pictures' was showing that we were growing up a little bit."
Lee was happy to talk us through "Moving Pictures," track by track. Here are his thoughts on each song:
"Tom Sawyer": "The one song that we have to play for the rest of our lives. When we wrote it, we had no idea that it would touch such a nerve with people. In many ways, it's the quintessential Rush song."
"Red Barchetta": "It's this futuristic tale. It's just got such a pace. I love playing that song live, and the crowd loves hearing it. You can just tell. It's got a ferocity about it. It's a lot like driving a car."
"YYZ": "Or, as we say: Y-Y-Zed. It's interesting how that song's been reborn through video games like Guitar Hero and Rock Band. We're getting all these 11-, 12-, 13-year-old kids coming to our shows because they discovered our music through those games. And I think one of the big reasons is 'YYZ.' "
"Limelight": "It was featured in the movie 'I Love You, Man.' The characters are going nuts while we're playing that song. Now I see kids in the audience imitating them and climbing on each other's shoulders. It's given them license to go completely crazy during the song. It's pretty funny from our point of view."
"The Camera Eye": "For me, it didn't age very well. That's one of the reasons that it didn't make it into our show for so long. Doing the album in its entirety enabled us to revisit it. And I have to say, rather sheepishly, that I've found myself really loving playing that song every night. Sometimes when you go back and play it the way you play nowadays, you reinvigorate the song."
"Witch Hunt": "A classic. I remember the day it was recorded. Sadly, it was the same night that John Lennon was shot in New York. We were right in the middle of recording it when that all went down. It's one of those songs that means as much today, if not more, considering what's gone on in the world with racial profiling and all these different issues. The sentiment of that song is as appropriate as ever."
"Vital Signs": "That was a hoot to write. We wrote it in about 5 minutes in the studio. We just put it together quickly and had a lot of fun doing it. It's still fun to play. It's the quirkier side of Rush's sound, and I think there's always a need for that, to give your sound diversity."