Time Machine Tour Special
By Philip Wilding, Dom Lawson and Jerry Ewing, Classic Rock presents PROG #16, May 2011, transcribed by John Patuto
---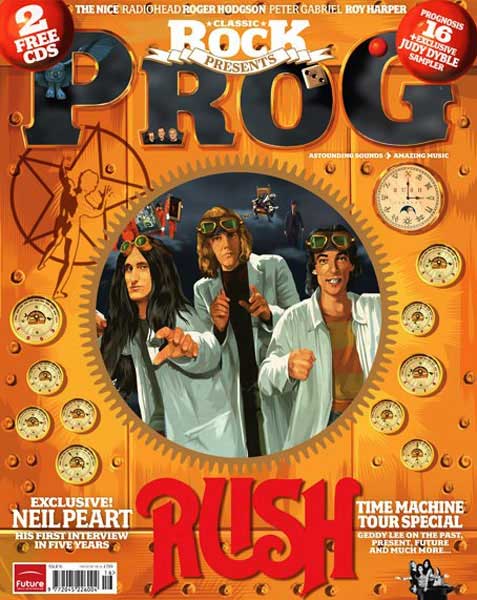 The Beat Goes On
Motorcycling, new fatherhood and film stardom. How does Neil Peart fit it all in and play in Rush too? In his first rock magazine interview in five years, Peart gives Philip Wilding his view from the drum stool on the mammoth Time Machine tour and the future of the band...
There was a moment when Neil Peart and his fellow motorcycle rider Brutus looked up in to the starry dome of the South American night sky and had to admit it; they were lost. Miles above them on the plane ferrying the remainder of Rush and their crew to the first leg of their South American Time Machine tour, the general consensus was that GPS tracking wasn't quite working in the wilds of the Brazilian countryside as they thought it might.
Peart takes up the story from his home in California, "My security guy, Michael, could see us from the plane on the tracking screen intermittently appearing in the middle of a river, so I think he was really hoping that it wasn't working or we were literally sunk."
Down on the ground, Brutus and Neil, who between them had ridden through China, Europe, Africa and Latin America, weren't unduly worried, but they knew they were profoundly off-course - plus they had a four-date tour to consider. The final show was to be played in Santiago, Chile at the Estadio Nacional on October 17.
However, at that time, the people of Chile had something else on their mind; the fate of 33 miners stuck miles underground after a disastrous cave-in. Peart had hopes of his own; one of them was making it onstage on time. He and Brutus got to the Argentinian/Brazilian border and waited and waited, the mountains were jagged blue and black silhouettes in the distance, a customs agent motioned Peart and Brutus over to his computer screen. Fearing the worst about their visa paperwork, instead, they all sat entranced as images of rescue workers flickered into floodlit life, preparing to free the miners from their tomb.
The next night, and now back on course, in an equally remote roadside border post the two of them sat and watched further news coverage as the miners emerged unscathed from the dark earth. Peart sat down and cried.
"It was such a beautiful story. How joyful it was, it was impossible not to be moved, especially because we were in the middle of it all," he says.
"The world is usually unified by events like 9/11, real tragedies, and then there was this joy that brought everyone together. By the time Ged, Alex and I had arrived in Santiago, we decided we wanted to be a part of that joy, to celebrate."
The night of the Estadio Nacional show the band dedicated the aptly titled Stick It Out to the 33 miners, Lifeson displaying the number 33 on his guitar as Rush played beneath projected images of the men moving into the light, the cheering crowd in the background, and the world looking on.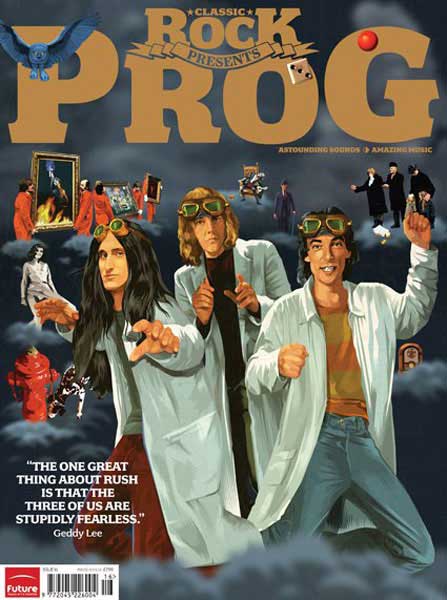 Peart wrote about it on his website (www.neilpeart.com) and has added it to the compendium of stories in his forthcoming book, Far And Away: A Prize Every Time, a collection of photographs and essays collated since his 2007's Roadshow: Landscape With Drums, A Concert By Motorcycle that charted Rush's R30 tour.
It's writing and riding that keeps Peart busy when not with Rush - although extremely busy they are with Prog catching them on their extensive Time Machine tour that sees them playing the Moving Pictures album in its entirety for the first time in their careers as well as writing and recording material for their next album. Clockwork Angels. Peart's become a dad again too, sitting at home the last few weeks playing along to the songs the band are going to perform on the next leg of the tour. Two days after we talk, he's getting on a plane to Toronto to rehearse with Ged and Alex. He will, he says, be going back to the day job. Once the tour ends late summer, they'll think about finishing their 19th album, working once again with Nick Raskulinecz, who helped produce their Snakes & Arrows album. Peart reckons that five songs are pretty much done.
"I feel a certain urgency, I really want to get that record made while I'm still able to," he says. "It was hard for me to set the album aside to tour, this really means a lot to me, I intend it to be my highest achievement lyrically and drumming wise, so I really want to get it done while we still can."
"Nick is a very bad influence," Peart continues. "He wants us to be more Rush than we are, it's wonderful, he pushes me in ways I wouldn't dare. In the middle of Caravan there's a ridiculous fill and it was Nick who wanted me to go all the way down the toms and back up again and once I'd done it, my comment was, 'I'm so ashamed!'," he laughs. "He was in the studio outlining his idea to me, and Geddy's sitting down next to us and he looks up over his glasses and says, 'Oh, he wants to make you famous'. I would have never have proposed some of Nick's arrangement ideas to my bandmates, I'm not that brash, we're not that brash ... we're Canadians."
Peart's sense of urgency carries over to this latest tour too. In the last five years they've played more shows than they managed in the previous 10. They are, by their own admission, probably playing better live than they ever have done; Geddy said as much when he was in the UK promoting the band's film, Beyond The Lighted Stage, in November last year. The sense of wellbeing and the encroaching years have combined to propel the band to new heights that are as much necessity as they are the results of all the hard work they've put in live on the Time Machine tour.
"It's probably that compulsion, you know, the feeling good about it," says Peart. "Still having an audience and feeling that we can perform at a higher level than ever before and knowing that that is a limited offer, we feel like we can't postpone things for two, three or four years anymore, so we must do this now.
"I think of the lyric in Dreamline, 'We're only immortal for a limited time'. We've evolved over the years to become a touring machine and we now have the opportunity and the ability to do it, which is fantastic. As young kids, we just wanted to play; then the unexpected thing is that touring makes you better. We've been doing that for 45 years and know that can't last forever, we're not young anymore. But I've survived 58 years!"
It's been 30 years since they made Moving Pictures, they weren't young men even then, they had families, they were already a musical force to be reckoned with. In their previous album, 1980's Permanent Waves, they'd even scored a hit Single in The Spirit Of Radio. Peart thinks the leap between albums might have been the most profound they've ever made as a band.
"You can see our evolution in one album's distance. Permanent Waves is a whole other thing, a hold-over from the 70s, extended arrangements and peripheries, a certain tweeness to it sometimes, we were still learning, finding our way. Then with Moving Pictures, we were doing it. Permanent Waves absolutely led to Moving Pictures, but if it had been our first album then I'd have been very happy - I sometimes wish it was."
In preparation for Moving Pictures, Rush had taken time out to rehearse at US expat Ronnie Hawkins' place. Hawkins had made his name as a respected rockabilly and country session leader in the 50s and 60s who founded The Hawks -later transforming into The Band. He'd made it big in Canada from the off and loved it so much - and did so much for Canadian music - that he stayed. Rush moved into his remote farmhouse in the Canadian countryside reveling in the isolation and time to experiment. Peart spent his days away from the Geddy and Alex in a small cabin on the property, with a 5x8-inch notebook that he'd fill up with lyrics and ideas. Whereas in the past, he'd worked to overall themes, with Moving Pictures he compiled separate concepts and ideas for each song. Vital Signs came to life last in the studio, quite different sonically and stylistically and done with what Peart refers to as 'a certain amount of bravery' as the album was already in place when they decided to record this one more song that ended up fitting right in.
In an album stuffed with invention and creativity, it's the song Limelight that stands out, not only for Alex Lifeson's emotive guitar playing, but Peart's withering take on the downside of fame. It was ironic that a song about the perils of success should make the band even more successful still.
"You've no idea how many authors, athletes and musicians have said to me how much that song resonated with them. I was talking to the writer Michael Chabon [Wonder Boys, The Mysteries of Pittsburgh] during the rehearsals for this tour and he was saying that when he does readings and book tours, the line that comes back to him all the time is 'I can't pretend a stranger is a long-awaited friend'. Suddenly when you get a little bit of fame, boy does that line ever smack you in the face."
Interesting then that in 2010's acclaimed documentary Beyond the Lighted Stage, this most private of bands let the cameras in to film them at work and play. Peart even opened up about the double tragedy that haunts his life; the death of his daughter and first wife in under a year. It was typical Peart, considered and understated, but all the more impactful for his measured delivery. Bad news often screams its name; Peart's was a saddened whisper.
"I've never watched that movie, that's one of the reasons why. I know there are those moments and I don't want to live them again. My mom and dad told me there were moments in the film that were hard and I don't need that, honestly."
"In a similar vein, we had an interview on CNN and it was supposed to be, we thought, a nice light-hearted chat in front of the stage. But even when they've been asked not to, interviewers feel compelled to ask what they think the tough questions are. It's agonizing for me, it's horrible. Why do that? I know they want me to break down on camera because it'll make great footage, but it doesn't make me feel very good. I tried to steer them gracefully away from it as best I could, and I gave them a bit of stick about it later too."
On a happier note, the film also contains an extended dinner scene where the band get happily drunk together as Lifeson regales the band with jokes and stories and Peart laughs so hard you fear he'll literally bust a gut.
"To be honest, the other guys wanted to do the film. If anyone had pitched the idea of doing a film about me to me I would have said no thanks," says Peart. But we didn't have anything to hide and we weren't scared of being filmed - there wasn't going to be a big fist fight or anything. So I just went along. All I did all through that meal was choke and cry, tears rolling down my face, Alex always does that to me, he's famous for that. Geddy and I do say that he's the funniest man in the world."
In the last two years, something else even more extraordinary has happened to Rush, they've become almost hip in America. This is down in no small part to their pivotal place, and cameo, in the movie, I Love You, Man, and their invitation to take part in the satirical US TV show, The Colbert Report. As well as being interviewed by the host, Stephen Colbert, they tried to play their own Tom Sawyer on the Rock Band game. They were, without question, awful. By the song's end all you could hear was booing from the virtual TV audience as Geddy shrugged at the camera, "Oh, they hate us."
"I sucked so bad at that game, it was perfect," says Peart. 'That game was wrong, though, I was playing the right drum part, it had the wrong one, I swear!"
Thinking about fans having a peep into the real Rush on film still amuses Peart. "If we're just goofing around - and that's the right word, as we're goofs - at that dinner or while playing Rock Band, that's not uncomfortable because it's no revelation, it's just the three of us being how we are, so it's a true representation of us getting along and having a good time together. I think that's a beautiful thing to share."
Although Peart talks about their next album as if it might be their last, though he never specifically says that, he just sounds like he's reaching some kind of endgame, he and his bandmates are clearly reveling in the right-now. After 35 years they've actually begun to improvise onstage - Neil and Alex in their solos and Ged on the bass ride out of Leave That Alone.
"Geddy will say sometimes I'll go out to that place, but I don't know how I'm getting back, but you take those kinds of choices," says Neil. "Last summer we were 20 shows in and we went to this whole other place, we'd suddenly evolved again. We've always been the most arranged of all bands and we tend to perform a song, but that's changing after all this time together. There's still room for growth as musicians, I can feel it starting to affect us as a band. That's interesting, the way the three of us do things on our own and it becomes part of the band's fabric.
"That's exciting too, that we're still changing."
---
Muso Superfan!
"He made me want to practice every waking minute of the day!" Biffy Clyro's Ben Johnston on how Neil Peart changed his life.
"I WAS IN college when I got introduced to Rush through a friend, so I must have been 18 or 19, I was given a mix tape with Rush and Yes and a bunch of other prog bands and Rush stood out as having songs with great drumming. When I heard Neil Peart it changed my life. I realised it was everything I wanted to do with drums, I just couldn't believe I hadn't heard of them before. Listening to them, they were doing what Biffy were trying to do from the start, trying to fit all these ideas into one song and having a lot of tangents. The singing and lyrics are quite different from what we're about but the musicality of it was very close to what we were trying to achieve. I got that tape and gave it to Simon [Neil, vocals/guitar] and James [Johnston, bass] and we all fell in love with Rush right away. Jacob's Ladder is the song for me that's the most Biffy-like and it's my favourite Rush song. It's got tons of odd time signatures, and so have we!
"On their first album, John Rutsey's drumming was John Bonham inspired, fairly to-the-point. But then Neil came in and started to bring in all this stuff, learning jazz and swing techniques, and he put those sensibilities into rock songs. It's not just straight-ahead powerdrumming, he's thought it all through. For me that was just a revelation, I just thought 'I want to do that', I've definitely nicked a couple of chops off him! I'd have to say he made me want to practice every waking minute of the day to become as good as him, because he breathes drums completely and that's why he's amazing. I don't practice nearly enough, but he shows how amazing you can get. He inspired me to do my best to come up with drumming that's really interesting and not just the obvious.
"He's also the main lyricist in the band and that's impressive too, considering he's the drummer, I'm not about to start doing that, I'm no wordsmith.
"Since that day when I was 18 years old I've been dying to see them live and I just haven't had the opportunity, We're a busy band and every time they've been through town I've been away. They've been going for so bloody long I'm terrified they'll split up before I get the chance!
"I couldn't ever work with Neil Peart. I couldn't even talk to the guy! He plays the same cymbals as I do and the people at Sabian offered to arrange a meeting for us, but I instantly turned it down just because the guy is so intimidating. I don't think I'd have anything intellectual enough to talk to him about, I'd just be going 'you're brilliant, I love you!', He'll always hold a big place in my heart."
---
"Oh My God It Goes On Forever!"
It was the album where Rush tore up their blueprint and made a dynamic new template for their future career. Geddy Lee gets a bit excited with Dom Lawson on the revival of Moving Pictures...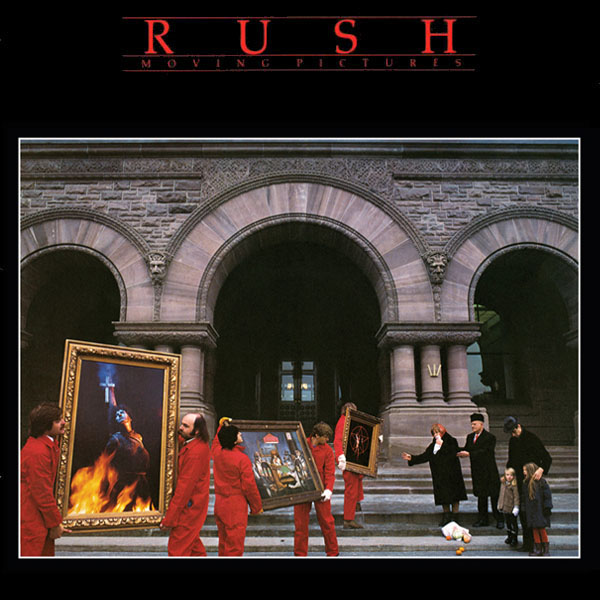 Originally released in February, 1981, Moving Pictures remains one of the most revered rock albums of all time, not to mention the most commercially successful and consistently lauded record that Rush have ever released. Thirty years on, the band are quite understandably celebrating their finest 40 minutes, performing the album in its entirety on their current Time Machine tour and, as is somewhat inevitable these days, re-releasing it in a lavish double-disc "special edition" format, replete with a complete 5.1 Surround Sound remix of the original album.
"Well, these days the record companies are geared to do something and they don't have enough to do," chuckles Geddy Lee. "So we gave them something to do! Ha ha ha! I haven't been involved in it at all. I think Alex [Lifeson, Rush guitarist] got more involved than I have. I know he's really excited about the 5.1 mixes. I think that's the one aspect of the new technology that excites me too. For me, it's the complete opposite of downloading a song as an MP3. I don't care what anyone says, those things sound like crap compared to the original. People say that you can't tell the difference, but you're listening on these stupid little ear buds, so what the fuck? It does sound worse. So yeah, 5.1 is the antithesis of all that. The only way to hear it is in a big room with all the right equipment. It's kind of nice to go against the grain like that."
Aside from giving their biggest album a welcome 21st century polish, Rush are clearly enjoying the opportunity to revisit the songs in the live arena too. Beyond the album's unquestionable significance and the anniversary itself, were there any other reasons to make Moving Pictures the focus of the current tour?
"The songs on that record are also the most requested by fans, so if you listen to your own history and you listen to your fans and you decide to do something like that, it seemed logical that Moving Pictures was the first album we'd try that with," Lee explains. "We really enjoyed the opportunity of doing something like that. It fits into what we're all about pretty well, you know, the idea of the concept within a concept within a concept! I think it's something we'd definitely do again in the future."
Songs like Tom Sawyer, Red Barchetta and YYZ have, of course, been staples of Rush live sets for the last three decades, and so it is the rebirth of the somewhat less celebrated likes of The Camera Eye and Witch Hunt that is delighting the die-hards.
"I don't think we would ever have played ... Camera Eye if we hadn't decided to play the whole record," admits Lee. "We would never have rediscovered the enjoyment of playing a song like that, which we thought we'd never be able to pull off again! I was really gritting my teeth before we set out to learn that song. Alex and I were sat in my studio at home and we were listening to it, saying 'Oh my god, it goes on forever! What the hell were we thinking?' So we very judiciously eliminated a minute and a half of its 12 minutes. But little did we know how difficult it would be to learn a 12-minute song that suddenly became a 10-and-a-half minute song, because the edits were so subtle that they were harder for us to learn. It really would have been easier to just play the whole damn thing! Ha ha!"
In career terms, Moving Pictures marked the end of a grand creative transition for Rush; a bold move from the overtly proggy adventures of the early years to a sharper, smarter sound fit for the more streamlined tastes and trends of the 80s. Clearly the decision to evolve paid off tenfold for the band, and that determination to embrace the new has become a matter of principle ever since.
"The one great thing about this band is that the three of us are stupidly fearless," notes Lee. "We're not aware that we're being fearless. We're just stupidly, stubbornly going down the route that we think is the right way to go. After 2112, we kinda bought our independence. The record company basically said 'Okay; we don't really understand what the fuck this band is all about, so let's leave them alone and hope for the best, because it seems to be working!' We've always accepted that we have to move in the moment and within the flow of our creative juices. Every album reflects that moment and Moving Pictures is the perfect example of that."
---
"It's One of the Greatest Albums in History!"
Manic Street Preacher Nicky Wire on the genius of Moving Pictures...
"My older brother got me into Rush. It was a bit of a rites of passage thing. All the older guys at school seemed to be into them. And they all had the Starman logo on their jackets and stuff. It seemed a bit like a secret society to me. It was pretty inspiring. I think Fly By Night was my first album, followed by 2112 and it really took off from there.
"I remember when I first heard Moving Pictures it grabbed me right away. I really remember getting heavily into the lyrics. Neil had always been special but with Moving Pictures it seemed that he'd taken things on to a whole new level. I really do believe that Moving Pictures has some of his greatest lyrics ever. The whole idea of the small man in society being beaten down - things like Red Barchetta. It really made an impact with me. And watching Neil explain Limelight on the film - which is the best film ever - made it all so much clearer.
"I'll never forget my brother one Bonfire Night. That night was always a massive deal where I came from. It was just the best night of the year with loads going on. Everyone out and fireworks and all sorts of things going on. And yet when it got to seven o'clock on the night in 1981 my brother disappeared. He'd gone inside to watch Top Of The Pops because it was the night they were showing the clip of Rush doing Tom Sawyer - the promo was them doing it live as well.
I was a bit too young to really get the significance at the time.
"But from that first note of Tom Sawyer on the album you just know that you were into something special. It's such a pivotal album, the one that seems to connect the old Rush with the way they would become without indulging either side too much. There's strong elements of new wave - you could tell they'd been listening to a lot of The Police and reggae and things. They'd dabbled a bit with reggae before on The Spirit Of The Radio, but with something like Vital Signs on Moving Pictures they were brave enough to indulge it a lot more.
"What you're listening to is one of the greatest albums in history being made by three of the greatest musicians in the world.
"I'll never forget meeting Rush with Classic Rock when they played at Wembley last time [2007] and taking my denim jacket with the Starman embroidered on the back along. I wore that denim jacket to so many school discos. I was so nervous meeting them. It was right up there with making the best man's speech at James' [Bradfield, Manics guitarist] wedding. Playing the Millennium Stadium is easy compared with that!"
---
Like Clockwork?
Rush's new album Clockwork Angels is a combustive prog rock masterpiece, steeped in Eastern mysticism and accompanied by its own sc-fi graphic novel. Another concept album, you say? Dom Lawson gets enlightened ...
Defying the odds has become something of a habit for Rush over the years. Despite the fact that, in commercial terms at least, they should probably be drifting gently into retirement, this most resolutely unfashionable of bands are currently in the midst of a huge resurgence in popularity and acclaim. Partly prompted by the widespread praise afforded to 2010's excellent Beyond The Lighted Stage documentary movie but also greatly encouraged by the fact that progressive music's recent return to semi-prominence has convincingly directed a powerful spotlight at them for the first time in decades, Rush are on a roll. Midway through their arena-busting Time Machine tour, a grueling jaunt that began as a quick 30-date trek across the States in support of Caravan and BU2B, the two new studio tracks the band unleashed onto the internet during 2010, Geddy Lee, Alex Lifeson and Neil Peart suddenly find themselves with an audience comparable to the one they accrued with million-selling albums like Moving Pictures: the 1981 classic that they are currently performing from start to finish every night. A brand new studio album, Clockwork Angels, will almost certainly surface this year, but as Geddy Lee tells Prog, the best laid plans of rock legends are never quite as straightforward as they seem...
"It's been quite weird because we've never really taken so long and interrupted a writing process so many times," he states. "We have about six songs finished and waiting to go into preproduction and then be recorded. We've been kind of afraid to go back to them, because we don't want to start fucking around with them, we liked them at the time. We're very obsessive about fiddling with our own music, so we just said 'Okay, let's leave them in that state until we're ready to get more serious.'
"Alex and I tried to do some writing on this break." Geddy continues. "We've had three months, so we thought 'Okay, so maybe we should get all of the rest of the record finished' ... but Neil just had a baby last year and he needed to use that time to be a dad and to be domestic, and he didn't want to uproot and get into this intense writing session, and that was totally cool. So Alex and I have been getting together regularly and jamming, and now we have a lot of good material just lying around in suspended animation."
Four years on from the diverse and dynamic Snakes & Arrows, Rush are hardly under a vast amount of pressure to please anyone other than themselves and their hardcore fans, and yet there is a sense that the new album will be listened to by many more people than anything the Canadians have done since their early 80s heyday. The trick, it seems, is to simultaneously deliver exactly what the punters want and break new ground along the way, juggling old and new like the canny veterans they are.
"I think we all still look for new music and new ideas that interest us and some of it is applicable to what you do and some of it is not," explains Lee. "Some of it influences you and some of it doesn't. We try to be open and sponge-like and to pick up any new trick we can learn from another artist and then throw it into the stew. That's the essence of what being a fusion band is and progressive music is essentially fusion, no matter if it's jazz or rock or whatever. That's the code we live by."
Die-hard Rush fans will, of course, be thoroughly delighted that Clockwork Angels sees the band return to the dizzying conceptual intricacies of early classics like 2112 ...
"We're going in a conceptual direction on this record, for sure," says Lee. "We started with a 10-minute song idea that then turned into a concept and it's feeding off itself. It's like that question that Steven Colbert asked us in the movie. 'Are your songs so long that by the end you're influencing yourself?' I think we're doing that now. We're like a feedback loop, influencing ourselves now. We're spending so much time on this concept. It's been fun, because we haven't gone down that road in a while. Let's see if we can pull it off!"
If the bountiful armoury of textures and tones that made Snakes & Arrows such a well-received Rush album prove anything, it's that this band remain unafraid to take chances; a characteristic that has served them well through many an impromptu career detour over the last 40 years. With that in mind, do Geddy and his colleagues still want to push the boundaries of their sound rather than rely on trademarks and the familiar to keep the faithful happy?
"Yeah, I think we do," states the frontman. "Even if it's a concept record, I think you need that diversity, when you're putting that much music together. You need to be concerned with the range of it and the dynamics of it, and I think that's what makes it exciting. Even though a lot of people don't look at an album as a thing you listen to from beginning to end anymore, and it's become something you pick song off and compile separately, we still look at each one as a total piece and within that piece there has to be peaks and valleys and dynamic changes. That's a really important part of how we put a collection of music together, even now."
Due to hit the studio to complete Clockwork Angels when they return home from the European leg of the Time Machine tour this coming summer, Rush approach their 19th studio album with a real spring in their step, as thrilled by their own music as they ever were.
"It's not just the fans! We're hoping for another great Rush album ourselves!" laughs Geddy Lee. "I think we put that pressure on ourselves every time we make a record. I think that's a good thing. You have to have high expectations of yourself and not be satisfied with going through the motions. That's all part of your obligation to yourself and your music, right?"
---
In The Frame...
Rush: Moving Pictures - 30th Anniversary Deluxe Edition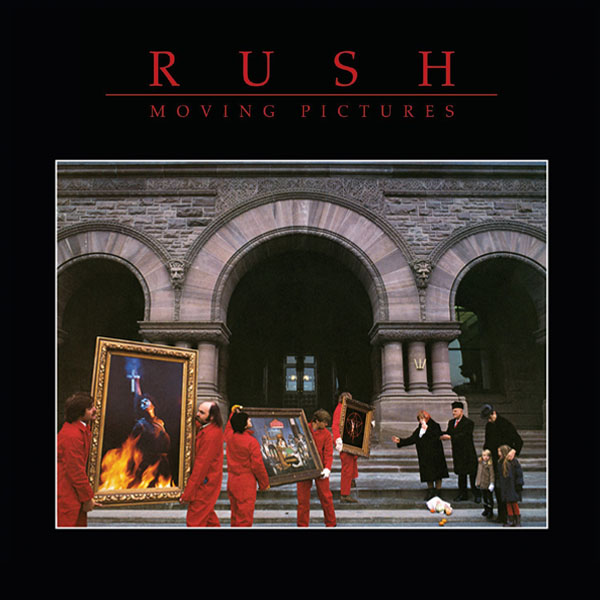 When a noted Rush geek (and I think he'll forgive us for calling him that) such as Nicky Wire from the Manic Street Preachers states boldly that Moving Pictures is "one of the greatest albums in history being made by three of the greatest musicians in the world" it's pretty difficult to argue with him. And that's just on the back of the standard version - be it that dog-eared vinyl copy or the well-worn CD that's been lurking in your collection for the past 30 years.
But what we have here, dear readers, is the Deluxe Edition to celebrate the album's 30th anniversary (in the year in which the band are also performing the entire thing live on their Time Machine tour). And although there are no previously unreleased tracks (unless you count what is claimed as a previously unreleased promo video for Vital Signs, although this writer is certain that appeared on the old Through The Camera Eye VHS from 1985), what is here remains one of the most uplifting listening experiences this Rush nut has had the pleasure to sit through.
Of the two-disc set, disc one features a digitally remastered version of the album. Bearing in mind there are only seven tracks and it runs for a little over forty minutes, it's a stunningly concise set of music that perfectly bridges the gap between the Rush of the 70s and paves the way for the Rush that exist with us today. With Neil Peart's lyrical themes of the individual fighting against being beaten down by authority, the likes of Red Barchetta and Tom Sawyer strike a chord within each and every one of us, whilst Limelight provides the perfect discourse on the relationship, or lack of it, between band and fan.
That in itself is good enough. But it's the other disc that will have Rush fans salivating. There's both a DVD and Blu-ray version. Both feature differing interfaces, but hold the same content. Given that this writer's Blu-ray player upgrades a DVD to the best quality it can, I'd still suggest you opt for the Blu-ray edition if you've an appropriate player. The layout is clearer and more concise and the playback of the videos for Tom Sawyer, Limelight and Vital Signs is far better (although not even modern technological advances can bring them entirely up to today's standards).
But it's the listening to the whole album in STD 5.1 sound that sends thrills through the listener. That drum fill 2.43 into Tom Sawyer is literally breathtaking (I simply defy anyone not to air drum through that). Red Barchetta is even better whilst YYZ takes on a life all its own. Lifeson's guitar on Limelight seems to cut right through you. Get the idea? After 30 years Moving Pictures has lost none of its ability to enthrall and inspire the listener. It is, quite simply, a terrific album and this listen offers you the best 40 minutes of musical sorcery you're likely to enjoy.
That Nicky Wire fella was right you know.