Canadian Prog Giants Play Moving Pictures In Full, With Much More On-Stage Madness
By Dave Everley, Classic Rock, June 2011, transcribed by pwrwindows
---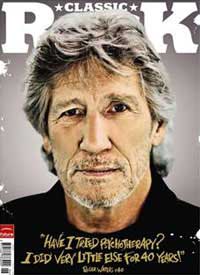 Bassist/vocalist Geddy Lee checks in as veteran Canadian trio Rush return to the UK for their first tour since January 2007. These dates are a prelude to the band recording their 20th studio album, Clockwork Angels, which is expected to be released some time in 2012. On this tour, fans can expect to hear the band's (newly reissued) album Moving Pictures in its entirety, some new material and a few rarely heard old favourites.
Besides playing your 1981 album Moving Pictures album in full and previewing some of the songs for Clockwork Angels, the band will revisit some songs not performed in a while, like Stick It Out from Counterparts. With such a massive catalogue of songs, how do you decide on a set-list these days?
Well, we like Counterparts and we always look for reasons to go back to it. But it also depends on the other requirements of the set.
After being performed across North America, the current set has been widely bootlegged. In light of this piracy giving the game away with regards to your show, do you have plans to change anything for the European leg?
No, it will be exactly the same show. The internet be damned! [laughs] We put this show together for specific reasons and it's going to stay that way. We're assuming that most people in these cities have not seen it before, so why change something they haven't seen?
Did you enjoy picking up Rush's Living Legend award at last year's Classic Rock Awards?
I was proud and embarrassed at the same time, but it was a great event. At first I was a bit reluctant to be in the room with so many people that I admire, to even be considered to be in the same league as those that had pretty much taught me what I do. But it's good to be humbled by your fellow musicians.
On the band's previous tour there were giant washing machines and rotisseries on stage, and in the past you've been known to have all manner of curious happenings going on all around you. Can we expect anything similarly ludicrous this time around?
Yeah, we've gone even weirder. Not that there's anything weird about cleanliness and chicken. Those are two concepts that I can stand behind. But yeah, we're still fucking around on stage. We don't want to disappoint anyone on a comedic level. We've also combined that attitude with some of the aesthetic concept behind the forthcoming album. We were going to hold it back until the next tour, but we got too fired up and just couldn't keep it a secret any more.
The tour begins in Glasgow on May 14.
---
A Rush Refresher
Moving Pictures has never before been performed anywhere in the UK.
The shows will last for three-and-a-half hours each night, with no support.
Rush will once again work with producer Nick Raskulinecz on Clockwork Angels, after his success on Snakes & Arrows.