Neil Peart's News, Weather and Sports
The Frying Pan and the Freezer
NeilPeart.net, July 2011
---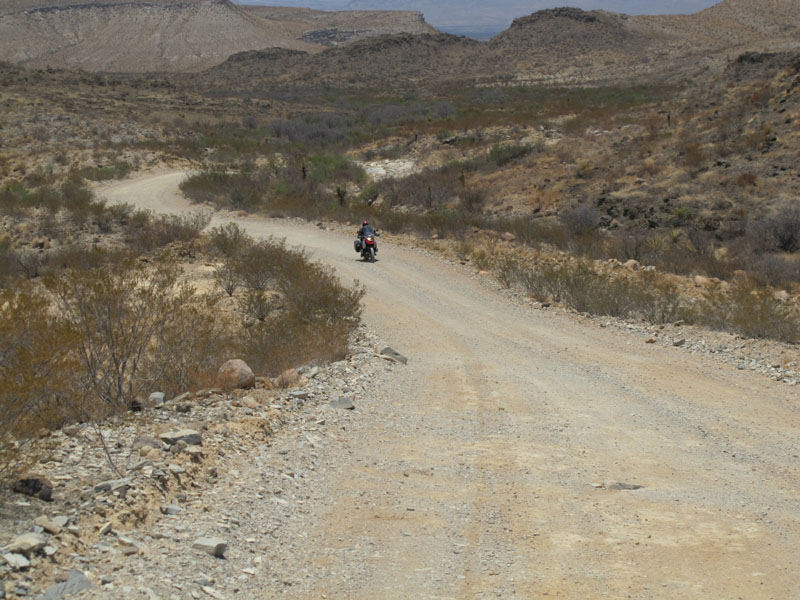 During the first run of this year's continuation of the Time Machine Tour (Part Deux), in April, Michael and I motorcycled between shows in the Eastern United States and Canada. As described in "Eastern Resurrection," the weather was cold, wet, and windy - even snowy, farther north.
Verily, we did suffer most grievously, and there were great chatterings of teeth and shivers of limb.
Likewise, as told in "Singletrack Minds in the Sceptered Isle," May in Europe was cold and wet for Brutus and me. (If not quite so biblical.)
However, back in the U.S. in June, riding with Michael again, all that changed. We went from the freezer to the frying pan - then back in the freezer.
Hence a couple of other titles I considered for this story: "A Season of Fire and Ice" (felt too similar to an earlier story, "Fire on Ice"), and "A Season of Swelter and Snow." But the best metaphor seemed to be the "frying pan."
The above photo was taken in Big Bend National Park, near the Rio Grande in South Texas. It shows me riding the remote and unpaved Terlingua Ranch Road through the Chihuahuan Desert. It was June 13, and the temperature was 112 degrees Fahrenheit. It felt like an oppressive oven.
It felt deadly.
Apart from residents of the American Southwest, or the desert areas of North Africa, most sensible persons have never experienced such hellish degrees of heat. (I have long treasured a bit of weather trivia, asking which two states have never recorded temperatures above 100 degrees. One is Alaska, not surprisingly, but the other is Hawaii - kept more temperate by its mid-ocean setting and steady trade winds.)
In any case, let me tell you: 112 degrees is brutally hot. Especially on a motorcycle, on a dusty gravel road, under the midday sun, wearing full protective gear. But you would be suffering even if you were naked in the shade.
(And if that isn't a fetching title for a painting, a song, a poem, or a story: "Naked in the Shade.")
The landscape around us was signature Chihuahuan Desert, a regular, seemingly patterned array of creosote bushes, grassy clumps, and spiky yuccas. It seemed impossible to imagine that I had once seen that same baking landscape covered with snow - in March, 2003, when I spent a few days at Big Bend on the road trip that would become Traveling Music.
Beneath our wheels, the surface of Terlingua Ranch Road varied according to small degrees of elevation - along the ridges and higher stretches, it was packed dirt and gravel, easy enough to navigate. However, the lower-lying areas were deep, loose gravel and sand - the worst possible conditions for big, heavy bikes like ours. A berm of soft gravel or a deep rut filled with sand can take control of your front wheel, send the bike slewing around, and easily put you down. You always have to be ready to roll the power on, to keep the front wheel light - and to put a foot down sometimes, too, to keep the bike upright. Like riding in crosswinds, it was a constant wrestling match, and in such withering heat, it was another reason we didn't want to have to start picking up bikes. That would soon drain us completely.
So we motored our way along in first gear, slowly and carefully.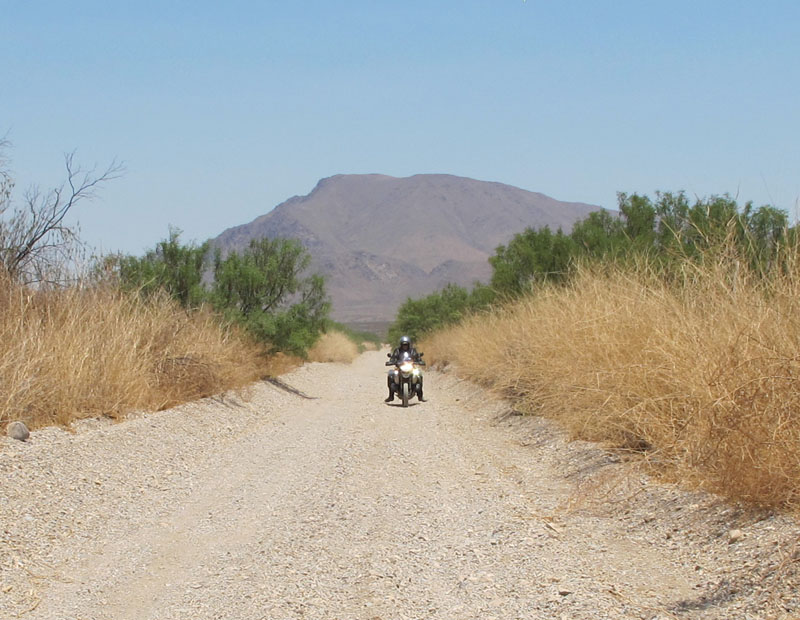 This photo shows Michael in a section of loose gravel like that, creeping along with both feet poised like outriggers to "dab" the ground if necessary.
Two key sensory elements that photographs cannot convey are temperature and smell. I have written before about cold winter days, and my belief that snow has a distinct fragrance. In extremely hot and dry places, I am equally sure that heat has a smell. And just as with very cold air, in such conditions it can seem difficult just to draw a breath.
It is the nature of dry air, whether hot or cold, to carry little scent - a molecular thing - but there is a certain essence that seems to pervade every desert when the temperatures are extreme. Baked rock, baked dust, baked vegetation - maybe just baked planet.
The American deserts vary greatly in their type and pattern of flora: for example, Joshua tree and creosote in the Mojave; mesquite and cactus in the Sonora; sage and juniper in the Great Basin. In each case, during rare spells of cool, wet weather the deserts become amazingly fragrant. Creosote actually gets its name from the way it smells in the rain, and that's also when sage most lives up to its characteristic spicy perfume. But in every desert, when the mercury gets above 100 degrees Fahrenheit, those delicate aromas dull into a harsh, clanging monotone. When I think of what that smells like, I think, "heat."
The world is an oven, and you are in the roasting pan.
Like extreme cold, extreme heat is dangerous, and when you feel the sheer oppression of it closing around you, or the faintness brought on by the slightest over-exertion (like wrestling the bikes against the loose road with shoulders, legs, and body, and even the thought of having to pick them up), you become aware of how tenuous your existence could be in such conditions.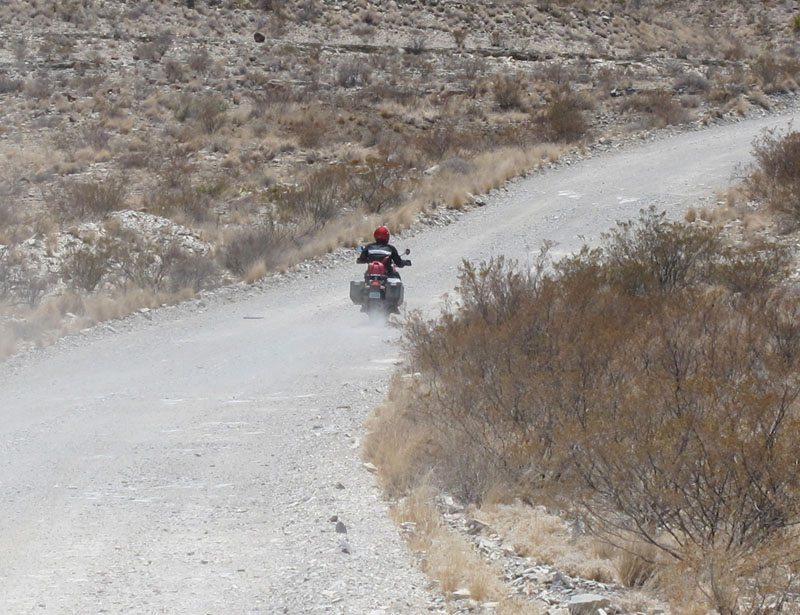 By way of illustration, if I'm in Quebec in winter and the temperature falls below about -15°C (5°F), I don't go out snowshoeing or cross-country skiing alone. An injury from one of my frequent falls, or even a broken binding or ski tip, would likely be the end. The situation for Michael and me in this desolate place, in such intolerable heat, was similar. We had plenty of gas and water, yet remained only one mishap or misstep away from the edge of survival. We hadn't seen one other vehicle, or building, along that lonely road. If either of us had a mechanical problem, or fell and hurt himself, we would both be stranded.
Perhaps we'd be able to summon help, maybe from the satellite phone (though it never seems to work when we need it most), but if not, the other would have to ride for rescue. I had experienced that kind of desperate situation before, in the Sahara, when Brutus's clutch had failed "way out there," mired in deep sand, where we had also lost the supposed "road." As I headed back alone toward Douz, Tunisia, hoping to arrange for a truck to rescue Brutus and his bike, I was sliding in the sand, trying to stay upright and keep moving, and nervously watching the bike's temperature gauge rise ever higher, toward the red zone. Tense and terrified, I believed that if anything happened to me or my bike then, both of us were going to die.
That story eventually had a happy ending, but in this case, I was not over-exaggerating the situation - not "catastrophizing," like I know I sometimes do. On the National Park Service website for Big Bend, there's a section called, "How NOT to die in the desert." One caution reads, "This environment is not forgiving; hikers have died here after going just a few hours without water." Then it lists a few daunting cautionary tales from past years, grim accounts of lost or stranded people dying from heat and thirst.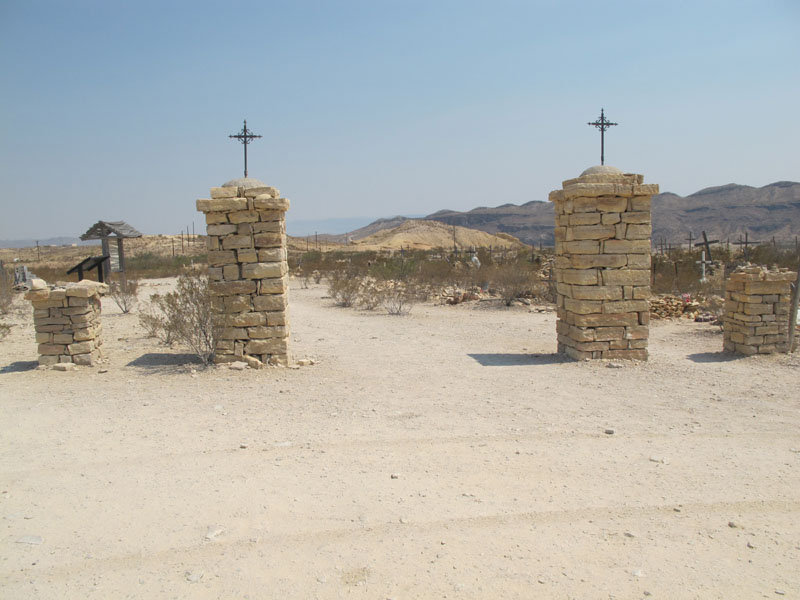 Terlingua Cemetery, 112°
That would be, without question, a hell of a way to die.
Still, that day in Big Bend may have been the hottest for Michael and me, and thus the most dangerous, but it was only one of a series of days that saw temperatures over 100 degrees. Two days in Arizona, for example, topped out at 110. (My original plan to escape to the cooler mountains had been ruled out by the record forest fires raging along the Arizona-New Mexico line - talk about "extreme heat").
Bottom line - we broiled in Arizona, too. And Nevada, where Vegas also hit 110 degrees.
Earlier that month, we also encountered high temperatures in the Southeastern U.S., amplified by extreme humidity. Our first ride started at a truck stop in Montgomery, Alabama, then led us through Selma. When I was designing that route the day before, looking over the map for possible "areas of interest," I remembered newspaper photographs and television stories about Alabama from my youth in the early '60s. And a number-one song from 1965, "Eve of Destruction," with these lines:
Think of all the hate there is in Red China
Then take a look around to Selma, Alabama
Ah, so many stories. Just about that song­, from the summer before I turned thirteen - written by nineteen-year-old P. F. Sloan, recorded by Barry McGuire as a weary, late-night "guide track" that became the master, and the drummer - Hal Blaine, ubiquitous in those days, on records by everybody from the Beach Boys to the Byrds to Simon and Garfunkel.
I started taking drum lessons that fall, on my thirteenth birthday, and after school I would play along with the radio - often to Hal Blaine's drumming, though I didn't know it. Another drummer of my generation expressed his disillusion when he learned, "My six favorite drummers were all Hal Blaine!"
When "Eve of Destruction" made number one on the charts, an "answer song," "Dawn of Correction," was hastily released, with an optimistic, pro-American dialectic. One of its composers, John Madara, later dated proto-starlet Joey Heatherton, and accompanied her on a Bob Hope tour to Vietnam. After seeing what American soldiers were going through, he felt "a little uncomfortable about those lyrics."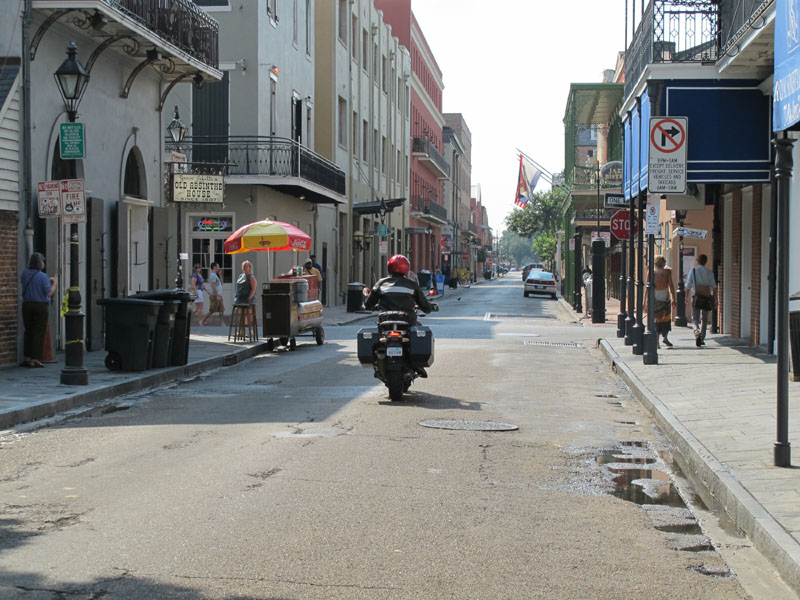 French Quarter, New Orleans
Anyway, with those stories and songs in my head, I titled that day's ride the "Civil Rights Tour" - always glad to include a little history along the way - as we meandered our way through the Deep South on our way to New Orleans.
That shameful time of upheaval and violence proved to be fascinating to reflect upon, and deserves to be remembered. Segregation was apartheid, and the vote was denied to the African-American citizens by both political maneuvering and bullying.
Montgomery is the capital of Alabama, and its part in the story came early, in 1955. In December of that year, an African-American woman named Rosa Parks was arrested for refusing to give up her seat for a white person. (Today there is a section of Interstate 10 in Los Angeles named after Rosa Parks.)
A year later, in December 1956, the Supreme Court declared segregated buses to be unconstitutional. That was the beginning of an historical "correction" of sweeping effect, but even a full decade later, the racist environment was little improved.
On March 7, 1965, a march was planned from Selma to Montgomery - a day that became known to history as "Bloody Sunday." State and local police attacked the 600 marchers with billy clubs and tear gas. A second march was planned for a few days later, but injunctions were levied, and more violence was threatened, so when Martin Luther King was confronted by a wall of "peace officers" on Edmund Pettis Bridge, outside Selma, he prudently declared that day to be a "ceremonial" march. He turned his people around - a courageous and wise choice, avoiding violence while continuing to fight.
There are many dramatic levels in that story - the white supporters from the North who were brutalized or killed, the Jewish rabbis in the "front line" of those marches, and the strict adherence the protestors paid to legal strictures, which allowed them ultimately to triumph.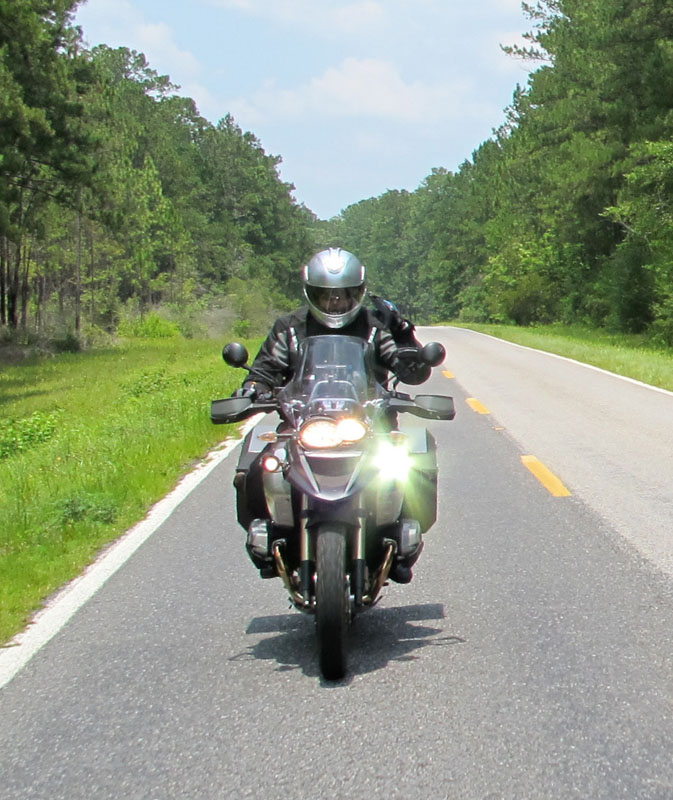 Way down south
The simple result was that on March 21, a five-day march finally reached the Capitol building in Montgomery - though protected by 2,000 soldiers, 1,900 members of the Alabama National Guard (under Federal authority), and uncounted FBI agents and federal marshals.
So as Michael and I rode between Montgomery and Selma, I was considering all of that, and my mental radio couldn't help but play Lynyrd Skynyrd's "Sweet Home Alabama," a title that now emblazons the state's license plates.
As one who regularly travels in all of the American states, filtering through traffic and looking at the different plates for many miles, I tend to notice their slogans. I used to like Pennsylvania's, for example: "You've Got a Friend in Pennsylvania." Then they changed it to a dreary web address. Same with Indiana, who used to have "Amber Waves of Grain" and "The Crossroads of America," but now offer a dot.com. Bah.
Alabama's license-plate slogan was once "Stars Fell on Alabama," the title of a romantic standard from 1934 by Frank Perkins and Mitchell Parish. Parish's lyrics are said to refer to a meteor shower in 1833, "when the stars fell," but of course they are a metaphor for ... love. Or something like it.
We lived our little drama
We kissed in a field of white
And stars fell on Alabama
Last night
Much is implied by that "stellar metaphor," it seems to me, but it is a nice anthem for the state. No bragging about its skies being uniquely blue, as in "Sweet Home Alabama," and without any defensive bluster - like Skynyrd's attack on fellow Canadian Neil Young, who had dared to criticize the state's racial backwardness in a couple of his songs. This "Sweet Home Alabama" verse speaks for itself:
Well I heard Mister Young sing about her
Well, I heard ol' Neil put her down
Well, I hope Neil Young will remember
A Southern man don't need him around anyhow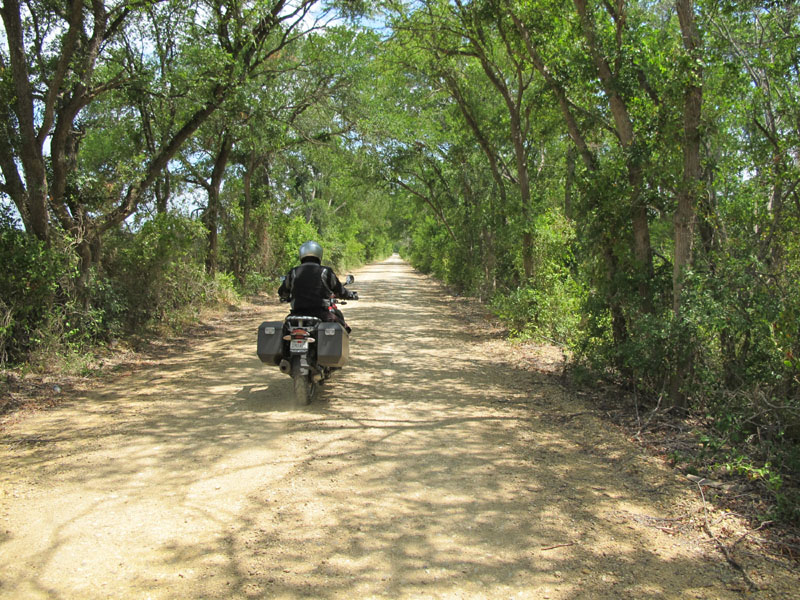 My taste in Classic Southern Rock might favor the more eclectic and nuanced Allman Brothers Band, but I don't presume to criticize a venerable institution like Lynyrd Skynyrd - especially because my good friend Michael Cartellone has been their drummer for many years (funny that his previous band was called Damn Yankees.) But none of the three guys who wrote "Sweet Home Alabama" were even from there, and their producer, Al Kooper (born Alan Kuperschmidt in Brooklyn), couldn't have been too sympathetic to the song's redneck ethos. (Though Kooper's voice appears in the background of the above verse, mimicking Neil Young's "Southern Man.")
But when it came to songs of racial protest, Neil Young's "Alabama" and "Southern Man" could never approach the bitter fury of Nina Simone's "Mississippi Goddam."
Alabama's gotten me so upset
Tennessee made me lose my rest
And everybody knows about Mississippi Goddam
Nina Simone also recorded a song made famous by Billie Holiday, "Strange Fruit." In more recent times, a 1993 live recording by Jeff Buckley (whose early demise was another tragedy) is also unforgettable.
Southern trees bear strange fruit,
Blood on the leaves and blood at the root,
Black body swinging in the Southern breeze,
Strange fruit hanging from the poplar trees.
Another terrible fact that should be remembered forever is that in the early twentieth century, just 100 years ago, an annual average of 100 black men - one every three days - were being tortured and executed by mobs of white Americans. That is a reminder of how far we have come, which echoes the anthem sung by Martin Luther King and his followers, "We Shall Overcome." But it also illustrates how far we had to go - and, perhaps, what a journey is ahead of us yet, before there is justice for all.
Like the stories of William Faulkner or Flannery O'Connor, songs like "Sweet Home Alabama" and "Strange Fruit" are the "text" of the South, old and new. The great American songwriter Johnny Mercer was a Southerner, too, and one verse in his lyrics for "Blues in the Night" defines a certain geography of that region - that "distinct society," in the words coined for Canadians to refer to Quebec.
From Natchez to Mobile
Memphis to St. Joe
Wherever the four winds blow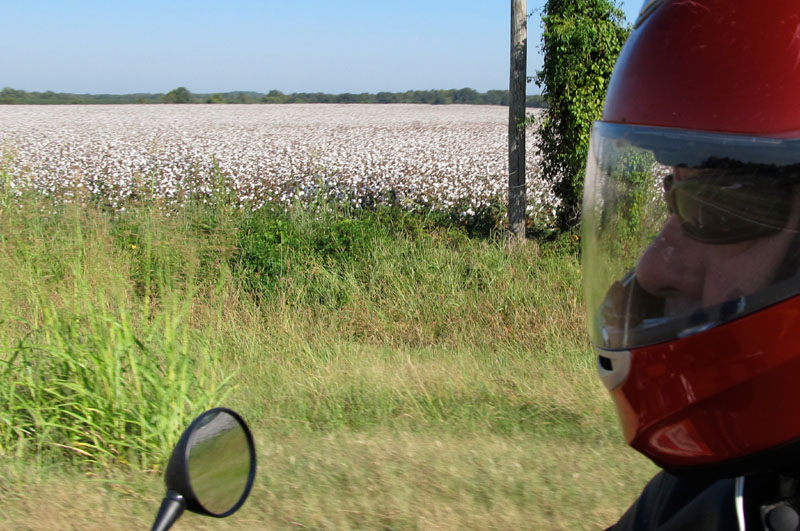 Dem old cotton fields, back home
Interestingly, St. Joe - St. Joseph, Missouri - might have stood for the route out of the South, being the westernmost point reachable by rail until after the Civil War, and thus a metaphor, a synecdoche, for "the West." The other three cities, Natchez, Mobile, and Memphis, basically triangulate the Mississippi Delta. Cotton and sugarcane country. Slave country.
As Michael and I rode across the sweltering farmlands of Alabama, Mississippi, and Louisiana, with all of those associations with civil rights and the racial strife in the "Old South" alive in my mind, I decided that the worst life imaginable must have been that of an African slave in the Mississippi Delta. To imagine the fear and misery of being wrenched from their homes and put into chains, surviving an unimaginably inhumane ocean journey, to end up laboring in the fields all day, every day, in that kind of heat, with no choice, no reward, no freedom, and no hope - it's hard to imagine anything worse. In the past, when I had contemplated the "worst life" scenario, it had seemed to me that being a coal miner must be about the worst life I could imagine.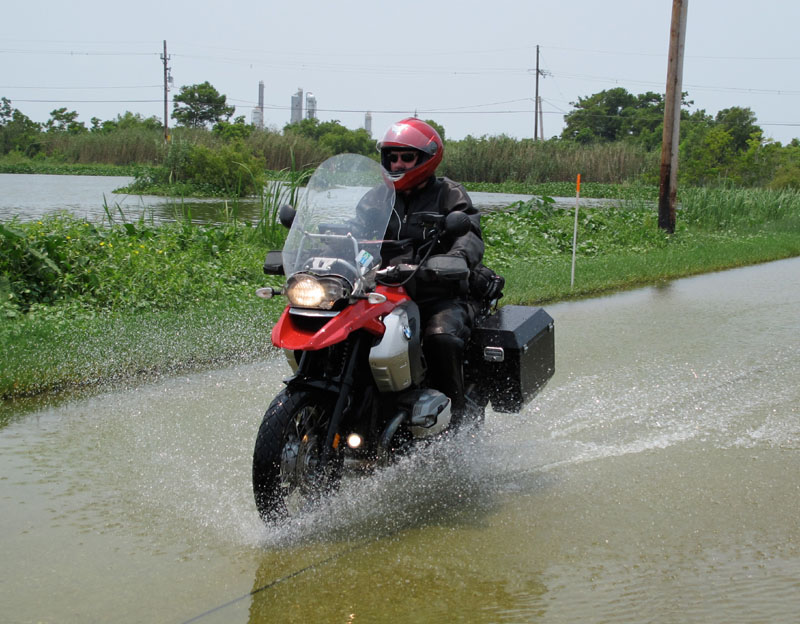 But slavery ...
In cooking, "poached" means cooked in water - and here is a fine example. This image would seem to be about as far as possible from the arid Big Bend photos shown previously, but it was only a few days before, and not that far - southern Louisiana. It was 98 degrees, and with the obvious "humidity" - above, below, and all around me - the sticky swampland air felt like a hot sponge, even more uncomfortable than the baking desert. Riding in from what I called the Civil Rights Tour, Michael and I spent a full day in and around New Orleans, which is rare for us. We usually avoid the big cities except for show days, but New Orleans is worth it, for its uniqueness and charm - and the opportunity to stay in a good hotel, and eat at a fine restaurant.
Also, because we were already in town for the next night's show, I could plan a show-day ride that didn't actually have to go anywhere. Perfect!
The official band itinerary showed the distance from the hotel to the arena as ".9 blocks," but Michael and I managed to ride more than 200 miles between those two points. That might stand as a record for a shunpiker - those who avoid all "direct routes" to anywhere.
Scanning the map the day before, I saw a gray line that ran straight south from New Orleans and ended at a dot called Lafitte, and a memory-bell sounded ("that rings a bell"). Some years ago, in the Smithsonian magazine, I read a fascinating story about the pirate Jean Lafitte. Around the turn of the nineteenth century, Lafitte and his older brother Pierre had a fleet of ships working out of a stronghold called Barataria in the Louisiana bayous. From there they sold smuggled and plundered goods to the merchants of New Orleans - Jean the pirate, Pierre the dealer. During the War of 1812, Jean Lafitte and his Baratarians played a key role for the American side in the Battle of New Orleans against the British, and were pardoned by the American government for their previous crimes.
A dot at the end of a lonely little road, along with a little history like that, was lure enough for this shunpiker. The ride down to Lafitte carried us through typical Louisiana swampland, past trees draped in Spanish moss, across a high bridge over the Intracoastal Waterway, and to the remote shrimp-boat harbor of Lafitte. From there we doubled back a short way and headed farther south - as far down the Mississippi as the road would carry us.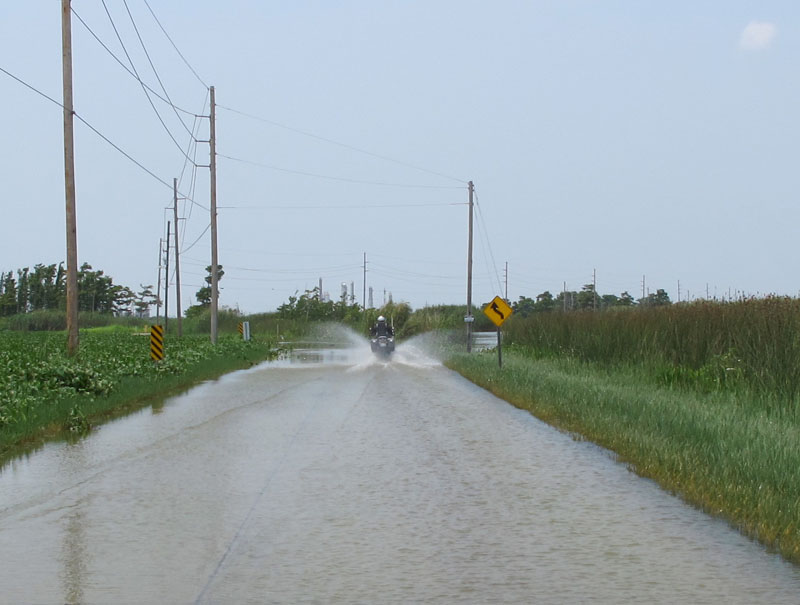 Farther, actually, because long stretches toward the bottom of that road were underwater, as shown above, and below. Anywhere else in the country, such roadways would have been classed as "flooded," and closed - but here, it just seemed to be accepted as normal.
Cars and trucks passed, pushing up bow waves and leaving wakes - just as we did - to and from the harbors for shrimp boats (inspiring quotations from Forrest Gump from Michael) and oil-rig outfitters. We saw many scary-looking industrial plants, like the one in the background of the earlier photo of me splashing along the road. Chemical and petroleum refineries seem to line the banks of the Mississippi all the way down from at least Missouri.
We also saw many relics from Hurricane Katrina, even more than five years later: prefab buildings erected beside the bare foundations of where a home had stood, and even a few standing ruins of larger buildings, their second-floor windows smashed and filled with debris. Another American tragedy.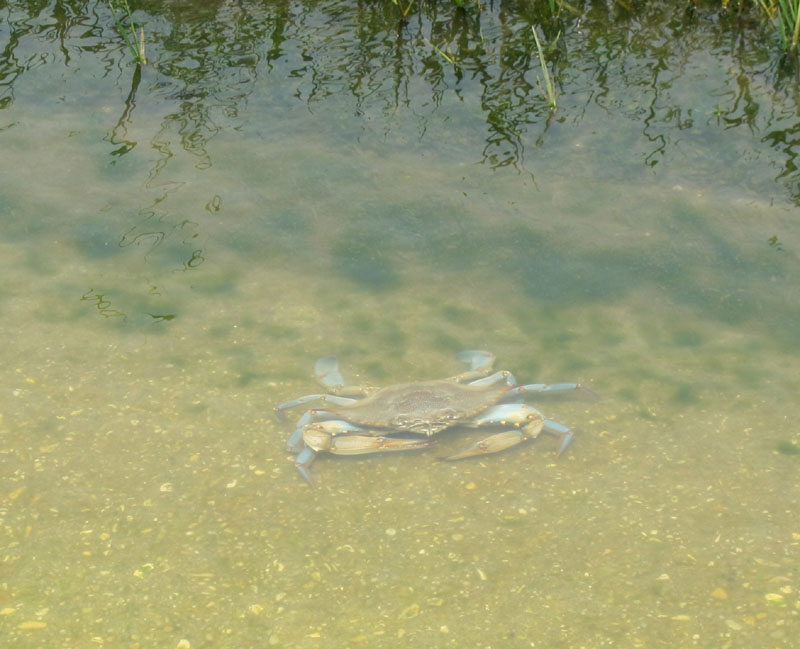 When I stopped to take the above photo of Michael's impressive fountain of spray, I put my boots down through the water to the road, and straddled my motorcycle. As I toed the shifter into neutral and grabbed the camera from my tankbag, I happened to look down, and was amazed to see a dinner-plate-sized crab scuttling by. I just stopped and stared, in surprise and delight, while the crab paused beside me, as if to hold his ground, and gave me a baleful look. I learned later that he was a male blue crab, called a "Jimmy" (young females are "Sallys," and older females "Sooks") - but at that moment, the germane fact was that the "territory" Jimmy was so ready to defend was the surface of the road.
The dark green algae around him is convincing evidence that those stretches of road are flooded frequently, maybe always, and that algae was also very slippery under our wheels. In deeper stretches, the "bow wave" was strong enough to sweep my feet right off the pegs, while it splashed high over my windscreen and helmet.
That was ... interesting ... but we were glad to get back to drier roads, heading north again to catch a ferry across the Mississippi, then returning to the city on the other bank, catching a second ferry back into New Orleans.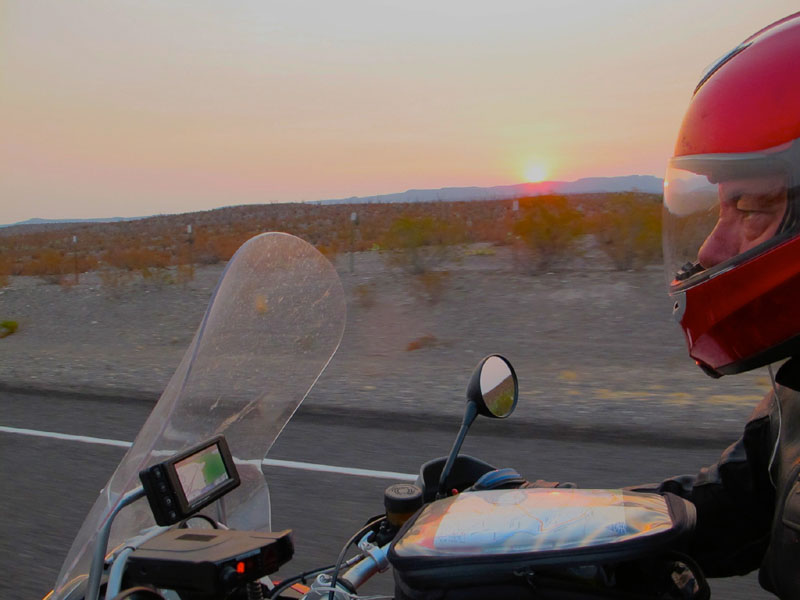 There we had the hottest moment we, or our motorcycles, had ever experienced. Traffic on the bridge over the Mississippi into the city was at a near standstill, and as we straddled the bikes in that 98-degree sponge, surrounded by waves of engine heat, exhaust fumes, and tortured metal, both of our instrument panels started flashing a red warning light, for "overheating." We knew just how they felt ...
After a few days of that kind of swelter, Michael and I began riding out earlier, to put in some miles when it was cooler. Though that was relative - the above photo was taken a few days later, riding out of Lajitas, Texas (another echo of Traveling Music, in 2003), near Big Bend. It was around 6:00 a.m., and the temperature was already in the 80s.
(My original route for that morning had included another long stretch of gravel, but after the previous day's sufferings, Michael said, "You're not doing that again." I snorted huffily and pretended to resist, then agreed, "Hmpf - I'm not doing that again.")
After a glorious, roller-coaster ride along the river in the predawn twilight, and breakfast in Marfa (I was sad to see that the place where I stopped in 2003, Mike's Place, was gone), by the time we reached El Paso just after noon, it was 107 scorching degrees.
The haze along the horizon and around the rising sun in this photo tells another story - about the forest fires devouring huge areas of Arizona. As we loaded the bikes that mid-June morning, my nostrils picked up the unmistakable smell of burning forest - from almost 500 miles northwest of us. Normally Big Bend country, like Death Valley or Grand Canyon, has air so supernaturally clear that you can see the folds in mountains and canyons from many miles away, but all over the Southwest we would notice that smoke fuzzing the skies.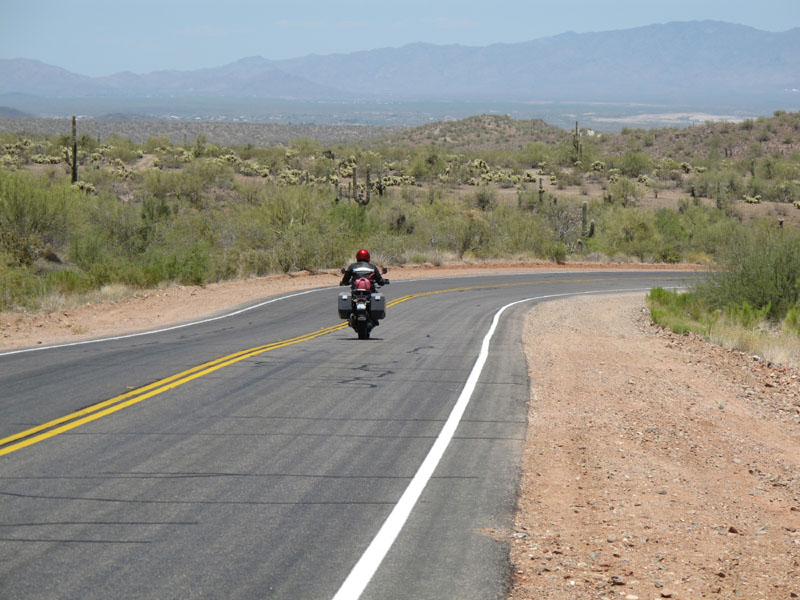 After El Paso, when Michael and I were headed up toward a show in Phoenix, I had hoped to route us into the mountains of Eastern Arizona, up that amazing Highway 191, and maybe stay the night in Show Low - but now that area was smack in the middle of a record-breaking forest fire.
So instead we rode southwest from a truck stop in Casa Grande, Arizona, through the hot cactus desert (110 degrees) of the Tohono O'odham reservation. We were near the Mexican border again, and on the lonely backroads we traveled, we encountered a staggering number of Border Patrol vehicles, blazing by in their green and white paint. There was also an equally staggering number of roadside shrines - crosses of wood or metal, with colored glass candle holders and plastic flowers - like I had often seen in Mexico. At first I thought they were for victims of auto accidents, as usual, but I soon saw that there were just too many of those shrines, along straight stretches of road, and sometimes they seemed to commemorate entire families.
They were, I realized, memorials for people who had died trying to cross the desert to a new life in the United States. Sometimes groups of them were betrayed and stranded by their supposed guides, the "coyotes," to die in horrible ways. Sure, they were illegal aliens, or would-be undocumented workers, as you prefer, but - what to do? The great Western writer Edward Abbey's suggestion was to catch them, give them guns and ammunition, and send them back to fix the things that made them leave.
But Edward Abbey was a conservative pragmatist, and I am a bleeding-heart libertarian - who also happens to be fond of Latin-Americans (if that isn't "reverse racism"). The "libertarian" in me thinks people should be able to go where they want to go, and the "bleeding heart" doesn't want them to suffer needlessly. In any case, such wrenching stories are surely part of another ongoing American tragedy. At one of our roadside stops, Michael mentioned that a large part of the Border Patrol's duties was actually saving people like that, and I knew that was true.
But I still didn't like their quasi-military presence everywhere, and I sure didn't like their omnipotence - stopping our bus and searching it whenever they felt like it, for example. Under the Department of Homeland Security, they had too much power. I always think of a scene in Derek Lundy's Borderlands, when he described riding his motorcycle in Texas, in Big Bend country, near the Mexican border. He was stopped by the green-and-whites, and his motorcycle's luggage was thoroughly searched - with no "probable cause" whatsoever. When they let him go, he reported, "I got my constitutionally-violated ass out of there."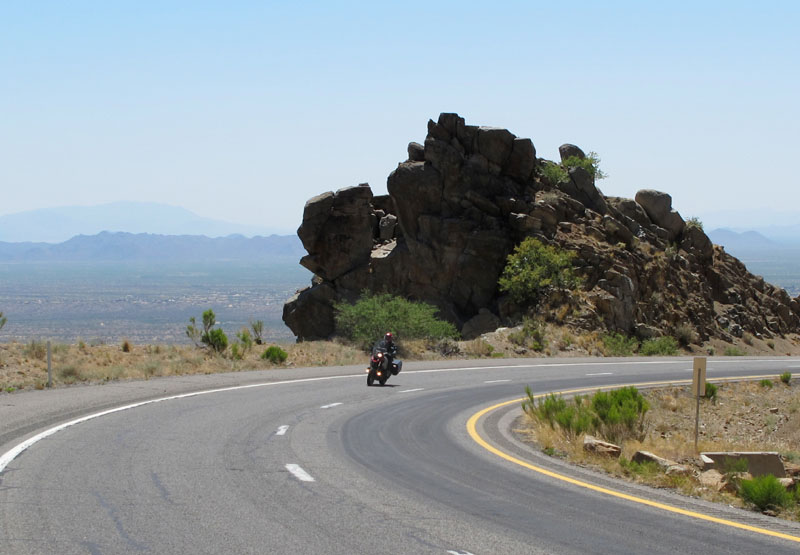 Michael and I followed an enjoyable, deserted two-lane blacktop north through the Vulture Mountains (great name for that deadly environment). Circling east, we climbed higher, into the Bradshaw Mountains, to Prescott (5,400 feet) for the night. As we followed the winding road upward in long sweeping bends, I watched the digital thermometer on my motorcycle fall, one or two degrees at a time, all the way down to a relatively cool 96 degrees.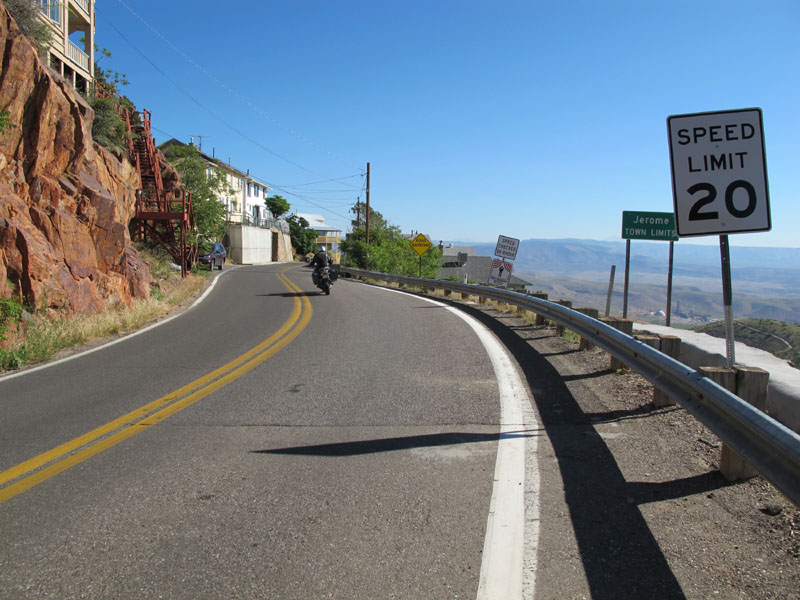 And you know - it did feel much better!
The following day led us down through the quirky little town of Jerome, Arizona, perched on the edge of a cliff. Nowadays it is a "ghost town for tourists," with only a few hundred inhabitants, but it is also somewhat of an artists' retreat. And like many little places I encounter, Jerome has a rich and colorful history. Little-known places like Jerome (though among "famous residents," they list Maynard James Keenan from the band Tool) always tempt me to dash off on another tangent about their amazing histories - but I try to leave interested readers with a hint of where the stories lay, and let them explore on their own if they wish. (Sounds like a good recipe for education!)
Three fun facts about Jerome:
1) In 1903, a New York newspaper dubbed Jerome "the wickedest town in the West."
2) The town was named after a New York financier who never visited the place, just invested in the mines - which brought in billions in copper, gold, and silver ore for seventy years.
3) In the early twentieth century, the miners were infiltrated by union organizers from the IWW (International Workers of the World, or the "Wobblies"). The "communist agitators" were rounded up, roughed up, shoved into railroad cattlecars, and dumped in Kingman - under threat of death if they returned. It became known in labor history as the "Jerome Deportation."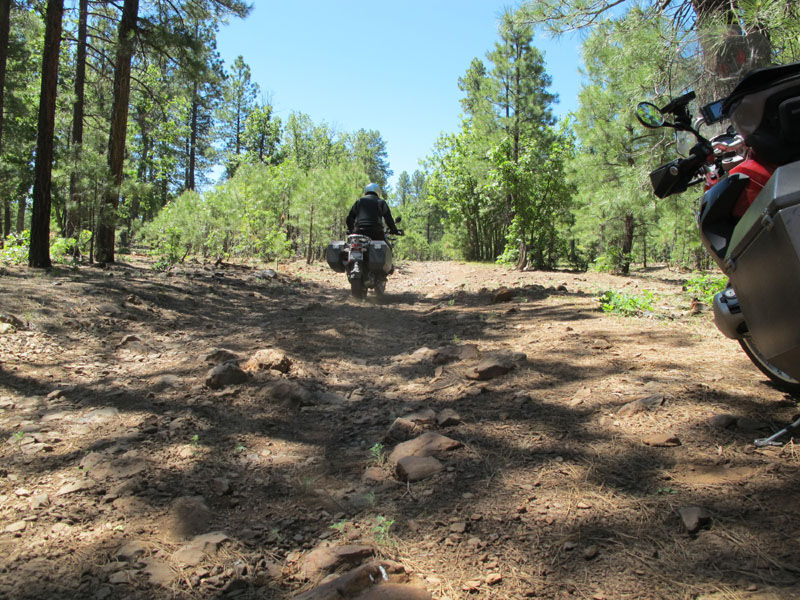 From Jerome, Michael and I struck off along a remote National Forest road in the pinewoods (well west of the fires), and got our daily dose of off-pavement exploring.
Lately Michael and I have adopted the method Brutus and I used in Europe to get our riding photographs. Because both of us had cameras, one would ride by while the other photographed, then keep riding on while watching for another good background, where he would stop to shoot a few of the following rider. "Leapfrog photography," we called it. It also happened that the camera Brutus had - a Panasonic Lumix with a Leica lens - took particularly good pictures in dim light. That had been well proven in England, and after I bought the same camera for Michael, we would notice the same effect in the similarly gloomy light of the Pacific Northwest. With both of us taking photographs, we could collect plenty of them without taking too much time from the day's journey.
That day we got a double dose of off-pavement riding, as we worked our way southeast to the Apache Trail. We had ridden that road a few years before with this site's Master of All Things Creative, Greg Russell, and it might stand as a paragon for our kind of motorcycling. A little over twenty miles of gravel, decently graded and not too soft, followed by the same distance of twisty pavement, low speed and highly technical, following the Salt River down toward Phoenix.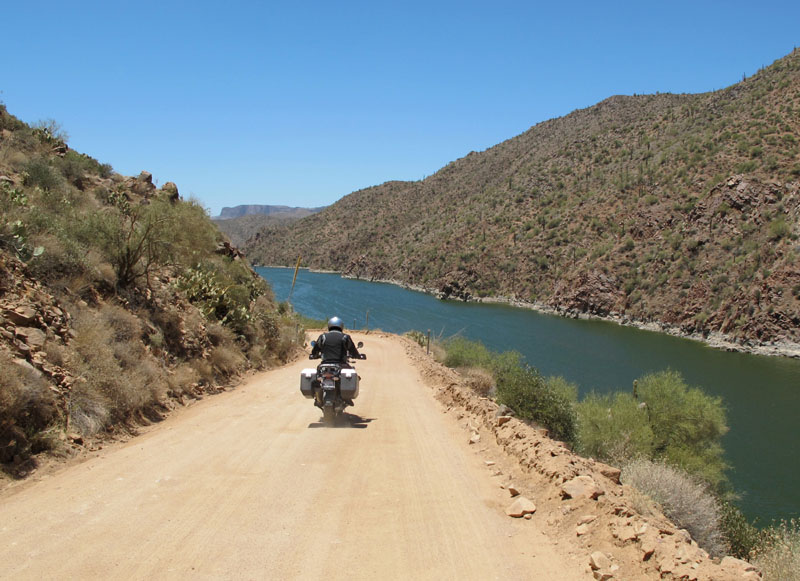 It was almost enough to let you forget that it was 107 degrees all around you.
But you couldn't ignore that harsh reality.
During a series of shows in Southern California, I was able to "commute" from home, which was nice. Though I was only "half-home" - still mentally in mid-tour, in mid-flight. But half was better than none.
On the day of the next show, in Vegas on June 24, Michael and I left Los Angeles at 6:00 a.m., hoping that riding out early would help us avoid traffic - but we knew it wouldn't beat the heat. We crossed L.A. on Interstate 10, then cut off to Twentynine Palms and "the scenic route" to Vegas, through the Mojave Desert, with its Joshua trees, creosote, and low, wrinkled brown mountains. By 9:00 a.m., when we hit Old Route 66 and Roy's Motel at Amboy, the temperature had already topped 100 degrees.
What a relief, then, in the days of late June, to climb into the Sierra Mountains of California - the Range of Light. We rode west from Reno across the Ebbetts Pass, at 8,730 feet, surrounded by cool thin air, sweet-smelling pine forests, and lingering banks of snow at the roadside. Like many of the Sierra passes, that road was shown on the map as "Closed in Winter," because of the great amount of snow the area received - averaging over forty feet annually.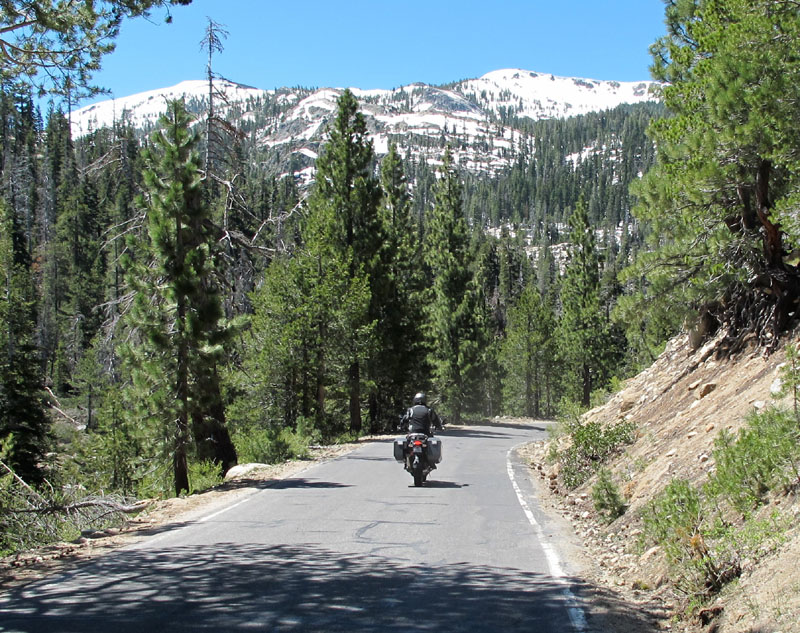 We were comfortable in our riding clothes, breathing fresh and fragrant mountain air (often suddenly chilly from blowing across those snowbanks), and curving our way through spectacular forested scenery below snow-frosted peaks. At such times I often think of an old expression of my dad's, "Now, this is a treat instead of a treatment!"
Still farther north, and still higher up, we would see a lot more snow - several times blocking our way, on National Forest tracks in Oregon and Washington state. As I have pointed out before, in the highest mountains of the West, June is still late winter. Our friend Tom Marinelli joined us in Ashland, Oregon, and we rode together up through central Oregon to Crater Lake.
Like Big Bend and Grand Canyon, the scale of Crater Lake is difficult to register when you stand before it, and even harder to carry away with you. No matter how many times I revisit majestic landscapes like that, I am freshly amazed. At over 6,000 feet of elevation, the lake itself is about five miles in diameter, and nearly two thousand feet deep - one of the deepest lakes in the world. Its water is nearly all snowmelt, and thus it is also one of the clearest lakes in the world.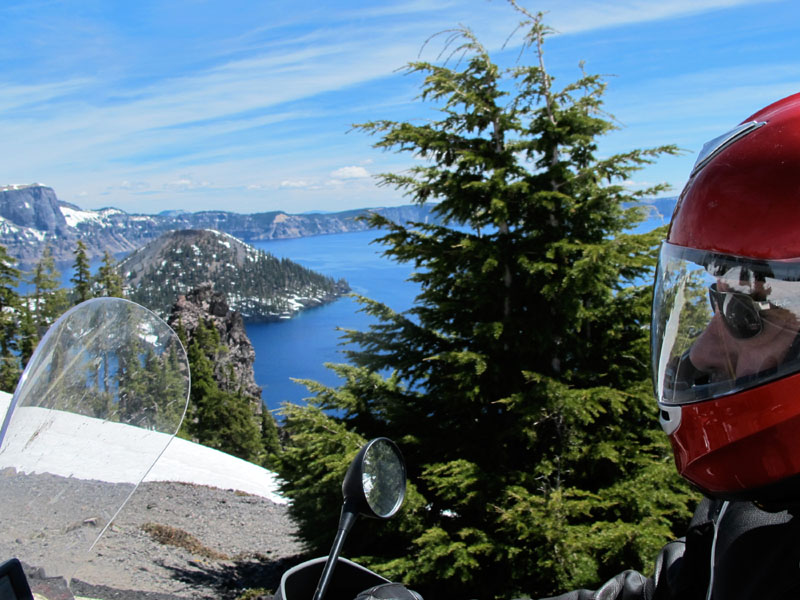 Here is a glimpse of Crater Lake in passing, with Wizard Island (the original volcano's cindercone) to the left.
Michael and I had ridden through Crater Lake National Park the previous summer, in the opposite direction, with Greg Russell. That had been in August, and we had been able to ride all the way around the lake that time. Now it was June, and much of that East Rim Road still lay under the vast snowfields that remained - from the average forty-five feet of snow the area received each winter. Another land of extremes.
(I would like to go snowshoeing there one day - to experience the sensation of walking across a landscape that is four stories below my feet.)
The highway running west of Crater Lake was open, but there was still plenty of snow around. The road was sometimes just a plowed trench between immense white cliffs.
My chosen destination for that night was Bend, Oregon, which I hadn't visited since my Ghost Rider ramblings, back in '98 and '99. Before that, the only thing I knew about Bend was that it was the hometown of a minor character in Jack Kerouac's On the Road. But again, any association - any "memory bell" - is enough to make a destination for me. I had liked the area, and the town - especially the motel, with rooms right beside a swift little river, the most pleasant of night music. So I led us back to the same motel, the Riverhouse, and found it little changed (in a good way!).
Bend is also notable for being on the natural boundary between the Cascade Mountains and the desert they shadow: the Great Basin. I remembered riding east from there into the basin-and-range sagelands of Eastern Oregon and Nevada, treeless and vast, and this time I noticed that as we approached the town from the west, through the forested mountains, sage bushes began to appear under the pines - gradually fading from one vegetation zone into another.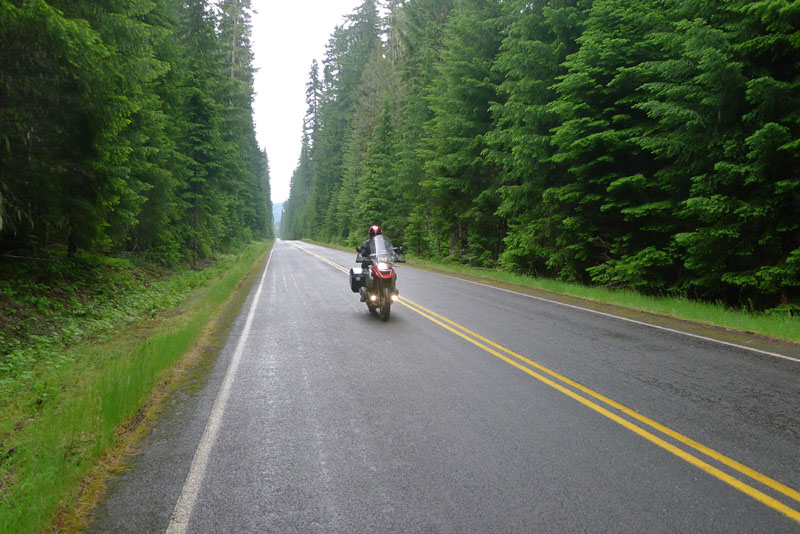 From Bend, Tom, Michael, and I headed northwest, toward the next show near Portland, and now we were in the true Pacific Northwest - high mountains with dense forests of tall evergreens, hooded with cloud and dripping with rain.
Another American tragedy was present there, too - massive areas of ragged clear-cut, sometimes disguised by what are called "scenic corridors" (just enough trees left to frame the highway), or miles of uniform plantations - tree farms - with signs informing you when they were "harvested," and when replanted. They were trees, all right, but it didn't look like a forest.
In the Pacific Northwest, as in Canada's British Columbia to the north, logging was a major industry, and thus a source of many jobs. That's important, no question, and it is one threshold where I part company with organizations like Greenpeace. Speaking with one of their advocates once, I said I would find it hard to shut down any industry, even coal mining, when it would put so many blameless, hard-working people out of a job. The Greenpeace guy said he had no problem with bringing it all down, and he meant it, but ... I'm a bleeding-heart libertarian.
In any case, it's hard for me to get too judgmental about lumbering, because I like things made of wood.
Drums, for example.
Houses.
Books.
But I am glad we have those national parks, at least, to protect some of it for the future - and even for the present. Because I enjoy visiting them now, and in the West, they are often reachable on days off.
After the Portland show, we said goodbye to Tom, and Dave drove Michael and me to a truck stop in Grand Mound, Washington, just south of the state capital, Olympia. We set out in the morning to circle Olympia National Park, passing through Aberdeen, the hometown of Kurt Cobain - another American tragedy. As we waited at a red light, I pointed out a sign with the city's slogan: "Come As You Are," one of Cobain's many great songs - and a clever welcome to visitors.
Michael said Nirvana songs filled his helmet for the rest of that rainy ride.
The weather was the kind that created the temperate rainforest we were passing all morning: rain. The Olympic Peninsula contained the wettest region of the continental states, averaging 135 inches annually, and the landscape around us was a blurry watercolor of dark green and gray. Glimpses into the roadside woods showed lush ferns and moss among the gnarled pillars of the treetrunks.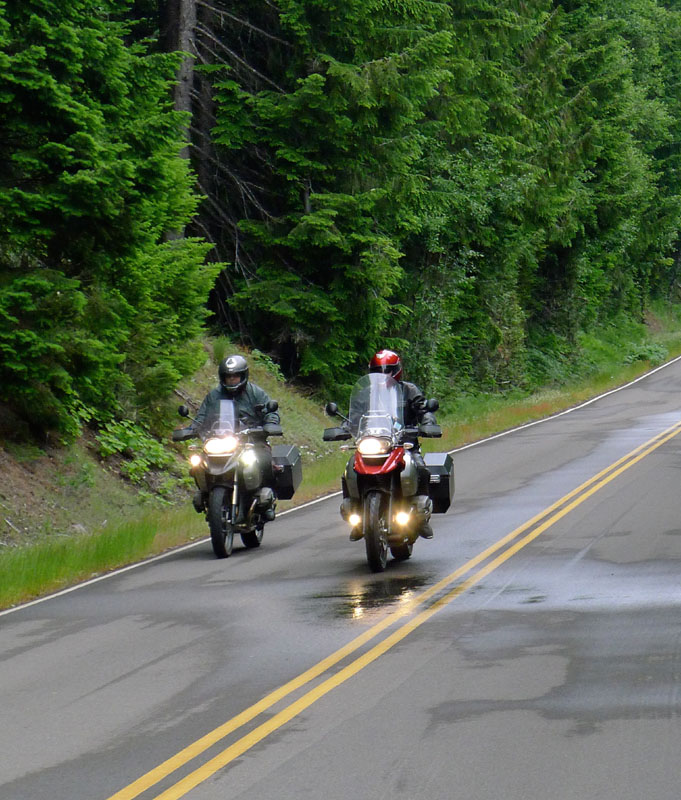 The downpour was constant, with occasional heavier spells, and the air was damp and chilly. We sensed rather than saw some hints of spectacular views to the left - the Pacific - but mostly just concentrated on riding safely, and getting by the slower traffic, especially the huge, double-trailer logging trucks. They threw up a cloud of spray all around that made trying to pass them treacherous. You had to hang a long way back, where you could see past the obscuring mist of their passage, and watch for a long, open stretch where you could make a safe pass.
From Port Angeles, at the north end of the Olympic Peninsula, I picked up my passport stamp at the Olympic National Park Visitor Center, and we crossed to Vancouver Island by ferry. Landing at Victoria, we rode another seventy miles to a second ferry, from Nanaimo to the city of Vancouver.
There we spent a pleasant evening at the home of my brother Danny and his family, feasting on a meal prepared by the third member of our Scooter Trash gang, Brutus. At the arena the next day, the last day of June, Michael and I were also joined by another frequent riding guest, Brian Catterson, editor-in-chief of Motorcyclist magazine.
Usually we take Brian riding in the rain - it has always seemed to work out that way - but this time the weather-gods smiled upon him. And us. With Brian riding my spare bike, after the Vancouver show the three of us rode south from a town in Washington state called Sedro-Woolley (an irresistible name - though it should be noted that the town was originally called "Bug," which hints at another place with history). We curved along the foothills of the Cascades, then higher, toward the night's destination of Mount Rainier National Park.
It was July 1, Canada Day, but we were still in the "freezer," surrounded by vast amounts of snow that remained from the more than seventy feet that fell in that area over a typical winter.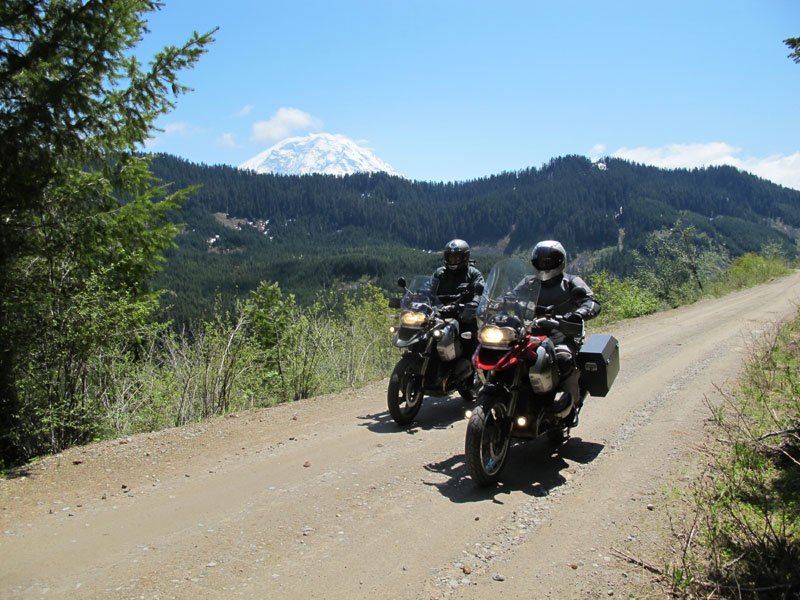 Under bright blue sky and brilliant sun, the scenery was unparalleled - immaculate. Approaching Mount Rainier from the north side, its 14,400-foot dome appeared above the lower forested peaks as if luminous, lit from within, like an illusion created by a special effects generator.
This little gravel road led through a northern section of the national park, and I had seen on the map that it was going to end - one way or another. It turned out to be lingering snowfields on a northern loop around 4,300 feet that turned us back, but no matter - I had drawn that little side trip into the route as "optional," if we had time. The sidetrack turned out to be well worth it, beginning with lunch at the "Historical" Carbonado Saloon, in the tiny village of that name on the northern edge of Mount Rainier National Park. Carbonado, true to its name, was a former coal-mining town - a company town - that once rivaled Tacoma for size, but now has dwindled to a few hundred residents. (Another worthwhile story for interested travelers - or armchair travelers.)
Oh yes - I mentioned that I had "drawn" that dirt road into the route. I chose that word literally, meaning drawn with pen on paper (traditional GPS: "Get a Pen Stupid"). That was because somehow the software maps for our master navigation program, "Mother," had a strange and inexplicable gap in that region. Mother didn't know any of the roads, even major ones, so Michael had been unable to translate my route, highlighted on the map, into data for our on-bike units, Doofus and Dingus.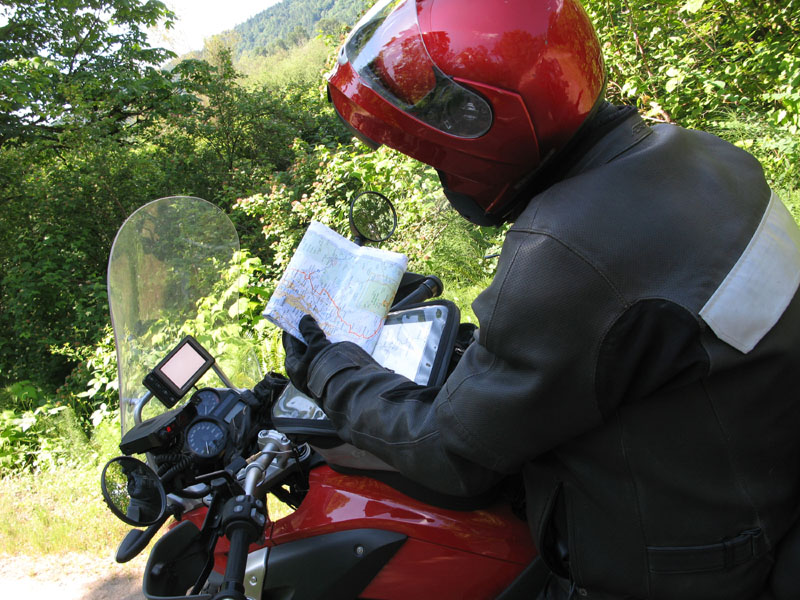 So yours truly had to be Doofus for the next couple of days - the old-school navigational device guiding Michael and Brian across Washington state. I used the paper map for reference occasionally, but mainly followed one I had drawn myself. In the olden days, I had learned to sketch a simplified line-drawing of the day's route, showing only the relevant information of highway numbers, towns at junctions, and other town names that seemed as though they might be useful when I stood at an intersection, wondering which way to turn.
It made me very busy that first day - riding the ride (looking after my own safety and "place on the road"), leading the ride (making sure Michael and Brian always knew what I was going to do, and glancing back from time to time to see that they were always in view), and navigating, too. But it worked out fine. When a doubt appeared in my inner Doofus, I signaled the boys to the side of the road, and had another look at the map.
By late afternoon, we were passing through the gates of Mount Rainier National Park, collecting another passport stamp, and heading for our accommodations at the Paradise Inn. It stood just below the mountain, at 5,400 feet, and was surrounded by high banks of snow - but this time, left behind by almost seventy feet every winter. Photos inside the hotel showed aerial views of the building in midwinter, almost completely buried in snow.
Looking up at Mount Rainier's radiant white dome from the hotel parking lot, Brian remarked, "To think it goes up another nine thousand feet!"
Just before dinner, standing outside with Michael and Brian, I looked at the ten-foot pile of snow beside the lodge, and decided I had to climb it. I traversed my way up the side, as I would on snowshoes, kicking the edges of my shoes in and side-stepping upward. Michael called up "Hey Icechucker!" (his racist name for us Canadians), and I saw a stranger's camera pointed at me, and Brian giving the photographer his card. Neither Brian nor Michael had their cameras, so Brian had asked a friendly tourist to capture this Icechucker Moment.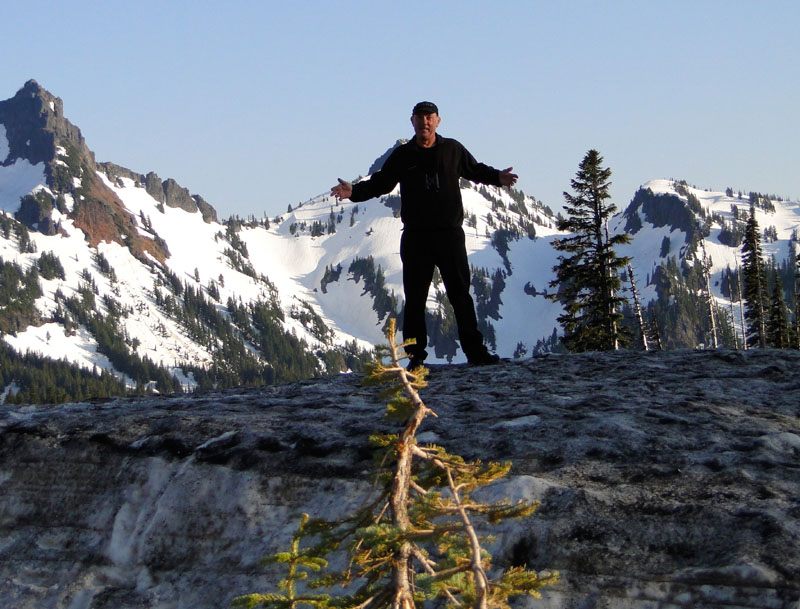 The man turned out to be a Rush fan from Minnesota, on his way, like us, to the next night's show. Yet he felt no need to intrude on my evening in any "fan" way, and later emailed this photo to Brian. (Thanks Patrick - for both of those favors!)
We headed out early the following morning, winding east and down through the rest of the park, then up again and across the White Pass, at 4,500 feet. We descended to the vast rolling grasslands of the Columbia River Valley, with irrigated farms looking well tended and prosperous.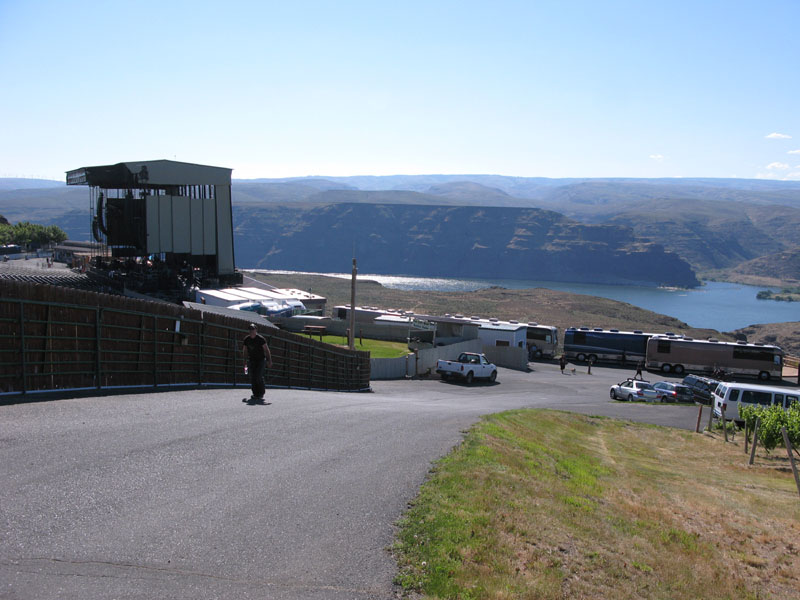 Afternoon Setup
Still navigating by my hand-drawn map, and occasionally asking locals for directions, we found our way to a nice piece of gravel road, in the open sagelands now, then a final stretch of two-lane blacktop, and a few miles of Interstate 90. Our destination was an outdoor amphitheater on the banks of the Columbia called The Gorge - for the final show of the Time Machine tour.
Added to the forty-four shows and more than 23,000 miles of motorcycling from summer 2010, my bandmates and I had now performed a total of eighty-one shows, before almost one million people. With riding partners Michael and Brutus, I had ridden 36,729 motorcycle miles, covering North America, South America, and Europe.
Michael and I were glad to get in early that day to The Gorge, needing to pack up and move off the bus, while Dave (with welcome help from Brian) organized the trailer and loaded my California bike on a pallet, to ride in one of the equipment trucks back to Los Angeles.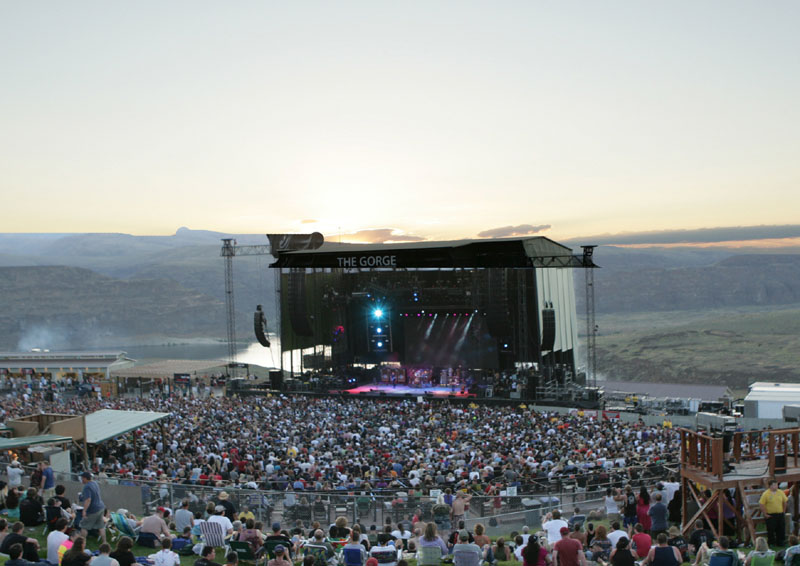 I have written before that one of the things I like about playing outdoors is that I have a better view of the audience - especially in a location like The Gorge, where the crystalline twilight lingered into the beginning of the second set.
Just this year, the band instituted a new policy where we don't start a show until at least ninety per cent of the ticket-buyers are in the venue. We knew that in the past some people missed the beginning of the show through no fault of their own - gridlock traffic, crowded entryways - and we didn't think that was fair. With computerized ticket-takers these days, the arrivals are easy to calculate, and most nights, a half-hour or so before the scheduled show-time, the announcement came over the crew's radios: "Ten minute hold." Then sometimes a later one, "Add another five." We never held longer than fifteen minutes - considering all of the people who had made it to the venue on time, not wanting to make them wait, plus there were union and building curfews to consider.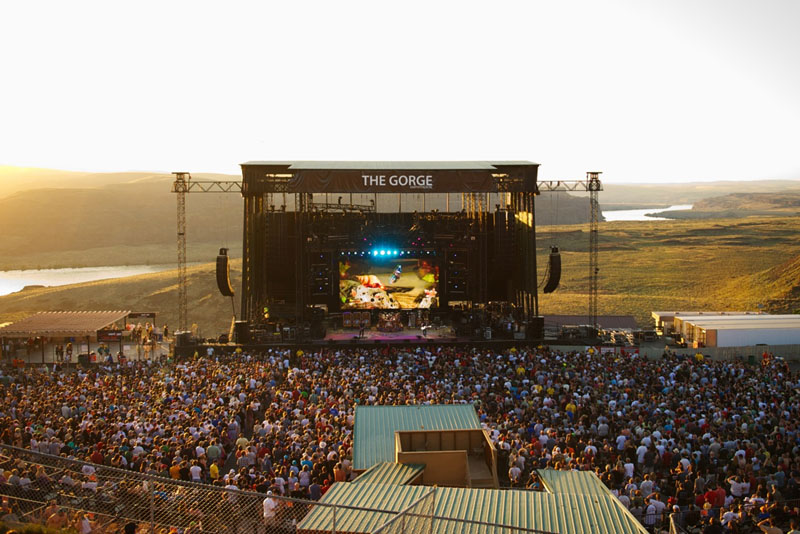 Some nights the Powers-That-Be - production manager C.B. and tour manager Liam - would even cut five minutes from the intermission, and we didn't like that. As in one variation of Geddy's announcement at the end of the first set, "We have to take a break ... because we're about a hundred! Don't go away!"
Even people who don't like our band have to appreciate our audiences. They simply enjoy themselves so much that it's contagious! Some sing along with every word; some play air drums or guitar; most just smile and rock along with us. It's a wonderful thing to witness, especially from my vantage point.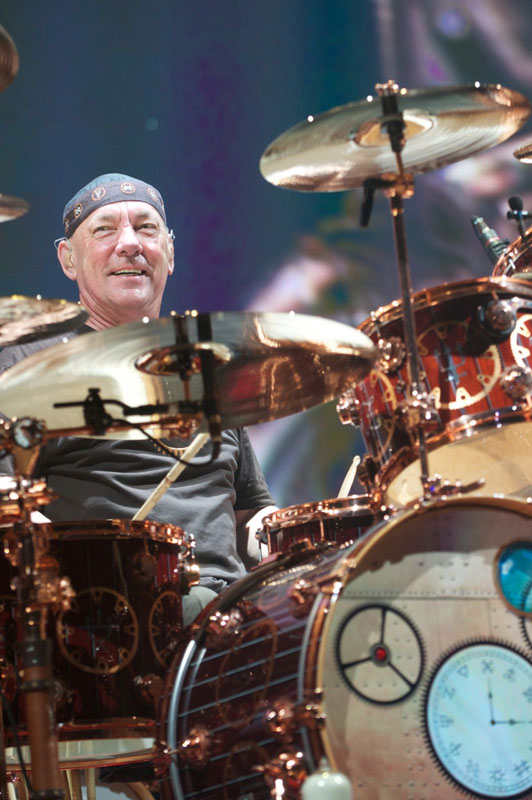 Not that it makes my job any easier - quite the opposite. I feel I have to live up to that level of devotion, so I drive myself all the harder. The touring stories I write during the breaks tend to have much more to say about the journeys than the shows, because the basic "story" of the show is pretty much the same: soundcheck at 5:00, warmup thirty minutes before showtime, then go up there and try my best to reach my inner standard of "acceptable" (never higher than "good") - and either succeed or don't. That's the only variation to what is essentially the same story, eighty-one times.
A smiling moment like this is rare for me onstage, and is usually directed at Alex's antics, or crew members Anson and Doug's appearances in the gorilla and chicken costumes (had to be there). Mostly, I know, I manifest the "grim determination" it takes for me to do that job.
But it is true that when I am on a concert tour, if I'm not happy on the drums, then I'm not happy anywhere. That is a deep observation. And it also helps to illustrate why a guy like Lorne (Gump) Wheaton is so important to me. Every day, without fail or flaw, Gump sets up, tunes, and maintains those drums just perfectly. He is able to feel how each part of the complicated drumset should relate to the player, so my workspace is always comfortable. Nothing naggingly a little out of whack.
When there is an equipment failure during the show - a broken tom head, loose snare mount - we choreograph the change almost automatically. I pick the break between songs when it's possible, step down off the riser and out of the way, while Gump and Anson from the sound crew make the trade. Usually nobody else will even know anything happened.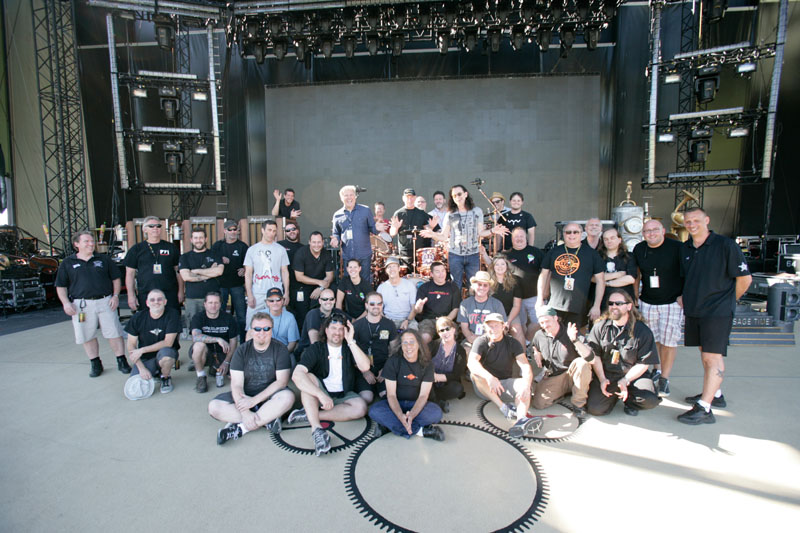 As many crew members as we could round up that afternoon
These are some of the almost fifty people who deliver the show and put it all together every day. Drivers, riggers, band crew, lighting crew, sound crew, video and effects, security, nutrition - all that and so much more.
I try to show my special appreciation, daily and "annually," to "my guys" on the crew, like Gump, who look after my personal world so well. Road manager Donovan seems to have a limitless, nearly miraculous stock of every specific traveling need I might have - whether it's Macallan, Mitchum, or a Montblanc refill. Bus driver Dave goes way beyond that job description in taking care of bus housekeeping, motorcycle parts, supplies, and tools, service appointments, even restoring my fifteen-year-old motorcycle trailer on his own time last year.
Something Dave said to me at the end of one tour I will never forget: "You're the only artist I've ever driven that I feel I work with instead of for."
That meant a lot to me, and it's the way I want things to be.
Like a remark I once made to Michael, in response to some profane and insulting tirade, "I love that you feel you can talk to me that way - but I really wish you wouldn't."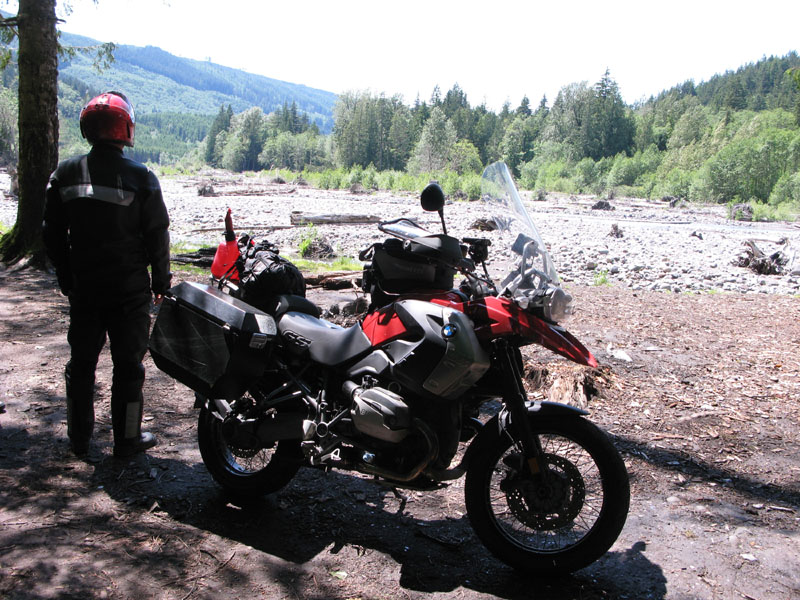 A Reflective Moment
He likes to quote that to others, and thinks it's hilarious - in light of him enduring my abuse and slanderous banter while I drag him through frying pans and freezers. Or Brutus, following me through Brazilian rainforests and along Welsh cowpaths - designing adventurous routes and fantastic destinations, just so he can follow me around to them.
Thousands of people stand in front of the three of us when we're onstage - but a lot of important people stand behind us, too, a network that's almost immeasurable. And ... let's not forget the ones who stand behind us at home.
That can be the loneliest and least-appreciated place of all - at least by outsiders. After I was home for a day off after the Phoenix show, then had to leave the next afternoon for a show in San Diego, little Olivia, almost two now, woke up from her nap and went running down the hall toward my office, saying, "Go see Daddy!" When she was told, "Daddy's gone to work again," she burst into tears. Hearing about that made me feel very bad. As I've written before, I can stand missing her, but I can't stand her missing me.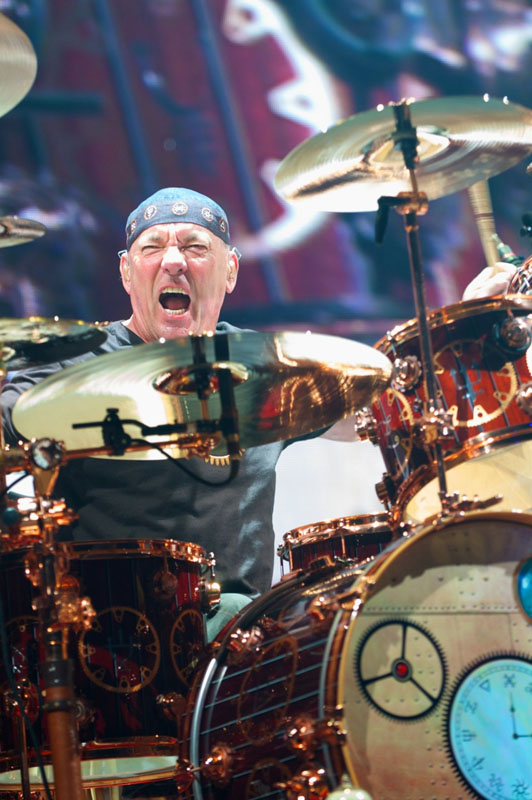 Roaring at Alex
However, on the "happy side" of that equation, an audience of more than 13,000 people attended the final show of our Time Machine Tour, on July 2, 2011. Most of them had traveled a considerable distance - The Gorge is a long way from anywhere (the nearest town, humorously, is George, Washington). But we too had traveled a long way to get to that stage. And despite how many shows we had played, our weariness, and our sheer age, we managed to pull off a magic show that night.
We could feel it in our ensemble playing, tight and energetic, but these days an exceptional night is often apparent in our improvised sections - Geddy on his bass in the outro of "Leave That Thing Alone," Alex in the frenetic solo section of "Working Man," and for me, the first half of my solo. When the three of us are at the top of our individual games, we are able to elevate the whole to a sublime synergy.
At the end of the show, as we bowed and waved and Geddy thanked the audience for being so great, at that show and so many others, I heard him drop the f-bomb - for the first time in history. After saying, "It has been great," he repeated that phrase and added that emphatic modifier. It was definitely a case of "when no other word would do" - to express how successful the tour had been, how much it meant to us, and how much we appreciated the people who had made it great.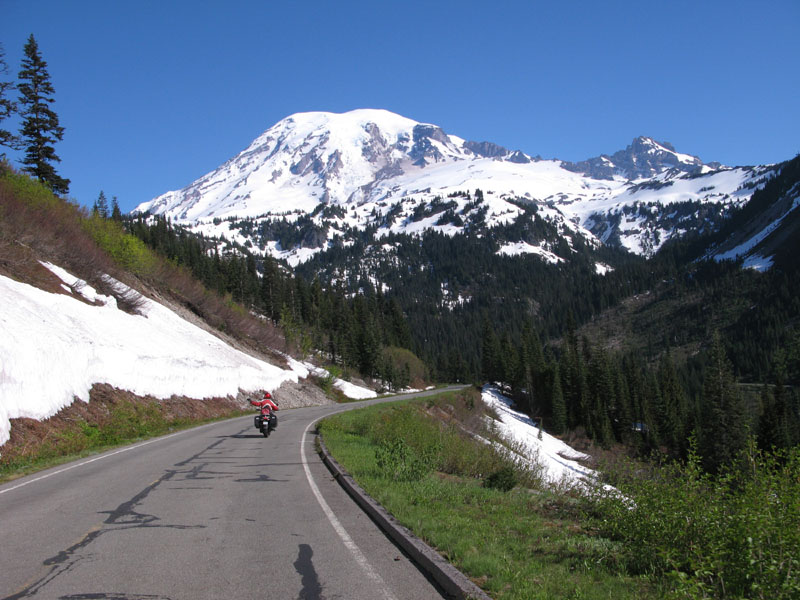 In that moment, the three of us knew that at last we would be stepping away from the "frying pan" of live performance (the crucible) for a while, and would have some time off to chill: "the freezer."
And what a great way to mark that transition.
Sometimes things are so perfectly right that you can't help but get carried away in the moment ...