Welcome To The High Tech World Of Steampunk
By Michael A. Beck, Mobile Production Monthly, Volume 4, Issue 7, September 2011, transcribed by pwrwindows
---
Since the very beginning of their existence, Rush have been known for their precise and complicated compositions. Prior to seeing the band live it was impossible to understand how they could pull that sound off live with the same energy and accuracy as the recordings. After seeing their show one comes away marveling at the amount of sound that flies off the stage from just three players.
"It's about as much noise as three guys can make," said FOH Engineer Brad Madix. "And, by the way, none of it is playback. With the exceptions of a few samples that are being triggered, they're doing it all. There are no tracks being played. We tried that once and the guys hated it. There was a video track of someone talking during the song and they had to play along with it and they never did it again. They don't do any click track or anything. They despise all that stuff."
Because of the number of samples that sometimes have to play simultaneously and the roughly 36 inputs on the drum kit alone, the number of inputs totals out to about 70+. According to Madix it's impossible to make this show happen with anything less. "I'm the type of person who tries to scale back on inputs, but when you need one, you need one," he explained. "It's a big giant drum kit and this is live. They have to be close-miced and you have to mic things top and bottom, three mics on the snare and two mics on the kick and it all adds up. You can only make this a 72, 74 input band. That's as small as it gets. I can't remember a time when it was just a lot."
Despite the high input-to-band-member-ratio the need for an extremely precise mix is paramount for reasons you might expect, not the least of which being a very sophisticated fan base that has come to anticipate a high level of performance from more than just the three guys on stage. Madix described some of the feedback offered by the faithful followers, "I did an entire tour with Shakira and never once had a comment from the fans about the mix. But I've had people come up to me at Rush shows and angrily tell me that I'm using too much multi-ban compressor on the high end. I thought, 'you're kidding! How do you even know what that is?' I had one guy come and tell me that I put one of the floor tom mics in the wrong place and what killed me was the fact that he was right."
As high as the standards of the GP are, the level of expectation of the band is much higher. However, they are fair-minded about the odd bad night. "It happens," Madix confesses,"but I've never been chewed out by the band or their managers. It's always been a pat on the back and an encouraging word of, 'Hang in there. We'll get it next time.'"
Conversely, the band is highly vested in working on making Madix's job as easy as it can be. He tells of the time in rehearsal when after the band played Geddy Lee popped in and started talking about the bass sound as they do every couple years. "The last set of rehearsals when this happened I took him to the console and showed him five bass sliders and what they were doing. I soloed them up and he sat in the chair and I said 'put it where you want it.'" At the heart of the audio element lies the quality of the players on stage, "It helps that these guys are really good. No matter what amount of technology you have or how much talent you have, you can polish a turd all day long and in the end all you really have is shiny turd. These guys are really good."
The visual imagery of the show is based upon the subcultural fashion of Steampunk. According to Wikipedia Steampunk is a sub-genre of science fiction, fantasy, alternate history, and speculative fiction that came into prominence during the 1980s and early 1990s. Steampunk involves a setting wherein steam power is still widely used - usually in the Victorian era Britain - and incorporates elements of either science fiction or fantasy. Works of Steampunk often feature anachronistic technology or futuristic innovations as Victorians may have envisioned them; based on a Victorian perspective on fashion, culture, architectural style, art, etc. This technology may include such fictional machines as those found in the works of H. G. Wells and Jules Verne.
Throughout the show the Steampunk influence was the dominant visual element with one exception, which was the opening video segment featuring the band members. The clip takes place in 1923 in a diner owned by a cook played by Geddy Lee who is gabbing with two regular customers, a police officer (Neil Peart) and a hapless morbidly obese inventor (Alex Lifeson). The bit opens up with a three piece polka band (tuba, drums and accordion) in the corner of the place eviscerating the Rush hit "Spirit of Radio". The three main characters decide to give one of the inventor's Steampunk looking creations called the GeFilter a looksee. With each new setting of the GeFilter the band plays the song in a different genre; polka, disco, country. At its highest setting the band plays the song correctly and the cook is impressed and the band wants more. But when the inventor accidently hit the "time machine" button the band is thrust forward to 1979 and becomes the actual members of Rush at which point the band takes the live stage. From that point the show's imagery is a compelling blend of the technology of the day combined with whimsy of Steampunk.
Production Designer Howard Ungerleider explained how the design became so heavily influenced the cultural trend. "When I first met with Geddy Lee he was telling me that Neil Peart had been discussing this genre with him, so actually it was Neil who first brought it up. At the time they were in the process of writing the new album called 'Clockwork Angels', which they figured would be surrounded by the Steampunk genre."
The lighting rig was centered around what was called the spider. It was loosely based upon the mechanical spider featured in the 1999 remake of "The Wild Wild West" starring Will Smith. It had eight legs that extended out from a custom designed central hub all of which were connected to the hub via articulating knuckles (also custom built) that could bend vertically in both directions. The four upstage legs were single eight foot sections of truss on which were mounted three VL3000s with custom gobos. The downstage legs were made up of two eight foot sections each also connected with the same articulating joints. The offstage legs held three Martin Mac 2Ks with custom colors on the inside section of the leg and two on the outside. The onstage legs contain two of the same Mac 2Ks on the inside section and two on the outside section. Each leg section was lined in both bottom rails with MR16s and Color Blaze 72 and 48 units and several Atomic 3000 strobes.
Ungerleider discussed the idea behind the spider, "I've always been a fan of science fiction and I always liked Jules Verne or even movies like 'The Wild Wild West' with Will Smith where they had the big mechanical spider. I like anything where the Victorian Age meets the so-called futuristic technology of that time. That's where this rig came from. Any time you watch one of those movies there's always some freaky creature or a massive steam-driven device being controlled by an individual somewhere. I figured why not have a gigantic spider come down that can morph into many different lighting rigs."
The spider was nothing more than the center piece of the lighting rig during the first half of the show. However, it came alive in the second set. The whole piece was flown from 16 pick points and was lifted by high speed Tour Lift half ton hoists moving at 84 feet per minute and being controlled by Chain Master software. Over the course of the set Motion Control Operator Sebastien Richard ran 15 separate meticulously programmed cues. Because of the speed of the motors and the precision of the cues, the rig was remarkably well animated at times giving the impression of crawling in space as its tilted up to face its underside to the audience.
Despite all of this movement, the lighting gear in the spider never lost its functionality.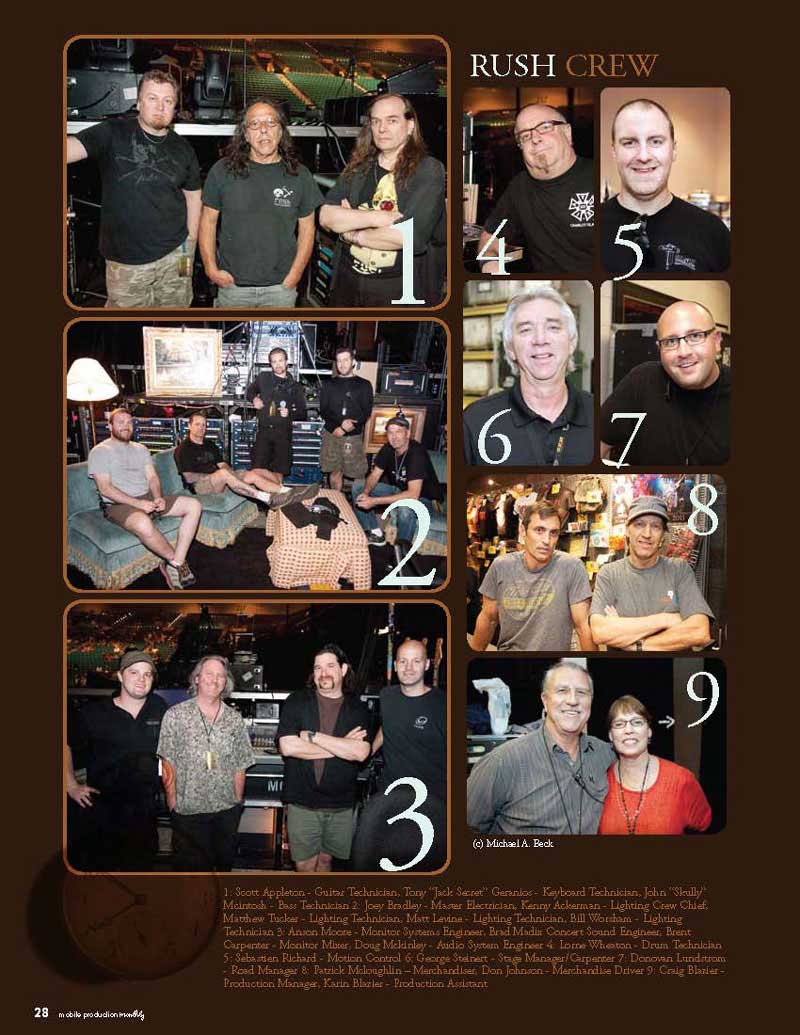 Upstage of the spider was 12 arrays of two VL3000s in a staggered configuration that flew in and out on custom built chain blocks built by Nashville-based Five Points Rigging. However, because the blocks couldn't be anchored to anything they were prone to movement caused by the pan and tilt action of the Vari*Lites. The answer was found at the Royal Shakespeare Company where the need to be able to access and maintain individual moving lights in a very tightly configured lighting grid gave birth to Lightlock. While the secret of exactly how it works is closely held, in general terms Lightlock is a type of gyro system that counteracts the inertia caused by the motion of the light. Whereas without the Lightlock the block would continue to swing for as long as ten minutes after the initial movement, with it activated the swing is neutralized in two seconds or less. This gave the look in the show of several droid-like characters moving around the air behind the spider.
Additionally the lighting rig, put forth by long standing Rush vender Premier Global Production, boasted three Highend Systems Showguns located vertically on either side of the rig. The design also included 16 VL3000s lined across the top of the video wall, a line of Color Blaze across the top of the upstage line of the rig used as crowd burners and one circular array of Elation Impression Model 90 LED wash fixtures above either side of the stage.
Ungerleider had a decided advantage going into the design process of the tour because he was an intrinsic part of the production of the video content. He explained how it worked. "Geddy's brother Allen Weinrib, video director Dale Heslip and I sit around and throw ideas at each other and once the ideas start to stick Allen takes it to one of the local film houses that in turn brings our ideas to life. Allen and I work very closely together to make sure that the coloration of the video content blends with the colors I use in the lighting design."
One excellent example of the color-synchronicity of the show was in the new song "Caravan" (on the soon to be released "Clockwork Angels" CD). The video content for the song was animation of whimsical blimps drifting across the Victorian night skyline. At one point the sky becomes bright amber as does the live lighting. This is accompanied by a series of pyro bursts. Because of this design ethos the normal pattern of either lighting or video taking the preeminent role in the design was dismissed and they seemed to be one design element when video was playing despite the incredibly bold saturated color pallet. "That's one of my trademarks." Ungerleider added, "I love saturated color. Few people do it because they're afraid of it and the theatre books frown on it quite a bit. But I've always made sure that I could pull it off when I use those colors."
The video portion of the show was a bit more complex than one might see on most productions because of the many different places on the set where it shows up. In past tours the band had laundry dryers on stage as set pieces. On this tour there was a Steampunk variant on that theme, which was designed by Dale Heslip. In place of the dryers in this production were large cabinets behind Alex Lifeson and Geddy Lee that looked like a cross between dryers and juke boxes in a kind of Steampunk way. On the face of each cabinet was a round port hole that presented a video image each of which required its own SDI video feed. There were similar video screens around the base of Neil Peart's drum riser that received two separate SDI feeds.
In addition to the video feeds on the stage there was also the HDI feed to the main 40 x 22 foot screen. The show ran off of two Catalyst media servers and one Hypotizer. While much of what showed up on the main screen was pre-produced video content, it was also used a great deal for I-MAG. However, there were several instances when the I-MAG and the content was captured in a template that made it look like it was being viewed through a Steampunk television and other times all three band members were highlighted through a similarly whimsical template.
There were several times during the show when the music had to sync up with the video, but in this setting it had to be the other way around. Whereas in most cases there might be a click track available to the band to be able to cue up the beginning of the song with the video, on this production the band starts the song and Video Director David Davidian has to start the video in time to the band. Davidian explained, "There's absolutely no click track, no time code or anything else of that kind ever on that show. They play organically. And yes, I have to try and hit those cues to line up with the music, most importantly with the drum solo."
In addition to the two cameras in the house and one dolly shot in the pit there were to robocams in the lighting rig as well.
Despite the number of people on the stage this was a big show that required a lot of trim height in order to play. Production Manager Craig Blazier discussed the biggest logistical challenge. "You need the proper trim in order to make the lighting rig work with all of the motion control pieces that we have. We came upon a few venues where we weren't capable of doing that. Most of them were temporary outdoor roofing systems because none of them are strong enough for the movement. The only one that was strong enough was at the Minnesota State Fair in Minneapolis. They had a quite substantial steel roof. However, day to day the biggest challenge was putting the lighting rig together because it was quite extensive. It added a considerable amount of time to the load in over previous tours because of the amount of lights that were there even though we added crew members."
Blazier went on to talk about the trim issues in some of the sheds they played in. "That effected the show in a couple of ways. Of course there was the fact that a low trim prevented us from making the extreme movements. The other issue with the low trim was the video screen. When we couldn't get the rig up to its full trim the backline would cut off the bottom of the screen for the people in the front rows and the lighting rig would block the top of the screen for the upper level seats. Unfortunately, when we're overseas and we have to do translations and the bottom of the screen is cut off when the roof is too low, so are the sub-titles."
But Blazier was quick to reiterate that there was only a small handful of venues where this was the case.
As was stated at the top of this essay, over the years Rush has put forth an exacting and complex body of music regardless of what incarnation of the band one cares to review. The result of this dedicated work ethic is a following of fans who recognize the high standard established by Alex Lifeson, Geddy Lee and Neal Peart and choose to hold their feet to the fire the band ignited 37 years ago with their first album. This follows through as fans and the band call the crew to the same high level of performance. Yet there is no sense that a whip is being cracked anywhere in the organization.
When asked what to describe the parts of the tour that stood out to him as things "to write home about" Blazier spoke of how companies like Premier Global Production, Clair Global, Pyrotek and Danny'O Video have a clear understanding of what is called for, not just with gear but crew as well. "We really find that the venders that we utilize go out of their way to find the right people for this particular tour. They did a very good job on this one. We didn't have any conflicting personalities and we look forward to doing it again. The other thing that stands out is how outrageously well put together show was. It starts with the music of course, but the band brings a lot of creativity to the show and it shows that they don't mind making fun of themselves like in the opening video. We have a family atmosphere out there and our crew members always say, 'I look forward to every Rush tour. It's like coming home.'"
---
Howard Ungerleider: The Incredible Journey From Coffee Boy To Industry Icon
One of the longest standing members of Rush's organization is lighting designer/director Howard Ungerleider. Over the years he has found himself in many different situations in the entertainment industry. Through it all he has never been far from Rush. However, contrary to what some may think, the trip didn't start with Rush. That's just where he became a household name. mPm had the pleasure of sitting down with Howard recently for a chat during which he recalled the whole journey.
In the recent Rush rock-doc "Beyond the Lighted Stage" we see you listed as a tour manager more than lighting designer. Where did this all start?
For me it started in 1971 when I was working for an agency in New York called Action Talent that was run by a gentlemen named Jeff Franklin and his two partners Sol Saffian and Ira Blacker. Shortly after I started with them the company became American Talent International. I was 17.
Were you just out looking for a job to pay the bills and this was one of a hundred doors you knocked on or was this part of a plan to get onto the music industry?
No, I was a musician. I played in a band and I wanted to get into the entertainment business one way or another just to understand it. I wanted to see exactly how it all worked. I lived in New York and I had the ability to go and knock on doors and see if I could get in. When I came to Action Talent they hired me for very little money to be the coffee boy and work the mail room. I took it because that's how you start and work your way up. There is a movie called "Swimming with Sharks" that parallels my life in many ways. It's about starting at the bottom working for moguls of a business who are very successful and learning who how it works. At the time there were only two bands at the agency, Stevie Wonder and Brooklyn Bridge. Three months after I started working there the president, Jeff Franklin said, 'Were going to take up the whole floor of this building,' which was at 888 7th Avenue in Manhattan. We took the whole seventh floor and he signed 60 bands. They became the biggest agency in the world almost overnight. I just happened to be at the right place at the right time.
Nice catch. So who were some of the 70s acts that Jeff signed?
They had Savoy Brown, Fleetwood Mac, Deep Purple, Three Dog Night, Rod Stewart, and a band called Atomic Rooster. The list just kept going and going.
Those were pretty cool bands to work for back then.
Yeah they were. They just kept signing more bands and over the next couple of years I worked my way up to being an agent and traveled with several of the acts all over the North America.
That sounds like a classic Horatio Alger rags-to-riches story.
Well it's the way you pay your dues and how you learn. It was a great learning experience. On the way up you don't just learn about the marketing machine, you also learn how deals are constructed, how they're broken apart and how bands actually get paid. That knowledge was priceless.
Were you into lighting at this point?
I was always interested in lighting as a hobby. When I was in school I did a lot of studying of light and architecture and how lighting affects the stage. I read up on lighting angles, different concepts of lighting and how to use color successfully to move emotions.
How did lighting finally come into the course of your career?
Through traveling with all of these bands the same questions always came up, "How did you like our show?" Given the fact that I was out there not as a designer but as the person who was constructing their deals and making sure they got paid, I was able to be completely honest with them. If their show was great I would tell them so, if not I would say, "You guys played really well but there really isn't a show." That's how I got started in consulting and helping make their shows a little better along the way.
Who were some of the acts you consulted with regard to show design?
Savoy Brown was the first one. Way back when they were the Savoy Brown Blues Band. That's what really launched me into lighting. Some of the other acts I worked with back then were Deep Purple, Bad Finger and Rod Stewart.
What was the first act you actually went out with as an LD?
Little Feat. We took a system out that we got from Atlantis Lighting in Virginia. That was the first time we actually put ACLs into par cans and used them as a group of eight.
Eight? What were they, 12 volts? When I worked with ACLs, they were 24 volts and had to be ganged in groups of four?
It was originally a 13 volt lamp when I got it and we were running them in series. There were a lot of fun times and a lot of innovations going down at that time. I really loved those aircraft landing lights and as I moved along in the early 70s, and especially when I started working with Rush I had requested See Factor Industry in New York to put together a matrix mobile production monthly 31 console with a sequential circuit that would allow me to take ten groups of eight ACLs and split them into 80 individual lights by putting transformers on each one so I could have a series of chases and sub-masters. It was a lot of fun. One of my signature moves when I first started with Rush was that I'd set a big chase with a huge number of single circuited ACLs and bring it up for about ten seconds and then black it out and come back in with spots. People would say, "What was that?" They really couldn't put their finger on what it was.
It seems like an interesting jump from a position wherein you had all this influence on a lot of acts to something that has you narrowing the focus down to just one. What led you into that move?
The agency I was working for was on the verge of being sold to ICM, International Creative Management, and one of the owners had asked me to come up to Canada to oversee this Rush operation and teach them about touring. That actually moved me from being an agent to being a tour manager. At that time they were a club act and they had only played a few small theatres. But they were about to go out on a world tour and they needed someone with some expertise who would make sure they got paid every night and take care of them. That's how I sort of inherited the Rush account.
Was production design a part of that gig for you?
No. At that time my job was to teach them how to tour. I was teaching them about how to put together contract riders, how to get paid, how we were going to get all this stuff around, where we were going to stay. Don't forget, they were just an opening act at the time. They didn't start as a headliner. I was their travel agent, I was their tour manager, I was their tour accountant and I was their lighting director. I did all those jobs for many, many years, although my big love was lighting.
When did you pull back from all of those responsibilities to focusing solely on lighting design?
Well I did all that stuff through the 70s and 80s and in 1989 we took a break for a few years and over that time period I was working with Queensryche. When Rush went back out for the "Roll the Bones" tour, I was not available for that because I was doing this "Empire" tour with Queensryche, which was a huge success at the time. So I designed the "Roll the Bones" tour and sent another lighting director out on it. Because of that issue they had to move someone else into the positions that I had occupied. When I came back for the "Counterparts" tour other people were in the positions I had previously held and I was strictly the lighting designer. To be honest I had done all that other stuff long enough. I spoke with Geddy Lee about this and he said, "Fine, let somebody else do it and you do what you love and we'll move on."
Nice move on his part.
Yeah. It was really great. They've always given me complete creative control over this whole thing. If I had an idea and they could see the idea on paper and it made sense and it could fit in a reasonable budget they let me fly with it. Being the tour accountant for all those years makes it easy to design something that fits the budget properly.
When you came back from the time with Queensryche and were just doing lighting design were you strictly limited to lighting or were you more of a production designer.
Well I don't use that term. It's more like show design, but yeah, I would sit with the band and we would brainstorm ideas and conceptualize things we wanted to do. I had a few friends who worked in the film business and we started coming up with ideas for movies with them. The first projection we ever had with Rush was the owl that a Playboy Magazine designer put together on "Fly by Night". The first multimedia thing we did made that owl fly. We used a couple archaic Kodak projectors to make the wings go up and down. After that I created my own nightmare because we started getting into film and 35mm projectors in tandem and feathering them together. It was pretty ambitious and it worked for years. I was always into creating these multimedia shows. Even with Queensryche on the "Operation Mindcrime" suite we brought it to life on the screen. That album was an opera and you would hear it but you would never see it. I came up with the idea to bring it to life on the screen, which I did for them. That tour was hugely successful because they had the single "Silent Lucidity" at the time. That tour went out for 16 months. That's the reason why I couldn't do the "Roll the Bones" tour. As time went on with "2112" and beyond, Rush got deeper into conceptual stuff the whole multimedia aspect of it got out of control in a really good way.
At some point you started your own company. When was that and how did it happen?
In 1985 I was called by a gentleman who owned a company called Laserlitefx asking me to come on board to help ramp the company up. It was a publicly traded company at the time and I did that for about ten years. Then in 1994 I opened up Production Design International with two other partners Brian Beggs and Doug Adams. As it progressed Brian and I sort of bought out the company and we've been running it ever since.
What is the scope of the company? What are you guys doing?
We put shows on for people. In addition to entertainment we have a corporate division and we have an architectural division. We did a multimedia show for the government of Canada that told the story of Canada on the side of the Parliament building in Ottawa that ran for five years. We worked with a communications company called AVH at the time. I have a company called Applied Light Media through which we do pixel mapping of buildings in order to do architectural advertising. We have a laser division that is out there. We're doing lasers for Tool, Kid Rock, Judas Priest and we did lasers for Star Wars Live. We're also a Main Light distributor. We own a lot of Soft-LED. We currently have all of our Soft-LED drape out on another tour.
So here you are in 2011 and you're (sic) companies are doing well and Rush is doing extremely well and you've got all these accomplishments behind you. Is there anything you'd still like to do?
I enjoy what I do now. I'm really happy running my company and helping create shows. That's where my love and passion lies. I want to create more shows. I and my company are available to create more exciting shows. We keep the company moving. It's always out there creating something. It's my passion and joy and I'll always be doing it.
---
Pyrotek Special Effects: Helps Rush Fire Up The Time Machine Tour
By Hank Bordowitz
Rush makes use of everything on the stage - they don't waste space, everything has a purpose, even if just to further the theme of the tour. Take, for example, how they staged the song "Caravan" on their latest Time Machine tour. They wanted the audience to really experience the song. As the song starts, their retrofuturistic Locomotive Zeppelin starts rolling on the LED screen behind them and puffs of steam rise out of the backline right where the LED wheels have started to move, adding to the effect. As the song and flying machine start to take off, flames erupt from the backline, followed by red fireworks exploding around it, adding dimension to the display. It may be one of the most carefully coordinated combinations of lights, video, and pyro out there.
"On 'Caravan,'" says John Arrowsmith, the pyrotechnician on the tour, "we used 30- 35 foot Lazy Red Comets. The red comets give you a 'flare gun flare' type look to go along with the lyrics in the song. The band wanted a "flare" type look for 'Caravan', for lyrical purposes. We also used the Dragons, Pyrotek's propane effect. A total of 8 heads generate flames in 'Caravan', as well as '2112' and 'Witch Hunt'. Depending on how you fire the Dragons, either a column of fire or fireball is produced. 'Witch Hunt' needed to look as though the villagers were out in the streets with torches on a Witch Hunt...of course."
Similarly, it's tough to remember a more pyro intensive performance than the song "Far Cry." It combined with the strobes for yet another amazing effect.
"'Far Cry' uses 18 one second by 35 foot silver gerbs and 18 thirty-five foot silver comets with tails," Arrowsmith says. "The gerbs are a shower of silver sparks and the silver comets are, of course, silver with a trailing tail to go with the lyrics once again, the line about 'circuits blowing.' There was also a concussion on 'Far Cry' and one in 'Marathon'".
A lot of these effects, like the Dragons, are proprietary to the company Arrowmith works for, Pyrotek Special Effects. Based in Las Vegas, Nevada, Pyrotek has been making things explode for entertainment for the last three decades. Arrowsmith has helped them do it for two of those decades. Throughout that time, Rush continued as a valued client of longstanding, one of many Arrowsmith has worked with over the years.
"I've done many other tours, award shows, corporate stuff, and all that," Arrowsmith says. "Along with pyro, I've also done lasers and lighting. Tours with Def Leppard and Pink Floyd's Division Bell tour were both laser gigs. After that, it's been all pyro. In fact, on Metallica's Load tour I was also set on fire for the 'Destruction' scene...Motley Crue, Slipknot, KISS, Tina Turner, Shania Twain, Def Leppard (this time with pyro), Kid Rock, My Chemical Romance, Grammy Awards, VH1 awards shows, etc. You get the idea...."
He has worked so extensively with Rush, however, he recalls the effects and how they have changed over the years. "The 'Far Cry' pyro was a carry-over from the Snakes and Arrows tour," he says. "'2112' used to be a concussion on Snakes and Arrows, but we changed it over to flames."
On the Time Machine tour, the retro-futuristic design includes the set. Even the backline rigs used by Geddy Lee and Alex Lifeson were custom designed to include a pyro effect, sort of.
"Since the show had a steampunk theme," Arrowsmith says, "we had three cyro jets built into Alex and Ged's backline equipment, the guitar cabinets and 'sausage machine' [Geddy Lee's bass rig de tour]. The C02 was used in both 'Caravan' and 'BU2B,' both new songs from the upcoming Clockwork Angels album."
If it sounds like the band members got involved in the use of pyro for the show, they did - again, sort of. "Most bands are usually unsure of what type of effects are available so they rely on those who are in the know," says Arrowsmith. "However, as I mentioned, they do have ideas on what they'd like to see happen, as was in this case with 'Caravan.' Other effects for songs can be suggested by me or Howard Ungerleider, the band's longtime lighting designer/operator. Howard and I spent an afternoon and several emails discussing effects for pyro, Dragons as well as the C02 cyro effects."
While most people are familiar with fog machines, cryo is a different thing altogether (although made of essentially the same stufffrozen carbon dioxide) with a different purpose. The puffs of steam in "Caravan" that rose out of the backline rigs to accentuate the locomotive effect were cryo, almost the opposite of pyro.
"Fog machines flood the stage with a hazy smoke to enhance light beams," Arrowsmith explains. "Cryo C02 effects are basically a glorified fire extinguisher with a much larger tank. The heads are mounted onto the gear and 'fire' off when need be. Since the theme was steampunk, the C02 was used to resemble steam."
On the other hand, the propane fed Dragons that belch flames and fireballs, or devises like them, are pretty common items on tours -except when they can't be. "Some cities have different rules for propane and won't allow that effect in a building," Arrowsmith explains. "Although most of these arenas have a hockey team, and you might see a propane fed Zamboni cleaning the ice during intermission. I'm just sayin'..."
Despite all the precise cues and the variety of effects, Arrowsmith really seems to enjoy touring with Rush. "Nothing difficult about a Rush tour," he says, "aside from trying to air drum to Neil Peart."
---
Beat The Street: Perchance To Dream
By Todd "TK" Kramer
To sleep, perchance to dream, to transverse the European countryside in comfort and luxury with band and crew spreading good cheer and music through the land is but not a dream at all. For in that sleep what dreams may come are of sold out venues. Amidst throngs of hungry fans eager for the downbeat as the coachmen drive on through the night crossing-borders near and far, the men and women of Beat The Street diligently deliver the music to their clients' fans.
From humble beginnings in 1992, restoring one 20 year old school bus in his backyard Jorg Phillipp has been beating both the odds and the street. Celebrating 20 years on the road next year, Beat the Street has grown from that one old bus to a fleet of 52 coaches, including 42 band/crew coaches and 10 star busses. With a full time staff of 94 employees including drivers, maintenance and office staff, Phillipp keeps music moving on down the road. "Our drivers are our business cards, the day-to-day face of Beat The Street the artists and crew see everyday", he states. Logging in an average of 110,000 kilometers (68,350 miles) per year per coach, Beat The Street keeps its 42 coaches busy through the year, operating a fleet comprised of single, super-high and double decker coaches.
Beat The Street provides comfort and luxury to band and crew members in American style busses in Europe and the UK with offices in both Austria and The UK. To bring American style luxury to European tour bussing Phillipp flew the entire carpentry and interior design staff to the US to inspect coaches from several of their American counterparts to ensure quality and design. "European busses had carpet everywhere, floors, ceilings, walls, everywhere.
American coaches were much more luxurious. We were the first to bring our busses to American standards."
Beat The Street maintains a young fleet of coaches in the effort to "go green" with no vehicle being over 5 years old and all with Mercedes engines to operate cleaner and more efficiently with regular maintenance and fuel additives which Phillipp states,"surpasses the efficiency and emissions of biodiesel."
Over the last twenty years Beat The Street has built an impressive client roster that literally runs from A to Z. Since its first tour with comedian Jango Edwards and The Little Big Nose Band in 1992 Beat The Street has been the home on the road to everyone from AC/DC to ZZ Top including working with Rush on the recently completed "Time Machine" Tour. The treck lasted just over the course of four weeks and Beat The Street's five busses included one star coach complete with trailer for drummer Neil Peart and his motorbike (motorcycle for us Americans). Beginning in Scandinavia traveling through Scotland, Ireland, England and Germany, Phillipp is proud to have been a part of the "Time Machine" tour. "Great tour, nice people. Drivers line up to go on a tour like this..."
A company-wide love of touring from the office to the driver's seat is a big reason why tours choose Beat The Street. With a dedication to "do whatever it takes to make an artist comfortable. "If it is possible we will do it." According to Phillipp, "We once had to tear out an entire lounge widow and a side portion of a double-decker bus and then replace it to get a special bed that we needed to forklift into a coach for Cher. We then reversed the process to ship the bed back to the US." Obviously Beat The Street is happy to customize coaches to meet the client's needs.
Whether the tour requires one bus or seventeen as did the Black Eyed Peas for one arena tour, Beat The Street makes road life easier for band and crew including the difficulties of crossing the Russian boarder to touring the Baltics in winter. "When traveling through Russia or the Baltics in January, you have to heat everything, water, bunks and lounges because everything freezes. We work with the PM's and TM's and local promoters to make things simpler," says Phillipp, "although crossing into Russia is always a ten hour layover. Tackling the summer festival season is always challenging with no proper routing and acts crossing countries repeatedly we sometimes need two to three drivers to meet the artists itinerary, but we always find a solution."
In these tough economic times Beat The Street is growing, adding limo and van services to its list of travel accomodations. Phillipp proudly adds, "We did not feel any economic crisis at all. If I did not see it on the news, I would have thought it was all made up."
From one coach to twelve, sleeping one to fourteen in style and comfort, Beat The Street offices are available 24/7 to serve and transport. Able to solve the most challenging and grueling tour itineraries Jorg Phillipp and his team stand at the ready offering artist and crew time to sleep, perchance to dream down the kilometers of European road in American style luxury.