Andy VanDette On Remastering 15 Rush Albums
---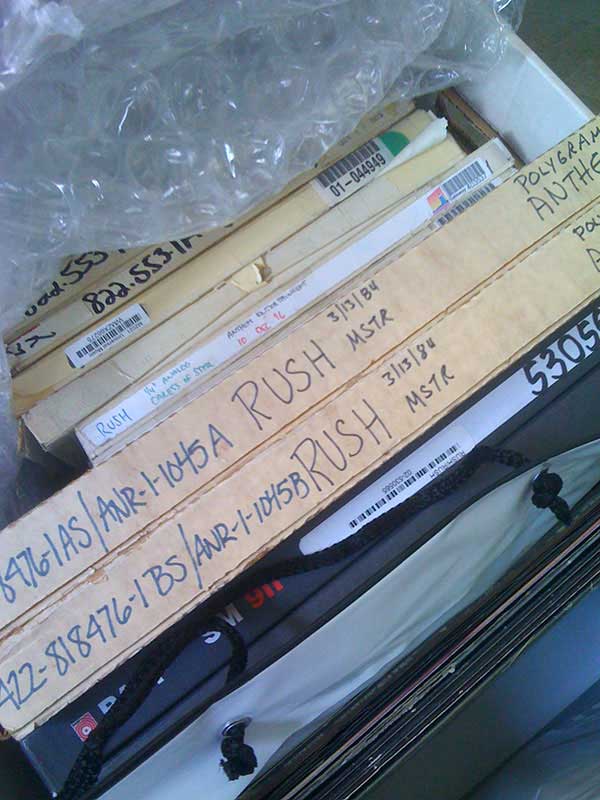 Unpacking one of the boxes of Rush master tapes that arrived here at Masterdisk.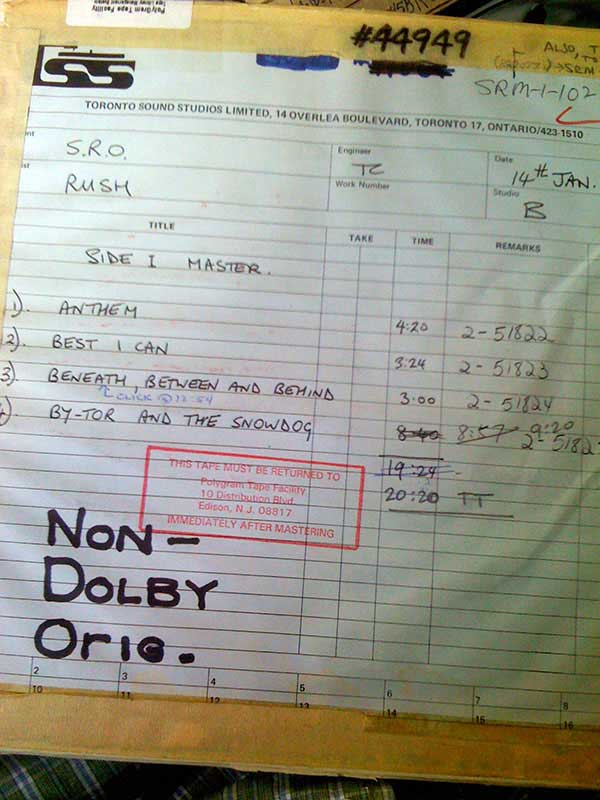 The master tape box for the Rush album, side one.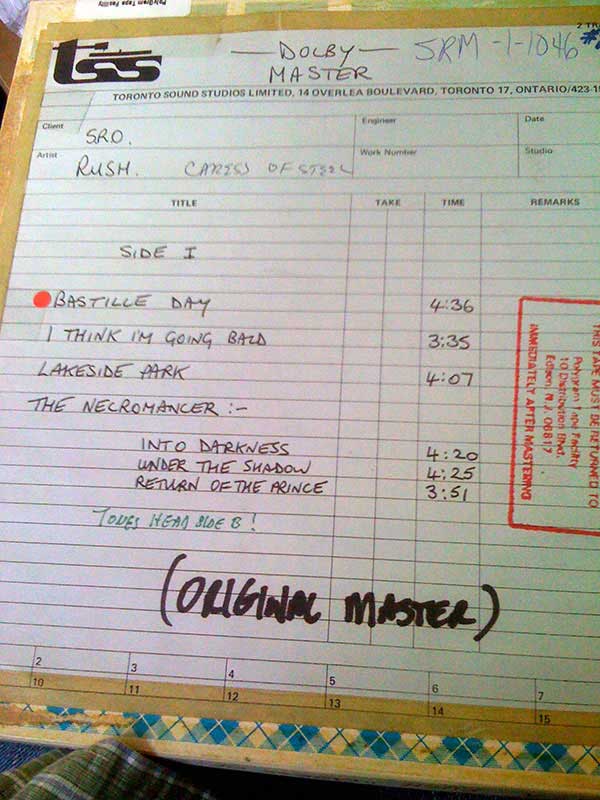 Caress of Steel side one.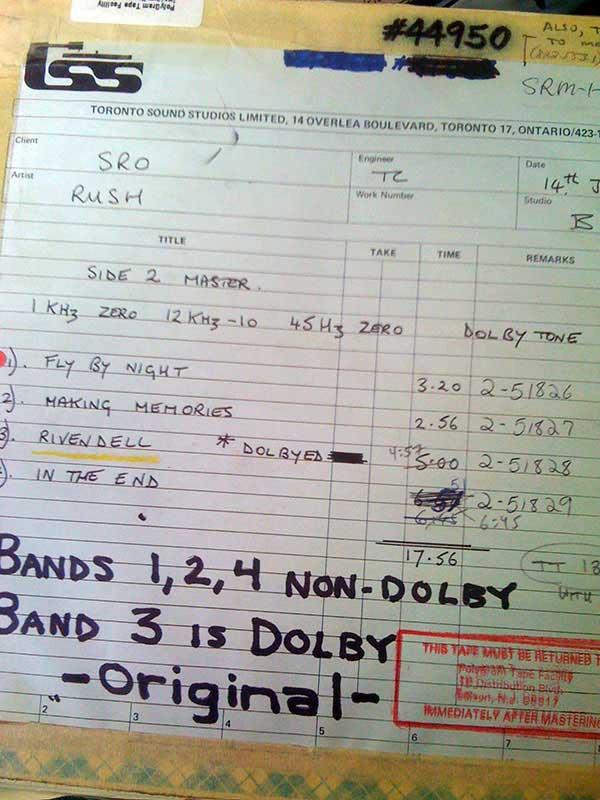 Fly By Night side two.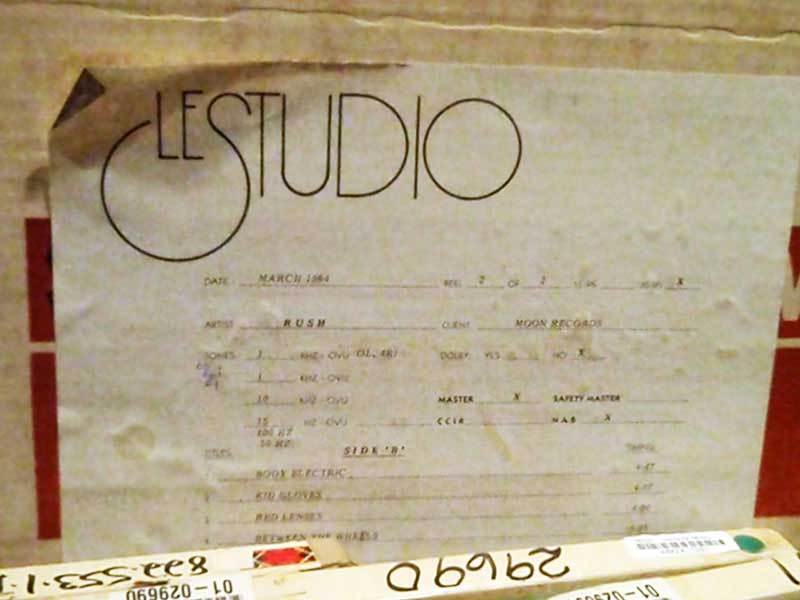 Grace Under Pressure.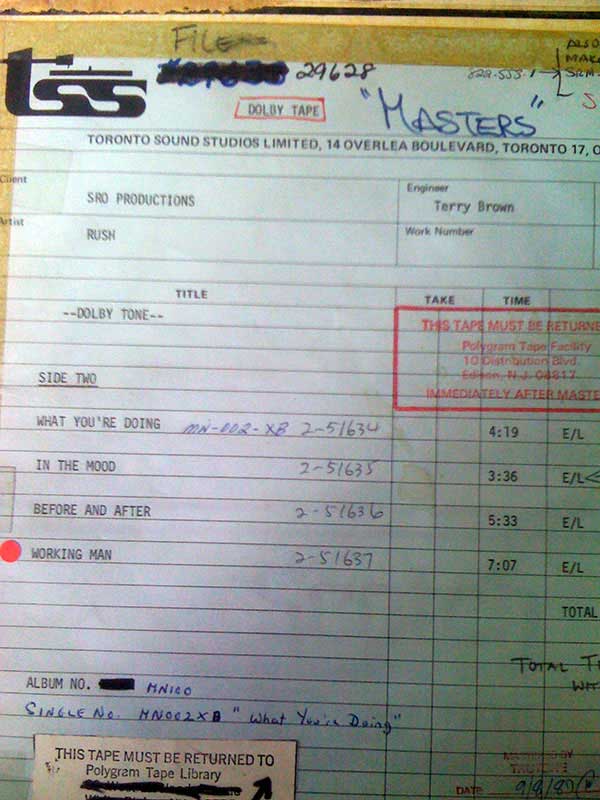 The Rush album side two master tape box.
As a long-time Rush fan, I'm glad to be able to bring you some inside-info about the new Rush "Sectors" box sets that came out this week. They consist of all fifteen of the band's Mercury albums, from their debut Rush (1974) to A Show of Hands (1989), in three separate boxes, each with a single album in 5.1. (The surround-sound albums are Fly By Night, A Farewell To Kings, and Signals. Moving Pictures is available separately.)
All of the albums - both the CD and 5.1 versions - were remastered from original sources by Masterdisk Chief Engineer Andy VanDette. I sat down with Andy to discuss his experience mastering this classic catalog.
What was it like being the guy to get the call to master the Rush catalog?
I grew up in Buffalo, which is pretty close to Toronto, and I was in a band. Buffalo radio kind of sucked, but Toronto's was much better. And of course they played a lot of Rush. I idolized Geddy Lee: I had the Rickenbacker 4001 and a Traynor bass amp, and my senior year of high school I spent everything I had to get the Electro-Harmonix bass synth so I could make that "wooosh" at the start of "Tom Sawyer."
So when I first came to Masterdisk and saw all the Rush records on the wall - I was blown away to be here. To see Geddy Lee come in all those times [when he would attend mastering sessions with then-Masterdisk chief engineer Bob Ludwig] was incredible. When I got the call to do the Moving Pictures remaster earlier this year it was like a dream come true. When I got the tapes I just put them up and sat back and listened without doing anything! Then to do the whole Mercury catalog - there no is no way to describe the feeling. That's like going to the moon and back.
How did you get the gig?
It was through Richard Chycki. I mastered the Needtobreathe album The Heat which Richard had mixed. We got to talking and he told me that he was working on Snakes and Arrows Live - would I want to master it. Would I? (Laughs.) I mastered the CD and surround. I have to say, it's great mastering Richard's work. Some mixes I get need a bit of "reinvention", let's say. But not Richard's - his mixes are rock solid, and what you're hearing on those records is his sound.
After that I did Retrospective 3 which was a great project. This is the one that has the remixed tracks from Vapor Trails on it - and it was great to get to master those and to see the positive reaction that met those tracks online.
What was next?
I believe it was R30 for blu-ray. This would have been 2009. I made sure it was way less compressed than it had been on the R30 DVD [released 4 years prior]. The compression had distorted the balances in the mix, pushing the guitars way forward. And then I did the Working Men compilation.
Which brings us back to Moving Pictures. I remember you mentioned that the first master tape you received had some audio missing?
Yes, the first time Moving Pictures was released on CD, the first half second of "Tom Sawyer" was missing. I received that master - a digital transfer of the master tape in this case - I think it was the one from the band's archive. But otherwise, it sounded like I had always remembered. And of course I'm using some of the same gear that Bob Ludwig would have used when he mastered the albums originally: the NTP compressor, Neumann OE-DUO EQ and Sontec EQ. I got another master from Iron Mountain, and I used that to fix the missing audio.
What was your overall approach to the catalog remaster?
I wanted to do as little as possible so that the masters could truly speak for themselves. Being recorded in the vinyl era, they were optimized for that medium. People like more bottom end these days - and with earbuds and laptops as the primary playback monitors, it is understandable. I tried to nudge them in a warmer, thicker direction, but not cloud the guitars or the legendary Neil Peart snare.
What was the condition of the masters?
Handling analog masters that are over 30 years old makes people nervous. (Laughs.) I cleaned the tape heads after every song to make sure tape shedding hadn't even started. Indeed, some tapes didn't sound as good as others - after all, they've been sitting on a shelf for however many years. In some cases the 192 kHz digital master tape copies from the Rush archive sounded better. I think those transfers would have been made about seven years ago.
Were you surprised by anything you found?
Some of the albums weren't as thin toppy as I thought the were going to be. And for some I had a better source than the 1997 remasters. Some are brighter and clearer. Grace Under Pressure I tried for three days to make the tape transfer that I did sound as good as the existing CD. I figured that with the kind of care I put into the transfer - and having the original source - it would be a no-brainer; that this would be better than what's been out there. But it just wasn't the case: the tape didn't age well. It had lost lots of clarity. So I ended up using the 192 kHz transfer.

The master for the first album [Rush] was a surprise - there was no shedding off the tape at all. There was still lots of top left. I imagine it had been baked before, and stored well afterwards.
Were there any "issues" along the way?
All the World's a Stage - what can you say. It's really hard to make great live recordings - even today. Unfortunately, the original tapes for this one didn't give me much to work with. I was a lot happier with Exit Stage Left. The tape transfer I did sounded better than any of the previous releases that I'm aware of.
Anything else fans should look forward to with these sets?
Well on Fly By Night I was really impressed with how well Richard [Chycki] brought the feel of the original album into 5.1. That classic snare sound remains intact! On A Show of Hands - I think that the clarity and punch came out more than in the previous releases.
It was very important to me that these be the best representation of the catalog possible and I think we accomplished that. Look, I'm a fan. When I put up Hemispheres for the first time I nearly cried. I may not have been able to muster every bass riff, or sung every high note in my band, but the memories of trying were overwhelming. I could not let Rush fans down. Each and every one of these albums got the deluxe treatment.
---
Good news for iTunes customers: Andy is currently preparing iTunes-optimized versions of all of the masters. He says "it's a slow process, mostly song-by-song work. But it's worth it - these versions are going to sound a heck of a lot better than what you would get without the optimization at the mastering stage."