It's Back To The Future For Rush On Their 20th Album
That Means Mad Concepts, Epic Songs And Talk Of Time Machines
By Philip Wilding, Classic Rock, January 2012, transcribed by pwrwindows
---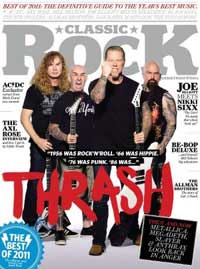 It's been pretty relaxed in Geddy's home studio the last three weeks. The Rush singer and bassist has had the windows open onto the garden as he and Alex Lifeson have been trading songs, riffs and solos back and forth. It's all part of the process for the band's 19th album, Clockwork Angels.
Things are about to step up a few gears. Last night drummer Neil Peart flew in from California with his family and the trio are preparing to decamp to two different studios in the hometown of Toronto: Revolution Recording and Noble Street Studios. Both are edifices of glass and stone with warm wooden floors and high ceilings. More importantly, both have the right stuff that can make Neil Peart's drums come alive.
"The last time around we couldn't find a room in the city that sounded great and was appropriate for Neil's kits," says Lee, speaking from the same home studio the band were about to vacate. "But the new places have passed the quality check of our producer [Nick Raskulinecz], so we get to hang around Toronto for a while."
They haven't set themselves a timetable, but the band should have finished recording by the time you read this, and they're hoping to start mixing soon, with the aim of releasing the album in May. Two of the songs set to appear on Clockwork Angels, the dense punchy Caravan and BU2B, were aired live last year.
"We wrote those songs just before the first part of the Time Machine Tour," says Lee. "we decided to celebrate the 30th anniversary of Moving Pictures, but at the same time we felt a bit weird about not having any new material. We had a month and thought why not try and put some new songs together and just record them quickly and see if it works. They turned out well so it was like a preview of the album to come.
Ironically, the Time Machine tour turned out to be a victim of its own success. "We were hoping that we'd be able to get right back to work after that tour, but fortunately and unfortunately: the tour went so well that we had a lot of pressure to continue going," says Lee. Which just kept delaying the album.
With all the distractions finally out of the way, the band spent the back end of 2011 getting down to business. As with their last album, 2007's Snakes & Arrows, Nick Raskulinecz was tasked with "pushing Rush to be Rush", as Lee puts it. Last time around, the producer got Lee to bring back bass pedals and Lifeson to recapture the defining, ringing chords from the Hemispheres-era.
"We haven't exhausted Nick yet," says Lee. "There are five songs he really hasn't got his hands on yet. It'll be interesting to see what he has to say about them. Nick's great at getting us to interact the way we interact live. That's something that's hard to get in the studio because you get a little cerebral about putting songs together and sometimes you just have to say, 'You three guys can play, so go in and play'."
The bassist is keeping his cards close to his chest in terms of song and album titles. But he does reveal that the title track is shaping up to be a classic Rush epic. "That song is a longer piece, and I think if anything it'll only get longer when we've finished with it," he says. "I don't think it's double digits yet in terms of minutes, but we're pushing all the songs as long as we can." Lengthy tracks aren't the only link to Rush's own past. To all the intents and purposes, Clockwork Angels is a concept album - albeit one that sci-fi nutjob Philip K Dick might have cooked up if he'd been reading too much Jules Verne.
"There's a story going on," confirms Lee. "When we had discussions about themes for the album it was connected to the idea of a different kind of future and the whole aesthetic of steampunk, which is so cool. It's a futuristic point of view that's rooted in the past, which makes it so interesting. When you look at the steampunk designs they all look Victorian yet fast-forwarded in some magical way to the future. The idea of building a story around that world appealed to us. The Time Machine tour really was a preview of that. We jumped the gun a bit and got too excited and couldn't hold it back."
The last couple of years have seen other changes in Rush's world. Clockwork Angels is their first album since they jumped ship from Atlantic and signed with Roadrunner, citing unhappiness with their UK label. And then there's the impact of Beyond The Light Stage, the acclaimed documentary that got past the professional front and shone an affectionate light on the heart of the band. How did that change things for them?
"I got recognized a lot more," says Lee. "The perception of the band seems to have changed a lot. People can see that there's a lot more passion in our work and we put a lot into what we do. It's nice that people can see we're not robots."