Rush Still On A Journey Of Discovery, 20 Albums On
By JG, Total Guitar, January 2012, transcribed by pwrwindows
---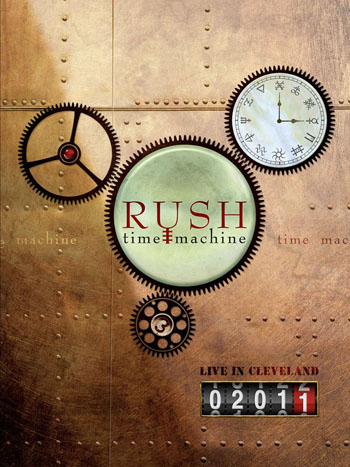 By the time it's released in Spring 2012, Rush's new album Clockwork Angels will have been over two years in the making. The Canadian prog trio started writing the follow-up to 2007's Snakes & Arrows in February 2010. However, the extension of their Time Machine tour slowed proceedings. Songs from those sessions, "Caravan" and "BU2B", surfaced in June 2010. As guitarist Alex Lifeson tells TG: "Those songs play an important role of where we are now, but a lot has happened since they came out."
For example, the fact that despite early statements to the contrary, the record is to be a concept album. Details of the concept are obscure as drummer Neil Peart continues to work on the plot and lyrics, which will also form the basis of a novel he's writing.
As for the sound, Lifeson says the band are exploring new sounds as the trio's dynamic (completed by vocalist, bassist and keyboardist Geddy Lee) improves with age.
"We're doing things that are quite different for us." Lifeson explains. "It feels fresh. There are different kinds of arrangements: some are really complicated time signatures, others are tough to play. There's some hard and heavy material as well as melodic, acoustic parts. Some of the songs are over seven minutes long." In the studio, the band ran 10 to 12 'work stations' with various set-ups so that they could switch between sounds with minimum hassle and delay. With a long-time favourite "low-slung Les Paul over my shoulder," now with its built-in Floyd Rose trem, Lifeson is loyal to his gear.
"We've been using this kit for 10 years or so now: the Hughes And Kettner TriAmp, the Coreblade, the TC Electronics G-Force effects and a few of those TC Electronics 1210s for chorus. I'm really happy with its tonality."
However, he's also promiscuous: "I have a friend here in Toronto who's a real gear hound. He'll bring all this amazing old gear in for me and I'll spend time experimenting with new sounds."
Rush have also just released their Time Machine 2011: Live In Cleveland DVD/CD, celebrating 30 years since their classic Moving Pictures album by playing it live in its entirety for the first time.
"It was nice to do that in America. Cleveland in particular," says Lifeson. "The only problem was that Ged had a cold that night and struggled through the show."
With the last tour's success and the conceptual nature of their new album, Lifeson doesn't rule out playing it in its entirety, so Rush fans will be enjoying a lot more of their prog idols come 2012.