My Passion For Wine: Geddy Lee
By Tony Aspler, Decanter, March 2012, transcribed by pwrwindows
---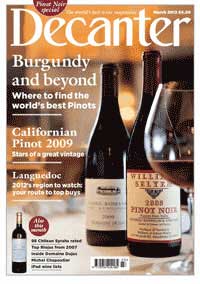 The lead singer and bass guitarist of Canadian rock group Rush has 7,500 bottles in the two cellars of his Toronto home: one for vintages to age, the other for wines to drink
I was introduced to fine wine while touring in the late 1970s. Alex Lifeson (Rush's lead guitarist) had a big interest in wine so promoters would sometimes give us wine as gifts. It was usually Bordeaux back then, a bottle of Margaux or Latour or something.
In the late '80s I built a cellar because I found I still had so many of these bottles that had been gifted to me and I started reading about them. You can't read about wine without getting very thirsty. I started tasting them and then I became completely fascinated by what I was experiencing.
A friend of mine had a passion for the wines of France. One year he invited me to take a trip with him through the Rhone Valley and Burgundy. On our way to a tasting at Guigal we stopped at a small restaurant and bought a bottle of Comte de Vogüé's Musigny I978. It was among the most wonderful wine experiences I've ever had. Such pure, heady aromas and complexities ... I was pretty much hooked on red Burgundy after that.
I love wines from Dujac, Claude Dugat and Rousseau. Les Suchots from Robert Arnoux is one of my favourite Burgundies, and the wines of Domaine de la Romanée-Conti - when you can get them - are a thrill to drink. Madame Leroy's wines are also terrific. The Burgundy list goes on ...
At home I drink a lot of Beaujolais crus, Moulin-a-Vent, Morgon from (the late) Marcel Lapierre, Jean Foillard's Cote du Py. I also drink generic Bourgogne from good producers. When I'm buying high-end Burgundy, I try also to get these producers' Bourgogne for everyday drinking. It's delicious, simple Pinot Noir.
I collect white Burgundy too, but my passion more recently is for Austrian Riesling and Grüner Veltliner, And I love Rhone whites - La Dorian Condrieu by Guigal is one of my favourites. I also like a lot of the blends and simpler wines they're making in the Languedoc with Grenache Blanc. Domaine de Trévallon makes lovely white. And I like German Riesling.
I'm not usually excited by New World wines. I went through a period of collecting and drinking a lot of Californian Cabernets, but my heart is really in the Old World. A lot of the white Burgundies from the mid-'90s have not aged well. It made me less interested in drinking - and more particularly, ageing -white Burgundy, as it's such a risky business. You can find fantastic 15- or 20-year-old Marquis de Laguiche from Drouhin or Ramonet's Bienvenue-Batard, but there are few other producers who seem to be able to achieve that ageability.
Alex and I always reward ourselves after a show with a good bottle of wine. It's a kind of hobby of mine to find a good bottle in whatever city we're touring in and surprise Alex with that.