Angels Are Go!
Rush Launch Clockwork Angels Album With A Classic Rock Fanpack Due June 11
PROG #25, April 2012, transcribed by pwrwindows
---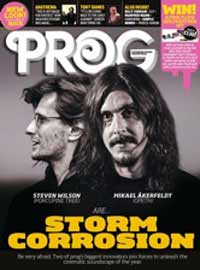 Rush have unveiled the track listing of their hotly anticipated 19th studio album. Clockwork Angels is the band's first release for new label Roadrunner Records, and will be available from June 11 in an exclusive Classic Rock Presents deluxe fanpack.
The 12-track album was co-produced by Nick Raskulinecz, who worked with the band on Snakes & Arrows, their US Top 3 album from 2007. As Neil Peart explains, his lyrical theme for the album was first discussed by the trio back in December 2009 as they planned their next move, over a leisurely dinner. "The wine seemed to embolden me to tell the guys about my idea for a fictional world," says Peart, "a possible setting for a suite of songs that told a story." Steampunk novelist Kevin J Anderson is a close friend, and that sensibility - one of "The future as it ought to have been, or the future as seen from the past" - chimed with Peart (and was foreshadowed by the steampunky stage set of their 2011 Time Machine Tour).
Peart started writing lyrics from scratch rather than drawing on his notebooks of passing ideas (what he calls his 'Scrapyard'). He drew inspiration from authors as diverse and Voltaire and Cormac McCarthy, with Michael Ondaatje and Joseph Conrad channelled on The Anarchist, and Daphne Du Maurier firmly in mind on The Wreckers. Peart also became fascinated by ancient traditions. "Soon I learned about an entire set of runic hieroglyphs for elements and processes. As the lyrical 'chapters' came together I chose one symbol to represent each of them:' These can be seen on the clockface on the sleeve.
Geddy Lee and Alex Lifeson originally worked on the music together in a basement studio, sometimes with Lifeson giving Peart two demos of a tune - one with a drum machine illustrating rhythmic ideas, the other a click-track. "Alex had put together one collection of ideas that turned out to be most of the song Clockwork Angels,' says Peart. "As soon as I heard its rhythmic feel, which was so different for us, my response was 'I want to play that!'"
Carnies and Headlong Flight were of 'furious jams', and there was an 'immediate spark of connection' with Seven Cities Of Gold, Alex Lifeson says, "We talked about having a raucous beginning that related to the middle 'solo' section, and as the song evolved it took on the appropriate character; entering the city with all the wild, dangerous sensory experience it offers." Peart asserts that Lifeson's solo on The Garden was, "A few takes recorded casually and assembled into an improvised performance that remains his personal favourite." Audiences throughout the Time Machine tour will have already heard the opening tracks, first single Caravan and its B-side BU2B, which were written early in the process. The Wreckers was the result of Lee and Lifeson swapping instruments during writing sessions but, "Once we switched into recording mode," says Peart, "it was back to the same old us."
To mark the release of Clockwork Angles, Classic Rock will be issuing an exclusive fanpack on June 11. This will include a full copy of the album, a unique keyring and poster, plus a deluxe magazine dedicated to Rush, with in-depth interviews from each band member, contributions from famous fans and more. Pre-order now at myfavouritemagazines.co.uk/rush and check classicrockmag.com and our all-new site progrockmag.com for updates.