Rush, Mary Walsh Celebrated in Ottawa
By Jennifer Ditchburn, CBC News, May 4, 2012
---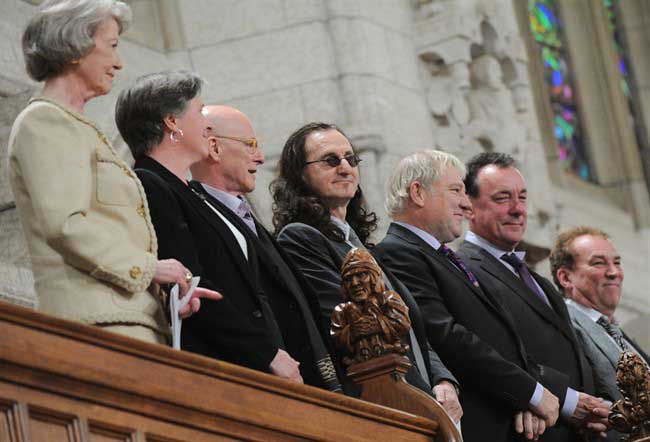 Mary Walsh, Deepa Mehta and members of the rock band Rush are looking back at long careers in the arts as they prepare to walk the red carpet in Ottawa.
The capital is paying tribute to six recipients of the Governor General's Performing Arts Awards and two winners of special awards with recognition in the House of Commons and a gala on Saturday.
Rush member Alex Lifeson said he was thrilled at his reception on Parliament Hill on Thursday.
"It's really quite an honour. We've been a band for a very long time and musicians since we were 15 years old and to come all the way here after so many years is really exceptional for us and we're very, very proud of it," he told CBC News.
South Park's Matt Stone will pay tribute to Rush's Alex Lifeson, Neil Peart and Geddy Lee at a gala at the National Arts Centre on Saturday. Stone is a friend of Rush member Neil Peart and appears in a documentary about the power trio - Rush Beyond the Lighted Stage.
That same gala will see Salman Rushdie celebrate the accomplishments of filmmaker Deepa Mehta.
The others to be honoured:
Classical pianist Janina Fialkowska.
Dancer/choreographer Paul-André Fortier.
Director Denis Marleau.
Theatre director Des McAnuff, winner of the NAC award.
Philanthropist Earlaine Collins, winner of a special award for supporters of the arts.
On Thursday, MPs were all a-Twitter over Rush's appearance in the House of Commons gallery with Tony Clement tweeting a picture of himself with Lifeson, with the message "FYI I told Alex I have been trying to learn Limelight on my guitar, but the Arpeggios are killing me..."
All of the honourees receive their medals from Governor General David Johnston at Rideau Hall on Friday.