Revenge Of The Nerds
By Paul Elliott, MOJO, June 2012, transcribed by John Patuto
---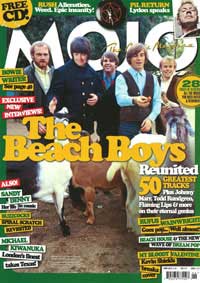 Brandishing power-prog anthems and uber-preposterous concepts, Rush survived personal tragedy, Nazi slurs and multiple taserings to be crowned the Biggest Cult Band In The World, 2012. "Yes! We win!" they tell Paul Elliott.
IN THE BACK OF A VAN CRAMMED with amplifiers and guitar and drum cases, four long-haired men sit in a tight circle, silently. The three members of highbrow Canadian heavy rock band Rush - guitarist Alex Lifeson, bassist/vocalist Geddy Lee and drummer Neil Peart, the latter sporting an extravagant handlebar moustache - cast furtive glances in the direction of the fourth man, Paul Stanley, the frontman for New York's greasepaint warriors Kiss.
On this warm summer afternoon in 1975, the two bands are midway through a North American tour. The venues are modest; neither band had sold many records. But if there's a stark contrast between them - Kiss in their lycra and panstick; Rush with their fantasy-prog epics - there has grown an odd-couple camaraderie. It's in this spirit that Rush have invited Stanley to hear their just-finished third album, Caress Of Steel, but they're beginning to regret it. Stanley starts fidgeting during clunking second track, I Think I'm Going Bald, and appears to lose the will to live at around 10 minutes into the episodic behemoth, The Fountain Of Lamneth.
"Paul was just staring at the floor the whole time," recalls Alex Lifeson. "It was obvious that he was thinking, 'What the fuck is this?'"
Stanley's silent judgment was prophetic. Caress Of Steel was released in September 1975 and wheezed to a US chart peak of 148. Rush's next batch of dates was dubbed, only half-jokingly, the 'Down The Tubes' tour. Meanwhile, bosses at their label, Mercury, demanded that Rush stop "fooling around" and return to the straight-forward hard rock style of their self-titled 1974 debut.
Rush were at a crossroads. "We had three choices," says Lifeson. "We could just pack it in. We could do what the record company wanted us to do - make the first record again. Or we could do what we truly believed in."
The group entered Toronto Sound Studios in February 1976 and emerged with an answer: a 20-minute, Orwellian sci-fi suite in which a lone hero battles an authoritarian regime led by a sinister priesthood. 2112 would give Rush's next album a name, and set its defiantly pretentious tone. On the back cover the group posed, clad in what Lee now refers to as "our absurdly prophetic robes".
"We had our fists raised," says Lifeson. "Down with The Man! And that's what that record's all about. Lyrically and conceptually. That was the statement we wanted to make. If we went down we would go down in flames."
The gamble paid off: 2112 saved Rush. It was their first album to reach the Billboard Hot 100, and sealed a hard-won reputation as the thinking man's heavy metal band.
TENACITY WAS HARD-WIRED into Rush from the start, perhaps even earlier. Alex Lifeson's Serbian parents had fled the former Yugoslavia after World War II and had met in Toronto in the early '50s (the family surname Zivojinovic translates as 'Son of Life'). Born Gary Lee Weinrib, Geddy was the son of Jewish parents who had survived Auschwitz. Fifteen in 1968, he joined Lifeson and drummer John Rutsey in their high-school group, replacing bassist Jeff Jones, but the following year he too was usurped, by one Joe Perna, as Rush briefly became the four-piece Hadrian, although Lee and the Rush name were soon reinstated. Meanwhile, he'd legally changed his name to Geddy, a nickname derived from his mother's heavily accented pronunciation of Gary.
Influenced primarily by UK rock - Led Zeppelin, Cream, The Who - the nascent Rush started playing in clubs in 1971 when Canada's drinking age was conveniently lowered from 21 to 18. Two years later, the band's manager, Ray Danniels, set up an indie label, Moon, to release a debut Single: a heavy version of Buddy Holly's Not Fade Away. Their first album, recorded in two days and released on Moon in March 1974, had Rush tagged as Zeppelin imitators, not least due to Lee's high-pitched wailing. "Sing high and play fast," says Lifeson of the early formula. "Easy."
Within a couple of months came a key breakthrough when the song Working Man achieved heavy rotation on Cleveland radio station WMMS. "That was the perfect kind of song for an industrial town in the Midwest," Lifeson says. 'And people really responded to it." A deal with major label Mercury quickly followed. But in July 1974, John Rutsey left Rush having been diagnosed with diabetes. "John's health was an issue," Lee says. "But it wasn't the only issue. We were young and not that deep. It was like, OK, we gotta get a new drummer... "
A YEAR OLDER THAN LEE AND Lifeson, Neil Peart had already spent 18 months in England in his late teens, earning a meager wage in Carnaby Street Jewelers The Great Frog and trying to join a band. When he auditioned for Rush, Lee and Lifeson were, in the former's words, "completely blown away". Peart's technique, powerful and complex, was the result of self-confessed "monomania" during his teenage years in semi-rural Ontario. But as Lee says, "We were city guys, so to us Neil was this goofy guy from the country. He looked weird, gangly, and he was working in his dad's farm equipment store. We thought he was kind of a rube. But he was far more worldly than us."
Peart was also a devourer of books, a rarity among rock musicians. Lee and Lifeson suggested he write the group's lyrics, but he required some persuasion. "Extroverts don't ever understand introverts," says Peart now.
Peart's literacy added a new dimension to Rush. On second album Fly By Night, his evocative storytelling enhanced the band's increasingly grandiose music. Rivendell referenced Tolkien; By-Tor & The Snow Dog imagined a mythic battle between good and evil, its protagonists named after manager Danniels' two pet mutts, Biter and Snowdog. Most telling was Anthem, for which Peart appropriated the title of a 1938 novel by Russia-born philosopher Ayn Rand, author of The Fountainhead. Peart later cited Rand as the inspiration for 2112.
The connection would spark what is still the biggest controversy of the band's career. By acknowledging the influence of Ayn Rand on his lyrics, Peart had aligned himself to a thinker whose theory of Objectivism could be interpreted as "enlightened self-interest", as Peart holds, or, at worst, ultra-right-wing capitalism. And in a 1978 interview with the NME, he was challenged on the beliefs he shared with Rand. Peart, who describes himself today as "a bleeding-heart libertarian", remembers the interview with writer Barry Miles as "an intellectual conversation". But in the published feature, parallels were drawn with the Nazis ("Shades of the 100 Year Reich?" posited Miles). Peart felt "totally betrayed". Lee, given his family history, was enraged. "I wanted to kill the guy," he says. "How dare he paint this picture of us as fascists?"
"I was surprised by the furore," says Miles today. "But I stand by what I wrote. Societies that fail to protect the weak pave the way for fascism."
"It didn't hurt our career per se," says Lee, "but it definitely hurt our image. And it just felt so cruel. But I think there was a huge divide between being a North American and being a Brit at that time. In Britain it was a very politically charged time."
THERE WAS CERTAINLY A TENSE ATMOSPHERE IN the UK the previous June, when Rush travelled to Rockfield studios in Wales to record the follow-up to 2112. During celebrations for Elizabeth II's Silver Jubilee, the Sex Pistols' God Save The Queen was at Number 2 in the UK singles chart. "We saw the Sex Pistols on TV when we were at Rockfield," Lee recalls. "Oh look, these guys are playing three chords! Over and over again! We were instantly seen as accomplished musicians by virtue of the fact that we knew about 10 chords. They were legitimising us."
Isolated in the Welsh countryside, Rush were creating music on an epic scale, typified by the 11-minute prog-metal odyssey Xanadu, inspired by the Samuel Taylor Coleridge poem Kubla Khan and recorded in Rockfield's courtyard at dawn to include twittering birdsong. Marijuana was involved. "We smoked too much," relates Lee, "and we drank too much."
Rush had earned their partying stripes on tour with Thin Lizzy in 1976, after Lizzy's Scottish guitarist Brian Robertson threw down the gauntlet. Lee recalls: "Robbo challenged us to a drinking contest. I said, You don't know what you're dealing with. We're Canadians - umberjack stock. We were travelling in a van with the Lizzy guys, drinking a ridiculous amount of whiskey, and Robbo lost control of his stomach. We were like, Yes! We win!" But in 1977, Rush met their match in the shape of infamous booze-and-drug fiends UFO. "The UFO guys just couldn't go on-stage unless they were drunk," says Lee. "When we played a dry county in Texas, I looked out the dressing room window to the parking lot, there were UFO, drinking out of the boot of a car."
With a heavy gigging schedule, de rigueur for '70s rock bands, Rush were becoming a huge cult phenomenon. But they were an easy target for snooty rock critics. In a review of A Farewell To Kings in the Village Voice, Robert Christgau mocked Rush as "the most obnoxious band currently making a killing on the zonked teen circuit ... like a power-trio Uriah Heep, with vocals revved up an octave. Or two."
In the face of such hostility, the band remained resolute. Their 1978 album, Hemispheres, again recorded at Rockfield, was even more overblown than its predecessor, its first side swallowed up by another vast conceptual piece, based on Greek Mythology and titled, in all seriousness, Cygnus X-I Book II: Hemispheres. The recording process was, says Lifeson, "a struggle". And at its end Rush realised they'd come to the end of a path. "Hemispheres was a bit formulaic," says Lee. "We started feeling we were repeating ourselves. It wasn't healthy."
THE REINVENTION OF RUSH was heralded by The Spirit Of Radio, the flagship single from seventh album Permanent Waves, released on a symbolic date: January 1, 1980. For a new decade, Rush had a new sound, mixing the virtuoso hard rock of old with contemporary influences: a volte-face from a band that had laughed at the Sex Pistols a few years earlier. "It was an exciting time musically, we wanted in on it," Lee says. "Ska and reggae were blending into mainstream pop and rock. New wave was happening."
Switching from rock to reggae and back via Rush's trickiest time-signature change so far, The Spirit Of Radio aimed to replicate the sound of surfing channels. "That was a deliberate metaphor," says Peart, whose lyric was a lament for a lost golden age of FM rock radio: a time when, Peart believed, "DJs were engaged with the music they played."
The Spirit Of Radio gave Rush their first international hit. "So many radio stations were playing it, and clearly they were not listening to the lyrics," says Lee. "We were kind of sticking it to them, and they were championing it as a song about radio. A great moment of irony."
Permanent Waves was also a transitional album for Peart as a lyricist. Rand's influence was still evident in the song Freewill, but Peart had shaken off Tolkien and Coleridge. Rush even looked different. The prophetic robes were gone, so too Peart's moustache. The drummer now had his hair cut short, and Lifeson was rocking a new-wave skinny tie.
In 1981 came the biggest selling album of Rush's career. Moving Pictures defined the modern Rush sound: the clean lines and lean power of songs such as Tom Sawyer and Red Barchetta. Says Lifeson: "We were shifting even more into writing shorter songs. And that's something that connected with people on a larger scale." Moving Pictures topped the Canadian chart and reached Number 3 in both the UK and the US, but Peart was already chafing at their new-found celebrity. Lines he wrote in the song Limelight - "I can't pretend a stranger is a long-awaited friend ... One must put up barriers to keep oneself intact" - were reminiscent of Pink Floyd's Roger Waters in The Wall. "The Wall is my life story, too," says Peart. "The alienation factor - all of us, as touring musicians, lived that."
"Limelight [on Moving Pictures] came at a time when Neil was struggling, working out how to deal with it," reflects Lee. "We all were going through it in our own way. Alex and I seemed to be able to block those things out. Neil can't. It's not in his nature to do that."
LIFESON HAD DIFFERENT ISSUES. In 1982, while recording Signals, the guitarist began to feel marginalised as Lee's obsession with synthesizers began to dominate Rush's sound. While mixing the song Subdivisions, Lifeson fought to get his guitar heard. It proved futile. "The guitar barely exists on that song," he says. "I remember clearly pushing those faders up and our producer Terry Brown looking at me, smiling, and pulling them back down. That moment stuck with me."
Lee and Lifeson were in direct conflict. "I was carried away on the wave of technology," Lee says. "And you owe it to yourself as an artist to find out if this can help your music." Lifeson disagreed: "For me, the guitar is what drives a three-piece band. But when the keyboards came in they just soaked up the whole mid-range. The guitar got stepped on."
This discord remained unspoken, but it simmered throughout the '80s. "I never fully understood how painful that was for Alex to reinvent his role in Rush," Lee admits today. "But true to his nature, he didn't stand in the way of it. He just got upset after it was over."
Lifeson swallowed his pride and Rush carried on. By the early '90s they were, in the words of Rush fan and Manic Street Preachers bassist Nicky Wire, "the biggest cult band in the world", impervious to rock trends like grunge. But near the end of that decade came a catastrophe that appeared to finish the group at a stroke. In July 1997, Peart's 19-year-old daughter Selena was killed in a road accident. Ten months later, his partner Jacqueline Taylor died from cancer. At his daughter's funeral, Peart told Lee and Lifeson: "Consider me retired." Lifeson remembers it as if it were yesterday: "On that day, the band just didn't exist any more. It was all about Neil and how he could get through this."
Peart took to the road, riding a motorcycle across North America for months on end, journeys later chronicled in his memoir Ghost Rider: Travels On The Healing Road. Eventually, in 2001, after marrying photographer Carrie Nuttall, Peart called Lee and Lifeson and said he was ready to work again. "He hadn't played drums for three years," Lifeson says. "We could see that he was still extremely fragile, and not really sure if he was ready for it, but we went into it very gently and just let him build up his skills again and get into physical and mental shape. It was tough."
Recorded over 15 months and released in 2002, Rush's comeback album Vapor Trails marked a return to the band's core values as an old-fashioned power trio. For Neil Peart, it was a very personal triumph. "That album was very therapeutic for Neil," reflects Lifeson. "Lyrically, it's all about him, all about that experience. He needed to do that. And as difficult as it was for Geddy to sing those words that were so personal to Neil, we were very supportive of that."
During Peart's interview with MOJO, it is only when discussing Rush's 1984 song Afterimage, written about the death of a friend, that he makes reference to the loss of his wife and daughter. "Afterimage was a response to a tragedy," he says. "Looking for a reason why, and recounting shared memories of a life. I think it's true to say and sad to say that my experiences only reinforce the knowledge that if you believe in death you cannot live."
IN THE YEARS FOLLOWING PEART'S return to the band, Rush's profile has been at its highest since the 1980s. There was huge media interest when, most unexpectedly, Alex Lifeson was arrested on New Year's Eve 2003 at a party at the Ritz-Carlton Hotel in Naples, Florida, after what was described as a "drunken brawl". Clashing with police officers, Lifeson was tasered repeatedly and had his nose broken. Having avoided jail by pleading no contest to a charge of resisting arrest, Lifeson now dryly refers to the incident as "unfortunate".
On a more constructive note, the band's stock rose again in 2010 with the release of a feature-length documentary. Rush: Beyond The Lighted Stage contains fascinating extracts from a previously unscreened, early-'70s local TV footage in which the teenage Lifeson is seen arguing forcefully with his parents about his chosen rock'n'roll path, and also featuring candid scenes from a recent dinner at a favourite restaurant, where the three members of Rush are giggling drunk ("That was a goofy night," says Lee. "Not atypical"). And what it revealed was that rarest of things: a successful rock band in which the friendships have endured. Says Peart: "I know how it can be with bands - I'm friends with [Police drummer] Stewart Copeland. But that shared thing that we have, it works both musically and personally."
Like the suburban high school kids of whom Peart wrote in Subdivisions - those who would "be cool or be cast out" - Rush were never a fashionable band, even at the height of their success. In the mainstream rock press they have suffered ridicule, most of which they can now laughingly accept. As Lee confesses: "It's hard to say 'The Fountain Of Lamneth' with a straight face." But with longevity has come the revenge of the nerds. In the US, only The Beatles and The Rolling Stones have had more consecutive gold and platinum records than Rush's 24, and among the most influential rock acts of recent years are many Rush fanatics, such as Dave Grohl, Smashing Pumpkins' Billy Corgan, and Metallica's Kirk Hammett, who christens Rush as "the High Priests of Conceptual Rock".
It is a title that still applies. In a year with a special resonance for Rush comes the band's 19th studio album, Clockwork Angels. And although they are reluctant to use the term, it is recognisably a concept album. Moreover, its storyline - influenced by science fiction, specifically the steampunk genre, and featuring a hero caught between the forces of order and chaos - bears more than a passing resemblance to that of their career-making 2112.
Rush have come full circle. As Peart wrote on the Hemispheres album, way back in 1978: "Plus ça change, plus c'est la même chose ... The more that things change, the more they stay the same."
---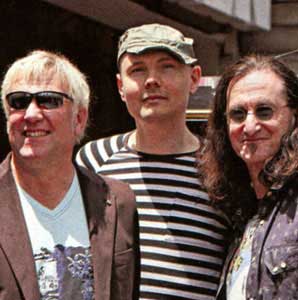 "I knew how to play 2112 all the way through"
How Rush spoke to a 16-year-old weirdo
By Billy Corgan
"There was a moment in my life - and I willingly admit this - when I knew how to play 2112 all the way through. And when I think back, I must have sat in my bedroom for a year to learn that fucking song. I have this memory of sitting in the basement with my mother. I actually said to her, I want to play you a song. It was very hard to ever get my parents' attention, so it was a big deal. And I played Entre Nous [from Permanent Waves], and I gave her the lyric sheet, because I wanted her to understand that this song was connecting with me on some level. When I was 16 years old I wasn't as emotionally open. I was very withdrawn. So something about that song allowed me to say, 'Somehow this song is almost like it's written for me.'"
Interview from: Rush Beyond The Lighted Stage DVD (UMC, 2010)
---
Moving Pictures: The story of Rush, in pretentious artwork
FLY BY NIGHT (1975)


Nocturnal aeronautics represented by alarmingly outsized and beady-eyed Bubo scandiacus, the official bird of Quebec. The wintry landscape is an echo of the epic track, By-Tor & The Snow Dog.
CARESS OF STEEL (1975)


Visualisation of the album's Tolkien-inspired odyssey, The Necromancer. Note "evil prism eye" - as utilised by Lord Of The Rings villain Sauron. And, naturally, "prophetic" robe.
2112 (1976)


Behold the Red Star of the Solar Federation! Symbol of the totalitarian regime led by the Priests of the Temples Of Syrinx! Heavy-handed Cold War allegory ahoy!
HEMISPHERES (1978)


Heavily influenced by Pink Floyd/Led Zeppelin design team Hipgnosis, a homoerotic analogue of man's higher and lower consciousness - one of the themes explored on the album's title track.
PERMANENT WAVES (1980)


Album title as extended visual pun: waves in model Paula Turnbull's hair and in a flooded street. And waving from afar is art director Hugh Syme. Yoo-hoo!