Getting In Gear
Time Is On Rush's Side As They Prepare To Unveil Their 19th Album, Clockwork Angels
By Philip Wilding, Needle, June 2012, transcribed by John Patuto
---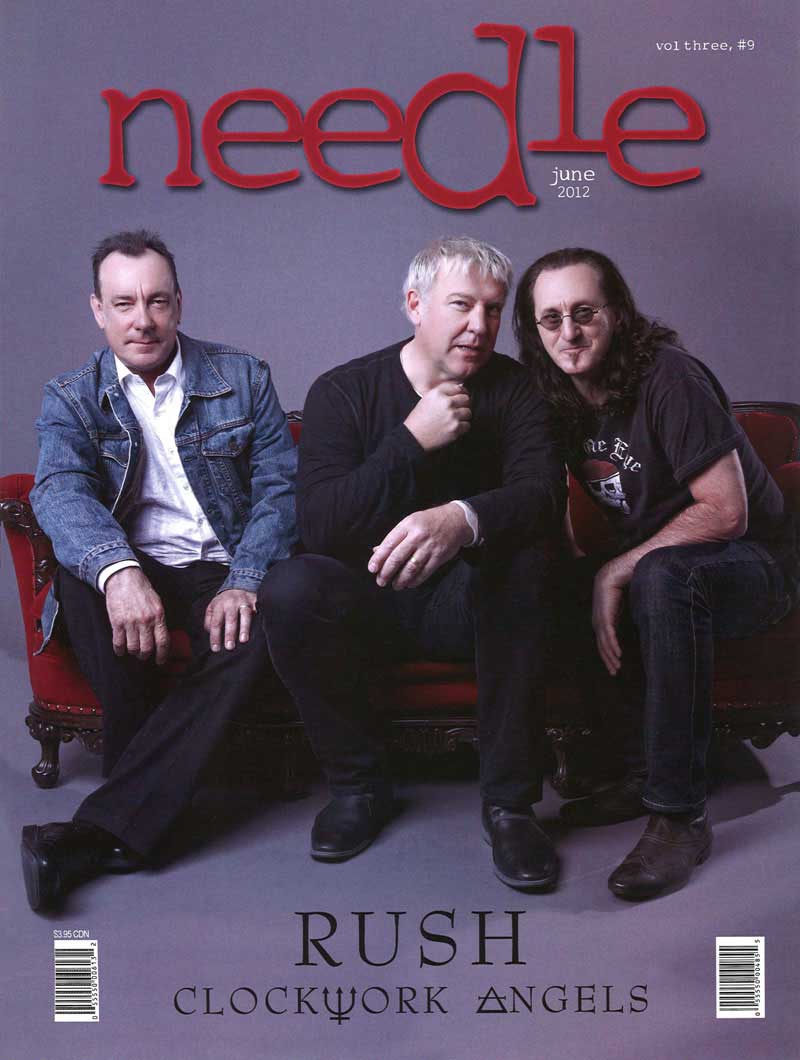 ALMOST 40 YEARS INTO THEIR CAREER, Rush are changing the way they get things done. Blame last year's Time Machine tour, which saw them debut the idea of improvising live onstage. Blame Neil Peart: For the first time in his career, he didn't prepare his drum parts, just came in and played them live. Seventy-five percent of his playing on Clockwork Angels is improvised and done in one take. Blame the passing of time. Alex Lifeson says he's in his late 50s now and he couldn't give a shit about how people perceive him or the way the band works. Maybe even blame producer Nick Raskulinecz, who first worked with the band on 2007's Snakes & Arrows, and returned to co-produce Clockwork Angels.
"We sat down three years ago to talk about making this album," says Raskulinecz, "And I said, let's make a record for ourselves, let's make a Rush album, and all this time later, this is what we've got. There was never a conscious decision to make a concept album or to have it be full of crazy fills and have the bass licks, you know. It just evolved; it's Rush, I didn't restrict them in any way."
With it's deliberate nod to "Bastille Day" in leadoff single "Headlong Flight," the band's willingness to experiment and, by their own admission, push the songs as far as they could go (Lifeson: "We wanted to get back into writing longer songs, to play more and have more parts"), it's little wonder that Clockwork Angels, while remaining steadfastly in the present, isn't afraid to hint at Rush's past.
"We went away from that place," says Geddy Lee. "You have ways of writing and sometimes you ignore the obvious."
It's March and the California sun is shining down on the courtyard of Henson Studios in West Hollywood. After tracking the album at Revolution Studios in Toronto, the band moved to L.A. to finish the mix. Charlie Chaplin built the original studios - his footprints are still embedded in the concrete nearby - though since Jim Henson's people moved in, it's Kermit the Frog who dominates the exterior walls.
"As a band, we're players first, always. But somewhere along the way we missed that connection on how that playing informs the writing. We somehow forgot that's how we used to write in the old days; that's how we wrote 'The Spirit of Radio,' that's haw 'Tom Sawyer' was written, all of us together in a room jamming. So, without realizing it, our playing was informing our writing right from the get-go, and then we went away from that. We separated that from what I guess is essentially Rush."
The band's 19th studio album celebrates another first for the band: a complete concept album. The story of a young man's quest through a world of steampunk, clockwork and alchemy borrows from sources as diverse as Daphne du Maurier, Joseph Conrad and Voltaire's Candide; the novelization of the record, co-written with acclaimed sci-fi author Kevin J. Anderson, should be published sometime in September. Musically, the album's as experimental and far-reaching as the concept that underpins it, while the intricate and expansive title track is as good as anything the band has ever recorded.
"I hope that's in the live set forever," says Peart of "Clockwork Angels." "Alex gave us a demo way back before we started writing and right away I pointed at that song and said, we've never done anything with that feel; as a drummer I so wanted to play it. It's so unusual for us, but it still has all the intricacies and techniques, the challenge and the performance.
"It was funny - we never set out to make a concept album. Geddy suggested we make a compilation of our instrumentals and write a new one to go with it, perhaps something more extended, and that was the trigger for me. I was all hyped on the steampunk aesthetic at the time, you know, what if? Like the protagonist in 'Caravan,' I couldn't stop thinking big, really."
"There was a thought that, as it was a new concept album, that it could go either way," Lee says. "2112 or Caress of Steel Part II. That's what we've been joking about all this time; we keep saying, it's Caress of Steel all over again. Get ready for the 'Down the Tubes Tour' Part II!"
The band's openness to trying out new ideas is never more evident than in the slick and immediate sounding "The Wreckers" (where Alex and Geddy swapped instruments) and the album's final song, the grand-sounding "The Garden," built on a stirring refrain of orchestrated strings.
"One thing we did discover making this album," says Lee, "is that when we switch instruments, we become the Barenaked Ladies! I started plunking on Al's guitar, and he grabbed the bass and he wrote a great bass part, and so we recorded it like that. And then when we got to the middle eight, I had this great idea for it and was like, ah, we have to switch back now, I'm not such a great player! It had a very poppy vibe until we Rushified it.
"'The Garden,' too, is such a different song for us - it's a side of the band I've always wanted to push more. The melodic side, the orchestration, more thoughtful and reflective, maybe. The lyrics just felt perfect. I loved the fact that it had stepped outside of this concept, dealing with these universal truths, so I wanted it to be heartfelt. It just flowed and we had a good day, as we call it; we had a good six minutes."
By the time you read this, Rush will be rehearsing for the first leg of their next world tour. Lee and Lifeson are now 58, Peart will be 60 this year, but the infamous three-hour, two-show set is still intact.
"I'll be honest," says Lifeson. "Touring takes a lot out of you; you have to be serious about your health. It's not staying up until four in the morning and having a few drinks; once in a while that's fine, but on a day to day basis." He shakes his head. "I've got to feel strong for the show, and we're all like that. We had so much fun making this record. This one has been really special, and I think we'll make records until we die. I could say we'll tour until we die, too, but the touring will probably be the cause of our demise, so we really need to think about paring the shows back in some way."
He ponders the idea momentarily while swirling the ice in his drink.
"But then I've been saying that for the last 20 years."