Alex Lifeson - 10 Questions We Ask Everyone
Guitarist, Summer 2012, transcribed by pwrwindows
---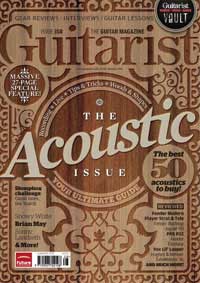 As guitarist with Canadian prog gods Rush, he's one of the world's most influential players - but will he show 'grace under pressure' when faced with...10 Questions We Ask Everyone
1 WHAT WAS YOUR FIRST GUITAR AND WHEN DID YOU GET IT?
"My first guitar was a Kent acoustic; I got it for Christmas in 1966. It wasn't much of a guitar - I think it cost $10, which was a whole lot more money then than it is now. The strings were very high on the neck and it was pretty difficult to play - but I loved that thing. The following year, I begged my parents for an electric guitar, and that's when I got a Canora that was sort of shaped like a Gretsch Country Gentleman. And that was $59, I remember."
2 WHAT'S YOUR FIRST GUITAR PLAYING MEMORY?
"I think it was learning [(I Can't Get No)] Satisfaction by The Stones. I used to come straight home from school and play until dinner time, went downstairs and had dinner, then went upstairs and played till I went to sleep! I couldn't stop playing."
3 THE BUILDING'S BURNING DOWN - WHAT GUITAR FROM YOUR COLLECTION DO YOU SAVE?
"My ES-355. I got that guitar in 1976 - I did a tour at the Gibson factory in Kalamazoo. I actually selected that guitar while I was there. I also got a Dove at the same time and Geddy [Lee] got a Dove as well. But when I finally received that guitar, I fell so madly in love with it. It looked unique with that white finish, and I still love the sound of it."
4 WHAT'S THE OLDEST GUITAR YOU OWN?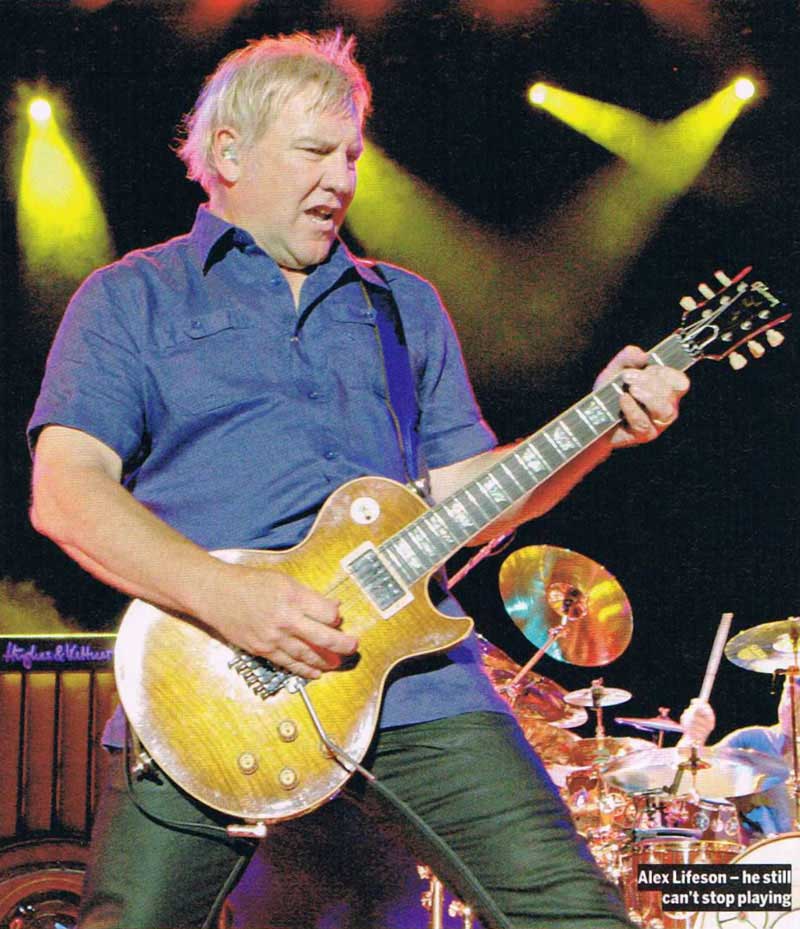 "That would be a 1968 ES-335."
5 WHAT'S THE LATEST PIECE OF GEAR YOU'VE ACQUIRED?
"I got one of the Alex Lifeson Axcess Les Paul's from Gibson - they did a short run of 10 models in black, and it's probably the best-sounding guitar I've ever owned. It's just one of those magical ones where everything came together. When we were in the studio working on this new record [Clockwork Angels], I had that sent up from Gibson, so it came a little later in the session. When I'm in the studio, I take all my guitars with me, so it looks like a music shop in the studio! But when I got this and plugged it in, we were all amazed by how great it sounded."
6 WHEN WAS THE LAST TIME YOU PRACTISED, AND WHAT DID YOU PLAY?
"I'm in a session right now, so I spent all day yesterday playing. I have a couple of guitars at home - a [Gibson] J-150 that I use for a lot of recording, and I have that in a DADGAD tuning and kind of just play. I don't play scales or anything like that - I just sit on my balcony and strum away."
7 CAN YOU NAME AN ALBUM THAT HAS INSPIRED YOU THE MOST AS A GUITARIST?
"I remember learning the solo to Spoonful by Cream - that was a momentous day for me, when I actually got through that whole solo. I still remember it - what it looked like outside and the time of day and my crappy little record player, and just lifting the needle and putting it back and back and back until I got through that whole solo. But as far as albums go, I'd probably have to say the first Led Zeppelin album - that sound was so perfect."
8 BEATLES OR STONES?
"I was probably more of a Stones guy, definitely. I like the fact they were a little tougher and bluesier in their playing."
9 WHAT ADVICE WOULD YOU GIVE YOUR YOUNGER SELF ABOUT GUITAR IF YOU HAD THE CHANCE?
"I would say don't ever shake off practising - practise as much as you can, until you're much older when you don't have to, and then get away from it every once in a while, so when you come back to it, your playing is that bit fresher."
10 IS THERE A MYTH ABOUT YOU, YOUR BAND OR YOUR GUITAR PLAYING THAT YOU'D LIKE TO SET STRAIGHT?
"Yes. That we're not as extremely handsome as everyone thinks [laughs]."