Kingdom Come
By Dom Lawson, Metal Hammer, July 2012, transcribed by John Patuto
---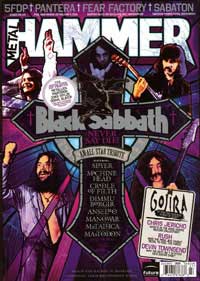 In a career spanning over 40 years, Rush have cemented their place as the noble kings of progressive rock, with an undeniable impact on heavier music. Now the power trio are back and ready to take us on another journey through space and time.
We live in an era when the sheer, sustained pace of technological advancement ensures that popular culture is in a constant state of temporal flux: chewed up, ingested, regurgitated and constantly redefined, as the past is relentlessly plundered to feed the future and the present becomes one bewildering, amorphous blur of ideas. Amid this often thrilling confusion, it seems highly possible that everything will be declared to be cool at some point, as the lines between heartfelt conviction and ironic smugness become blurred. But even though it becomes less and less surprising to see some formerly derided band or artist newly proclaimed a bastion of cutting edge awesomeness, very few people would have ever predicted that in 2012, 44 years after they formed in Toronto, Canada, Rush are suddenly, inexplicably cool - or something close to it, at least - for arguably the first time in their careers. Admittedly, the vast majority of mainstream music fans will still be blissfully unaware that the Canadians have been making glorious music for over four decades, but somewhere between the release of 2007's Snakes And Arrows album and the imminent unveiling of its long-awaited follow-up, Clockwork Angels, Rush have shrugged off the shackles of terminal naffdom and finally earned the widespread respect they always deserved. Speaking with Metal Hammer, guitarist Alex Lifeson sounds as surprised as anyone that his band are now able to reach beyond their own devoted fanbase and pull in new generations of admirers.
"I don't think we ever expected it but we welcome it!" he says, cheerily. "A lot has been happening in the Last few years in terms of the exposure of the band. We had the documentary, Beyond The Lighted Stage, come out a couple of years ago. Then there was the film I Love You Man, which was focused around us to some degree, and that came out and was very successful, certainly here in North America. All of these other things have been happening. We scratch our heads and can't figure it out, but I know the documentary did a lot to bring in a whole new audience."
Often portrayed as the archetypal progressive rock band, beloved of terminally unfashionable middle-aged nerds and no one else, Rush have also discovered that their audience has expanded into the most unexpected territory of all.
"We got a larger female audience from the documentary! Girls and women who had no interest in Rush whatsoever - or maybe their husbands or boyfriends did - they watched it and thought 'You know what? I can relate to these guys!'" Alex proclaims with evident joy.
"We never had any kind of female audience before! Ha ha! And we're seeing a lot of families and kids, sharing the Rush experience with your kids or even grandkids sometimes! It's a really positive, wonderful thing to see and it's inspiring to us."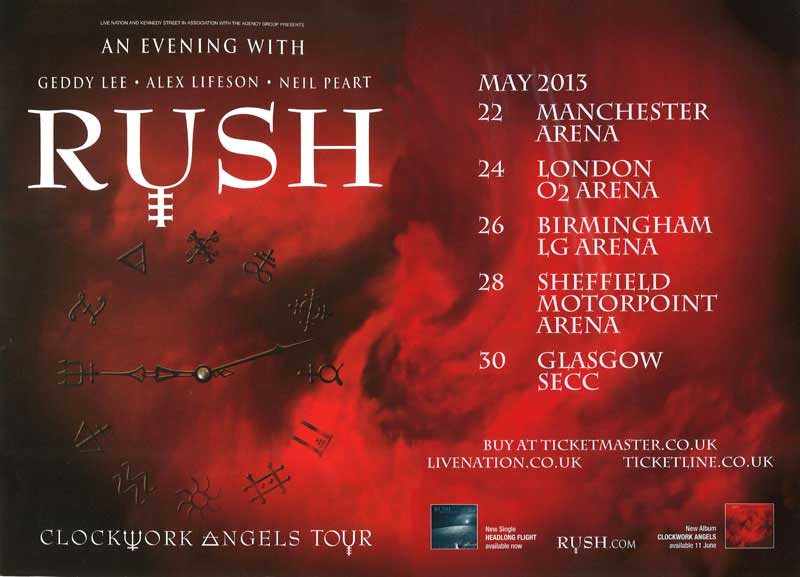 Inspiration and a sense of adventure have long been a hallmark of the records Rush have made; their numerous tangential leaps and unforeseen detours over the years have earned them a reputation as quintessential prog rock explorers and fans have learned to excitedly expect the unexpected. Even so, beyond the realms of their most devoted and well-informed supporters, Rush are routinely associated with earlier albums like 2112 and Hemispheres: arcane and elaborate concept pieces that reveled in the fantastic and the far-fetched, delighting many but alienating many more by supposedly encapsulating progressive rock's most preposterous tendencies. In truth, since changing musical tack in the late 70s and purposefully updating their sound for albums like Permanent Waves and the legendary Moving Pictures, Rush have seldom dipped their collective toe back into conceptual waters and so it came as no great shock when, a couple of years ago, the band pointedly stated that their next studio album would not signal a return to the good old days of conceptual pomp.
"For years people have asked that. 'When are you going to do another 2112 or Hemispheres or something along those lines?'" says Alex. "We felt like we'd kinda been there and done it, and obviously from Moving Pictures onwards, and even after Hemispheres, we changed direction and went in another way."
As it turns out, of course, Rush were telling a big fat lie. A giant, technicolor sprawl of an album exemplified by complex but focused epics like recently released 'single' Headlong Flight, Clockwork Angels boasts a lavish and labyrinthine concept that makes even the band's early works seem a little restrained. "In a young man's quest to follow his dreams, he is caught between the grandiose forces of order and chaos," states the album's portentous synopsis. "He travels across a lavish and colourful world of steam punk and alchemy, with lost cities, pirates, anarchists, exotic carnivals, and a rigid Watchmaker who imposes precision on every aspect of daily Life..." It seems that despite the best of intentions, Rush are so electrified by the creative process right now that nothing short of a mind-bending concept album - with a full-blown novel created by drummer Neil Peart and US sci fi author Kevin J. Anderson to follow - could satisfy their artistic urges.
"Yeah, I can't deny it now!" laughs Alex. "I think as we were developing ideas for this album, Neil [Peart, Rush drummer and lyricist] wanted to develop lyrically in terms of a concept and so we embraced the idea again. And certainly Nick Raskulinecz [producer] is a supporter of that whole genre and that whole way of thinking about a record. It makes it meatier, I think. As we were going into it, it just felt like the right thing to do. And there are a lot of long songs on this record. It's kinda great! The first single, Headlong Flight, is seven and a half minutes, which is pretty hilarious when you consider that radio doesn't like anything that's over three minutes."
Although unmistakably the work of Rush, with many moments of dizzying technicality nestling alongside monstrous riffs and huge, anthemic melodies, Clockwork Angels is such a broad and diverse collection of songs that it seems to mark both a new creative high point for the band and a renewed enthusiasm for the kind of musical extravagance that has been largely absent from their more recent studio efforts. Somehow, Rush are bringing their lust for the new and their respect for the old together with their customary skill; a move which seems to fit perfectly with themes of time travel and re-imagining reality that have dominated their recent stage shows, most notably on the globe-spanning Time Machine tour in 2010 and 2011. As they mischievously showed in the endearingly goofy pre-show comedy skits that entertained the faithful via giant screens during those recent gigs, Alex, Neil Peart and bassist/vocalist Geddy Lee seem to be approaching late middle age while exploring an obsession with bending the rules of time.
"I guess with Clockwork Angels, because of the steampunk aesthetic, we're sort of looking at the future from a Victorian perspective, so that's taking a broadjump forward and back at the same time," says Alex. "I guess we've been a little fixated on time travel lately, now that you mention it! Ha ha ha! We did Moving Pictures on the Time Machine tour and that was a nod to our past and doing a couple of new songs from Clockwork Angels was moving forward. We seem to be doing that kind of thing lately. We've got such a chronology now that it's hard to celebrate every turning point, but I think doing these things makes you more self-aware about what you've achieved over the years."
While it would be a little uncharitable to snigger at the flailing disarray that seems to have engulfed the music industry in recent times - not least due to the genuinely shocking and disheartening closing of Rush's UK label Roadrunner, which may yet prove to throw a spanner into the works of Clockwork Angels' promotional push - there is a definite case to be made for the fact that bands like Rush, who pride themselves on the quality and consistency of their live performances, are better equipped to weather the commercial storm than more transient, hype-dependent pop acts. When Rush book a tour, many thousands of people buy tickets because they know they will witness an exhilarating and substantial spectacle delivered by masters of the art. And, as bands increasingly rely on touring, as opposed to record sales, to earn their living, Rush face a more secure future than most.
"In a lot of ways I really think we're at the top of our game," agrees Alex. "We're really confident in our playing and we love it, we enjoy it, we all really embrace it. It's very exciting to do and every night is a real joy and a treat, and I think that translated onto this new record. The last couple of years, I think we've been playing really well and we've really enjoyed playing. We get on stage and it's a long show and a challenge but it's really fulfilling at the same time. We're still doing three and a half hours, which is quite something at our age!"
Having played together so many times and over so many years, the chemistry between the three of you guys must be so refined by now that clicking into that top gear must get easier rather than more difficult...
"Oh absolutely. I think particularly with Geddy and Neil. They're such a tight rhythm section," Alex states, admiringly. "Those guys have telepathy between them. I'm standing in front of Neil and I can feel his playing and the nuances and the subtleties in his playing are just out of this world. When those guys get together it's amazing to watch them work out stuff, because they just do things at the same time without even talking about it. It's pretty amazing."
Thoroughly enjoying their twilight years as lauded rock veterans and, somewhat bizarrely, the coolest uncool band on the planet, Rush are living proof that doing what comes naturally and following your own path can lead to timeless music and a legacy that keeps growing and growing, defying the odds and working like clockwork. Call them prog nerds or the world's biggest cult band if you like - they're having far too much fun to care.
"There's worse things to be called than the world's biggest cult band, and we've been called most of them!" laughs Alex Lifeson. "It's a bit of an oxymoron, isn't it? But in a way it's kinda cool! I guess it says that we're out of the mainstream, we're not like everybody else but we have something that a lot of people like and we appeal to a good segment of the listening audience. I think we wear it as a badge of honour, actually."
---
Children Of The Grave: Alex Lifeson On The Forefathers Of Heavy Metal
"We met Ozzy Osbourne back in 1977, when we were at Rockfield [residential recording studio near Monmouth, Wales] working on our album A Farewell To Kings. He'd stopped by briefly at the studio and my recollection is he was looking for drugs ha ha ha! Unfortunately he left disappointed! We all had a good chuckle about it at the time.
"Black Sabbath are very important to heavy music. Tony Iommi had such an awesome sound, and their riffing was spectacular. They were really the quintessential heavy metal band of that period. They were much heavier than some of their contemporaries like Uriah Heep. They definitely had a sound about them that put them in a category all their own. If Black Sabbath didn't exist, the world would be a quieter place! And they certainly influenced a lot of people.
"My favourite Black Sabbath song has to be Iron Man, because the vocal line was so cool. And it's just a great riff. That droning opening guitar note is so perfect."
---
Counterparts - So, What Do Machine Head And Rush Have In Common?
As this appearance in Metal Hammer confirms, almost uniquely among their prog contemporaries, Rush have a long-established support base within the heavy metal world, with countless bands citing the Canadians as an influence. Most recently, no less a force than Machine Head doffed their collective cap to the band, recording a fine cover of Witch Hunt [from Rush's 1981 masterpiece Moving Pictures] and citing them as a primary inspiration behind the adventurous evolutionary steps taken on last year's Unto The Locust.
"I heard about that Machine Head record - it's great. I guess the metal scene might look up to us because of what we've done over the last 40 years," says Alex Lifeson. "We started as a little garage band that played high schools, then we went through the club scene and got our deal and toured and stuck to our guns and did things the way we wanted to do them, and I guess that's a hallmark of metal too. We do it on our own and we created our own thing. Metallica were like that. They were disparaged for years but they stuck to what they believed in and worked hard. And they take chances!"
Rush may not be a metalband in any strict sense, but they fit snugly into our world nonetheless and Alex is both aware of and very happy to express thanks and respect for his metalhead brethren: "Heavy metal fans, they're the ultimate loyal fans," he says. "They love the music and they're very supportive of it. Our fans are like that too. It's a wonderful thing."
---
Rush Clockwork Angels - Seminal Prog Rockers Hit a High Note
By Dave Ling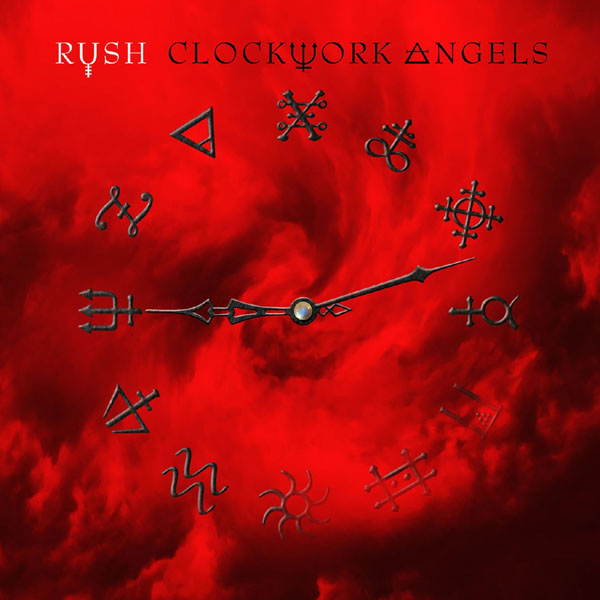 Question: Which group has influenced bands as diverse as Tool, Rage Against The Machine, Pantera, Foo Fighters, Smashing Pumpkins, Porcupine Tree and Dream Theater during a recording career that began a staggering 38 years ago, selling 40 million records along the way, yet still remaining outside the consciousness of many rock fans?
Answer: You're reading a review of their 19th full-length studio release, and they go by the name of Rush.
Having begun as a capable but generic Led Zeppelin/Cream-inspired three-piece, the acquisition of arguably the best drummer this genre has to offer - Neil Peart is the Canadian band's 'new boy', having joined in 1974 - has enabled Rush to spend four decades routinely reinventing themselves and their music, becoming masters of progressive-inspired hard rock. Since losing their way under a barrage of synthesisers during the 1980s and teetering on the brink of extinction when Neil's daughter and common-law wife both died, they have slowly but surely fought their way back, the likes of Kirk Hammett, Sebastian Bach, Trent Reznor and Zakk Wylde singing their praises in the docu-movie Beyond The Lighted Stage.
Graced with a clear, powerful and imaginative production from Nick Raskulinecz of Foo Fighters, AIC and Velvet Revolver fame, Clockwork Angels offers a better set of songs than 2007's Snakes & Arrows (also helmed by Nick), and is a far more satisfying vehicle for the guitar expertise of Alex Lifeson than 2002's mostly solo-free Vapor Trails. It might even be their best and hardest-rocking record since the celebrated Moving Pictures, performed in its entirety on their last tour but recorded in 1981. With the keys stripped right back and Alex serving up some down'n'dirty riffing, hearing Rush as a power-trio once again is a beautiful thing.
Previewed on that last tour, Caravan and BU2B get things underway. The former is thunderously dispatched, the latter's punchy, groovy dynamics and uplifting sentiment ('I was brought up to believe') creating a slightly more commercial effect. Reflecting its lyric of 'Pools of poison/The scarlet mist that spill over into rage', The Anarchist revels in the type of brutal guitar motif not heard since Working Man on the band's self-titled debut in 1974. The raucous Seven Cities Of Gold, meanwhile, rejoices in a crisp drum pattern - a single listen reveals why Mike Portnoy modelled his own technique upon Neil's jazz-derived style - plus further weighty guitars from Alex. Geddy Lee is not to be left out. Fruity and muscular, his bass playing is the glue that holds things together. If his high-pitched voice still has the potential to alienate, well... most fans made up their minds years ago. Rush being among the most contrary bands to walk this earth, instruments were swapped to write a deeply harmonious track titled The Wreckers, and an orchestra brought in to embellish the acoustic-flavoured The Garden. Stellar musicianship, great songs and thought-provoking lyrics make Clockwork Angels the masterpiece fans have awaited for decades.
9 out of 10
---
Alex Lifeson: Guitar
Are you enjoying this more than ever?
"I guess that's true. It didn't need to be about anything else but the joy of playing rock music. There are some really great moments. We approached it a little differently too. It was much more improvisational. It's a more open style for us and it's taken us to another place in our writing."
Neil Peart is notoriously meticulous, so how did he cope with that?
"The normal Neil way of working is very regimented and organised. He memorises his parts and records them. Normally he could play the whole record without hearing what me and Geddy are doing, but that's not the way we wanted to make this record. Neil was a lot freer in his arrangements when developing them. He was thinking out of the box. I think he really got off on it."