Rush
Groovy New Album 'Clockwork Angels' Is A Revelation. Alex Lifeson Shares the Story With Us By Mik Gaffney, Power Play #144, July 2012, transcribed by John Patuto

---
Back in 1968, guitarist Alex Lifeson, along with John Rutsey and Jeff Jones, put together the first incarnation of Rush. The fledgling Canadian power trio soon made their first change (before their second gig in fact) with the addition of bass/singer (and Lifeson's school friend) Geddy Lee. The band quickly began to make in-roads in their local scene, playing school dances, clubs and just about anywhere that would have them, pushing towards a deal and a shot at success. Their debut album, released in 1974, proved to be something of a revelation with its Zeppelin-esque vocal attack and bruising guitar work. Just after the album's release the band were forced to part ways with Rutsey due to complications with his diabetes, and after a number of auditions, settled on the quiet and unassuming Neil Peart to take over drum duties.
With the line-up established, Rush hit the road and subsequent albums ("Fly By Night" and "Caress Of Steel") almost led to the band losing their deal. With the record company asking for more focus and shorter songs, Rush decided that the next logical step would be the seminal "2112" (which included a twenty-minute title track, hardly the 'commercial' edge the label wanted) but the album was a huge success and meant that Rush had taken control of their destiny. Over the years the band would get more and more progressive, adding all kinds of instrumentation and percussion to their sound. The trio remained fiercely 'uncool', but it suited them to remain on the edges of popular music. As the years went on, Rush continued to develop their sound adding keyboards and synthesisers, becoming almost unrecognizable from the band's original blues-rock style on their first album. With a return to a more guitar-driven sound in the late 90s, Rush were now firmly established as one of the most innovative bands in rock, influencing a whole new range of musicians from Billy Corgan (Smashing Pumpkins) to Trent Reznor (NIN) to expand and push boundaries with their own bands.
Acceptance from their peers was nothing new to the band, but the sheer breadth of bands claiming that Rush was the reason they played music was staggering. A double tragedy struck the band in 1997, when Neil Peart first lost his daughter in a car wreck and then, a year later, his wife died from cancer. Peart, understandably shut down, telling his band mates 'consider me retired'. The five-year hiatus would come to an end when Peart returned to the fold with a fresh desire to make music. The resulting album, "Vapour Trails" brought the three of them together and the world tour that followed was one of the most successful of the band's career. With a renewed sense of purpose and creative vigour, they followed this with "Snakes & Arrows" and made the acclaimed "Beyond The Lighted Stage" movie. The film changed the perception of how people saw Rush and now, some forty plus years into their career, Rush are finally 'cool'. Not that the band care; they're happy to be making music and still enjoy playing together. Their new album, the fabulous "Clockwork Angels" is a concept piece which is described by Peart's collaborator Kevin J Anderson as 'A young man's quest to follow his dreams, he is caught between the grandiouse forces of order and chaos. He travels across a lavish and colourful world of steampunk and alchemy, with lost cities, pirates, anarchists, exotic carnivals, and a rigid Watchmaker who imposes precision on every aspect of daily life.'
Musically it marks a sea change in how Peart approached the recording of the drums for the album. Rather than hours and hours spent rehearsing and honing the songs, the drummer got behind his kit and just played. Seventy five percent of what you hear is completely improvised, giving the songs a 'looseness' and groove that you rarely hear on a Rush record. It is one of the best records they've released in more than twenty years and one that the band, especially Alex Lifeson, is more than happy about...
"If you'd asked me ten or fifteen years ago, then I'd have said probably not," he laughs, after I ask him if he ever considered that his band, Rush, would be making some of the best music of their career in their twilight years. "But we're in a good space, we're all enjoying working and it's the best we've ever been playing on tour, so I don't know, it's not really a big mystery for us; we're just doing things the way we've always done. But there is a very good energy, a good feeling about this record in particular."
Rush have, since very early in their career, been the masters of their own destiny. The outside pressures of record company executives looking for the 'single' were not things they suffered from.
"Oh, there's plenty of outside pressure, we just don't listen to it," Alex laughs. "We were fortunate that we kinda dipped early in our career and we came back with a strong record, which was "2112". "That, in essence, bought our freedom and our independence and after that we got the respect from our record company and we knew what we were doing, or at least we thought we knew what we doing, and they really stayed out of the way. The record company has, pretty much since then, stayed out of the way and we've always delivered a finished record to them, and they get very little input."
Rush, like a lot of bands in the seventies, were given the chance to grow as a band. Record companies then, unlike today, weren't always looking for 'out of the box' success (not that they turned their nose up at it when it happened, mind you). Nowadays, Rush, like a host of other classic bands, wouldn't have got past album number one.
"Yeah, I kind of doubt it," Alex admits. "Record companies were so different back in those days. They were developers. The first two records would be sowing the seeds, the third would be the harvest and then the fourth and fifth would be the payoff records, so it was always a long-term thing, but nowadays they're really not into that. There's no real up front money or support. They want everything that the band can offer now, with very little in return for the band."
Rush has always had a loyal following, but in recent years the band has seen their popularity grow in areas that no one could have expected, certainly the silk kimono-wearing 'glory' days of the seventies were a far cry from the new found 'cool' status the band seemingly enjoys.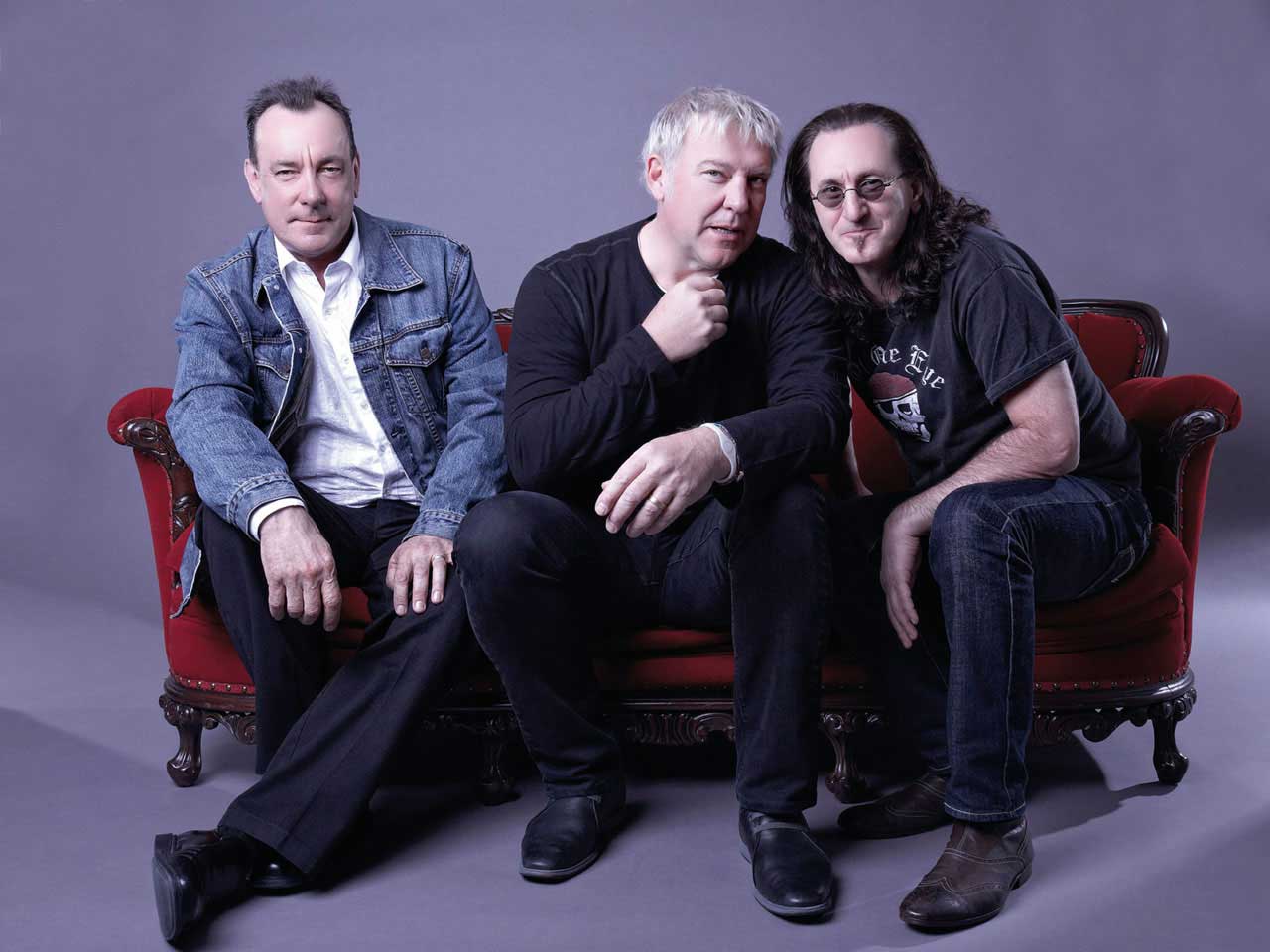 "I kind of thought we were cool back then," he laughs. "It's funny, but the way we've done things has always worked out. We're quite happy with our station; we've always had a strong following and we've been one of the bigger 'cult' bands over the past three decades. And we're grateful for that because that fan base has given us the opportunity to make the records that we wanted to make and they either accepted them or they didn't. Rush fans are the most critical people that listen to our music."
They are also amongst the most loyal fans, too, but rather than get protective over their band, they seem happy with Rush's newfound, well, celebrity, for want of a better word.
"Sure, there have been more mainstream things that have happened over recent years, which have pushed us into situations that aren't normal for us, the documentary for instance... all of a sudden the whole perception of Rush changed. I mean not for us, we're a little bemused by the whole thing, but definitely we can sense the change. Most of it came from the documentary, I think. It showed a side of the band that no one really knew. People related on a whole different level, not just to the music."
One of the more infamous segments of the documentary is the dinner scene, where the three members of the band slowly, with the help of lots of wine, begin to let their guard down, revealing three very good friends that just like to goof off and have fun.
"It's pretty much always been like that," Alex agrees, "and who wouldn't want to do that for their whole life? It's just a rock band, so it's supposed to be fun. Being in a rock band into your 60s though is..." he pauses, "amazing!"
And it gives a sense that Rush, despite the 'difficult' music and the misconception that they're miserable gits, actually still love what they do.
"I don't think there was a single moment, especially on the last tour, that I didn't love being on stage playing," Lifeson states. "Everything sounded good, we played well and the audience response was amazing. It never felt like a job."
"Clockwork Angels", the band's latest offering, and best in many a year, almost sees Rush reinvent themselves to a point. The playing, especially Neil Peart and Geddy Lee's, is their most fluid, funky and off-the-cuff in years.
"That's true," Alex muses. "There's a real 'shooting from the hip' feel on this record. You know, Geddy and Neil are always a very tight rhythm section, but there's a real looseness to their playing - as you said, a funky, groove approach to their playing. A lot of that was down to the way that Neil approached the way he recorded the drums. Normally he would work on arrangements for weeks and then he'd practise them over and over, ingraining it, and then he'd record the parts. This was a lot more spontaneous. He recorded with just him and Nick [Raskulinecz producer] in the studio, and Nick had him record take after take after take - just different versions of the song. It was all about the moment. I think it shows in Neil's playing. He's very creative and very, very active on this record, even for such an active drummer as he is."
It really shines through on the recording, and not just drum wise.
"True. Well, Geddy really reacted to that," he offers, "Even when he and I were working on the demos, we were really grooving to the songs; it was there in essence right from the very beginning."
Maybe that newfound spontaneity is what the band has been missing over the years? Maybe 'The Professor,' needed to re-think his approach...
"Yeah, you know..." Alex pauses. "Neil is an amazing drummer, arguably the best rock drummer in the world, and the things he can do are incredible, but I think sometimes as a musician when you work on some things too much, you lose something and it becomes more of an academic exercise. You lose the spontaneity, the gut instinct to hit the cymbal at that moment or to go for that drum fill, and that's more apparent on this record, I think."
Even for such a legendary drummer as Neil, some of his playing on this album just exudes an almost euphoric quality, a looseness that is rarely seen in his playing.
"Absolutely, and I think he really got off on that," Alex agrees. "I really don't think that Neil expected to enjoy things as much as he did, He's a real creature of order and pattern; he's a typical Virgo in that way, He likes to have everything in a straight line, so to do something like this was a real eye opener for him. He was like 'I'm just going to play whatever I'm going to play, and then I'll learn it later, rather the other way around", which I think was really good for him."
Peart, though, isn't just the band's drummer; he's also the main lyric writer and the man from whom the concept behind "Clockwork Angels" is derived. Peart is a famously well-read person, but sometimes his band members are left scratching their heads, wondering what he's come up with.
"That's what we usually do with all his lyrics," Alex guffaws. "Actually, there's always so much back and forth between Ged and Neil on the lyrics, and that's where most of the action is in the song writing - in the lyrical domain. Ged might pick up on one phrase and he'll say to Neil 'I love this phrase. I love what its saying. Can we re-write the whole song around that sentiment?' It's amazing that Neil has the patience for it; he never complains and he's always up for it. Even though he's spent countless hours on those lyrics, he'll strip them right down and start over. He'll probably go through a number of stages like that until he finally gets to the place where Geddy is comfortable."
Of course, Geddy has to sing these lyrics, so he has to feel comfortable with them so that he can do them justice when he sings them.
"And with conviction, and it's got to clear," Alex agrees. "Neil sometimes writes more from a novelist's sensibility and sometimes he needs to explain the ideas in a way that normal rock lyrics don't have, if you know what I mean. It's finding that balance."
Rush, as ever, are not a band that will be pushed on things; recording sessions happen at their pace, but it's often beneficial in the strangest ways. "The Wreckers", one of the standout cuts on the album, came about whilst the band waited around the in studio for a problem to be fixed.
"Yeah, that's true," Alex confirms. "Actually, it was very cool, the way that came about. We were on a little bit of a downtime in the studio and Ged picked up one of my guitars. I have all my guitars in the studio - it's like a family get together. I might not use ninety percent of them, but they all like to be there," he laughs. "Anyway, I had an old acoustic there, in Nashville tuning, which is like the octave tuning on a twelve string, so it has a light, airy sound to it. Ged started playing on it, grabbed some lyrics and said 'What do you think of this?' He started playing the verse melody and I said 'Wow, this is great!' Ged wanted to throw it down real quick in the studio so I grabbed a bass and played along, and that's how we ended up writing it, with him on guitar and me on bass. It was really interesting because Ged plays guitar by using one finger and strumming back and forth, a lot like he plays bass, and I don't do that, so he was getting a really different sound and feel to it. I play bass totally different to him. So the whole song had a different feel to it, which was very revealing to us."
Elsewhere on the album, "Headlong Flight" has a cheeky nod to "Bastille Day", obviously something the band were aware of rather than the old grey matter giving up and forgetting they'd already used that riff!
"Oh for sure, we totally meant for it to be there," he laughs. "We were both laughing when we did it. Why? I don't know. It just seemed like a good idea at the time. I guess we all figured that people would see the connection anyway, so why not? There's no hidden meaning, it was just fun."
With every album that a band releases, there's always that moment when they sit back and listen to the final mix and feel content with what they've achieved. It's something that Lifeson definitely agrees with.
"I feel there's something quite strong and quite different about this album," he offers. "The Garden" and "Clockwork Angels" have some of my favourite solos that I've ever played. Even though they were only incidental, I just threw them on to fill space. I did them over at Geddy's. I was catching up on guitar stuff and there were a couple of gaping holes so I just threw them in but now they're among my favourite solos.
"Seven Cities Of Gold" and "Carnies" had that real 'shooting from the hip' traditional rock sound to them. We stripped down the recording this time, too. I mean, you can make everything really loud, but you can still hear it. It's not even a fraction as dense as "Snakes & Arrows" was." Rush already have plans to tour the world, including their first European festival since their appearance at Pink Pop in 1979! Three-hour sets are standard now, but will they be cutting back as the band approach pension age, or will the mammoth sets continue?
"No, they'll continue, Alex laughs heartily. "We're at version four of the set list, I think, and it's at just over four hours right now, but we have to cut it back a bit. I'm sure it'll be close to three and half hours when we're done. There are probably a couple of songs we haven't played live before in there, he reveals. "There are certainly songs in there that we haven't played in a very, very long time, and we're looking at re-arranging a couple of songs to maybe add strings...so we're really looking at a fresh approach with this tour. We have a really good cross-section that I think every Rush fan will enjoy."
New albums, huge world tours...will Rush ever call it a day?
"Well, we were supposed to slow down a little while ago." he laughs. "I recall sitting with my wife one time and saying 'You know what? I think it's time that we slowed this whole thing down a little' and then it went and accelerated again!" he laughs. "We have this tour that will finish some time next summer, I guess, and I know that we all enjoyed making this record so much that I'm sure I'll get together with Geddy; we live five minutes from each over, always have, and I don't see us taking an extended break at this late stage of the game. Maybe in the winter or early 2014 we'll get together and start throwing some ideas around. We're riding this wave right now and it's hard to say what offers or opportunities might come our way. I don't see any reason why we'd stop right now."
In a career as long and successful as Rush's, was there one defining moment, one truly stand out event that really made Alex understand why he has put pretty much his entire life into this band?
"Actually yes, and there have been many amazing things that happened to this band, but probably the one outstanding moment," he offers, "was after Neil's double tragedy...The first show on the "Vapour Trails" tour was in Hartford, Connecticut. Ged and I walked over to the drum kit and leaned in, past Neil's hardware, looked at Neil and we smiled at each other and we all shared this moment when we couldn't believe that we were here again after that long, dark journey. It connected us in such a powerful way. We were all teary at that point. That was a pretty momentous moment. I can still picture it to this day."