Inside Rush's New Sci-Fi Rock Opera
The prog gods return with heavy concept album, monster fall tour
By Andy Greene, Rolling Stone, July 5-19, 2012, transcribed by pwrwindows
---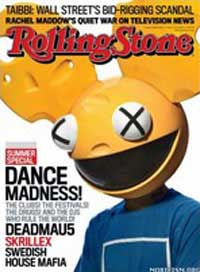 RUSH ENTERED THE prog-rock pantheon with 1976's 2112, a rock opera about a man fighting a dystopian regime that has banned individual thought. Now, 36 years later, the band has released another concept album set many years from now - but Clockwork Angels is no sequel. "This is a much different future than 2112," says drummer and lyricist Neil Peart. "It's much more nuanced in what it has to say."
Clockwork Angels tells the story of a young man who explores lost cities, fights pirates and battles the evil Watchmaker, who is trying to control society. While it takes place in the distant future, the imagery draws on 19th-century visionaries like Jules Verne and H.G. Wells. "There was no electricity," Peart says, "so everything is this beautiful copper, polished wood, and elaborate steam and clockwork devices. All of that was very appealing to me."
Peart wrote the lyrics at his Los Angeles home, regularly e-mailing drafts to bassist Geddy Lee and guitarist Alex Lifeson, who live in Canada. "Ged might pull out a phrase and say to Neil, 'This really speaks to me. Can we just rebuild the song around this?'" Lifeson says. "Then me and Ged jam for hours and hours, and we'll catalog the few bits we think are strong enough to develop into songs."
They wound up with a much more straightforward rock sound than their last album, 2007's Snakes and Arrows. "Listening back, that was a really dense record," says Lifeson. "It was layered with lots of acoustics and electronics. We really did the opposite on this record - it's very stripped down. There's more space for everything."
Over the decades, Rush learned to accept and even embrace their reputation as the ultimate dorky band. "Not only were we vilified, but our fans were too," says Peart. "In the schoolyard you'd hear, 'Oh, what do you know? You're a Rush fan.'" But the band has made an unexpected leap into mainstream pop culture in the past four years - including a much-buzzed-about 2008 appearance on The Colbert Report and a genuinely hilarious cameo in 2009's Paul Rudd-Jason Segel comedy I Love You, Man. The PR boost has helped Rush sell out venues around the U.S. "It feels like vindication," Peart says. "We set a good example by showing people you can do things your way and still succeed."
Now they can't wait to get back on the road this fall, even though they just wrapped their biggest tour ever - playing 1981's Moving Pictures in its entirety - last fall. "It was a beautiful transition," says Peart. "We were saying, 'That was then, this is now.'"
Their 44-date tour launches on September 7th in Manchester, New Hampshire. "We're always going to play those handful of songs that we've had the most commercial success with, but we'll mix it up with other material that we haven't played in a very long time," Lifeson says. "It's shaping up to be a pretty great set."
Rush's most rabid fans have loudly protested the group's absence from the Rock and Roll Hall of Fame, but the bandmates aren't complaining. "Honestly, we don't really care about that," says Lifeson. "They can have whomever they want." If they ever get inducted, though, they wouldn't dream of boycotting the ceremony a la Axl Rose. "We're Canadians," Lifeson adds. "We find it difficult to be rude, even when we'd really like to."