Conquering Mount Rush-More
By Simon Young, illustration by Rebecca Strickson, Kerrang! No. 1424, July 21, 2012, transcribed by John Patuto
---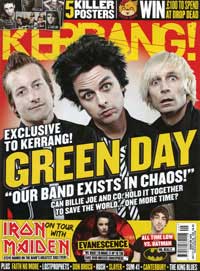 FOR OVER 40 YEARS, RUSH HAVE BEEN YOUR FAVOURITE BAND'S FAVOURITE BAND. SO HOW DID THEY BECOME ROCK'S BIGGEST, GEEKIEST CULT? AS THEY RELEASE THEIR 19TH ALBUM, CLOCKWORK ANGELS, BASSIST GEDDY LEE EXPLAINS IT ALL TO KERRANG!'S RESIDENT RUSH EXPERT SIMON YOUNG. IT ALL COMES DOWN TO 10 EASY STEPS...
Rush are for geeks. There, we said it. If you delve into their 19-strong, studio album back catalogue, you won't find any anthems about partying, boozing or the kind of carry on Motley Crue used to get up to in the 1980s. Instead, during their 44-year career, their drummer and lyricist Neil Peart has soaked up the worlds of science fiction, fantasy, mythology and philosophy to create a world that would excite anyone who frequents shops like Forbidden Planet.
They've never, ever been cool and have often polarised opinion. Their bassist Geddy Lee sings with a high voice and guitarist Alex Lifeson plays riffs that make your head hurt. They've written songs that could last an entire car journey. But that's what makes them so amazing. Many of your favourite bands would fall over themselves to talk about Rush at length. Bands like Metallica, Foo Fighters, Biffy Clyro, Rage Against The Machine, Dream Theater and the Smashing Pumpkins love the Canadian prog trio with the veracity, and voice-breaking enthusiasm of a Star Trek fan at a sci-fi convention.
So, to celebrate the release of their brand new album, Clockwork Angels, we came up with a 10-point list of reasons why Rush are awesome. Then we got Geddy Lee to back us up with stories from the trio's formidable career...
1) THEY'VE INSPIRED EVERYONE!
As we said before, Rush's records can be found in collections belonging to some of the biggest bands in the world. Even Foo Fighters dragged them onstage to play one of Rush's classic songs.

GEDDY: "We've met so many bands who're massive fans, like The Mars Volta, but we've not had any [Wayne's World style] 'we're not worthy!' moments. When Foo Fighters came through Toronto a couple of years ago, Dave Grohl invited Alex and I to play YYZ [Moving Pictures, 1981] with them. They nailed it. It's a compliment when great musicians are fans of what you do."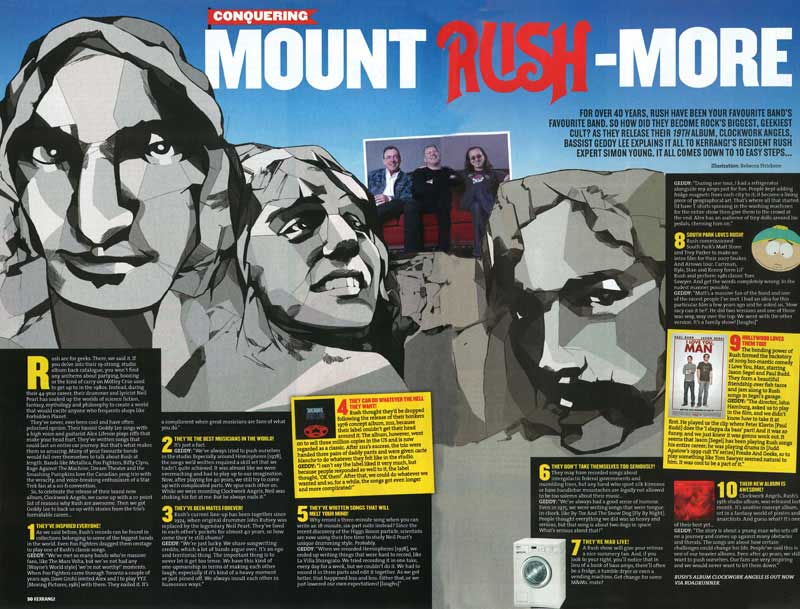 2) THEY'RE THE BEST MUSICIANS IN THE WORLD!
It's just a fact.

GEDDY: "We've always tried to push ourselves in the studio. Especially around Hemispheres [1978], the songs we'd written required a skill set that we hadn't quite achieved. It was almost like we were overreaching and had to play up to our imagination. Now, after playing for 40 years, we still try to come up with complicated parts. We spur each other on. While we were recording Clockwork Angels, Neil was shaking his fist at me. But he always nails it."
3) THEY'VE BEEN MATES FOREVER!
Rush's current line-up has been together since 1974, when original drummer John Rutsey was replaced by the legendary Neil Peart. They've lived in each other's pockets for almost 40 years, so how come they're still chums?

GEDDY: "We're just lucky. We share songwriting credits, which a lot of bands argue over. It's an ego and territorial thing. The important thing is to never let it get too tense. We have this kind of one-upmanship in terms of making each other laugh; especially if it's kind of a heavy moment or just pissed off. We always insult each other in humorous ways."
4) THEY CAN DO WHATEVER THE HELL THEY WANT
Rush thought they'd be dropped following the release of their bonkers 1976 concept album, 2112, because their label couldn't get their head around it. The album, however, went on to sell three million copies in the US and is now regarded as a classic. After 2112's success, the trio were handed three pairs of daddy pants and were given carte blanche to do whatever they felt like in the studio.

GEDDY: "I can't say the label liked it very much, but because people responded so well to it, the label thought, 'OK then!'. After that, we could do whatever we wanted and so, for a while, the songs got even longer and more complicated!"
5) THEY'VE WRITTEN SONGS THAT WILL MELT YOUR MIND!
Why record a three-minute song when you can write an 18-minute, six-part suite instead? Since the recent discovery of the Higgs Boson particle, scientists are now using their free time to study Neil Peart's unique drumming style. Probably.

GEDDY: "When we recorded Hemispheres [1978], we ended up writing things that were hard to record, like La Villa Strangiato. We tried recording it in one take, every day for a week, but we couldn't do it. We had to record it in three parts and edit it together. As we got better, that happened less and less. Either that, or we just lowered our own expectations! [laughs]"
6) THEY DON'T TAKE THEMSELVES TOO SERIOUSLY!
They may have recorded songs about intergalactic federal governments and mumbling trees, but any band who sport silk kimonos or have handlebar moustaches are legally not allowed to be too solemn about their music...

GEDDY: "We've always had a good sense of humour. Even in 1975, we were writing songs that were tongue-in-cheek, like By-Tor And The Snow Dog [Fly By Night]. People thought everything we did was so heavy and serious, but that song is about two dogs in space. What's serious about that?"
7) THEY'RE MAD LIVE!
A Rush show will give your retinas a nice summery tan. And, if you look to your right, you'll notice that in lieu of a bank of bass amps, there'll often be a fridge, a tumble dryer or even a vending machine. Got change for some M&Ms, mate?

GEDDY: "During one tour, I had a refrigerator alongside my amps just for fun. People kept adding fridge magnets from each city to it; it became a living piece of geographical art. That's where all that started. I'd have T-shirts spinning in the washing machines for the entire show then give them to the crowd at the end. Alex has an audience of tiny dolls around his pedals, cheering him on."
8) SOUTH PARK LOVES RUSH!
Rush commissioned South Park's Matt Stone and Trey Parker to make an intro film for their 2007 Snakes And Arrows tour. Cartman, Kyle, Stan and Kenny form Lil' Rush and perform 1981 classic Tom Sawyer. And get the words completely wrong. In the rudest manner possible.

GEDDY: "Matt's a massive fan of the band and one of the nicest people I've met. I had an idea for this particular film a few years ago and he asked us, 'How racy can it be?'. He did two versions and one of those was way, way over the top. We went with the other version. It's a family show! [laughs]"
9) HOLLYWOOD LOVES THEM TOO!
The bonding power of Rush formed the backstory of 2009 bro-mantic comedy I Love You, Man, starring Jason Segel and Paul Rudd. They form a beautiful friendship over fish tacos and jam along to Rush songs in Segel's garage.

GEDDY: "The director, John Hamburg, asked us to play in the film, and we didn't know how to take it at first. He played us the clip where Peter Klavin [Paul Rudd] does the 'I slappa da bass' part! And it was so funny, and we just knew it was gonna work out. It seems that Jason [Segel] has been playing Rush songs his entire career; he was playing drums in [Judd Apatow's 1999 cult TV series] Freaks And Geeks, so to play something like Tom Sawyer seemed natural to him. It was cool to be a part of it."
10) THEIR NEW ALBUM IS AWESOME!
Clockwork Angels, Rush's 19th studio album, was released last month. It's another concept album, set in a fantasy world of pirates and anarchists. And guess what? It's one of their best yet...

GEDDY: "The story is about a young man who sets off on a journey and comes up against many obstacles and threats. The songs are about how certain challenges could change his life. People've said this is one of our heavier albums. Even after 40 years, we still want to push ourselves. Our fans are very inspiring and we would never want to let them down."
---
THEY'RE MYSTIC WARLOCKS!
The bands who really, really love Rush...
Simon Neil - BIFFY CLYRO
"I remember hearing [1981 live album] Exit Stage Left as a boy and wondering what the fuck I was listening to. The way they structured and arranged their songs was so unusual and unique that it couldn't fail to inspire you to fuck with the format. Rush are fucking heroes."
Chris Jericho - FOZZY
"They are pioneers, not pawns; watchmakers, not order takers; originators, not duplicators. And, after 40-plus years, they're finally pulling hot chicks to their gigs! A swimsuit model ex-girlfriend of mine even has a Rush tattoo on her wrist, not a Jericho one!"
Jimmy Urine - MINDLESS SELF INDULGENCE
"Rush are mystic warlocks. I first heard them in 1981, in a souped-up custom van with wizard art on the side. Years later I bought Moving Pictures on vinyl from a homeless man for $1. I put it on my record player which was set to 45 RPM (faster than normal) and when I heard it, I was like, 'Holy shit, at 45 rpm, this could be a Mindless Self Indulgence song!'."
Dave McClain - MACHINE HEAD
"I had just started playing drums and Rush blew me away! The odd time signatures, epic songs and pure musicianship hit me hard. Neil Peart instantly became my favourite drummer. Any time I'm coming up with drum parts for our songs, this question to myself always emerges: what would Neil do?"
Ian D'Sa - BILLY TALENT
"Growing up in Toronto, every kid had to know at least one part to a Rush song. They were, and still are, the gold standard of musicianship. I used to sit in my bedroom trying to figure out every guitar riff in La Villa Strangiato. I still am 20-years later!"