Clockwork Angels: Lifeson, Lee And Peart Reconnect With Their Prog, Power Trio Genius
Guitarist, August 2012, transcribed by pwrwindows
---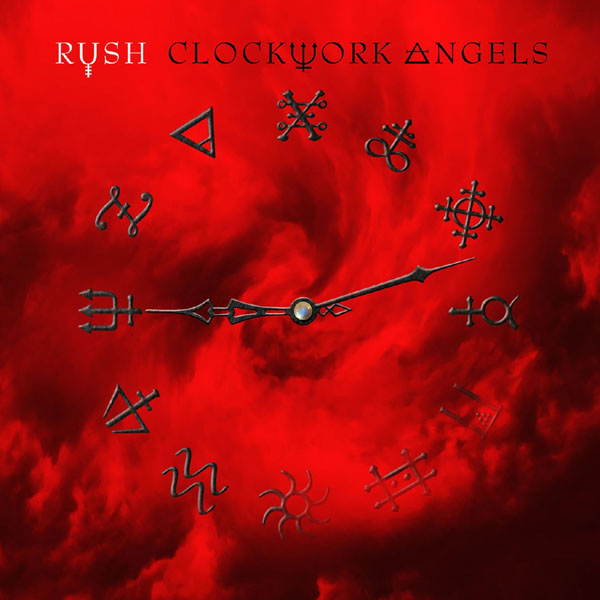 Rush
Clockwork Angels
**** Roadrunner
Only The Beatles and the Stones have had more consecutive Gold and Platinum albums in the US than Rush. Their popularity has waxed and waned over their 40-year career, but recently they seem to have joined the elite set that have merged into mainstream consciousness - everybody knows Rush.
Produced by Nick Raskulinecz (Foo Fighters, Deftones), Snakes & Arrows reached the US chart's number three in 2007, and the band's creative rebirth continues on Clockwork Angels, their 19th album. The lyrics evoke an alternate, steam punk world and reference authors from Joseph Conrad to Voltaire. While this heady concept gives much food for thought. musically this is a towering, modern rock record.
From the crunching groove of opener "Caravan" and the relentless "BU2B", this is Rush in pared-down, power trio mode, and they've rarely been tighter. Guitarist Alex Lifeson's trademark sound is stamped throughout. from the meaty Gibson tones of riff-rocker "Seven Cities Of Gold", to the fleet-fingered, blues-drenched wah-wah solo of "Headlong Flight"; from the shimmering, exotic colouring of "The Anarchist" to the bright, clean rhythm tones of "Wish Them Well".
Geddy Lee's bass is in perfect lock-step with Lifeson, and his vocals - so often the Marmite factor for many - are downright beautiful in parts. The poignant closing song "The Garden" refers to love and respect being the true treasure of life, and Lee delivers it with heartbreaking sincerity. A drummer's drummer, Neil Peart's renowned skill and laser-beam focus remain awe-inspiring, whether he's launching into a salvo of rolls or subtly lopping an eighth-note off a bar to push the song forward.
With Raskulinecz's guidance, Rush channel the progressive impulse that made albums such as 2112 and Moving Pictures such masterpieces. Intelligent, heavy and accessible, Clockwork Angels is right up there with them.
Standout track: Seven Cities Of Gold
For fans of: Tool, Muse, Dream Theater