Track By Track: Rush Clockwork Angels
Alex Lifeson And Producer Nick Raskulinecz Talk Us Through The Inner Workings Of Rush's Latest Triumph
By Joe Bosso, Total Guitar, August 2012, transcribed by pwrwindows
---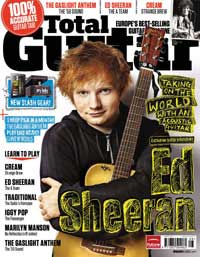 "We wanted something that was bold and stripped down," says Alex Lifeson, "real in-your-face and very much the sound of a three-piece - a hard rock record in the classic sense. I'm happy to say that it really did come out the way we anticipated and hoped for." So how did Alex and Nick put it all together? We find out.
Caravan
Alex: "This song was written quite some time ago; it's been a couple years now. We played it on tour, and it grew throughout the process. I like it because it's got a great riff and some quirky keyboard stuff. It was nice to revisit the track and remix it for the album with fresh ears.
"We talked about rerecording it, but there wasn't much point - we were happy with the performances and the sound. We did think that it could use a remix so it could connect more to what the album is now. The perspective changed a little bit. It's funny - people say to me, 'I hear new parts in the song. Did you rerecord it?' The shift of the emphasis on different instruments creates that."
Nick: "This might have been the first song that I heard. The riff is just amazing. Like it is with so many Rush songs, it's all about the energy of Alex, Geddy [Lee, bass] and Neil [Peart, drums] playing together. When you've got that, you're off, you're flying!
"For Alex's guitar tracks, we used his Les Paul Goldtop and his tobacco sunburst 335. We put those through a Marshall and a Bogner."
BU2B
Nick: "It's a heavy-hitter. It's dark and a little out of character for Rush..."

Alex: "I love BU2B for its heaviness. It's huge in the old Zep way - it's got that big, blues-oriented riff. The chorus is very energetic, and the sentiment of the lyrics really sets it up for what's coming. For guitars, I used a '59 Les Paul and a Tele, and it's one of the songs where I layered them. There's probably six guitar tracks in all.
Clockwork Angels
Alex: "I was just messing around at home and came up with a pretty lengthy piece, and most of it's what Clockwork Angels turned out to be. I love the strumming in the verses; it's so energetic. And the pre-verse sections are so dreamy; they take you to another place. There's also that blues section in the middle, which comes out of nowhere, but it really emphasizes the lyric. And then it just falls back into that beautiful, climbing arpeggio. It gives me goose bumps every time.
Nick: "What an amazing song! It's the epic of the record in many, many ways. It encapsulates so many different sounds and styles of Rush. Alex's guitar solo is from the demo. It was just him in a room playing by himself. There's three or four solos like that on the album."
The Anarchist
Alex: "I think The Anarchist might be one of the first songs we wrote for the record. It goes back a couple of years. It's an in-your-face song, and it's a powerful part of the whole suite. It has an Eastern influence, which is somewhere we've gone before; it's something we all feel and like a lot. Nick came in and said, 'I want to record on the first day. Let's put up a song, and you'll learn it while playing it. We'll do a bunch of takes and see where it goes.' I think it was an incredibly challenging way for Neil [Peart] to work, but he's the kind of person who constantly needs new challenges in his life.
Nick: "One of my favorites, but I could say that about all the songs. To me, it's all about the riff, and this riff takes me back to the old days. That was one of the cool things about working on this record, helping Rush to know that it was OK to be like this. 'You guys can do this. You guys did it a long time ago, you can do it again. You own it!'
Carnies
Nick: "This solo is so cool because of the carnival atmosphere, and that's all Al. He made those sounds and did all that brilliant guitar work - he had such vision and so many ideas. It was pretty inspiring seeing him follow it all through.
"Geddy [Lee] sang the song. We have three guitar tracks - one on the left, one on the right and one in the middle - and they all have different clean amps with tremolo, panning effects and phasers, Leslie speakers and filtered little sounds. Alex doesn't really discuss what he's thinking before he does it. He'll lay his parts down, and then he'll call me into the room. I'll either say, 'That's fucking amazing!' or 'It can be better' or 'It's done, it's perfect.' Nine times out of 10, I'll say, 'It's perfect.'"
Alex: I love the opening riff with the cool harmonics. It's got a little bit of Hendrix or Robin Trower [about it]. The choruses are strong. The carnival-type vibe and the sounds make them quite different from the verse and bridge sections. The climbing bridge is reminiscent of something, but I don't know what it is. A lot of moments on the album are like that: I'm reminded of something, but I couldn't tell you what song it is or what era it's from. That's a great thing, though - people gravitate to that.
Halo Effect
Alex: "I think we were going in a different direction with Halo Effect. I remember we were in our little control room - we had three different rooms going at one time - and I picked up an acoustic and started playing. Geddy began mouthing the lyrics, and then something clicked: he started playing along, and we just developed the song from there.
"The song is really about the emotional decisions we make that don't work out. Quite often, it's in a relationship - you think you see something, but it's not really there. So the song had to be sweet and it had to be heavy at the same time. We needed those two contrasts. I think we nailed it.
Nick: "A really cool ballad, kind of a reflective moment of the character in the story. Alex played his Gibson Dove acoustic. We two tracks, miking him with a U47 tube mic. I put the mic about three feel away so you can get the nice body of the guitar."
Alex: "There's such a great acoustic sound on it, and the solo section is something that's quite different for us. It's frivolous and light, kind of like butterflies in your stomach, that feeling you get when you're in love with someone you shouldn't have fallen in love with."
Seven Cities Of Gold
Nick: "Another epic riff. It sets the tone for the whole song. You know, there's nothing in the world like a fucking cool Rush song, and that's what this it. We created a lot of spacey stuff in the middle section. For his solo, Alex played live off the floor. We put him out in the room with his headphones on, and he was right in front of his amp. We wanted to get the screaming feedback coming at him. I think he nailed it in one take. I'm so privileged to have witnessed it - and many moments like it."
Alex: "It's also very cinematic: You can hear the danger of the big city as our traveler approaches. Then when Neil comes in and we break out the riff, you're there - you're in the city with all of its excitement and opportunity and trouble. The song has a swagger to it. It turned out exactly as I envisioned. I love the end...the guitar squealing and spitting as you leave the city."
The Wreckers
Nick: "Just talking about this song chokes me up. It's got the spirit of the '60s and '70s, a real purity to it. The song didn't exist until we were in the studio - there was no demo of it. Geddy was in the writing room, playing guitar, and Alex came in and picked up the bass. So the song was written with the two of them playing what aren't their main instruments.
Alex: "Wwhen we went in to record, we went back to our own instruments. But we were both influenced by each other's writing, which I think is a great testament to how we work. It was a very pleasant, productive experience. The Wreckers has a real pop feel. It's not heavy, but it's emotionally tied to a strong rock presence. The verses are some of my favorite Rush moments ever. It's interesting, because it was a struggle to get the verses to sit. The acoustics were too sweet; they didn't feel right. There was a contrast that didn't feel broad enough. So after a lot of hard work, we came up with the quick strumming and putting the harmonics in, and that created a beautiful moment.
Headlong Flight
Nick: "The riff, the vocals, the drumming, the guitar solos, the energy - everything that makes Rush Rush is in this song.
Alex: "We started riffing and got into a really great, long jam. It must have been hours. There were a million little parts flying around, all in the same key: E standard tuning. Afterward, we cut it up into pieces, took out the things we liked and moved them over to someplace else, and when we listened to it we were like, 'Oh my God, we've got something really cool happening here! Should we make it an instrumental?' But we decided that on this record, for the first time in a very, very long time, we weren't going to have an instrumental on this record."
Nick: "And there's one more example of a one-take guitar solo: Alex did it in the control room; he was plugged into his wah pedal and had the monitors cranked up really loud. We were all sitting there watching him. He played it one time, put his guitar down and he was done. It was perfect."
BU2B2
Nick: "There's no guitar or bass on it. We constructed it using different elements of instruments. Alex wrote a great string part and put keyboards on it. It's kind of a segue piece. Geddy's vocal is almost bluesy on it. It's pretty special.
Alex: "This is a moment that's integral to the story for Neil; he really wanted to have it in.
Wish Them Well
Nick: "I know I keep going back to riffs, but the throb of this riff is so huge, and now the crack of the snare and the smack of the bass drum match it beautifully. We had to find that - it took all day, but it was worth it."
Alex: "We always loved the lyrics, but this was a tough song to figure out. The first version that we had was so far away from this one. It was a little more ethereal, with delays that were a la The Edge - too much so. We scrapped it and started working on something else that was quite different. And then we scrapped that, too - it just wasn't right.
"It happens like that sometimes: you know when you're forcing it. After the first two versions, we took a whole new approach, with the straight fours and a very traditional chordal progression. It really suited the lyrics. It was defiant, it was a strong statement, and it had enough interest in it to be interesting. Yet it was still very basic in its delivery, which I think is good on a record like this because of all its complexity. I love the way the guitar sounds. It's huge and classic... a sick Marshall sound."
The Garden
Alex: "This was in the first batch of songs, and it came pretty easily. It's probably the most beautiful song on the album. It's reflective. It's the end of the journey, and it's got the long outro. Originally, we were going to fade it out, but it has such power the way it is that we decided against it.
"That's the demo guitar solo. What you're hearing is Alex by himself. He's at Geddy's house, it's late at night - I think Geddy was sleeping on the couch - and he's just playing a guitar solo. When you get something that great, it's not a demo anymore. There wasn't even a discussion to try to do it again. It's up there with the solo to Limelight."
Alex: "The solo is one of my favorites. It's so suited to the rest of the music. When I listen to it, my eyes well up with tears. It's a great way to end the record."
---
Permanent Soundwaves
Opening The Door To New Sounds For 'BU2B'
"I recorded a new opening that wasn't on the version of BU2B we put out last year [the double A-side single with Caravan]," says Alex. Mixing can be terribly tedious. You want to come in when the mix is ready so that you can be very objective about it. So there's a lot of sitting around and 'Hmm, what am I going to do today?'
"I had Logic set up in my hotel room, and I was goofing around and doing some writing. I had a few guitars - there was one of my [Gibson] Axcess models and a Martin I borrowed from the Guitar Center - and I got a mic. We had talked about doing this little segue, so we stuck the mic outside my balcony and recorded some background sounds: Los Angeles in the morning, cars going by, stuff like that.
"With the balcony doors open, I did a little guitar pass, and then Ged did his vocal thing. We messed around with a few effects and created the piece. It was all done very spontaneously in just a few minutes."
---
Counterparts
Why Rush's Guitarist And Producer Are The Perfect Musical Match
Alex On Nick...
"Nick certainly has a deep interest in the band. He was a fan as a young teenager, so Rush's music is really, really important to him. I think he's a great producer, he says all the right things and he brings a great enthusiasm to the studio and to the whole work environment. You just can't help but be infected by his energy. I think he reminds us of where we come from. We're always looking to move forward but sometimes it's important to look back and see where the roots are, and he reminds us of that."
Nick On Alex...
"I've said this for years: Alex Lifeson is the chameleon of rock guitar. He's got so much feeling. He brings me to tears when he plays - he's in tears while he's playing it! Some of his solos were from the demos, some he played in the studio a few times, and there were a few that he tracked multiple times. In every case, he had pure emotion."