Salina Native Performs With Rock Group Rush
By Erin Mathews, Salina Journal, September 12, 2012
---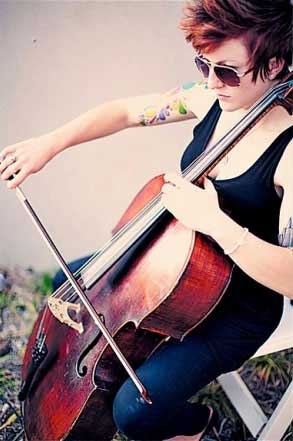 A future opportunity to appear on stage with rock legends Rush was probably not exactly what Salina Symphony legend Eric Stein had in mind when he handed his daughter a violin at age 3, but it suits Adele Stein fine.
The 25-year-old Salina native, who started playing cello when she switched from violin at age 4, was on stage with Rush for the first time Friday at the opening show of the group's "Clockwork Angels" tour in Manchester, N.H. She is one of eight string instrument musicians who are sharing the stage with the iconic rock trio during its current nine-week U.S. and Canada tour, which will conclude Dec. 4 in Houston.
"These guys are like rock gods in some people's minds," Adele Stein said. "Being on stage and playing with them, you can see why that's the case."
Stein, reached by telephone during a break in rehearsals before the New Hampshire show, is excited to be one of two cello players and six violinists who are the first musicians ever to share the stage with Rush in the nearly 40 years the band has performed.
"It's really an incredible experience," she said. "We sit behind the band on a riser. People will be able to see us very clearly."
Stein, who lives in Phoenix, is not old enough to have been into Rush in high school, having graduated South High in 2005.
"Men in their 40s and 50s go nuts over these guys," she said. "They have fans who fly from all over the world to see their first shows when they are on tour."
However, she had seen the movie called "I Love You, Man," about two men who were big Rush fans and attend a Rush concert, before she got an email from a gig contractor in Los Angeles asking if she'd be interested in the tour. She knew right away she wanted to do it.
"I couldn't believe it when I got the email," she said. "I was at the airport when I got it, and I was so excited. I was looking around, antsy, trying to tell somebody, but there was nobody to tell."
She found an appreciative audience for her news when she called her mom, Wendy, in Salina. Wendy is planning a trip to Chicago to see her daughter perform with the band and take advantage of a VIP pass and board the string players' bus, one of five buses on the tour.
Stein said the stringed instruments are featured in the band's new material from the "Clockwork Angels" CD, but she said they may also get to play along on the Rush hit "YYZ".
She said guitarist Alex Lifeson, drummer/lyricist Neal Peart and vocalist/bass player Geddy Lee are "the sweetest men you can possibly imagine."
Stein first met the band after she arrived in Toronto on Aug. 26 for pre-tour rehearsals. She said the string players did a rendition of "Happy Birthday" for Lifeson, whose birthday fell during the early days of rehearsals. Stein said she walked past Lifeson and wished him happy birthday, and he thanked her by name.
"Some people I've worked with who are famous, like, they don't take the time to get to know your name," she said. "They (Rush members) are so humble and do not act famous at all."
Before the tour started, Stein had been concerned about how the loud music on stage might affect her sensitive ears. However, she was soon contacted by an audiologist, who took impressions of her ears and prepared custom-made headphones in which she can control the volume of the sound mix.
She said she had listened to a few of the new songs off the recently released album before arriving to rehearse, but at the first rehearsal the musicians all listened to the music together before playing it.
"It's got some pretty incredible rock rifts all throughout every song," she said. "It's very well-written music."
Stein is one of three professional cello players and one violinist among her siblings, she said. She credits her parents' musical talent and patience for giving her the opportunities she has today.
"Their willingness to teach me, that's why I'm here," she said. "There was no way out, but I'm glad there wasn't a way out. I was very fortunate to have been born into this family."