Renowned Rock Trio Rush To Be Inducted Into Guitar Center's Historic Rockwalk
Ceremony Slated for November 20, 2012 with Induction Speech by a Special Guest
PRNewswire, November 8, 2012
---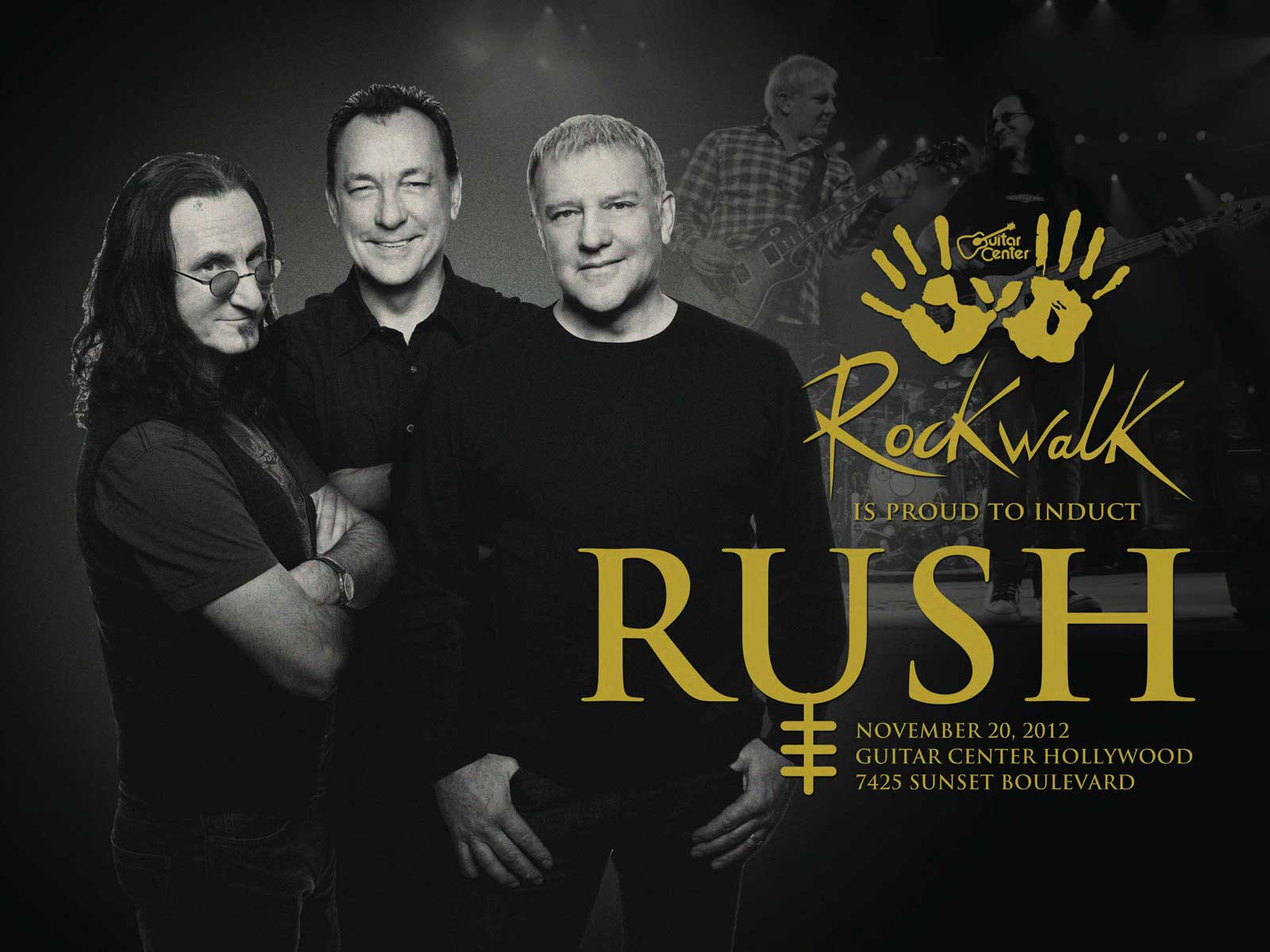 WESTLAKE VILLAGE, Calif., Nov. 8, 2012 /PRNewswire/ -- Guitar Center is proud to announce the upcoming induction of renowned rock legends Rush, into the retailer's historic RockWalk. The exclusive, invite only induction ceremony is set to take place on Tuesday, Nov. 20, at Noon at Guitar Center's Hollywood location on Sunset Boulevard. A special guest speaker will open the event by reflecting upon Rush's musical impact and welcoming the band to the stage.
"We are very pleased to have been chosen by our peers and fellow musicians for induction in Guitar Center's Rock Walk," said Rush's Geddy Lee. "It is an honor to have our names added to this illustrious list of great and highly talented musicians."
"Not only is Rush extraordinary as a band, but each member is incredibly talented in their own right," said Dave Weiderman, Chairman of Guitar Center's RockWalk. "With nearly thirty years together, this group has consistently delivered skilled musicianship, experimental-drive and stylistically diverse rock to music fans worldwide. In short - Rush is long-deserving of being honored by Guitar Center's RockWalk."
Guitar Center's RockWalk is dedicated to honoring those artists who have made a significant impact and lasting contribution to the growth and evolution of Rock 'n' Roll, Blues and R&B. As the newest RockWalk inductees, Rush's handprints will reside alongside the handprints, signatures, and faces of other equally accomplished musicians and innovators such as Eric Clapton, George Martin, Jimmy Page, Iron Maiden, Carlos Santana, Johnny Cash, Van Halen, AC/DC, Aerosmith, Marvin Gaye, James Brown, B.B. King, Stevie Wonder, Run-D.M.C. and Queen, among numerous others.
About Guitar Center's RockWalk
Guitar Center's RockWalk became a reality on November 13, 1985 with inaugural inductions including Stevie Wonder, Eddie Van Halen, Creator of the Gibson Les Paul guitar Ted McCarty, Martin Guitar founder C.F. Martin III, Marshall Amplifier creator Jim Marshall. At last, the Rock 'n Roll world could claim for itself an institution every bit as compelling as Mann's Chinese Theatre, and the Hollywood Walk of Fame.
Located at Guitar Center's Hollywood location on Sunset Boulevard, all Guitar Center RockWalk inductees are chosen solely by past honorees. In this way, inductees are chosen by real "music authorities," those who would best be able to gauge his or her contribution to music history.
As the world's largest retailer of musical instruments, Guitar Center is dedicated to supporting the global music community and providing musicians with opportunities to get their music heard. Guitar Center's musicianship programs include the award winning music television series Guitar Center Sessions, the weekly radio show Connections Made By Guitar Center, and the acclaimed podcast series At: Guitar Center with Nic Harcourt as well as various competition based programs such as Guitar Center Presents Your Next Record, Guitar Center Singer-Songwriter, Guitar Center Drum Off, Guitar Center On-Stage and Guitar Center's Battle of the Blues.
About Rush
With more than 40 million records sold worldwide and countless sold-out tours, Rush - Geddy Lee, Alex Lifeson, and Neil Peart - is not only one of the most inventive and compelling groups in rock history, but remains one of the most popular. The RIAA has certified Rush for the third most consecutive gold/platinum studio albums by a rock band, topped only by the Beatles and the Rolling Stones. Rush's vast catalog includes such classics as 1974's self-titled debut, 1976's "2112," 1981's "MOVING PICTURES," 1996's "TEST FOR ECHO," and 2002's "VAPOR TRAILS." Rush released their 20th studio album, "CLOCKWORK ANGELS," on June 12 via Anthem/Roadrunner Records. The highly anticipated collection marks their first studio recording since 2007's "SNAKES & ARROWS," and debuted at #1 in Canada and #2 on the Billboard 200, matching the highest chart debut of the band's career. In addition to their commercial success, Rush has also been recognized with a number of Juno Awards and multiple Grammy nominations, including one earlier this year for the acclaimed documentary "Rush: Beyond The Lighted Stage." Enjoying a recent pop culture renaissance, Rush made a rare television appearance - their first in over 30 years - on Comedy Central's "The Colbert Report" and a memorable cameo in the film "I Love You, Man." Most recently, Rush has been nominated for induction into the Rock and Roll Hall of Fame in 2013. A career-chronicling Rolling Stone feature summed up the renowned rock trio's continuing artistic vitality by observing, "It's true that Rush doesn't mean today what it did in '76 or even '96. It may mean more." For more information please visit www.rush.com.
About Guitar Center
Guitar Center is the world's largest retailer of guitars, amplifiers, drums, keyboards and pro-audio and recording equipment. Our retail store subsidiary presently operates 238 Guitar Center stores across the U.S. We are also the largest direct response retailer of musical instruments in the United States through our wholly owned subsidiary, Musician's Friend, Inc., and its catalog and Web site, www.musiciansfriend.com. In addition, our Music & Arts division operates more than 100 stores specializing in band instruments for sale and rental, serving teachers, band directors, college professors and students. More information on Guitar Center can be found by visiting the Company's Web site at www.guitarcenter.com.