Rush: Band of the Year?
The Canadians have delivered one of the finest albums of their career, but there has been tragedy as well as triumph
By Paul Elliott, Classic Rock #61, January 2013, transcribed by John Patuto
---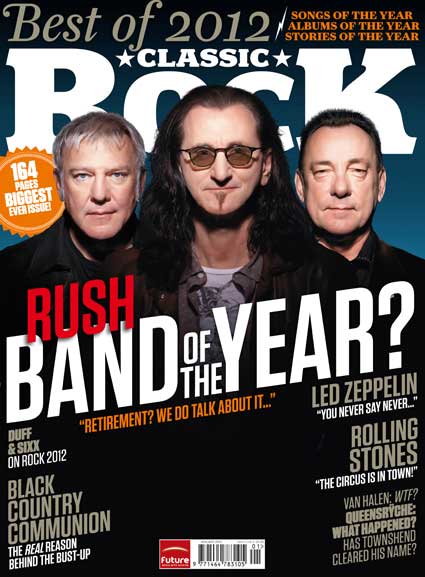 It's been a roller-coaster year for Rush, marked by personal tragedy, and professional success with Clockwork Angels our album of the year.
Geddy Lee and Alex Lifeson share their 2012 story.
For the three members of Rush - bassist/vocalist Geddy Lee, guitarist Alex Lifeson and drummer and lyricist Neil Peart - 2012 was always destined to be a significant year, with its echoes of the band's classic and career-did 2012 1976 album 2112.
Moreover, it was the year in which the Canadian trio delivered another defining album in Clockwork Angels, their first fully complete concept album, and one which has been voted the best of 2012 by the writers of Classic Rock. But for Rush, this was also a year that has been marked by tragedy, with the deaths of Andrew MacNaughtan, the band's official photographer, as well as the son of manager Ray Danniels.
Speaking to Classic Rock in their home town of Toronto, where Rush formed all of 44 years ago, Lee and Lifeson offer their thoughts on a turbulent past 12 months. Peart, who rarely gives interviews, is at home with his family in Los Angeles.
---
Clockwork Angels is Classic Rock's album of the year. Are we right?
Alex Lifeson: Apparently so.

Geddy Lee: Beats me...
Is it one of your very best albums?
Geddy: It's definitely up there with our best work. And I'm happy that you guys, and a lot of other people, feel as good about it as we do.

Alex: We all had a great time making this record. And when you're feeling like that, the music just flows out of you.
It's also the band's first full concept album.
Geddy: At first we weren't sure how much of the record would stick to a concept, but as we got deep into it, it was clear the whole record was a story. For me, its strength is that it's not tied to one musical theme. I think of it more in the operatic sense, like [The Who's] Tommy.

Alex: I'm not sure we intended to make a concept record from the start, but the idea came together as Ged and I were writing the songs and Neil was developing the story in his lyrics. It was a natural kind of evolution. We just kind off fell into it - which is funny, because our producer, Nick Raskulinecz, had been driving us crazy about doing something like this for five years or more.
Nick's a bit of a Rush nerd, isn't he?
Alex: Oh yeah. Nick has had a long love affair with the band - instilled by his mother!
Did Nick say which one of his mum's Rush albums started that love affair?
Alex: I believe it was Caress of Steel.
A great place to start - an album that Geddy once described as "reeking of hash oil", and which features the silliest of all Rush songs, The Fountain Of Lamneth...
Alex: That was a long time ago!
Let's get back to Clockwork Angels then. A weighty album, very long and complex...
Geddy: It is. But we hit a happy spot in terms of melodies and that, I think, helps you get into the intricacies of the record. Plus we went into the studio right after a tour because we're playing at a very high level right now, and we wanted to carry that 'live' energy on to the record. And we got that dry, classic rock sound that really shows off the playing.

Alex: The whole approach was simpler. As much as we loved Snakes & Arrows (the band's 2007 album), in retrospect it was too layered, with too much stuff going on. So with the new record we stripped it down and made it more immediate. There's more air and clarity around all the parts, and I think the playing generally sounds more aggressive.
The album's concept, devised by Neil with author Kevin J. Anderson, is a little baffling. Do you both fully understand it?
Alex: I think it's a pretty simple story of somebody's journey through life - through all the pitfalls and obstacles that come before resolution. It's a noble story, and it's been told many times before. But I like the way Neil has placed this in the steampunk environment.

Geddy: To me, the story is based on Candide [a 1759 French satire by Voltaire]. It's the story of an innocent - a fool, if you will - who's been brought up to believe in one particular way, according to the religious beliefs of his world. And as he goes through his life, he hangs on to this naïve belief: that there is someone looking after him. It's about him growing up, chasing his dreams, being successful and losing it all. And yet, at the end of the fellow's life, he would give anything to do it all again, because it was a fantastic trip. Ultimately, he has gained some sense of what the value of life really is.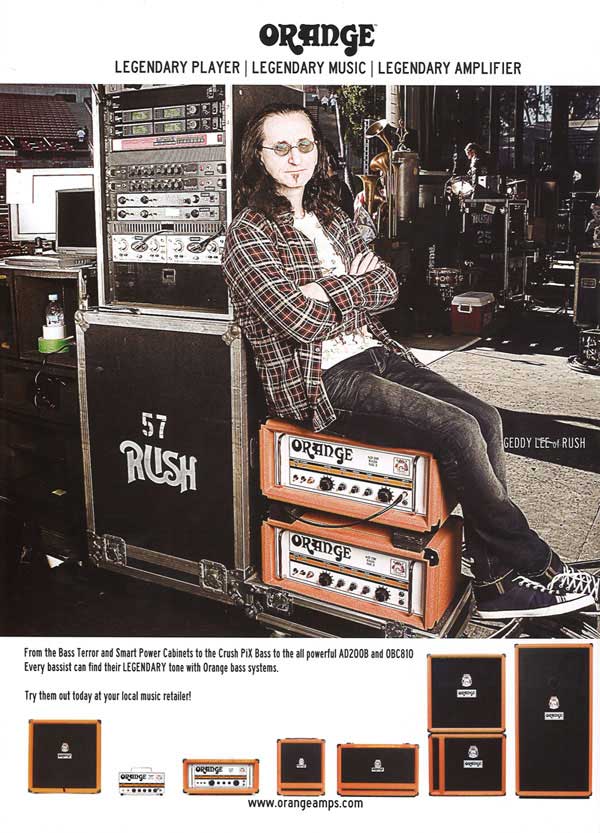 On tour this year, you've been playing 10 of the album's 12 tracks, all in one marathon hour-long session.
Geddy: We're really pushing the patience of our fans! And it's an exhausting show for me. But so far, so good...

Alex: I'm not so sure that all our fans are crazy about the idea of us playing almost all of a new record on tour. Our newer fans probably want to hear more of...the 'hits', for lack of a better term. But we have to satisfy ourselves.
The Clockwork Angels material is also performed live with a string section alongside the band - a first for Rush.
Alex: After we included the strings on the record, we said, 'When we play this stuff live, let's not use sequencers and trigger samples - let's actually have the string section up there with us.' It's an eight-piece: six violins and two cellos.

Geddy: They don't intrude on our sound, but they elevate the whole moment.
On your previous tour, Time Machine, you performed your classic album Moving Pictures in its entirety. Wouldn't it have made sense to do likewise in 2012 with 2112?
Geddy: Well, we talked about it. And we do play a big chunk of 2112 on this tour. But it seemed to us a bit much to include the whole thing while we were also playing so much of our new album. With Moving Pictures, we really enjoyed that whole thing of immersing into one album, and that's certainly an idea I would consider in the future. We're doing three or four songs from (1985 album) Power Windows on this tour, so that would have been a natural fit.
Even if the 2112 tour didn't happen, there's at least a new deluxe edition of the album with 5.1 surround sound.
Alex: The 5.1 worked really well with Moving Pictures. That was a great aural experience. And when I approved the 5.1 on 2112, it was pretty cool to sit there in the middle of the room and hear that whole ambient thing...
Were you tempted to roll up a fat one for old times' sake?
Alex: I'm always tempted to do that! And sometimes I'm successful, in fact.
Did you find time this year to listen to music other than your own?
Geddy: I listen to mellower stuff when I'm on tour: Chet Baker, Marvin Gaye, Fleet Foxes...something to chill out to in my hotel room.

Alex: I've been working with other people on their music, and that's been a fun thing to do. I had a small part in the film Ecstasy [based on Irvine Welsh's novel, and directed by Toronto-born Rob Heydon], and one of the actors, Keram Sanchez, is quite the musician and songwriter. I've been helping him out with his album. It's really cool stuff.
Playing with other musicians? Isn't that like cheating on your wife?
Alex: [Laughs] It's more like having a good female friend!
So you haven't really had a break from music all year?
Geddy: Not really. It's been pretty much monoculture for me.

Alex: It's been a very busy, intensive year. And I also moved home - still in Toronto, but hopefully to the last place we're going to move to.
Did you have a vacation?
Alex: I had a short summer break - time that I dedicated to my family. Whenever I'm not touring, I like to stay home and reconnect with my family, particularly my grandkids. I'm very close with them. In the past, I spent so much time away from my children, and I don't want to have that same experience with these two little guys. That's a priority for me.

Geddy: My wife and I spent some time in Europe. And now our daughter's moved on to college, we're empty-nesters. So before my son and his wife have kids, my wife and I figure we've got a small window of returning to juvenile delinquency.
So you're not sad that your daughter's gone - you're excited.
Geddy: We're thrilled! We've been raising children now for 32 years, so I think we've earned a holiday. But they've always been good kids. They never gave us any grief.
What do they all do for a living?
Alex: My eldest son works in home renovations and my youngest does web design. He built the Rush website and now manages it, so he's been busy this year. And he's also a composer of electronic music.

Geddy: My son just got his PhD and is working for an educational think tank for the Ontario government. And my daughter has enrolled in a college program in the dramatic arts.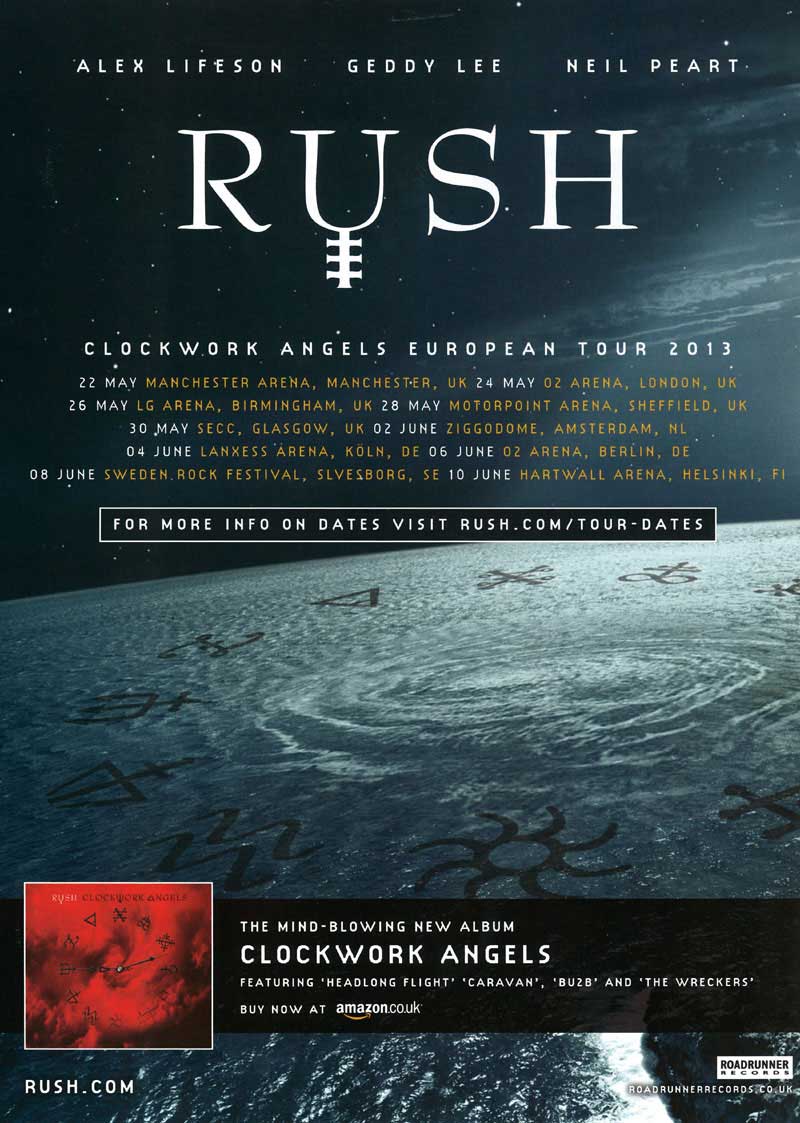 At least none of them have done something stupid, like joining a band.
Geddy: No, thankfully not. But dramatic arts is just as dicey.

Alex: You know, it's kind of weird to think I still have the same job I had when I was 15 years old. I feel very fortunate that it all worked out for us, that we were able to have the freedom and the independence to follow our own hearts. That's pretty rare. And it's not lost on us, that's for sure.
Your wives have put up with you being away on tour for months on end, year after year. But do you ever get the sense that they like it when you're away?
Alex: Yeah, for sure. In fact, I was talking to my wife about this just the other day. She's very independent, and very busy with the charity work she's involved in. We love being together, but we both appreciate the time that we're away from each other, when we can enjoy a little bit of that 'me' time. I like my own company. I miss my family when I'm away on the road, but there's an aspect of it that I really enjoy. I like being in my hotel room with a book or watching TV, ordering room service and staying in bed all day when my body's just killing me. That's a real treat.

Geddy: My wife definitely likes it when I get lost for a while. But then there's a point where she's like, "OK, come home."
Do you bore your wife by talking about your love of baseball?
Geddy: No, she never listens to that crap! She's an independent soul. She likes to travel on her own, like I enjoy being on my own from time to time. That's the key to a happy marriage.
In January this year, you lost a great friend in Andrew MacNaughtan, your official photographer, who died of a heart attack at the age of 47. When you lose someone close, do you inevitably think: that could have been me?
Geddy: Absolutely. As life has progressed for us, we've felt a lot of tragedy in and around our band. And every time it reminds you of how random those things are. There's no way of knowing how much time you have here, so it makes you want to utilise that time and make the most of your life. At the same time, it's very sad to lose your pals.

Alex: With Andrew, that was a really tough one. We were right there at the same hotel, just two floors above him. We'd just done our photo shoot. We loved Andrew so much, and I know he loved us. We were friends as well as colleagues. And it's still difficult. We miss him a lot. It's always tough to lose someone. The son of our manager Ray Danniels passed away in October from a very aggressive form of brain cancer that just came out of nowhere. So it's been a very difficult time for all of us. Obviously for Ray, and also for Neil to be reliving that whole experience [Peart's daughter Selena died at the age of 19 in a car crash in 1997]. You just never know what life's going to bring.
Do the band ever discuss retirement?
Geddy: It's become a running joke. There have been a lot of references to retirement...
When somebody has a bad gig?
Geddy: Yeah, or when we hear about a friend of ours who's retired. One of us will go, "See, people of our age are retired already!" And someone else will go, "Yeah and look how fucking bored they are."

Alex: You'd think that at this point we'd discuss it more seriously. But we just take it one tour at a time. There's already talk about our 40th anniversary in 2014. But right now we're just concentrating on this tour.
It's OK for you - you're the guitar player! How does Neil do it?
Alex: I don't know how he does it. The amount of energy he expends...and then he gets on his motorcycle the next morning and rides for 300 miles on a day off. I guess it's all part of keeping his stamina up. In that sense, he's a very driven guy. On days off, I'll just play golf, or have a nice day out in the sun while Ged stays in bed all day. Everybody does whatever they need to do.
Is it true that Rush were offered a slot for 2013's Download festival?
Geddy: That's the first I've heard of it. I don't even know what Download is.
It's at Donington.
Geddy: Well, we're actually doing the Sweden Rock festival next summer. We're more open to doing festivals now than we used to be. So I wouldn't discount the possibility of us doing one in Britain, now we're a little looser with our attitude.

Alex: We're always offered these big festivals and we've always declined. But with Sweden Rock, they were very clear that it's our show. That's always been the problem: if you're doing a three-hour set, it's hard to do a festival with other bands and not be greedy with the time.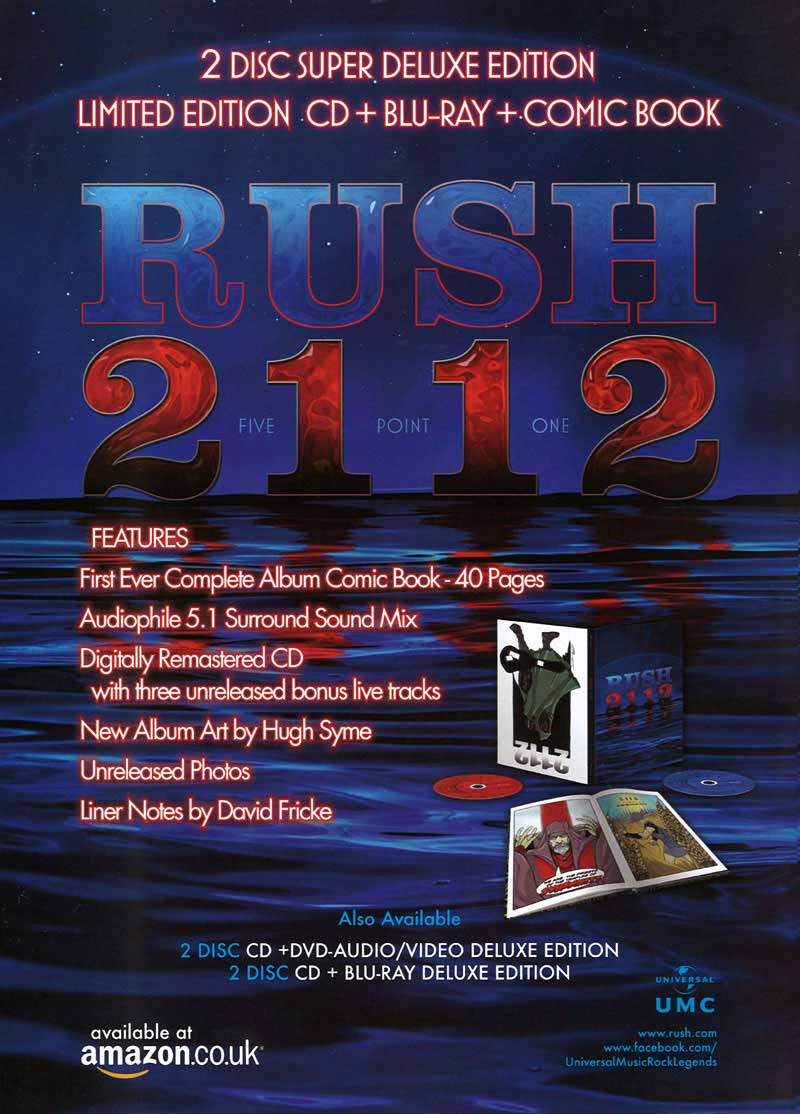 Everybody knows that. The setlist is there for all to see online.
Alex: To me, that's kind of sad. After the first show, nothing's a surprise anymore. There's no mystery these days, no mystique.
On a happier note, you were recently voted the greatest Canadian guitarist of all time in a poll by radio station CBC.
Alex: It's very sweet. Those things are a bit of a popularity contest. The fact that we've been around so long is part of the reason I won. There are a lot of great guitarists on that list - and a lot that aren't. But I'm happy with what I do, and after 40 years I've probably made a mark.
It could be said that the tide of 'Best Canadian Guitarist' is something of a backhanded compliment, like 'Best Russian Cricketer'...
Geddy: From outside of the country, I'm sure it would seem like that! But I'm happy that somebody is recognising what a great guitar player Alex actually is. He's an underrated entity - an innovative player.

Alex: And I know that I'm lucky to be in a band with two extraordinary musicians. Neil and Ged are absolutely amazing players. It helps me to rise up to a higher standard.
When you look back at 2012, what news story will you remember most?
Alex: The images from that storm in New York and New Jersey were incredible. It was like the tsunami in Japan.

Geddy: I'll remember the huge sense of relief in not having that guy [Mitt Romney] in the White House. For those of us living in Canada, in Britain and around the world who are naturally more liberal, it's scary to see how out there the American right wing can be. Canada is not without its problems, but I was very relieved to see that victory for liberalism in America.
What did 2012 mean for Rush?
Geddy: It's been a great year for us, a watershed year. The album and tour have gone so well. Right now, it's just a really good time to be Rush.

Alex: It was something of a boost to realise we're still able to do it as a band. We're still able to embrace new and different ideas and do it successfully. The response to Clockwork Angels has been really positive. I don't know if I've read one bad review about it - which is very unusual for us! It's validating in a way.
The bad reviews are always the funniest.
Alex: Yeah, they are. We've had our share of stupidly bad reviews - out right hatred of us, for some reason. And yes, I have nodded my head to some of those reviews and thought that the writer had nailed some aspect of the band. You know, when you love something, everything's just hunky dory, and you don't see the rough parts.
So what's next for Rush?
Alex: If we do a 40th anniversary tour, we probably won't make a record in that time, so that tour will probably be a retrospective. But I don't know. We've been touring a lot, and I wouldn't want us to get overexposed.

Geddy: The idea of touring year in year out is exhausting. There's got to be a point where we cut that back. But as long as we have the desire to keep being creative together, we'll keep moving forward.
And if that anniversary tour does happen, why not put The Fountain of Lamneth back into the set?
Alex: That would be a bit of a stretch! Maybe down the road somewhere. God, it's been so long since we revisited that era...
All the more reason to do it!
Alex: Um...You know, there's a chance. I'd say one in a million.

Geddy: And I'm sticking with those odds.
---
Albums Of The Year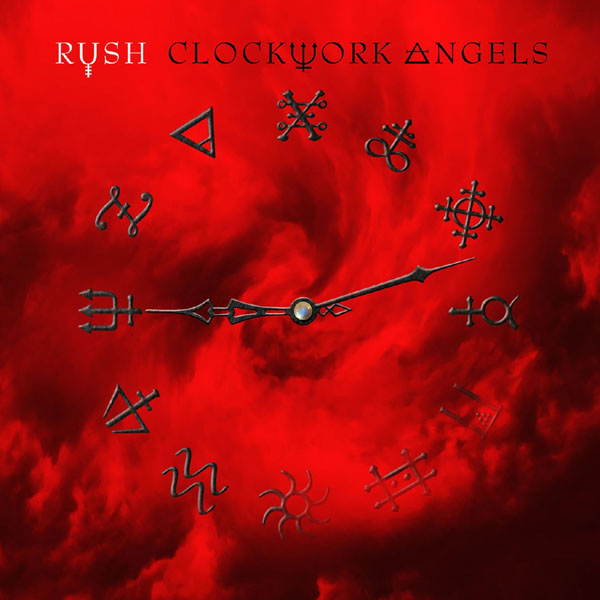 It's been another incredible year of music, but after much debate, we've come up with our Top 50. Have you got 'em all?
#1
RUSH
Clockwork Angels ROADRUNNER
WE SAY:
In a year that has a special resonance for Rush, promoters offered big money for a tour based on the band's landmark 70s album 2112. But rather than trade on the past, Rush moved forward with their most ambitious project to date: a first full concept album, and a genuine late-career masterpiece.
THEY SAY:
"I think this album really sounds like Rush, the essence of who we are. One of the things we agreed up early was, 'Let's write a trio's album.' We wanted to have moments where it was just the three of us playing the way we play onstage. We had so many jams on the last tour where we allowed ourselves to freefrom a bit. We enjoyed it so much that I said to the guys after the tour, 'Let's try to be that band on the next record.' It feels so essential, and it's what we're about." - Geddy Lee.
YOU SAY:
"A brilliant album showing a band at the peak of their powers making interesting music with no interest in what's fashionable." - Cygnus, via website

"Bands who formed in 1974 shouldn't be making their best and thoughtful music after all those years." - Cygnus Xl (no relation, presumably) via website
PLAYLIST THIS:
Caravan is a real masterclass in progressive metal. Makes Dream Theater sound like Status Quo.