Designer Insights: Rush's Clockwork Angels Tour
LD Howard Ungerleider Choreographs the Lighting
By Steve Jennings, Projection, Lights and Staging News, February 2013
---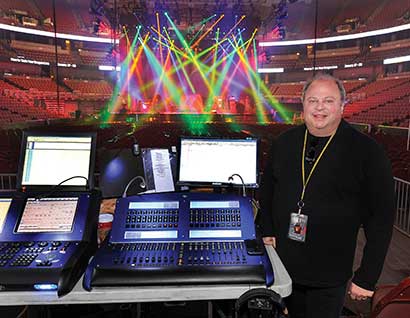 For Rush's latest album, Clockwork Angels, science fiction writer Kevin J. Anderson expanded drummer Neil Peart's lyrics into a novel that depicts a colorful world of Steampunk, lost cities and a protagonist caught between the forces of chaos and order. For the live concert experience, Howard Ungerleider's lighting design, or "choreography," dances with video elements during the three-hour show.
"Designing a new Rush tour is a process where I don't receive a lot of information from the band until the 11th hour most of the time. This 2012-13 tour was a little bit different, because I was able to listen to the album before it was mixed. Alex (Lifeson) would play me little bits now and then in his car. With this album, Alex invited me to the studio, and I think they were thinking I'd hear a couple of songs, but the engineer let me listen to all of it, which was great! Hearing the unmixed version to me was like perfection, it was crazy. I know them so well that after I listened to the music, the next day I actually made phone calls to all three of them and told them I thought this is some of the best music I've heard them do in a long time. There's amazing musicianship on it, and the material is spectacular. You know I'm jaded, because I've seen every show they've done, but I knew this album was special. Most bands in this stage of their careers can't produce much. I wanted to let them know how special I thought this was.
"The video content for the show is created by film producer Allan Weinrib and Dale Heslip, who's the film director. Geddy (Lee) and our team brainstormed ideas. After that, with all the input, it was moved ahead to the content builders who are creative artists. Allen chooses from different eclectic companies who are involved in the process of putting it together. Companies like Crankbunny and Moment Factory of Montreal and many others. Dale will come up with storyboards, I'll talk to them about what I'll do color wise, and we all brainstorm to achieve a nice blend. Dale also puts together the stage set props which are fantastic and creative. So with the album called Clockwork Angels and the theme of some of the songs, I knew where it was going. I wanted to design a system with angel sort of wings; there's actually 22 moving parts to it because there's a dozen other little mini-trusses that come down on high string motors and there are the five satellites that are made up of two sections with a hinge plate each, which gives you 10 strings there, and then I have LEDs traveling up and down on the RSC Lightlocks.
"It's a three-hour show, so I hold back a little and then pace it out. Out of all the lighting tools I have in this system, there are only two fixtures that I have used over the last two tours, the High End Showguns and the [Vari*Lite] VL3500 Profiles. I went to the Czech Republic to visit Josef Valchar, Heather Bush and Harry von den Stemmen at Robe to look at their company and how they're actually building these Robin 600 LED wash fixtures, because I was impressed with them. When you look at fixtures at a place like PLASA or LDI, you don't always see all that they can do. They put it through all the paces in a darkened room with haze, and after that, I knew it was a spectacular light to use as my wash fixture. It's very flexible with some cool effects and macros. It's always nice to find new fixtures, same thing with the LED fixtures.
"I used to use the Color Kinetics' ColorBlaze product, but now there is Spectrum Mfg. out of Canada, they were the ones responsible for the Chroma-Q color changers years ago that Christie Lites used to use, and JF [Canuel], who is one of the principals with Spectrum Manufacturing, came out with Color Force LED strip lights. So I'm using the 48s, which are great. They have the full color spectrum; it's really bright and I get nice looks out of it. "I'm a High End user still, because they have great fixtures. I'm using the Intellaspots, which I think are one of their better fixtures ever made, and I've used their Hog consoles for many years; I'm using the Full Boar with expansion wings on the tour. Richard Belliveau from HES is great with his concepts, and they're stellar.
"We have a great crew with us. My main programmer is Tim Grivas. Matt Tucker, my assistant out here, is also a programmer and a spectacular guy. He also is the crew chief at times. Martin Joos is also crew chief, Curtis Anthony is our electrician and David Davidian is the video director along with some more new crew. Steven "Creech" Anderson and Troy Vollhoffer with Premier Global Productions are the lighting vendors, and my company, Production Design International, is providing many of the lighting fixtures along with the Catalyst media servers out here.
"The band members are true professionals, and what's also great is they all have a great sense of humor. Just look at the humorous videos they create and show just before they hit the stage. They are made up as characters with pot bellies, funny wigs and all. Even when we're not on tour and we go over to Alex's (Lifeson) house for a party, he comes out as a character, so yeah, great bunch of guys, very level-headed. The freedom that they give me with my lighting is very important and allows me to give them my best. I've done other acts where you're micro-managed to the point where you can't really be creative, which is not a good thing. When I use video, it's to bring you closer to the artist while not taking away from seeing the band on stage at the same time. It gives you a little bit of insight with the robotic cameras that we're using now - you can get right in on top of Neil Peart playing the drums, for instance. I'm using the perspective of the fan from the audience - I want to see different angles, viewpoints. I want to do lighting choreography, not only to the music, but also to the lyrics that trigger those cues. Half the show is run manually, which is a great experience!"
Crew
Lighting Design/Direction: Howard Ungerleider/Production Design Intl
Lighting Assistant/Crew Chief: Matt Tucker
Lighting Crew Chief: Martin Joos
Lighting Techs: Josh Rahalski, Matt Leroux
Main Programmer: Tim Grivas
Electrician: Curtis Anthony
Video Director: David Davidian
Production Manager: Craig Blaizer
Tour Manager: Liam Birt
Road Manager: Donovan Lundstrum
Stage Manager: George Steinert
Lighting Company: Premier Global Productions
Lighting Reps: Troy Vollhoffer, Steven "Creech" Anderson
Trucking Company: Egotrips/Philadelphia
Staging/Props: Mood Design/Toronto
Set Designer: Dale Heslip
Rigging: 5 Points Rigging/Nashville
Video Company: Screenworks/Los Angeles
Film Producer: Allan Weinrib
Film Director: Dale Heslip
Gear
3 HES Road Hog 3 Full Boar consoles w/ expansion wings
48 Robe Robin 600 LED Wash fixtures
10 Vari*Lite VL3500 Profiles
55 Clay Paky Sharpys
24 HES Intellspots
6 HES Showguns
28 Coemar Infinity Washes
20 Coemar ACLs
44 Chroma-Q Color Force 48s
20 PixelLine Maxi Washes
24 Martin Atomic 3000 Strobes w/scrollers
6 Lycian M2 2.5 followspots
6 Lycian M2 2.5 followspots