Rock Hall 2013: Rush
By Shawn Hammond, Goldmine, Rock & Roll Hall of Fame Special Issue Spring 2013, transcribed by John Patuto
---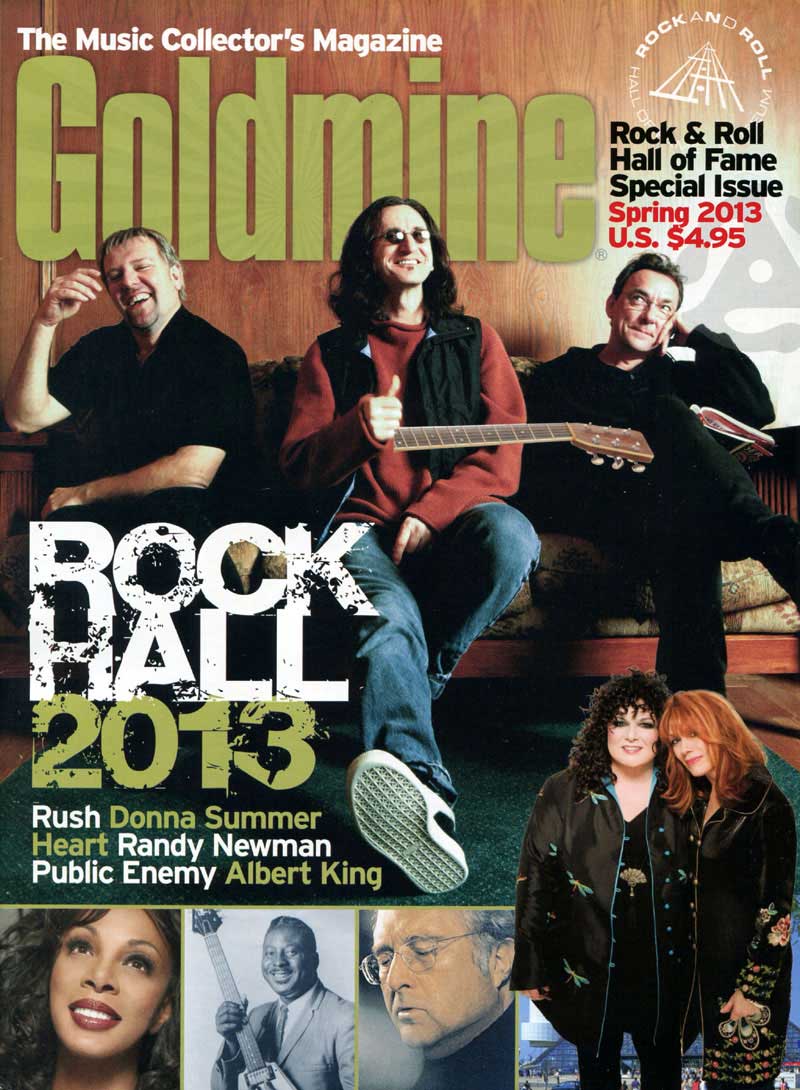 Prog-rock fans long have lobbied for Rush to join the ranks of the Rock And Roll Hall of Fame. Perhaps now that Neil Peart, Alex Lifeson and Geddy Lee have been chosen for induction, the doors will open for other deserving acts, such as Jethro Tull, Yes and The Moody Blues.
In its 14th year of eligibilty Canadian power trio Rush has finally made it into the Rock And Roll Hall Of Fame, maybe due, in no small part, to the incessant lobbying of the band's dedicated fans around the world.
Guitarist Alex Lifeson formed Rush in 1968 with bassist Jeff Jones and drummer John Rutsey, but the magical music fans adore today didn't start to flow until bassist Geddy Lee and drummer Neil Peart teamed up with Lifeson.
Critics weren't particularly enamored with the band's first three releases. The self-titled debut in 1974 and Fly By Night in 1975 drew fans, but the band's heavily progressive third album, 1975's Caress of Steel, confused some fans and failed to build Rush's momentum. Everything changed in 1976 with 2112. Based on the themes of novelist and essayist Ayn Rand, 2112 became Rush's breakthrough album that opened the door to the follow-ups A Farewell To Kings (1977), Hemispheres (1978) and Permanent Waves (1980), which even boasted a hit single, "The Spirit Of Radio." So did 1981's Moving Pictures ("Tom Sawyer" and "Limelight") and 1982's Signals ("Subdivisions" and "New World Man"). Grace Under Pressure (1984) and Power Windows (1985) both sold in the millions.
Rush also grew into one of the most popular touring attractions of the 1980s, as Lifeson's complex guitar work, Peart's polyrhythmic drumming and Lee's high-pitched wail and low-bottomed bass made for a heady, intoxicating brew. The sounds that these three musicians were able to emanate on their own helped transcend the band's original promise into total Rock Star Glory. Fans became fanatics, and Rush's mostly male audience reacted with a passionate, intense loyalty that remains to this day - despite a five-year hiatus in the 1990s.
Rush marked the 30th anniversary of its debut album with a tour and the R30 DVD in 2004. The studio album Snakes and Arrows followed in 2007, and it was the band's first all-new, original studio album in five years. It took another five years for the arrival of the studio follow-up Clockwork Angels, but the wait was worth it for fans and critics alike: besides, fans were able to tide themselves over with one of a host of Rush's live performance albums.
The documentary Beyond The Lighted Stage shed light on the musicians themselves. The 2010 production was tagged as "The Band You Know. The Story You Don't."
One of the incredible back stories of Rush involves Lee's parents - Holocaust survivors both - and how that fact shaped the composer's world view. His music for "Red Sector A" (from Grace Under Pressure) coupled with Peart's lyrics after hearing the story, came straight from the depths of the band's soul.
There's a certain amount of justice inherent in Rush's induction into the Rock And Roll Hall of Fame, and it just might open the Rock Hall doors for other obvious, deserving bands that should have already been inducted. Will the obvious stigma associated with progressive rock acts finally fade where the Rock Hall is concerned? Only time will tell. For now, we'll settle for Geddy Lee's take on the Rock Hall, life on tour and pop culture's growing love affair with all things Rush.
Goldmine: Congratulations on finally being elected into The Rock And Roll Of Fame! How did you feel when you first heard the news?
Geddy Lee: I was pleased, y'know? It wasn't one of those fist-pump things or anything, but I was especially pleased and relieved for our fan base, who made it into a real cause célèbre for the last couple of years. I know how much it means to them. I was pleased they could finally get the monkey off their back. I was also happy and honored to hear this news.
Does it ultimately mean a whole hell of a lot to you personally?
It's not something I ever thought about, no. It was never really in my control, and I try to take the attitude of, "If you can't control something, don't worry about it." I can't say I ever obsessed over it, no, but I realize it's a great honor, and I'm happy to receive it.
Any hints you can give us about what Rush will be planning for its induction ceremony?
We're still discussing that, so I don't really have an answer for you.
You're scheduled to start the second leg of your Clockwork Angels tour right after the Rock Hall ceremony. What about touring do you enjoy the most?
Well, I love playing. I love the three hours we're on stage every night. To me, that is the beginning, the middle and the end of it. I love the idea that we can afford to spend that much time playing. When we're all in a groove, it's the greatest feeling in the world. It's such a privilege to be able to play music as your elected profession [laughs]. Especially at my age [59], after all these years doing it, I feel very appreciative at this continued opportunity.
Conversely, what about touring do you enjoy the least?
The next day after a three-hour show. It really takes a lot out of me...especially as a singer. Singing for three hours is a terribly physical endeavor, and the next day I feel it, so I wind up sleeping a lot and not talking to anyone. This makes for a rather pleasant but uneventful day.
What's your favorite song to perform live?
Right now I would have to say it's "The Garden" off Clockwork Angels.
Why?
It's quite a different song for us, a different feel. It's much more melodic than a lot of our things. It has a moment where we really focus on a whole kind of relaxed and orchestrated vibe. It's a great song for a singer, and I really do enjoy singing it.
Are there any songs that you've permanently banned from your live set list?
I don't know if "permanent" is a thing we ever think about, because we like to change it up every tour, but, yeah, we get sick of playing certain songs. We gave "Closer To The Heart" a rest for quite some time...but we brought it back on the last tour so...y'know, if you let a song rest for a while, you can gain a new appreciation for it.
You're hitting some cities on tour that you haven't seen in more than a decade, and fans in those cities are especially pumped. Some fans have wondered aloud, though, if this isn't a farewell tour in disguise. Is there any reason for them to worry? What's the game plan for the next five years?
I have no idea what the band's game plan is for the next five years. We're not a band that has a game plan. We've been together for so long, and we've learned that life is unpredictable, so there's no point in having a game plan. I think for us, it's really important to see how we feel at any given time and see what we're up for doing. Right now, we're really enjoying this tour. I've never seen Neil enjoy a tour as much as what I've witnessed on this tour. He's pretty happy. We're all pretty happy. We're loving this tour. We're proud of Clockwork Angels, and we're happy to take it as many places as we can. Beyond that, we haven't discussed a thing. I can't even shed any light on why these rumors get started.
The fact that you guys are enjoying yourselves so much bodes well for future tours.
I would say that, yeah. But, as I say, life is unpredictable.
In anticipation of celebrating your incredible career at the Rock Hall, what have been some of your favorite moments of the last 35 years or so?
I don't know that I could pick a favorite moment, to be honest. I have a lot of great memories. One of the highlights, I guess, if I have to focus, is the time we played in Brazil. We were so surprised that we had such a dedicated and intense audience there. And I guess I can say that we experienced the same thing the first time we played in Chile. I really did not realize how deeply our fans in those countries were into our music. They were so "heart-on-your-sleeve" emotional that when we hit the stage, they really let us know that they appreciated us coming there. That was definitely a highlight, but it was a highlight amongst a career full of highlights.
What were your lowlights?
Well, yeah, there were a lot of lowlights [laughs]. We did a tour for the Caress of Steel album [1975]. That album was not well-received. Our fortunes were sinking, not rising. We were playing in small venues, a lot of clubs, with a number of other bands. I remember Ted Nugent was one of the acts on that bill. It was just a really difficult time for us as a band in convincing people we had something to say that was worth saying. And, of course, the obvious answer to that question is the terrible five years we spent when Neil's tragedy struck. Lowlights are easier to pick out. [Editor's Note: In 1997, Neil's daughter Selena was killed in a car crash. Ten months later, his wife Jacqueline died of cancer.]
Over the last few years, Rush's music keeps popping up all over the place, from the film I Love You, Man to the TV shows How I Met Your Mother and The Colbert Report. It was even used in Volkswagen's "Fly By Night" commercial. What do you make of this?
[laughs] I know! I think for a lot of fans, we're their kind of band, y'know? Because we've never been a mainstream band, I think that certain fans feel that they're on a mission to spread the word about us. Now that some of our fans seem to be working for various shows, they want to pay it back in a way. I think that's what happens when your fan base grows up.
Right, and they become executives in Hollywood or on Madison Avenue, exactly. Is there anything going on in pop culture these days - be it movies, TV shows or whatever - that you'd actually like to be part of?
We do all really enjoy comedy, and we're always willing to be in something funny.
What songs would you love to cover, and since you seem to be on a roll now, I would assume that more studio albums are in your future, right?
I don't see why not. It's hard to say, though. I think that goes hand-in-hand with the question about a farewell tour. I've given up trying to predict the future with Rush. I just let it happen. I love writing songs with the guys, I really do. Invariably, if and when the mood strikes us, we will, indeed, want to write together again. As I say, I don't see why not.
If Rush hadn't evolved as it has and you had to take a day job, what career path do you envision you would have followed?
A day job?
Yeah. If it didn't work. Hey, all my friends and I have been in bands. It didn't work. You guys are living the life that us mere mortals can only dream of.
It's hard to say really. I would have hoped it would have been in some creative field behind-the-scenes maybe. I don't know. That's all I can say.
Well, you must have been in school at some point thinking, "What am I going to be when I grow up?"
Yeah, but I didn't have an answer then, either [laughs].