Rush Reflections: Winning One For The Good Guys
By Rex Rutkoski, Sound Waves Volume 23 Issue 8, May 2013, transcribed by John Patuto
---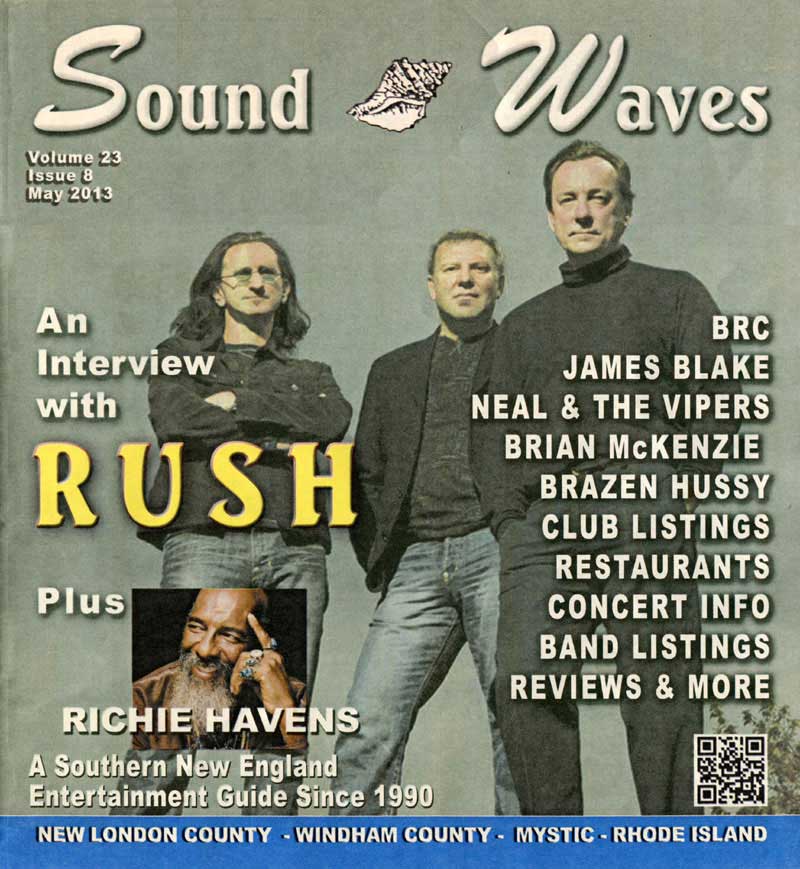 With many bands, muses Neil Peart, you wonder if they are trying to be good or popular.
"It's implicit in our music that we are trying to be good," says Peart, lyricist and drummer extraordinaire for one of rock's enduring bands, Rush, who headline a May 9 concert at Mohegan Sun Arena.
Rabid supporters, who long felt that this cerebral, progressive Canadian rock trio, which amassed huge music sales (estimated at more than 40 million units worldwide), set records and filled arenas, never earned the critical respect that it deserved, are receiving vindication with the news that their heroes are being inducted April 18 into the Rock and Roll Hall of Fame - 13 years after it became eligible and 44 years after it formed.
Dave Grohl and Taylor Hawkins of the Foo Fighters are presenting Rush in the ceremony that will be broadcast on HBO May 18 at 9 p.m. ET/PT.
Rush, as fans see it, are winning one for the good guys. "We are especially thrilled for the many, many dedicated Rush fans to whom this nomination is so very important," the band said collectively in a news release last fall.
"I don't think Rush could be anything without having the support of fans," guitarist Alex Lifeson says. "They are among the best in the world. It's really incredible to us to see their dedication."
All ages identify themselves as those fans, he says. Parents who grew up with the music turned their kids on to it.
"We hear from people who say they were turned on by parents or a friend or an older brother or sister and it's been a real discovery for them," he adds. "It's very gratifying. It's a really diverse group of people, including doctors, architects and pilots."
Shawn Hammond, writing in Premier Guitar Magazine, suggests reason for such loyalty, noting, "Rush is arguably the longest running, most original and most influential progressive rock band ever," with their influence heard in the work of such bands as Pantera, Smashing Pumpkins, Primus, Death Cab for Cutie, the Mars Volta and Coheed and Cambria, among many others.
The Rock and Roll Hall of Fame cites the trio as "equal parts Led Zeppelin, Cream and King Crimson...bursting out of Canada in the early 1970s with one of the most powerful and bombastic sounds of the decade."
The Hall of Fame points to its 1980 "The Spirit of Radio," as one of the most "genre-defining" songs in rock. By the numbers, Rush has 24 gold and 14 platinum records (three of which were multi-platinum), and it is said they are behind only the Beatles and Rolling Stones for the most consecutive gold or platinum studio albums by a rock band.
And they are not done yet!
Their new, ambitious "Clockwork Angels" concept album is drawing some interesting attention, including Guitar World calling it "more complexly beautiful than anything they've ever done, yet it's filled with a warm, human spirit, which makes its grand themes richer."
In a spin-off, lyricist Peart also collaborates with Kevin J. Anderson, bestselling science fiction author, on "Clockwork Angels: The Novel." The novel expands on Peart's storyline for the album, in which a young man's quest to follow his dreams is caught between the grandiose forces of order and chaos.
Amazon.com offers this description: "He travels across a lavish and colorful world of steampunk and alchemy with lost cities, pirates, anarchists, exotic carnivals, and a rigid Watchmaker who imposes precision on every aspect of daily life. The mind-bending story is complemented with rich paintings by the five-time Juno Award winner for Best Album Design, Hugh Syme."
Rush's music is a reflection of its collective interests, says Peart. "It is made by thinking people for thinking people. We never talk down to our audience. I presume they are as smart as we are," he says.
He says he appreciates being able to address some of the heavy questions of life. "I have the luxury of time between albums to sit and look out the window all day and feel I'm doing my job (compiling material for lyrics). There's a curiosity about life and interest in life and desire to have more," he says. "It's a luxury that I'm allowed to be contemplative. There are common interests and excitements I can take time to articulate for people. That should be our role."
He says one of the sources of his creativity is excitement. "I get excited about things. The joy of creation is a small little spark," he explains. "Suddenly you realize it's going to work. That's the joy you get - that it's going to work. Then you have to make it work. The little spark gets me interested."
He is intrigued by the process of creativity. It's about "enjoying the mountain while we're climbing it," he has said. "I like both the process and the results. My favorite kind of job is one that is finished, but I do love the process of it," he says.
Keeping something fresh after all these years is not something done without considerable thought and work, suggests Geddy Lee, vocalist, bassist, keyboardist.
"We feel we are our own harshest critics anyway, so why not push ourselves," he remarks.
Lee says, laughing, that he took it upon himself to be the guy that gave the bad news from time to time. "I was the one who said, 'I don't think this song is good enough' or 'Maybe we have to remix this song one more
time.' But I wasn't alone in that. It may have begun that way, but everybody came along real well."
He says Peart possesses the most intensely professional approach to any musician with whom he has ever worked.
"As a co-writer he is just a pleasure to work with. He never takes criticism personally and is really only interested in the quality of the work," he says. "As a drummer, my god! The guy's a monster! He's just incredibly capable. And physically, what he accomplishes on the drum kit, is just remarkable. He's a tough guy."
Peart generally writes from the standpoint of an observer and people often can find something that relates to their lives, Lifeson suggests. "It may be a window or a mirror or both for people. It depends on what you feel your needs are or how you view the world or your situation. We seem to have that in our music that people get that."
Lee calls Lifeson "an incredibly hilarious human being." "But as a writer, as a creator, he is incredibly spontaneous. He really has to feel the spirit of the thing. His best work kind of just flies off," he suggests. Put all those individual strengths together and it makes for what Lee says are "pretty good players that like to rock."
"We try to interact and create a kind of classic three-piece thing. We really believe we just carry the tradition of bands like The Who and Cream who started it," he says.
What makes this band work is a very fortunate combination of personality and a great deal of luck the artist says. They have the kind of relationship that bodes well for the long term, he explains.
They are very close friends, says Lifeson. "Even beyond friendship and brotherhood, the relationship we have together is really unique," he says.
"We just love being together and fortunately we work well together." Lee: "We try to treat each other fairly and have a good time with each other, and when it comes down to work we try to be real pros about it. I think you
can take the best situation and if you don't have a little luck on your side it doesn't end up the same way."
"High musical values with a rock sensibility to me is the ultimate combination," says Peart.
This is a band that has many different sides and many different flavors, says Lee. "We like to use them all from time to time."
Rush's strength, Lee says, is found in its sense of conviction. "That, more than anything, has made some of the more off-the-wall things we've done palatable. The audience has been able to sense we believe in what we are doing," he explains.
He insists the motivation to do good work has not changed.
Lifeson agrees. "In 1974, when we set out on our first tour with a new guy in the band (Peart had just joined), we hoped to keep it together for five or six years, which was basically what the career length was for most bands at the time. And here we are all these years later," he says. "It's a wonderful thing to get on stage and be able to play music in front of people, see the joy in their faces, the shared excitement," Lifeson says.
"Our relationship with our audience is really special. We like getting together.
We come out and share this one moment together and think about all the years (performing for them).
It's pretty amazing, he says, to stand on stage and have thousands of people go totally mental. "And there's the feeling of power, standing on stage, playing a set for three hours, doing a thing you know you can do well and doing it well. It's a wonderful tonic for your confidence," he explains.
Lifeson says Rush always has been a band that is very passionate about what it does. "Rush has been very true to its goals, writing music that is unique and reflective of what we are as three individuals, and how we work together," he says. The band also is about not compromising with the music, and sharing that music with the audience, he comments.
Peart believes the ultimate test for a band is playing live. "To be a true band you've got to be up there and put yourself on the line and do it in real time. That's why touring is so difficult. You have to prove the whole thing all over again. Being on stage is the crucible," he says. "It takes so much out of me to do it, but if you have a good night there are few satisfactions greater. It's the right thing to do to keep this band viable and exciting and under test. There is nothing more challenging than walking up on stage in front of an audience and delivering."
When you see the songs live, it really reaches you in a way the record didn't, he says. "There is a possibility of going beyond what people have already gotten out of your music," Peart says.
Lifeson hopes that he, Lee and Peart have been an example to younger musicians to strive to be the best they can. "I hope they've seen there is a way to stick to your guns and play music you want to play and do it on your own terms, that it's possible to buy that kind of freedom for yourself."
It's not that easy, he acknowledges, and it may be a lot more difficult than it once was. Still, it was never easy, he insists. "The state of music is quite different. Hopefully, we always brought that hope that a musician should be able to hold on to. We toured hard to get our music across. We didn't have a lot of radio play. We tried to write sensitively and intelligently," he says.
Peart: "It was our dream as kids to be in a rock band making records and doing tours. We are still living that dream."